2016-17 American Grappling Federation Tournament Seasons
By Created: September, 2017 - Modified: February, 2019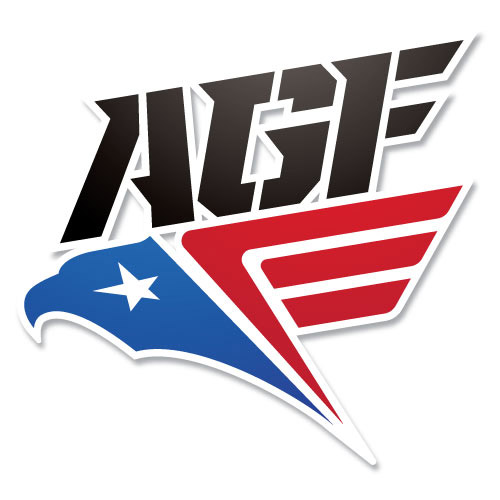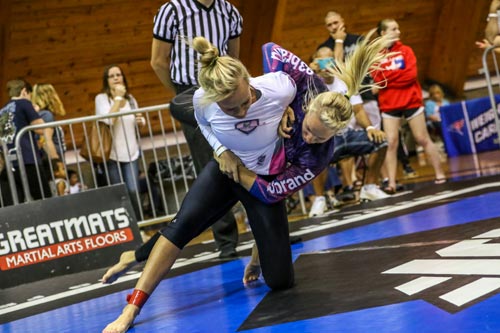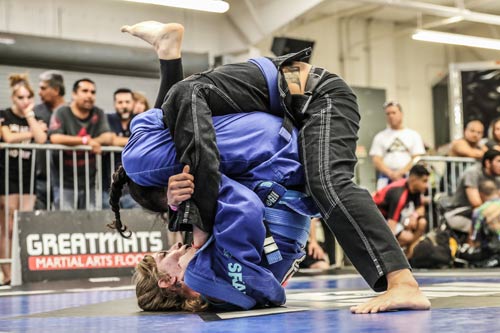 Welcome to Greatmats' 2016-17
American Grappling Federation (AGF)
Tournament resource page. As an official sponsor of the 2016 and 2017 AGF Tournament Seasons, Greatmats is giving you an exclusive insight to the tournaments, select athletes and their martial arts academies.
Here, you'll find tournament previews, recaps, photos and special features on top performers. Discover and learn about other
Greatmats Sponsored Events
.
Enjoy!
2017 AGF Tournament Schedule
Jan. 22 - Dallas Winter Classic (Duncanville, Texas)
6th Annual Dallas Winter Classic Preview
2017 Dallas Winter Classic Recap
Featured Competitor - Blake Dvorak
March 4 - Oklahoma State BJJ Championships (Oklahoma City, Oklahoma)
5th Annual Oklahoma State BJJ Championships Preview
2017 AGF Oklahoma Sate BJJ Championships Recap
Featured Coach - Justin Rader
April 8 - San Antonio BJJ Championships (San Antonio, Texas)
2017 San Antonio BJJ Championships Preview
2017 San Antonio BJJ Championships Recap
April 22 - Jackson BJJ Championships (Jackson, Mississippi)
2017 Jackson BJJ Championships Preview
2017 Jackson BJJ Championships Recap
2017 Jackson BJJ Championships Featured Champion - Jim Fiore
April 29 - Springfield BJJ Championships (Springfield, Missouri)
Springfield BJJ Championships Recap
AGF Springfield Featured Competitor - Trenton Conway
May 13 - Houston BJJ Championships (Houston, Texas)
2017 Houston BJJ Championships Preview
2017 Houston BJJ Championships Recap
May 20 - Columbus BJJ Championships (Columbus, Georgia)
2017 Columbus BJJ Championships Recap
2017 AGF Columbus Featured Champion - Joshua Bowlin/Gracie Barra Columbus
June 10 - New Orleans BJJ Championships (Westwego, Louisiana)
2017 New Orleans BJJ Championships Recap
2017 New Orleans BJJ Championships Featured Coach - Josh Mancuso
June 17 - Tulsa Open (Tulsa, Oklahoma)
2017 Tulsa Open Recap
July 1 - Jacksonville BJJ Championships (Jacksonville, Florida)
2017 Jacksonville BJJ Championships Recap
2017 Jacksonville BJJ Championships Featured Coach - Alberto Da Silva
July 15 - St. Louis BJJ Championships (St. Charles, Missouri)
2017 St. Louis BJJ Championships Recap
2017 St. Louis BJJ Championships - Featured Champion Nick Turnbo
July 22 - Arkansas Open (Conway, Arkansas)
2017 Arkansas Open Recap
2017 Arkansas Open Featured Coach - Roli Delgado
July 29 - Phoenix BJJ Championships (Phoenix, Arizona)
2017 Phoenix BJJ Championships recap
Aug. 5 - Dallas Summer Classic (North Richland Hills, Texas)
2017 Dallas Summer Classic recap
Aug. 12 - Kansas City BJJ Championships (Kansas City, Kansas)
2017 Kansas City BJJ Championships recap
Sept. 16 - Oklahoma City Open (Oklahoma City, Oklahoma)
Oct. 21 - Arkansas State BJJ Championships (Conway, Arkansas)
Oct. 28 - Dallas BJJ Championships (Duncanville, Texas)
Nov. 19 - San Antonio BJJ Championships (San Antonio, Texas)
Dec. 2 - European Championships (Brugge, Belgium) - pending
Dec. 16 - AGF Nationals (Tulsa, Oklahoma)
---------------------------------------------
2016 AGF Tournament Schedule
Jan. 23 - Dallas Winter Classic (Duncanville, TX)
Dallas AGF Tournament Preview
Dallas AGF Tournament Recap
March 5 - Oklahoma State BJJ Championships (Oklahoma City, OK)
Oklahoma AGF State Tournament Preview
Oklahoma AGF State Tournament Recap
Featured AGF Oklahoma State Champion - Olivia Terrell
March 12 - New Orleans BJJ Championships (Westego, LA)
New Orleans AGF Tournament Preview
New Orleans AGF Tournament Recap
April 23 - Kansas City BJJ Championships (Kansas City, MO)
Kansas City AGF Tournament Preview
Kansas City AGF Tournament Recap
Kansas City AGF Featured Champion - Clay Mayfield
April 30 - Jackson BJJ Championships (Jackson, MS)
Jackson AGF Tournament Preview
Jackson AGF Tournament Recap
Jackson AGF Featured Champion - Jessica Dobbs
May 7 - Summer Classic (Duncanville, TX)
AGF Summer Classic Tournament Preview
AGF Summer Classic Tournament Recap
May 21 - Columbus BJJ Championships (Columbus, GA)
Columbus AGF Featured Champion - Jessica Duncan
June 18 - Tulsa Open (Tulsa, OK)
Tulsa AGF Tournament Preview
Tulsa AGF Tournament Recap
Tulsa Featured AGF Competitor - Mike Mullinax
July 16 - Arkansas Open (Conway, AR)
Arkansas AGF Tournament Preview
Arkansas AGF Tournament Recap
Arkansas Featured AGF Champion - Blake Snow
July 30 - Albuquerque BJJ Championships (Albuquerque, NM) - Tournament and Fight 2 Win Pro Event
Albuquerque AGF Tournament Preview
Alburquerque AGF Tournament Recap
Albuquerque Featured AGF Competitor - David Allen Parker
Aug. 6 - Battle of the Big Easy (Westwego, LA) - Tournament and Fight 2 Win Pro Event
AGF Battle of the Big Easy Tournament Preview
AGF Battle of the Big Easy Tournament Recap
Battle of the Big Easy Featured AGF/F2W Champion - Cole Dobbins
Aug. 13 - Lone Star Classic (Conroe, TX) - CANCELLED
Sept. 10 - Oklahoma City Open (Oklahoma, OK) - Tournament and Fight 2 Win Pro Event
AGF Oklahoma City Open Tournament Preview
AGF Oklahoma City Open Recap
Oklahoma City Open Featured Athletes - Shepherd Family
Sept. 17 - Phoenix BJJ Championships (Mesa, AZ) - Tournament and Fight 2 Win Pro Event
AGF Phoenix BJJ Championships Tournament Preview
AGF Phoenix BJJ Championships Tournament Recap
Sept. 24 - Chicago BJJ Championships (Lynwood, IL) - Tournament and Fight 2 Win Pro Event - CANCELLED
Oct. 1 - Tampa BJJ Championships (Tampa, FL) - Tournament and Fight 2 Win Pro Event
AGF Tampa BJJ Championships Tournament Recap
Oct. 29 - Dallas BJJ Championships (Duncanville, TX)
Dallas BJJ Championships Preview
Dallas BJJ Championships Recap
Dallas BJJ Championships Featured Athlete - Bo Montier
Nov. 5 - Arkansas State BJJ Championships (Conway, AR)
Arkansas State BJJ Championships Preview
Arkansas State BJJ Championships Recap
Arkansas State BJJ Championships Featured Champion - Laura Uyeda
Nov. 19 - St. Louis BJJ Championships (Collinsville, IL)
St. Louis BJJ Championships Tournament Recap
St. Louis BJJ Championships Featured Champion - Andrew Wiltse
Dec. 3 - AGF Nationals (Tulsa, OK) - RESCHEDULED FROM DEC. 10
2016 AGF Nationals Tournament Recap
Dec. 17 - Atlanta BJJ Championships (Duluth, GA)
2016 AGF Atlanta BJJ Championships Recap

2016 AGF Nationals
American Grappling Federation
Waxahachie TX 75165