Frequently Asked Questions and Answers for Specialty Flooring
By Greatmats Staff Created: November, 2019 - Modified: May, 2023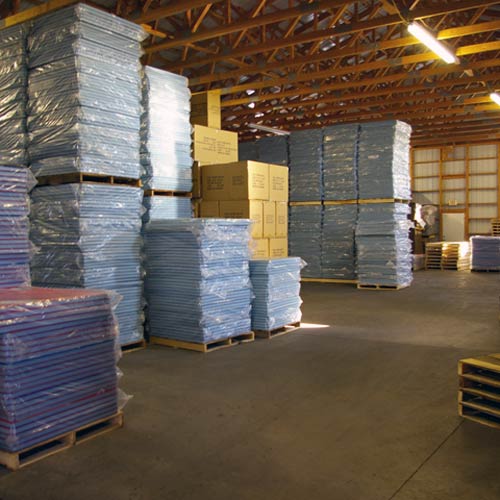 As a specialty flooring retailer for more than 20 years, Greatmats has answered a lot of questions over the years and has been happy to do so. Here we've compiled a list of the most frequently asked flooring questions.
How do I choose the right floor?
The quick answer to this question is "Call Greatmats!" But if you don't feel like picking up the phone, Greatmats has an extensive Flooring Buyer's Guide designed to help you do just that. The easiest method to get to the right place would be to start with your use type. We've broken the Buyer's Guide into a couple dozen different categories to help narrow the process. Inside each category you find information about Customer who've used our products for your intended purpose - or something similar to it. You'll also find different options for that use type as well as ideas on how to use them and what benefits each product offers. If you plan to install and maintain the floor yourself, Greatmats' Buyer's Guide also offers numerous "How-to" instructions.
What is the best flooring for my project?
Again, a phone call is probably the quickest way to get the answer to this question, but visiting the buyer's guide is still your next best option.
Do you provide installation services?
No, we do not provide installation services. Many of our product options are made to be a fairly easy do-it-yourself project. Please read the installation instructions thoroughly before you install. If you have any questions, please give us a call. If you would like installation services, we recommend reaching out to a local contractor.
How is the flooring delivered?
The product and location to be delivered play a big role in determining how flooring is delivered. As a general rule, smaller and lighter packages can be delivered via ground delivery to your door. Larger and heavier flooring options are likely going to require freight delivery. If you call and speak to a Greatmats representative, we'll help you find the best option for you, which includes comparing the pricing among different carriers.
Lift gate service
may be available for freight deliveries where a loading dock or forklift is not available at the delivery location.
What is the difference in materials?
The most accurate way to determine which materials are used on any given flooring product is to visit the product page and look at the specifications tab. If you are not familiar with that given material, turn to our Buyer's Guide once again as we have blogs that discuss the differences between flooring materials. (Or give us a call. Hint… Hint…)
How do I determine the correct amount of material?
Greatmats has two free online tools to help with exactly that. The quickest way to get a rough estimate of how much flooring material you will need is to use our quick calculator located toward the top of each product page. For a more complete and accurate estimate, you'll want to try out our pro floor plan designer tool - also located on each product page. This tool lets you enter the exact dimensions of your room and even include multiple colors for custom designs. Then it will give you a tile, roll or mat count for each color.
What is SF vs SY vs LF?
Simple put these are abbreviations for flooring measurements. SF stands for square foot. SY is short for Square Yard. And LF represents Linear Foot.
What online design tools does Greamats have?
Greatmats has 3 online design tools.
1. Pro Floor Plan Designer - This allows you to plan the flooring for your room based on its actual dimensions.
2. Product Based Room Visualizer - This allows you to see what the flooring looks like in you home, business, etc. based on you uploading a picture of your space and selecting the product you'd like to in there.
3. Quick Calculator - This allows you get a quick estimate of how much flooring you will need to complete the job based on the simplest dimensions.
How much is shipping?
Now that's a "loaded" question''. Shipping greatly depends on the product. Greatmats offers free shipping on many of its smaller flooring tiles and mats. For smaller items that don't have free shipping, you'll likely be able to opt for a ground delivery option that a Greatmats representative can help you determine the cost based on carrier. The most expensive shipping comes with freight delivery. This shipping option is generally used for larger tiles, mats and flooring rolls - in which case, it would be best to speak with a Greatmats representative. Some products may offer the option to calculate shipping once you've added it to you shopping cart.
What is the lead time?
Again this varies by products. For many of our most popular items that we keep in stock, it's not uncommon to find that the product can be shipped within 1-3 business days. Other high demand or custom items can and likely will run longer. It's best to speak with a representative if you don't see the lead time on the product page.
Do you offer any discount?
Greatmats is known for its competitive pricing. At any given time you can find hundreds of our products on sale at Greatmats.com. If you're looking to order a significant quantity of flooring, speak with us by phone to see if you qualify for our volume pricing.
Do you have any physical stores?
No, we do not have any physical stores as we are an e-commerce business. Depending on which product you are interested in, you may be able to pick it up at a warehouse. This does depend on the product and location of the warehouse that the product is stocked in.
What is your return policy like?
We highly recommend you check our
return policy here
.
Can this be installed or used outdoors?
The best way to get a quick answer to this question is to check the product page. In most cases it will identify whether the product is intended for indoor or outdoor use. Under the specifications tab, there is also an area that addresses whether the product has been UV treated. If you'd like more detailed information, we're only a call away.
Can this be installed on top of carpet?
At Greatmats, we have many flooring options that can be installed over carpet. Most of these are modular tiles with a raised base, but that doesn't mean other flooring options must be ruled out. Sometimes modifications can be made for installation over carpet. Other times, it really depends on how big of a space you plan to cover or whether it will be a wall-to-wall installation. We also have flooring products that really shouldn't be installed over carpet. Again, the product page will often give you insight into which products are good for over carpet installation, and our customer service team is happy to give advice in this department.
Can I park my car on this?
We've got a few different places we can direct you to flooring that can have cars parked on it. In most cases, you'll find these floors either in our Garage Flooring Category or Ground Protection Mat Category. Something to keep in mind is that most automotive safe flooring will be made of plastic. Most foams are too soft and most rubbers can be susceptible to degradation when they come in contact with automotive fluids.
Is this waterproof?
The best place to find the answer to this question is in the specifications section of the product page. Look for the line entitled "Non Absorbent." As a general rule most plastics and closed cell foams are waterproof as well as vulcanized rubber products.
Can I install this on concrete in my basement?
Most of our products can be installed over concrete in a basement. Many even offer cushioning and insulation against the cold, hard floor. With that being said, if your basement is prone to water or moisture, some products are significantly better than other for working with that type of environment. If in doubt, call.
Do I need an underlayment?
This greatly depends on what type of flooring you are installing and what you will be installing it over. It's always best to call on this one. Fortunately, if you do need an underlayment for any of our flooring, odds are Greatmats has the one you need.
What is the life expectancy?
Flooring life expectancy depends heavily on use and proper care. It's not uncommon for well cared for floors to last more than a decade, even soft foam floors. With that being said, some materials are designed for greater longevity than others no matter what the situation. Checking the warranty information on the product page will provide a good indicator as to which materials are more durable. Keep in mind that just because some have shorter warranties, it doesn't mean that they are an inferior product. Many times, they just have a different intended use.
What is the product made of?
The majority of Greatmats flooring is made of rubber, plastic, foam or vinyl. We do also offer flooring made from other materials, such as cork, etc. As a company dedicated to sustainability, we also offer many products made from recycled materials. Be sure to check the product page of any flooring you may question what material it is made from.
Is this toxic?
We do not recommend you eat any of our flooring :-) Seriously! All jokes aside, Greatmats takes great pride in providing the safest specialty flooring products available. With that being said, nearly all flooring products do off-gas to a certain extent. Some materials off-gas more than others. If you are sensitive to this, be sure to speak with our knowledgeable an understanding customer service reps to find a product that will meet your needs.