By Greatmats Staff Created: September, 2017 - Modified: July, 2021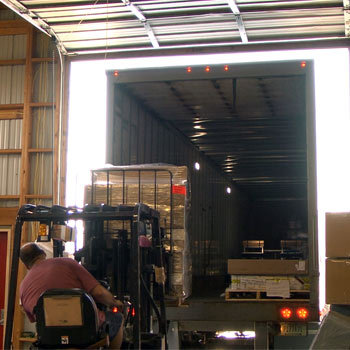 Once orders have been placed, processed and payment is approved, products ship via common carrier freight, UPS Ground or Fed Ex Ground unless otherwise specified.
Greatmats usually ships in-stock products within 1-3 business days. Custom and special order products typically have longer lead times. Confirm product production lead times with Greatmats customer service or sales representatives at the time of order or on our web site. All products are assumed to be shipped FOB from origin, on behalf of the customer as a service to the customer. Material ownership takes place at time of shipping.
Shipping Notification
UPS and FedEx Ground deliveries do not require a signature at the time of delivery and will be left at the location if no person is present, unless otherwise requested.
Greatmats will email the contact person listed on the billing address of each order after the product ships. This email will contain shipping information, including the shipping or trucking company name, phone number and shipment tracking number. Online orders with freight delivery that are marked as ''Delivery to Residential'' or ''Non Loading Dock Business'' will have a lift gate and delivery appointment added to the order. The trucking company will call to schedule a delivery time window. And we also recommend customers call the trucking company to coordinate delivery and to confirm delivery the day of the appointment.
Business deliveries with a loading dock and no need for a delivery appointment are asked to list the receiving party on the shipping address of the order and to contact the trucking company directly to coordinate delivery date and time as needed by the customer. The receiving party is required to meet the truck at the time of delivery to avoid re-delivery charges. Its the responsibility of the receiving party to become informed in order to know when the truck is coming.
For all business deliveries via freight truck, the trucking company will assume your business is open and staffed to receive deliveries Monday through Friday during normal business hours. For all delivery appointments, it is the sole responsibility of the customer to contact the trucking company and arrange a delivery appointment as needed.
Delivery Timing
If you require products delivered by a certain date, please call Customer Service to verify product availability. Some products available for online order may not be in stock. All listed shipping times are estimates. Specific delivery dates and/or time frames cannot be guaranteed for any product or order. For orders with deadlines please order well in advance. Greatmats is not responsible for lost, misplaced or delayed shipments or freight damaged by the freight carriers.
Unloading Product
Business freight deliveries or freight deliveries without a lift gate are dock to dock, which means the receiving business party is required to remove the product from the truck via a loading dock or with a forklift. Truck drivers are not responsible for removing product off of the truck by hand. Hand unloading of material off of the truck by customers is no longer allowed by most freight companies and therefore is not an option with Greatmats freight deliveries.
Inspecting for Damage
Please be sure to check all packages for any potential damage during transit. It is the sole responsibility of the receiving party to fully inspect the product at the time of delivery for any potential damage. Greatmats is not responsible for damaged products due to shipping. We recommend removing any protective wrapping to fully inspect the product, before the driver leaves. In addition, please count the product before signing the Delivery Receipt. Once the Delivery Receipt with no exceptions noted, the trucking company has not further responsibilities and will not honor claims if the Delivery Receipt is not noted with the issue.
What to Do If Product is Damaged
If the product is damaged in any way, DO NOT REFUSE THE PRODUCT. It is best to receive the product and replacement product will be shipped out to you. Please read on. Refusing product by the customer does not recuse the customer of re-deliver or return shipping costs or product restocking fees.
If damage did occur during transit, any and all damage must be noted on the Delivery Receipt in detail and signed by the driver. A copy of the Delivery Receipt is required to be faxed, emailed or snail mailed to Greatmats in order for a damage claim to be filed with the trucking company, on our customer's behalf, in order for replacement product to be sent to the customer.
When possible, please photograph the damaged product on the truck and off the truck for evidence that will assist with a product damage claim. Damaged product must be held in the customer's possession up to 2 months. The shipping company has the right to inspect and/or claim the product if a damage claim is filed and/or paid by them. Greatmats can only make one delivery claim per shipment, which means all damage or delivery issues would need to be documented during the initial claim.
Lift Gate and Inside Delivery Options
Lift gate delivery service is available at an additional cost over and above standard dock-to-dock business service. Lift gate service is required for all customers that do not have a loading dock or a forklift. If requested and paid for at the time of order, lift gate service will transfer the product off of the truck and onto the curb at the delivery site. This DOES NOT include any inside-of-home or garage delivery, or moving the freight pallet away from the curb.
Additional Accessorial Charges
Any and all additional charges not previously paid, or provided at the time of order, such as inside delivery, change of address, residential delivery, limited access, re-delivery and storage fees will be the sole responsibility of the customer unless stated in the customer order as part of the shipping costs pre-paid by the customer at the time of order.
Limited Access Issues
Most freight deliveries will arrive in a full size 42 foot tractor trailer semi-truck, (such as long haul trucks you might see on the freeway system). It is the customer's responsibility to notify Greatmats at the time of order, if your delivery location has potential limited access issues, such as a truck being unable to reach your location or turn around in your area. Accessorial services, such as lift gate, are not guaranteed. Any and all re-delivery charges incurred will be billed back to the customer if delivery is attempted and cannot be completed because of unknown limited access issues.
Delivery Refusal
If the customer refuses delivery for reasons other than those agreed to in writing within the order document, the customer will be responsible for all initial shipping and re-delivery and/or return shipping charges in addition to product restocking fees when applicable. It is important to note that freight deliveries are always curbside, even when a lift gate option is added to the order. 'Curbside' means at the street. Drivers are not obligated to deliver freight into driveways or garages. Inside delivery is not available.
Lost Freight
Freight companies, in some cases, lose or misdirect freight by mistake. If this happens, freight companies will request up to 10 working days or more in order to locate the freight before the shipper is allowed to file freight loss claims. Replacement material can only be resent to customers if a freight loss claim is filed - or new material is purchased.
Items with Free Shipping
For items with free shipping, Greatmats will always choose the least expensive option, and in some cases this may be a freight delivery. If customers can not, or do not want to receive a freight delivery for any reason, the customer can upgrade their shipping method to a ground version and pay the difference.
For further questions regarding the above Greatmats Shipping Disclaimer statements, please contact Customer Service.