Blood or No Blood, BJJ is Family Business for Blake Dvorak
By Brett Hart Created: June, 2017 - Modified: July, 2021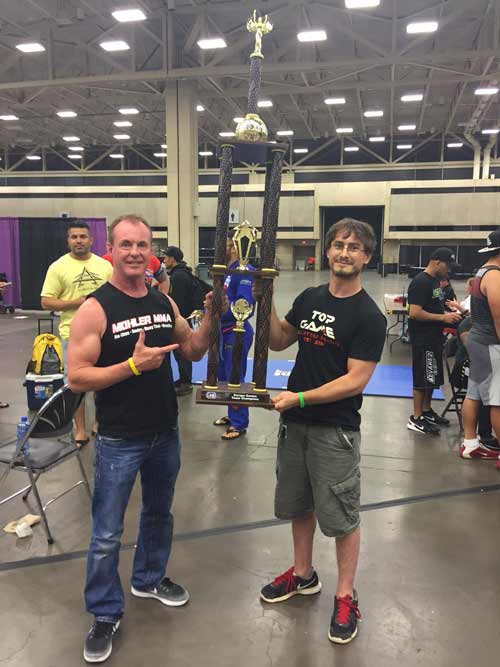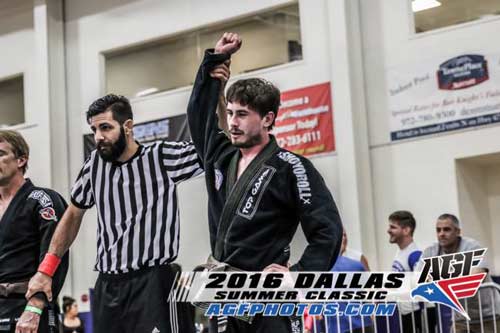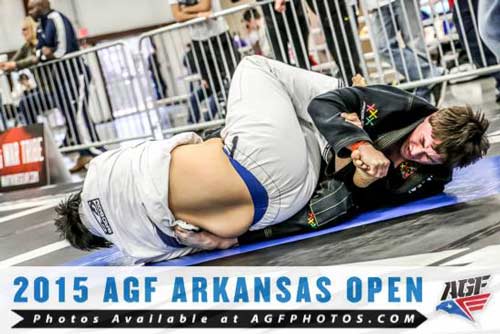 What began as a father/son bonding excursion turned into a lifestyle for 24-year-old Blake Dvorak. Big fans of the UFC, Blake and his father, Dave, spent a lot of time watching the mixed martial arts fights. One day a co-worker of Dave's mentioned that he was training in Brazilian Jiu Jitsu at a local academy, and the father/son duo decided to check it out.
''We went in and tried a class, and we've been hooked ever since,'' Dvorak said, noting BJJ is his first and only martial art. ''From the first time I stepped on the mat, I've been consumed by it, and didn't want any other art to get in my way of progressing.''
His family is equally as thrilled with Blake finding his calling in the sport.
''The first time my wife's parents came to watch me compete was at a BJJ classic event, which is a no points/no time limit event,'' he said. ''My match went for over 17 min. Once it was over, and I finally landed my submission, I began to walk over to them and say hi, but quickly had to run to a trash can to vomit. They were a little weirded out, but after a few more events, they were in board.''
Now a 4-stripe brown belt, competing at between 145-160 pounds, Dvorak will celebrate 10 years in the sport this September. Along the way, he and Dave (also a brown belt) have accomplished many feats.
As a blue belt juvenile, Blake placed second at the Dallas ADCC (Abu Dhabi Combat Club) trials. He's also earned bronze medals at the IBJJF (International Brazilian Jiu-Jitsu Federation) Dallas open in both Gi and NoGi competition. Twice he's competed in F2W (Fight to Win) Pro events.
''I have always had my best results at submission only events,'' Blake said.
But what may just take the cake for his own personal satisfaction is leading his team to multiple team titles at
American Grappling Federation
(AGF) championship tournaments.
''My favorite thing about BJJ is teaching,'' Blake said. ''I was fortunate to have the opportunity to run the kids program at my previous academy, and instantly knew that I wanted to do this forever. Having someone come through the door looking for something - be it, fitness, camaraderie, a new skill, or whatever they may be looking for and helping them find it. I've seen men, women and kids become new people, and no accomplishment I've had in the sport compares to that.''
Three years ago, Blake and Dave opened their own academy - Top Game Jiu Jitsu Studio - in Denton, Texas. When he's not teaching or training at his academy, Blake is training in Coppell, Texas at Mohler MMA under the instruction of 4th degree black belt Professor Allen Mohler.
When it comes to competing, AGF tournaments are where Blake finds himself most comfortable.
''The American Grappling Federation is like a second home to me,'' Blake said. ''Chris (Carlino) and the team are always working hard to make their events better, and it shows every time. Best customer service; the medals are high quality; professional photos of competitors and podium winners; and it's a family business. If there is an AGF tournament in town, you'll always see me and my team on the mats.''
At the recent Greatmats-sponsored AGF Winter Classic on Jan. 22 in Duncanville, Texas, Blake won his first NoGi match by a heel hook but injured a rib in his finals match and had to bow out the rest of the event. Meanwhile, much to his delight, his team put together a strong performance, earning a second place in the Adult NoGi Division and third place in the Adult Gi Division.
''BJJ is a part of my life,'' Blake said. ''It's how I make my living, how I deal with my stress, how I make new friends, how I get to give back to my community and help people find what BJJ has to offer.''
To learn more about American Grappling Federation Tournaments and athletes visit
Greatmats' AGF Tournament Resource Page.
Blake Dvorak
Top Game Jiu Jitsu Studio
Corinth TX 76208