Third Degree TKD Black Belt Dobbs Continues Learning through BJJ
By Brett Hart Created: June, 2017 - Modified: July, 2021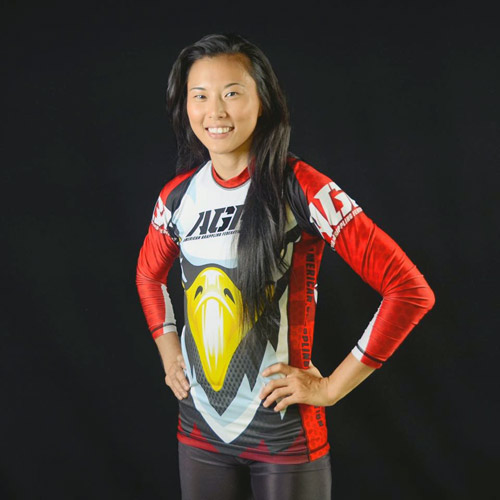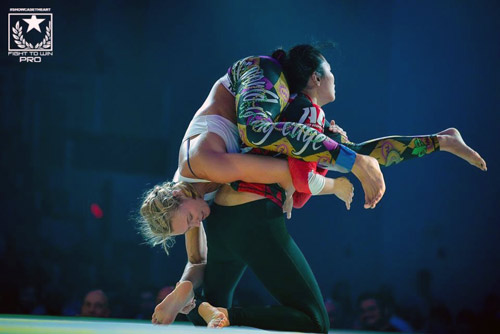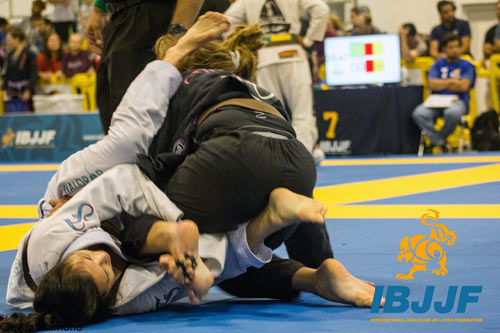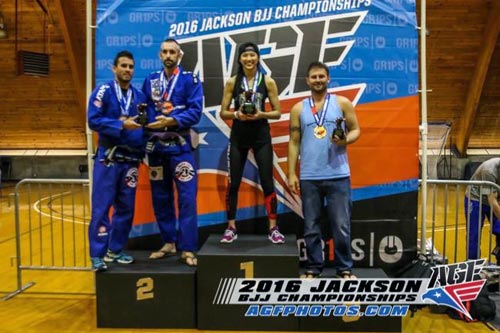 Third degree Tae Kwon Do black belt and Muay Thai practitioner Jessica Dobbs found a home in grappling 6 1/2 years ago as a junior in college.
The Love of the Challenge
Inspired by the constant challenges that Brazilian Jiu Jitsu presents her, Dobbs said, ''I try to compete as often as I can. Whatever time and money allow, I will do it. I love competing!''
At this year's Greatmats-sponsored American Grappling Federation (AGF) Jackson BJJ Championship, Dobbs won the No Gi Absolute Pro Division and continues to push herself by facing strong competition.
Now a 27-year-old brown belt in Brazilian Jiu Jitsu, Dobbs trains at No Limit Jiu Jitsu in Starkville, Mississippi, with Jae McIntosh under instructor Jarrett Becks, and competes in Adult Female Brown Belt Feather/Light Weight Gi, No Gi and Pro Divisions. Her progression through the sport has allowed her to showcase her skills through high level organizations like Fight to Win Pro and Kakuto Submission Challenge. She's also caught the eye of numerous sponsors and supportive companies like the AGF, Ok! Kimonos, Machina Boxing, Impact Custom Mouthguards, Waldrop Chiropractic and BJJ Tees.
''I come from a small school, so it is very important to me that I compete,'' Dobbs said. ''I have been training every night and I compete regularly. I wouldn't know what to do with all the free time if I didn't train jiu jitsu. ... I know that if I don't show up then I am not helping anyone or myself. If I am having a bad day, I know that after the training session even if I felt terrible, I will feel better afterwards.''
Always Learning
Most recently, she competed in the IBJJF Atlanta Summer Open Gi and No Gi and brought home 1 silver and 2 bronze medals - losing all of her matches. Even those losses did not discourage the perseverance and competitive spirit of this martial arts veteran.
''I compete because I want to be able to test myself against the best out there,'' Dobbs said. ''The ladies I went against in Atlanta are ranked in the top 20 for female brown belts and have been a brown belt longer than I have, so it's always good to feel myself out there and see where I stand. The learning experience from each match made the medals more than just 'consolation' prizes.''
''Whether I am competing or I am training, there's always something I can do to improve. I am always learning about techniques, positions and concepts, and I am also learning about myself.''
Camaraderie
''I also like the camaraderie it creates, because some of my good friends are the ones I have met on the mats,'' she said. ''My biggest accomplishment in the sport has been being able to teach for three and a half years, and getting to see my students' commitment to Jiu Jitsu and their growth on and off the mats.''
For all of the support she's given her students, Dobbs gets an equal amount in return, including from those experienced in the sport and family members with no experience in martial arts at all.
''My family is really supportive,'' Dobbs said. ''My dad has never told me that I couldn't do anything, and when I tell him I am going to do a tournament, he just asks that I be safe. My dad understands that this is not a hobby for me, but this is what I choose to do with my life.''
Dobbs added, ''I wouldn't be where I am today without my instructors, coaches, teammates, and students. ... I thank God for the opportunities He has laid out before me through BJJ.''
To learn more about Greatmats-sponsored American Grappling Federation Tournaments and athletes visit
Greatmats' AGF Tournament Resource Page.

Jessica Dobbs
No Limit Jiu Jitsu
Starkville MS 39759
For more on this topic please review our
MMA Mats
product page.