Jessica Duncan - Greatmats Featured AGF BJJ Champion
By Brett Hart Created: June, 2017 - Modified: July, 2021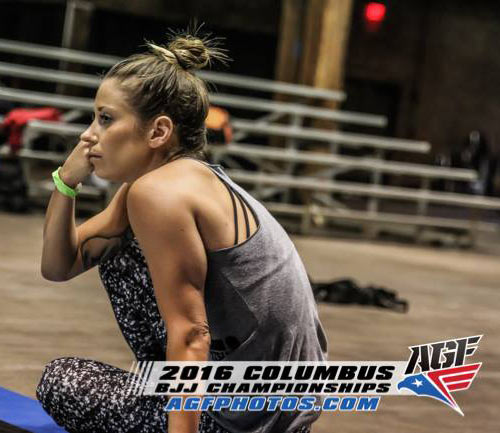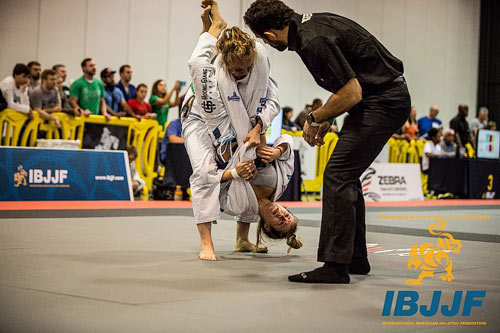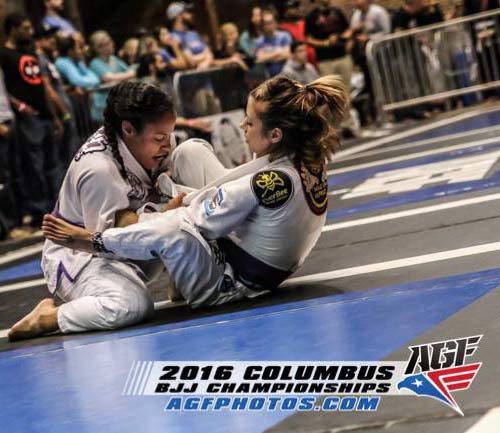 JUNE 24, 2016 - Brazilian Jiu Jitsu (BJJ) has provided direction and opened doors Jessica Duncan never would have imagined. This 29-year-old world BJJ medalist has not only excelled on the mat, but has used BJJ for personal and professional guidance.
Originally looking to get into Mixed Martial Arts (MMA), Duncan joined a gym to take Muay Thai classes and was quickly convinced by one of the coaches to try BJJ. It was love at first roll.
''I went from never having trained BJJ at all to training two times a day,'' Duncan said.
That was almost exactly four years ago to this day!
Six months after receiving her blue belt, Duncan placed third at the International Brazilian Jiu-Jitsu Federation (IBJJF) World Jiu Jitsu Championships.
''I had two submissions, both triangles, which was really exciting,'' Duncan said.
Now a purple belt, Duncan has found herself on the podium numerous times in both her weight class and the open class at the IBJJF Atlanta Open and IBJJ Chicago Open in both Gi and No Gi competition.
''I love learning, and Jiu Jitsu is basically an endless journey of learning, especially with how rapidly the sport has been evolving,'' Duncan said. ''Jiu Jitsu allows me to challenge myself constantly, and basically teaches me on a daily basis how to be a better version of myself. At the end of a long day, there is really nothing else I would rather do than hang out with my second family, train hard, and have fun!''
Most recently, Duncan, who trains and instructs under 8th Degree Black Belt Master Ricardo Murgel at Union Team BJJ in Alpharetta, Ga., earned a gold medal in her weight class at the IBJJF Atlanta Pro on April 30 and gave up 37 pounds to compete in the
American Grappling Federation
(AGF) Columbus BJJ Championships Adult Female Purple Belt - 150 pounds and under division - on May 21, where she picked up a late takedown for a two-point overtime win to claim the Gold Medal.
While Duncan has competed on bigger stages, the Greatmats-sponsored AGF Columbus BJJ Championships in Columbus, Georgia, left a lasting impression on her.
''The venue was really cool,'' she said. ''It was refreshing to compete somewhere other than a gym or a conference room. My teammates and I also enjoyed exploring historical Columbus and eating some great food afterwards. The tournament was extremely well run and mostly everything was on time, which is rare these days no matter (which) tournament you attend! I can't remember the last time I left a tournament that early. (AGF Co-Owner) Chris (Carlino) does a great job at speaking with coaches and competitors and making everyone feel welcome!''
The Ripple Effect
''Jiu Jitsu has helped me become more focused, driven, self confident, and goal oriented,'' Duncan said.
Her rigorous BJJ training regimen aggravated an old injury, introducing her to chiropractic medicine. Now, she splits her time between grappling and working on her Doctor of Chiropractic degree from Life University.
''Maintaining a full-time training schedule while working towards this degree has been very grueling, so I am excited to be out in the work force,'' Duncan said, but noted that BJJ and her studies compliment each other well.
''Over the past 3 years, whenever I am training hard for a big tournament, my grades are always extremely high,'' she added. ''Marital Arts, especially Jiu Jitsu, have such an amazing capability of impacting people's lives in so many different ways. In fact, I have also met so many incredible people from all over the world through training and competing in Jiu Jitsu. I have made friendships that I know will last a lifetime, I have gained a teacher and mentor that has taught me invaluable life lessons, and I even met my fiance on the mat! I have truly gained a second family.''
After graduating from Life University in December, Duncan plans use her degree to work with athletes, especially in the BJJ community while continuing to train and compete with the ultimate goal of becoming a world champion.
''I just love this sport so much,'' Duncan said. ''I want to motivate as many people as possible to become involved. It is truly life changing.''
Learn more about American Grappling Federation Tournaments and athletes by visiting
Greatmats' AGF Tournament Resource Page.
Jessica Duncan
Union Team BJJ
Alpharetta GA 30004