BJJ brings challenges and rewards for Mike Mullinax
By Brett Hart Created: February, 2017 - Modified: July, 2021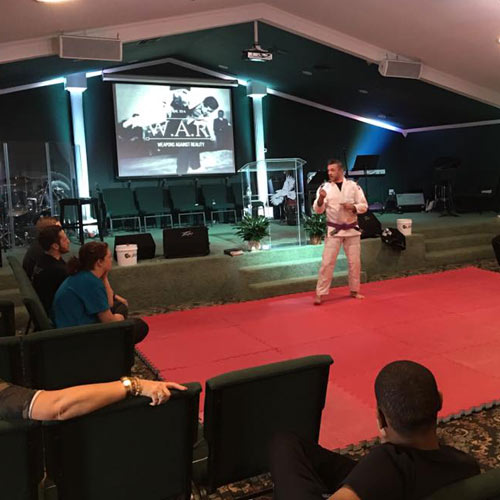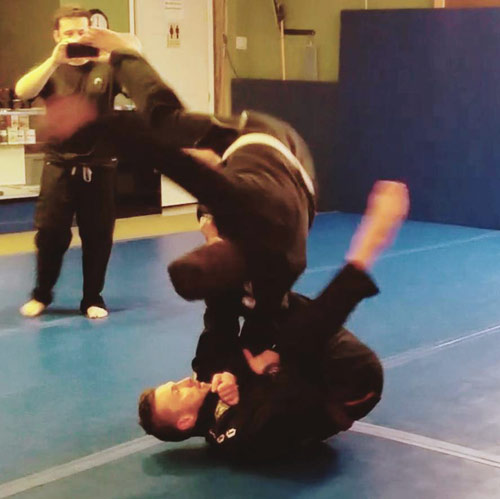 It's all about balance, time management and family for BJJ purple belt Mike Mullinax, owner and instructor at Rogue Jiu Jitsu in Collinsville, Oklahoma.
This 33-year old husband and father of four not only owns his own gym where he trains and teaches Jiu Jitsu 17 hours per week, but he travels across the the state of Oklahoma - and occasionally as far as Florida - to compete in numerous
American Grappling Federation
tournaments each year. And that represents just a small portion of his waking hours.
When Mike's not participating in jiu jitsu, he's working full-time selling insurance, working with church youth groups as part of his non-profit program, and working side jobs as a DJ.
''You could say I have a lot going on,'' Mullinax said. ''But with everything, I still have to be a husband and father to my kids.''
He credits his wife, Erica, with enabling him to do all of these activities, many of which do not pay.
Erica wasn't exactly keen on Mike's training at first, but after watching him at his first tournament as a blue belt, she looked at him and said. ''This is real to you, isn't it?''
''She has always been supportive, but that moment really opened her eyes to what BJJ means to me,'' Mike said.
Erica takes care of the kids during the day until Mike can take them to the gym with him at night. Three of his four children train with him while hanging out together.
''We make sure to spend time together in the evening and on the weekends,'' Mike said. ''It's not easy, but we work on it daily... (It is) pure joy to see my kids getting great workouts and learning to protect themselves. Plus, it's time we have together, and that's what's important.''
Inspiration
While Mike jokes that he got his start in martial arts watching Jackie Chan ''Living Room Instructional DVD's'' (aka Movies), his journey through BJJ began 7 years ago when he won a ticket to a local MMA fight, which he attended with his brother-in-law.
A man he knew was cornering for one of the fighters and remembered Mike as being ''scrappy.''
''You have to come try this,'' the man told Mike. And a few weeks later Mike was in the gym studying for his own personal test.
''I have always been a smaller guy,'' Mike said, noting that he was a 120-pound tuba player at the time he graduated from high school and was constantly teased and bullied in his preteen years.
''BJJ has shown me that I am stronger than I ever thought,'' Mike said. ''It's really the greatest confidence builder that I have ever had. ... It's still humbling 'cause you can be beat each and every roll.''
The biggest factors that keeps him going in the sport are his kids and students.
''I want them to see that you can do anything want in life if you just work hard and never give up,'' he said. ''Those people have stood behind me for years now and have always had my back. In return, I get to see them compete and achieve their own success in BJJ.''
Defining moment
Mike's defining moment in BJJ came when he promoted to purple belt at Triton Fight Center - the same day as his professor, Piet Wilhelm's wedding.
''He did a huge seminar that day with 17 black belts and 100-plus people attending,'' Mike said. ''I would be lying if I said I didn't cry a little. Besides the amazing setting, it was a clear example of how hard work pays off.''
Wilhelm has served as a positive mentor with a long-lasting impact on Mike who crediting Wilhelm for mentoring him into the ''gym owner and even man I am today.''
Latest challenges
Always up for a challenge, Mike competes up a weight class at each Greatmats-sponsored AGF Tournament - in the 175-pound, Purple Belt Master (30 and up) and Masters Advanced No Gi classes, in addition to competing in Gi and No Gi absolute divisions. At the Tulsa Open on June 18, Mike was off to a strong start when he hurt his knee, defending a leg attack. He took the advice of his counsel and decided not to finish the day - a first for him at any tournament.
Competing in tournaments almost every month and having a couple of possible super fights coming in the near future, he chose to play it safe.
Even with the disappointing end to the tournament, Mike said he loved everything about the Tulsa Open, including the tough prep work of training, weight watching and focus - and traveling with his family and team.
''I love walking into the venue for the first time of the day,'' Mike said. ''I can't even normally hide my goofy smile. It's the meeting people and getting to see friends from all over... Then the matches. I'm a gamer and enjoy giving my opponent a war. Win or lose, I enjoy knowing where I stand in my development.''
An AGF-sponsored athlete, Mike commends AGF co-owners Brandon Quick and Chris Carlino for ''doing great things to bring us amazing tournaments.''
Giving back
Away from competition, Mike has also challenged himself to do more for his community.
''That why I started Weapons Against Reality (W.A.R.). This is my non-profit program that travels to churches and speaks with their youth groups. I get to teach beginners Jiu Jitsu and share my testimony. BJJ has given me and my family so much. It has brought me some of the greatest friends.''
Learn more about American Grappling Federation Tournaments and athletes by visiting
Greatmats' AGF Tournament Resource Page.

Mike Mullinax
Rogue Jiu Jitsu
Collinsville OK 74021