Grappling MMA Mats 1-1/2 Inch x 1x1 Meter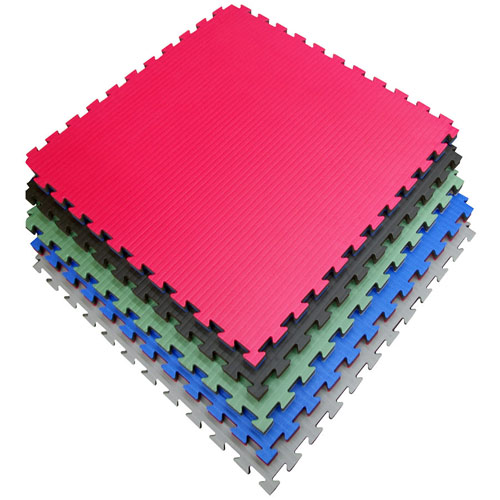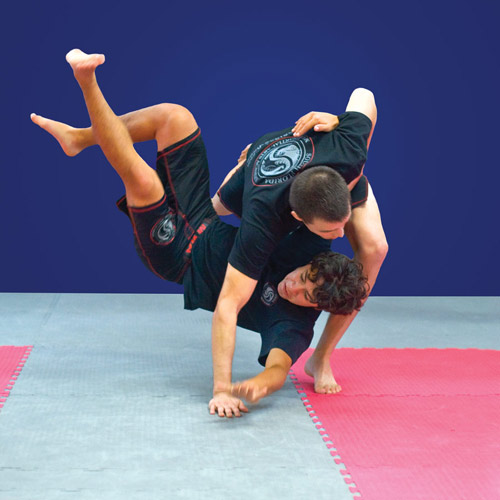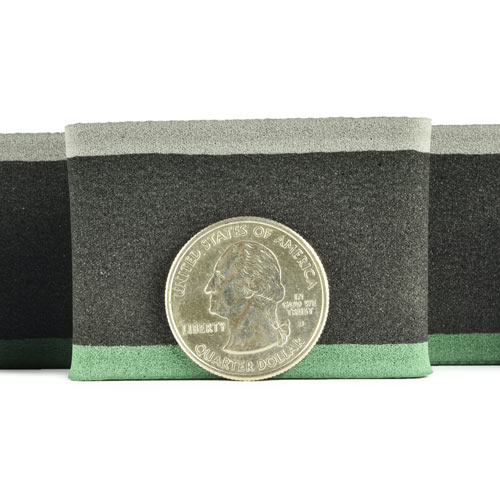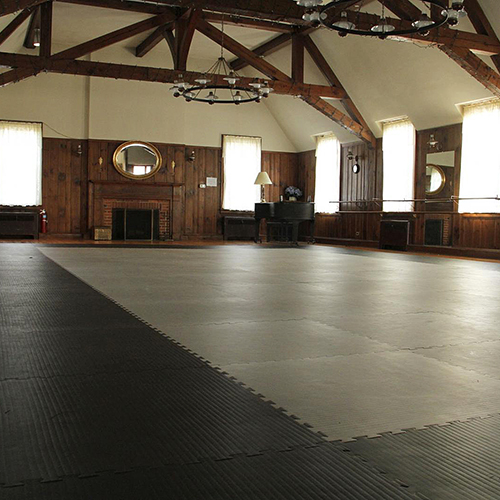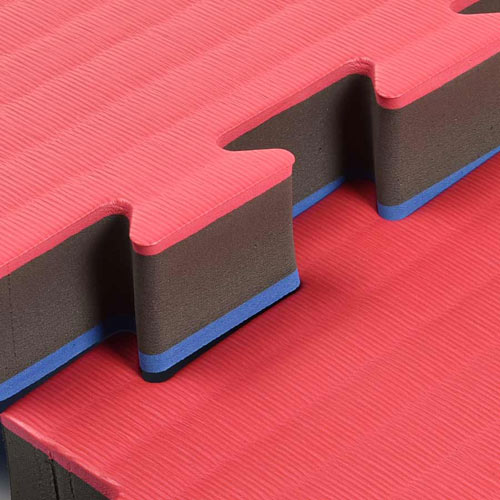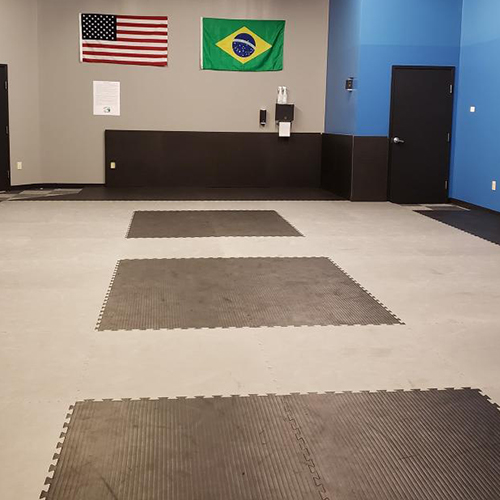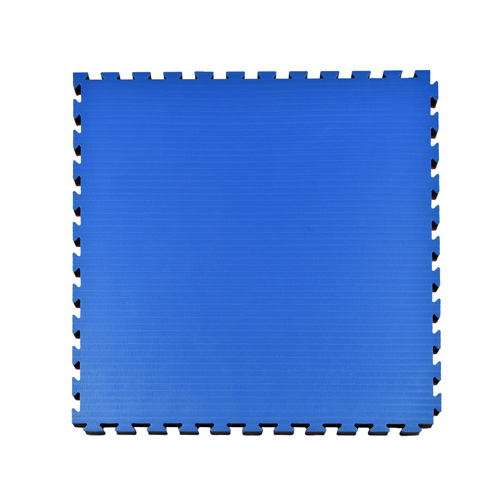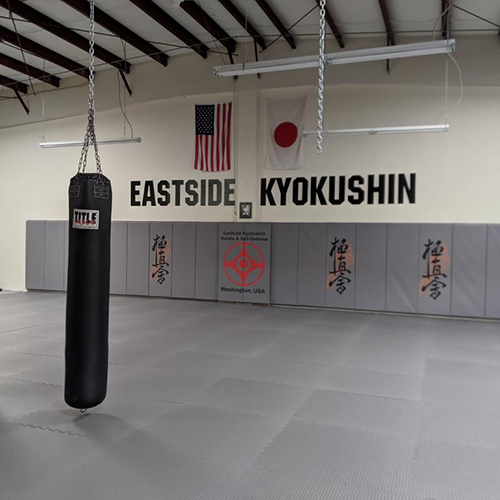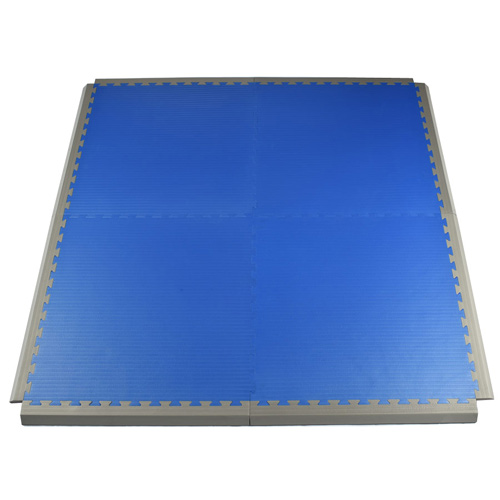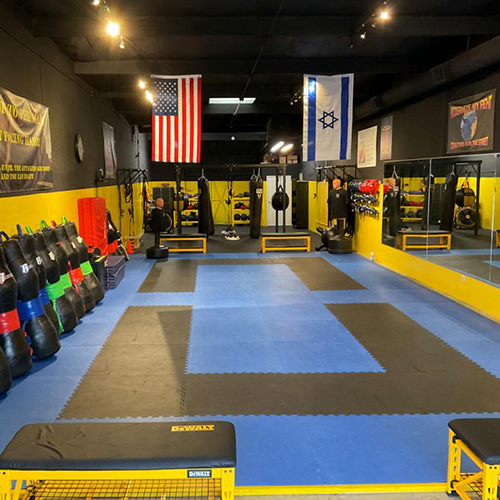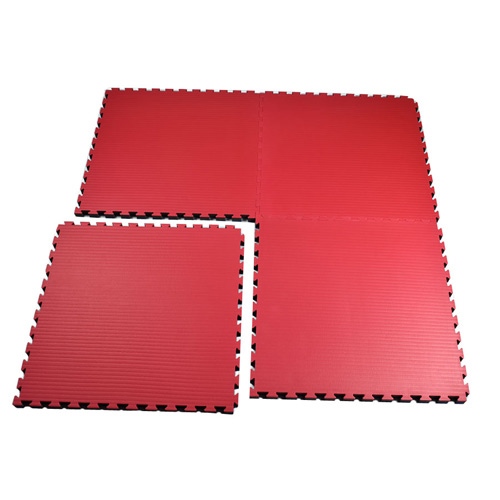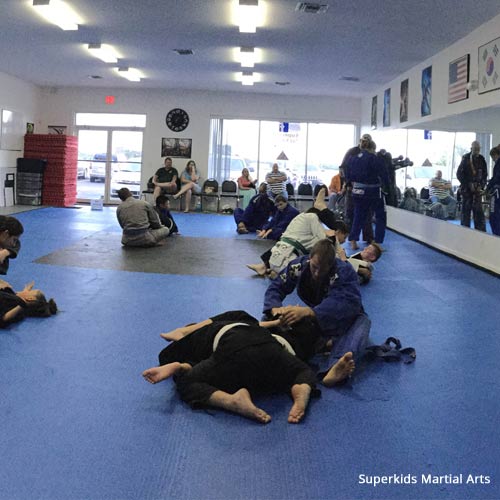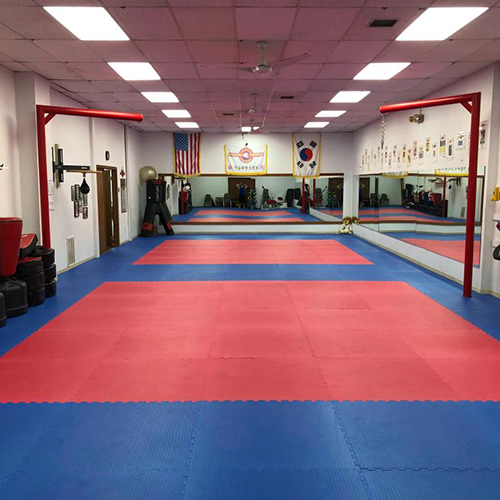 Great for ground work and takedowns
No skin burn tatami texture
4 foot ASTM fall height rated
$32.95
/tile
(You Save 21%)
(263 Reviews )
Ships Out: Estimate 1-3 Working Days

Red/Blue

Green/Gray

Black/Gray
How Much Flooring Do I Need?
VIDEOS
TOP FEATURES
Great for ground work and takedowns
No skin burn tatami texture
4 foot ASTM fall height rated
Tight-fitting interlocks prevent separation
Firm enough for stand-up
Waterproof for easy cleaning and disinfecting
Reversible and double color
4 straight edge borders included per tile - Ramped borders sold separately
Use Types
MMA Floors, Mixed Martial Arts Studios, Grappling Mats for Training, BJJ & Jiu Jitsu Dojo Studios
No burn tatami grappling mats, Interlocking BJJ mats for grappling, Durable MMA mat
Our MMA mat delivers the highest quality product, while still being sold at affordable prices. Designed to be used by professionals in studios or in the house for kids and adults, these grappling mats are made of a durable ethylene vinyl acetate, or EVA foam.
Ours offer a 4 foot ASTM 1292 fall height rating for protection against head injuries, ensuring maximum safety for athletes in both practices and competition.


MMA Mat Professional Quality

The quality of these is undeniable, and that's why these are the clear flooring choice for World Champions Rodrigo 'Comprido' Medeiros and Rafael Ellwanger, as well as the South USA Grappling Association for their own personal dojos.

Because of the highly desirable price point on these, customers can use the same level of material that the pros use, but in the studio setting.

These pro grade BJJ mats for sale are versatile. A customer should purchase 15 or more of this product, but for questions, please call our customer service team. For practicing spaces, please purchase the 2x2 foot size, which delivers 4 square feet of coverage.

These are designed to be used with bare feet. Though these grappling mats can be used with soft shoes in martial arts schools, they may scuff it. This grappling mat is well equipped to lessen the impact of throws and tumbles, and it can even be used in indoor playground settings.

It is found in three reversible multi-color pairings: Black and gray, red and blue, or green and gray. Consider alternating tiles to create a multi-colored pattern or design, adding a pro appearance to the home gym or practice space.

One of the great benefits of these is their easy and simple installation. These can be laid directly on hard, flat surfaces; there's no need for additional padding or adhesive. Because they have an interlocking foam tiles design, simply align them and connect them.

They lock together strongly and won't pull apart during practice. Expand the coverage area or change its design by adding and moving these puzzle mats BJJ.
Affordable BJJ Mats
Ours are used nationwide by professionals and for competition floors. They are highly versatile for training and for jujitsu mats in dojo studios. In truth, there are many potential uses for this style of crash MMA mat.
Consider the following potential applications:
Professional and residential floors
Wrestling training
Indoor kids playgrounds
Competitions
It is ideal to help to prevent surface skin burns and abrasions. These are capable of absorbing the shock of falls and tumbles, creating safe practice and competition surfaces. This has a professional look that is still affordable enough for use in the house or at the facility.
Our interlocking MMA mat products have been installed in hundreds of facilities nationwide.
If looking at other grappling mats for sale, it's rare to find a product that's so high in excellence ratings, but yet offered at such a great price.
MMA mats for sale can be cost prohibitive, especially if outfitting a larger studio or a space for competitions. We understand that having products aimed at pros, but at prices that smaller facility owners can afford, is important. That's why we're proud to have these, which are suitable for countless applications.
Installation of Grappling Mats
Installing these is easy and can be accomplished without the help of pros. In addition to the low upfront cost, this DIY installation can further save money.
While planning the projected layout before ordering, don't forget to utilize our Pro Flooring Designer. This Greatmats online tool can help plan the floors, determining just how much material is required, all while saving money.
Please note that these may expand with heat and humidity fluctuations. Always let them acclimate to the room's temperature before beginning the install.
Lay them down over hard surfaces so that they are oriented in the same direction. Interlock them together by pressing on the seams for a perfect fit every time. There is no adhesive needed for installs.
If performing wall to wall installs, or when conforming to objects such as a door jamb or pole, use a sharp utility knife to cut them to fit.
During install, leave an approximately 1/2 inch gap around the perimeter of the room. This allows for expansion, which can occur with fluctuations in humidity or heat. Additionally, keep direct sunlight off them if possible, as this can heat them up and cause expansion.
Ramped border strips are available for island installations. These are available in gray only and are sold separately as a set of two. Corner pieces are not available. The tatami pattern will always run the long way on the ramp and may not match the texture pattern direction on the floor.
The border ramps are sold in pairs to match up with the interlocking edge design. If you are installing borders on only one side of the installation, you will need to cut some of them to ensure a proper fit. You may need to order extra ramps to do this depending on the size of your installation.
These receive outstanding reviews as the top MMA mat on the market at unbeatable prices. They come with a 1-year limited warranty.
Request a free sample of our MMA mat flooring for review and testing or request a price quote online. Use our online floor plan designer to lay out the new mixed 
martial arts floor mats
using grappling mats.
Color tone variations can and will most likely occur within the same batch. Even those that are made at the factory within minutes of each other can vary in color. This is common with all of these.
When coloring from the martial arts puzzle mats comes off on feet or uniforms, understand that this is not uncommon with BJJ puzzle mats. We find that red and black are the most susceptible colors to this issue.
Cleaning with a vacuum is the best method for regularly caring for these. We recommend testing the vacuum first to ensure the machine won't cause damage. (Some especially heavy and powerful vacuums could damage the surface material.) Test it with the vacuum in an area where if damage occurs, it won't be noticeable.
To wipe up a water spill or sweat, just use a dry towel. These do not absorb moisture, keeping mold and mildew odors at bay.
FAQ MMA Mat Q&A
What do they use in folding martial arts mats?
The dense EVA or polyethylene (PE) foam is waterproof, as well as lead and latex free. This yields a high level of cushioning, which is enhanced when folding them. The durable tatami texture on the top will not yield burns to the skin if practicing moves. These versatile BJJ mats for home are designed with the specific needs of akido mats for practicing in mind.
Is 1.25 inches thick enough for an MMA mat?
Our home BJJ mats 1.5 inch thick weigh just 9 pounds per unit and are an excellent choice for wrestling mats, whether permanent or temporary in use. Certainly, some athletes doing standup and striking practices could use 1.25 inches and thinner BJJ mats. For ground work, though, the 1.5 inches and thicker mats are the better choice.
How should I clean an MMA mat?
Ours are certainly easy to clean. To remove spots, only use diluted vinegar or diluted bleach for cleaning the surface of the MMA mat. Dawn dish soap is also very gentle for EVA foam mats. Spot clean using a scrub brush and a sponge. In large commercial areas for a more thorough cleansing, it is possible to use a walk behind machine. These are non-absorbent and do not soak up any water or chemicals during the processes of performing cleaning.
How thick should Jiu Jitsu mats for sale be?
Generally, these will exist in the mid-range compared to other types of thickness measurements. For judo, thicker models work well for the cushioning needed. For karate, thinner models are better for a steady footing. Our tatami mats Jiu Jitsu training studios with around 1.5 inch in thickness will have a strong level of performance, outlasting Dollamur mats, and giving a strong mix of cushioned and textured performances.
Are Brazilian Jiu Jitsu puzzle mats good?
As long as a customer sticks with a trusted manufacturer and distributor like Greatmats, these will provide an excellent longevity. For example, our 10x10 Jiu Jitsu mats are perfect for this use case, outperforming Dollamur home mats in terms of longevity and cushioning.
General Ordering and Sizing Chart
16 for 13.2 x 13.2 ft coverage
25 for 16.5 x 16.5 ft
36 for 19.8 x 19.8 ft
49 for 23.1 x 23.1 ft
Mat thickness tolerance, plus or minus 2 mm from 40 mm as the standard baseline thickness.
Maintenance
Product can be damp mopped with hot water. Test your vacuum before use.
Shipping
Ships via freight delivery shrink wrapped on pallets.
This Product Ships Freight Only.
Please review our shipping disclaimer.
ACCESSORIES
Accessories for GRAPPLING MMA MATS 1-1/2 INCH X 1X1 METER
ANSWERS
Product Questions:
Q: Does this help with floor noise? My children are always jumping around, and I am trying to find a solution. My floors are hardwood.
A: Yes, this would help; it's a very thick and durable foam tile.
Q: Are the edge pieces angled toward the floor to assist with avoiding trip hazards? If not, can you supply it?
A: We do have a beveled down edge piece that is available as an add-on product. The edges supplied with the tiles are not beveled; please contact customer service for additional information. We have an image of the beveled edge option we can provide.
Q: Are these difficult to cut to fit odd-shaped rooms?
Q: What is good for repairing punctures in these mats? Have three holes to repair that were made from Staves impacting the floor.
A: Great question, however, we do not have a great answer, you could try guerilla glue in the cut areas to hold the material back in place.
Q: Does this foam become slippery when wet or sweaty?
A: Most surfaces will be more slippery when wet. It's best to use when dry when possible. These tiles may be a little more slippery when wet, depending on the shoe type or use without shoes.
Q: Are these mats too soft for doing Karate in addition to Jiu Jitsu?
Q: I am thinking of installing these mats in an area that isn't climate-controlled. What temperature range can these mats handle?
A: These foam mats will shrink in the cold and expand in the heat; they do require a stable climate environment.