By Greatmats Staff Created: July, 2017 - Modified: August, 2022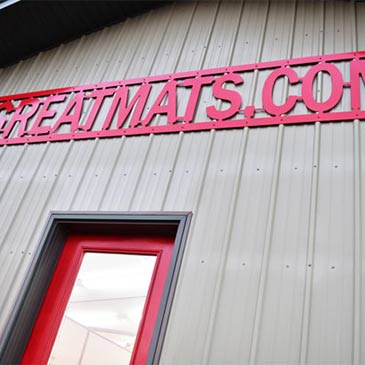 The following terms and conditions of sale govern all purchases of products (''Products'') from Greatmats.com Corporation (''Greatmats'') by the purchaser identified in the accompanying order, acknowledgement, invoice, or other document (''Customer'').
Precedence. These terms and conditions take precedence over all previous or additional or different terms and conditions by either party. Any such additional or different terms and conditions are expressly rejected by Greatmats. Greatmats' agreement to sell Products to Customer, and any acceptance by Customer, are specifically limited to these terms and conditions.
Pricing. Prices are exclusive of transportation costs, insurance, and applicable taxes unless otherwise noted.
Payment. The purchase price shall be payable to Greatmats in U.S. dollars at Greatmats' place of business on the terms set forth in the Order. Payment in full is required before shipment.
Taxes and Duties. Prices do not include federal, state, local, or foreign taxes, charges, fees, imposts, levies, duties, or other assessments of any kind or nature imposed by any government (''Taxes''). Customer shall be responsible for payment of all Taxes on the sale of the Products.
Freight and Shipments. Title to all products shall be deemed to pass to the Customer upon delivery to the carrier at point of shipment. Customer shall assume all risks of loss and responsibility for the cost of shipping and insurance, regardless of the fact that shipping or insurance may have been secured by Greatmats at Customer's request. Any freight and delivery charges paid by Greatmats on shipments to Customer will be passed on to Customer, and shall be in addition to the price of goods and services.
Customer shall promptly inspect the products upon receipt and shall notify Greatmats in writing of any shortage, nonconformity or defect within 3 working days following receipt by Customer. In the event Customer does not act within the time limit, Customer agrees that it shall be conclusively presumed to have accepted the products and to have waived any defect discoverable upon reasonable inspection. Customers accept the Greatmats shipping disclaimer. Installation and use of product is acceptance of product.
Greatmats shall not be liable for delays in delivery or failure to manufacture due to causes beyond its reasonable control. In the event of any such delay, Greatmats may extend the delivery date up to an equivalent period of time. Greatmats has the right to cancel any order or to refuse or delay shipment for Customer's failure to meet payment terms on any outstanding invoice.
Limitation of Liability. IN NO EVENT SHALL GREATMATS BE LIABLE FOR LOSS OF PROFIT, OR FOR ANY OTHER SPECIAL, CONSEQUENTIAL, OR INCIDENTAL DAMAGES, HOWEVER CAUSED, WHETHER BASED UPON CONTRACT, NEGLIGENCE, STRICT LIABILITY IN TORT, WARRANTY, OR ANY OTHER LEGAL THEORY, EVEN IF GREATMATS HAS BEEN ADVISED OF THE POSSIBILITY OF SUCH DAMAGES. IN NO EVENT SHALL GREATMATS' LIABILITY EXCEED THE AMOUNT PAID BY CUSTOMER FOR THE SPECIFIC PRODUCT INVOLVED.
General
Entire Agreement. This Agreement (including, without limitation, all schedules and exhibits referenced in and attached to this Agreement) constitutes the entire Agreement between the parties with respect to the subject matter hereof and replaces all prior communications. Any and all representations or agreements by any agent or representative of either party not contained in this Agreement shall be null, void and of no effect, including but not limited to representations as to the performance or conduct of the Products. This Agreement may not be changed in any way, except by an instrument in writing, signed by both parties.
Assignment. This Agreement, and any rights or obligations hereunder, may not be assigned or sublicensed by Customer without obtaining Greatmats' prior written consent, which consent shall not unreasonably be withheld.
Interpretation. If any provision of this Agreement is held invalid or unenforceable, the remainder of this Agreement shall nevertheless remain in full force and effect.
Force Majeure. Neither party shall be liable for any loss or damage sustained by the other party because of any delay in performance or noncompliance with any provision of a product sale by Greatmats that results from an act, event, omission or cause beyond its or its reasonable control and without its fault or negligence, including but not limited to, strikes, lockouts, civil commotion, riots, wars, acts of terrorism, fires, explosions, floods, earthquakes, embargoes, or acts of civil or military authority; provided, however, that the parties shall perform their obligations to the maximum extent and as soon as possible.
No Waiver. The failure of either party to enforce at any time any of the provisions hereof shall not be construed to be a waiver of such provision, of any other provision or of the right of such party thereafter to enforce any such provision or other provision.
Export. Customer agrees that it will not distribute any products purchased hereunder in contravention of any laws or regulations relating to export control, including the United States Export Administration Act.
Notices. Any notice or other communication required or which may be given pursuant to this Agreement shall be in writing and shall be delivered personally, by recognized overnight courier with proof of delivery, or by certified, registered, or express mail, postage prepaid, to the relevant address set forth on the Cover Page to this Agreement. Any such notice or communication shall be deemed given when so delivered personally, or if mailed or sent by courier, on the earlier of the date of receipt or two days after the date of mailing.
Severability. If for any reason any provision of this Agreement shall be deemed by a court of competent jurisdiction to be legally invalid or unenforceable in any jurisdiction to which it applies, the validity of the remainder of the Agreement shall not be affected and such provision shall be deemed modified to the minimum extent necessary to make such provision consistent with applicable law, and, in its modified form, such provision shall then be enforceable and enforced.
This Agreement and the rights and obligations of the parties shall be governed and construed in accordance with the laws of the State of Wisconsin, USA including federal law but excluding choice of law rules and excluding the United Nations Convention on the International Sale of Goods.
Any dispute arising out of or relating to this Agreement or its breach shall be settled by arbitration under and in accordance with the rules of the American Arbitration Association. The arbitration shall be held in Milltown, Wisconsin USA. The arbitration proceeding and all filings shall be in English. Judgment upon the award rendered may be entered in any court having jurisdiction. This Agreement to arbitrate shall not prevent either party from applying to the state or federal courts of Wisconsin for a temporary restraining order, preliminary injunction or other equitable relief to preserve the status quo or prevent irreparable harm. Each party hereby consents to the jurisdiction of the state and federal courts of Wisconsin in connection with any application for such relief.