Oklahoma Family Grows Together In BJJ
By Brett Hart Created: February, 2017 - Modified: July, 2021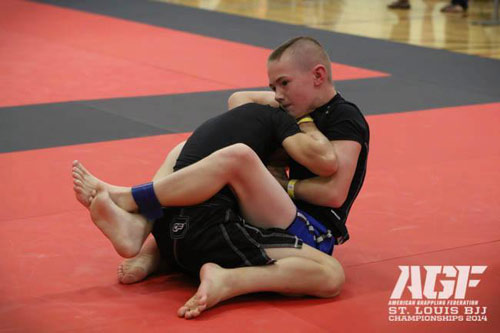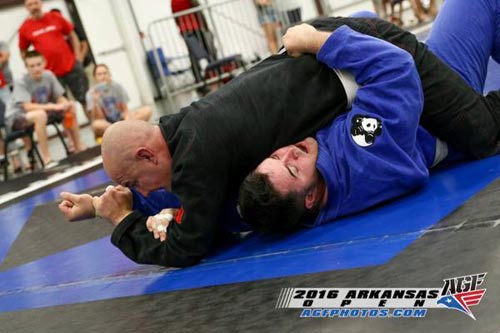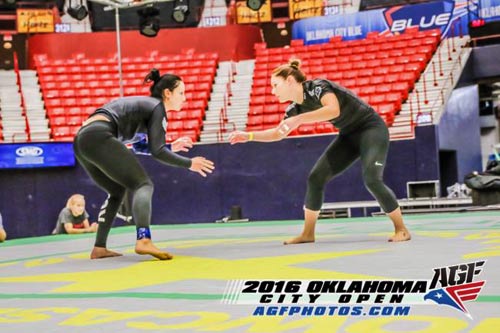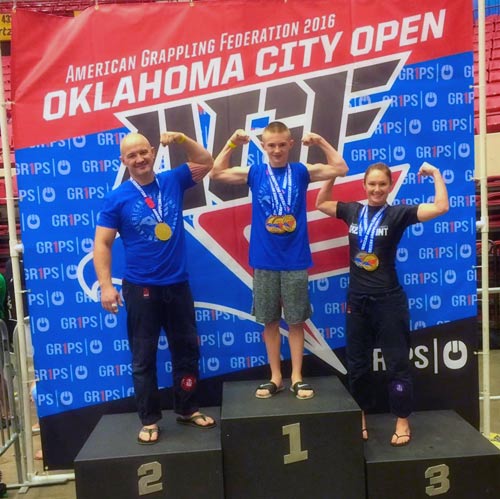 For the Shepherd family of Owasso, Oklahoma, Brazilian Jiu Jitsu has provided it a way to experience family time with a purpose. Whether its staying calm under pressure, problem solving, learning patience, gaining confidence or just staying active, the family has found love for the sport and success in it.
The Shepherd family's journey in BJJ began four years ago when Justin, now age 13, began training while searching for a sport that would keep his interest. He and his father, Johnathan (age 39), both have backgrounds in wrestling, so grappling seemed like a natural compliment to those skills.
Justin found the biggest benefits of training in his ability to defend himself as well as learning to deal with and overcome adversity with confidence. Inspired by their son's progress Johnathon and his wife, Jessica (age 38) began training in BJJ in February.
''Johnathon and I believe that living a healthy lifestyle should be a top priority,'' Jessica said. ''A friend who trained at Clinch (Martial Arts Academy, in Owasso) suggested we take Justin to the kid's class, so we thought we would give it a shot. He previously had some trouble with being bullied as well so we thought it could be a win, win situation. We took him to watch a class and then one more to participate. He thought the classes were a blast so we signed him up.
''We watched and learned from the sidelines, but ultimately decided that the self-defense and skills he was learning would be a benefit to our family as a whole.''
Johnathon was thrilled with the concept that he and his family could train and compete together while Jessica took pride in the fact she had the courage to step on the mat and stick with her training even on the hardest days.
''I love that there is always something new to learn,'' Jessica said. ''Jiu-jitsu is a constant learning process, and I want to continue to improve and grow in the art. Also, I want to be a consistent example for Justin that we don't quit just because something is difficult. We find solutions, and we persevere. I want to lead by example... no better way than to be where he is, experiencing the same things he experiences thru the BJJ journey.''
The family atmosphere and the ability to learn, re-enforce and practice mental traits and abilities - especially patience, perseverance, calmness and the ability to problem solve under pressure kept Johnathon coming back for more. ''BJJ gives everyone the opportunity to experience and practice these traits in a family-focused non-life-threatening environment.''
With Justin being the more experienced orange belt, his white belt parents have found themselves getting a reminder of what its like to be in the reverse side of the family hierarchy.
''One of my favorite things is when I have to ask Justin with help on how to do a move or submission,'' Jessica said. ''It's a strange role reversal when your child becomes the teacher and you become the student.''
Training three to four days per week at Clinch under Jean Jacques Machado's student, black belt Christian Derr, the Shepherds have found their skill improving quickly.
Justin has even been competing 5 to 6 times per year and Johnathon as put three competitions under his belt.
''Jiu Jitsu is really fun and my instructor is great at what he does,'' Justin said. ''I want to continue to improve so that I can be a good reflection of the art and of my instructor.''
Recently all three competed at the American Grappling Federation's Oklahoma City Open, a tournament sponsored by Greatmats, and all three came home with at least one gold medal.
Justin set the pace, collected three gold medals - in No Gi Pro (115 pound- and 125 pound-weight division) and Gi in the Orange Belt 115 pound weight class. Johnathon added a gold in No Gi, and Jessica grabbed a gold in No Gi and silver in Gi.
Jessica said the first tournament she and Johnathon ever took Justin to was an American Grappling Federation event and the were very impressed with the organization and process.
''(We) gained even more appreciation for them after he competed in a couple other tournaments that came to our area,'' Jessica said. ''Hands down, they are the best in the area, and they work hard to continue to improve as BJJ grows and evolves.''
Across the board for training to competing to spending time together as a family, the Shepherds are seeing tremendous benefits from Brazilian Jiu Jitsu.
''I would like to encourage anyone out there who is curious about Jiu Jitsu to find an academy and try it out,'' Jessica said. ''I have found that the people who train Jiu Jitsu are some of the most kind and respectful people I have ever met. There are people from all walks of life. Race, social status, religious beliefs, political beliefs, etc., don't factor in to Jiu Jitsu. We are all the same when we step on the mat. They say when you decide to train BJJ, you gain a family, and I believe that to be true. I love our Clinch family, and making the decision to train has been one of the best decisions Johnathon, Justin and I have ever made.''
To learn more about Greatmats-sponsored American Grappling Federation Tournaments and athletes visit
Greatmats' AGF Tournament Resource Page.

Johnathan, Jessica and Justin Shepherd
Clinch Martial Arts Academy
Owasso Oklahoma 74055