Former Volleyball Standout Finds New Home in Martial Arts
By Brett Hart Created: July, 2017 - Modified: May, 2020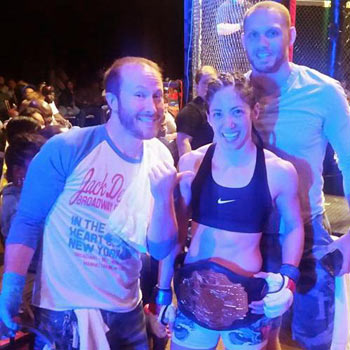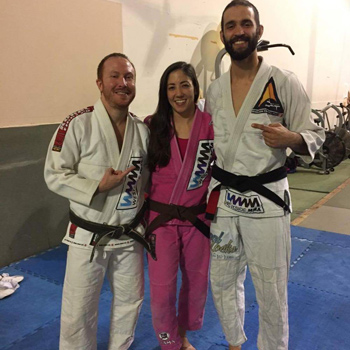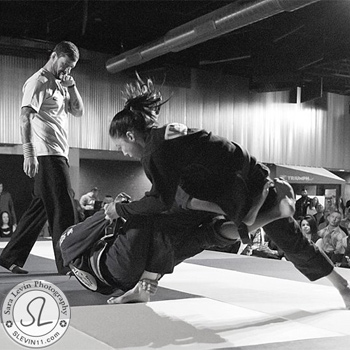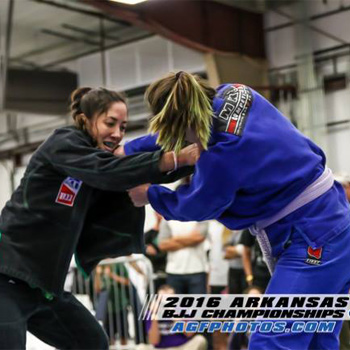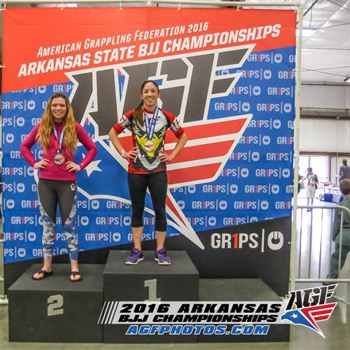 A lifelong athlete, Laura Uyeda struggled to find something to engage her after completing her college volleyball career at NCAA Division I University of Louisiana Monroe. After searching for a new passion for several years, Uyeda walked into Westside MMA in Little Rock, Arkansas, with no idea what to expect, and what she found grabbed hold of her 7 years ago and hasn't let go since.
''On my first day, I learned the cross choke, armbar and rear naked choke,'' Uyeda said. ''I loved the idea of being able to compete in a sport that would also teach me to better defend myself.''
Three weeks later, Uyeda won her first grappling tournament by utilizing the few submissions.
''I knew this is what I had been missing,'' she said.
Competition
Now also training in kickboxing, Uyeda, age 32, finds herself competing regularly in both Brazilian Jiu Jitsu and Mixed Martial Arts. She currently has a 6-1 MMA record and won the V3 Strawweight MMA Title in May. As a grappler, Uyeda is a two-time third-place finisher at the World Jiu Jitsu No Gi IBJJF Championships and recently won both her Gi and No Gi Divisions at the Greatmats-sponsored American Grappling Federation's Arkansas State BJJ Championships in November. Shortly thereafter, she promoted to her brown belt in BJJ.
''I've been competing at various tournaments since 2009 including AGF,'' she said. ''AGF is my favorite, because they consistently hold well-organized, efficiently-run tournaments, and I've had nothing but the best experiences there. It's no wonder why AGF has flourished under the leadership of Chris Carlino and Brandon Quick. They are dedicated to the athletes and are constantly working to improve the organization.''
Whether training or competing, Uyeda has become a true student of the martial arts.
Support System
''I like that there is so much to learn,'' Uyeda said. ''It's so simple yet so complex. No matter your goals, whether they are to compete, get a good workout, or just have fun, you can quickly pick up on basic fundamentals and accomplish any of them. If you keep it up, then there will always be more advanced techniques to add to your arsenal. I also love the camaraderie that we have with our fellow BJJ practitioners. At my gym especially, we're all friends, and we're all there to help each other. It's great.''
While Uyeda's grandfather was also a college athlete and a black belt in Kendo, she is the first in her family to compete in grappling, and her family is totally on board with her choice.
''My family has always been my biggest fans at my sports events, and they are always supportive of my goals,'' Uyeda said. ''They know that I love it.''
Uyeda trains under first degree black belt Matt Hamilton and UFC and Bellator veteran Roli Delgado and is most proud of earning her brown belt.
''As a white belt, it was hard to imagine myself getting to this rank because of the amount of time and dedication it takes,'' she said. ''I've dedicated years to the art, and I am the second woman to receive a brown belt under my coaches... so it was a real honor to me.''
She also credits her coaches and training partners for helping her reach her goals.
''I've been with Westside my entire martial arts journey,'' Uyeda said. ''It is the best environment to learn, and I've formed a lot of friendships there. I'm proud to be one of their higher ranks.''
To learn more about Greatmats-sponsored American Grappling Federation Tournaments and athletes visit
Greatmats' AGF Tournament Resource Page.

Laura Uyeda
Westside MMA
Little Rock AR 72202