Home Gym Flooring Guide
Home gym flooring is available in floor tiles, mats and rolled options. These pages are designed to provide you with information you need to make an educated decision for your home gym floor.
Home Gym Flooring Videos
Foam Gym Flooring with Pebble Surface Texture
Staylock Bump Top Tile Impact Test vs. Baseball Bat
Home Rubber Flooring Rolls 4x10 feet
14 Inch Rubber Mat Roll for Gyms - 4x10 feet
Workout Fitness Tile Pebble - Sam Kwongs Greatmats Story
How to Replace Staylock Tiles - Orange Peel, Perforated and Bump Top
Home Gym Flooring Tile Pebble 10 mm - Durable Interlocking EVA Foam Mats
How to Install Greatmats Home Gym Mats Pebble 10 mm Tiles
Home Gym Mats - Plyometric Rubber Flooring Rolls
Home Gym Flooring - Sports Plus Designer Foam Tiles
Home Gym & Horse Stall Flooring: Portable Pebble Top Foam Tiles
Home Gym Flooring - Home Gym Mats Pebble 10 mm
Home Gym Flooring - Greatmats StayLock Orange Peel Floor Tiles
Aerobic Flooring Tiles - Greatmats StayLock Orange Peel Floor Tiles
Rubber Flooring Rolls - 4x10 ft Home Gym Floors
Home Gym Flooring Customers - View All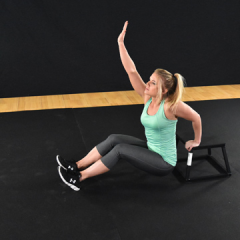 Cardio Flooring - Terra Mitzel Plyometric Rubber Testimonial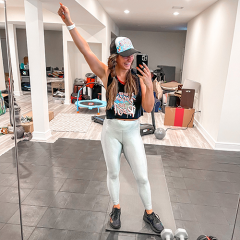 StayLock Home Gym Flooring Testimonial - Ashley Radetich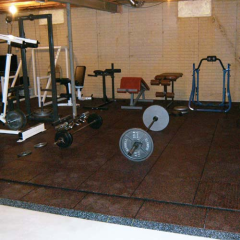 Home Gym Flooring Testimonial - UltraTile Rubber Tiles
Home Garage Gym Flooring - Karl Streit Testimonial
Home Gym Flooring How To's - View All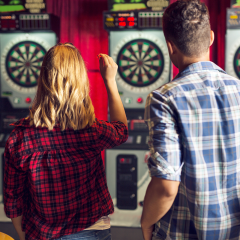 How Do I Protect My Floor From Darts?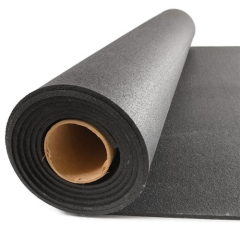 How to Install Rubber Gym Flooring on Concrete & Other Surfaces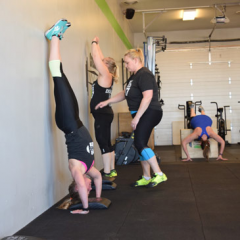 Fitness Training Tips with CrossFit Duluth's Dale Collison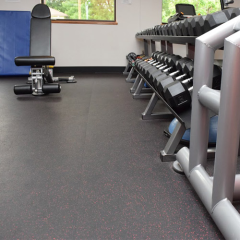 Can You Install Rubber Flooring Over Radiant Heat?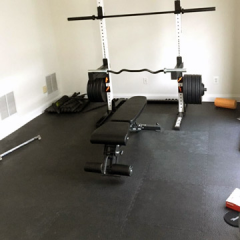 How Often Should Gym Mats Be Cleaned?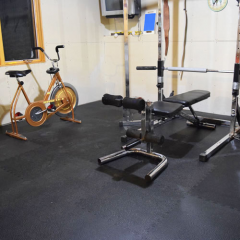 How to Install Home Gym High Density Foam Mats Over Concrete
Home Gym Flooring Ideas - View All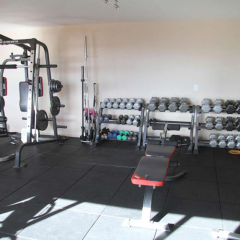 What Is The Best Free Weight Flooring For A Home Gym?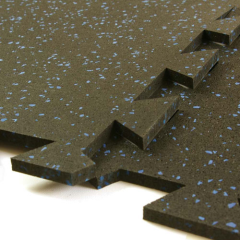 Are Rubber Puzzle Tiles Good For Gyms?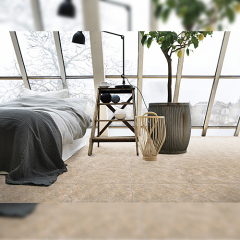 What types of brown floor tiles are there?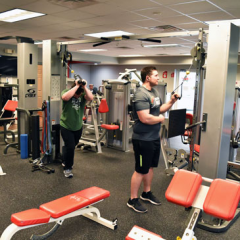 What Is The Best Weight Machine Mat?
Commercial Rubber Gym Flooring Options By Greatmats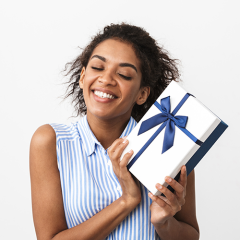 The Best Birthday Gift Mats For Her
What Are The Best New Year Gift Ideas?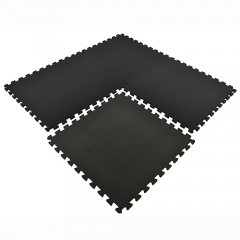 Sport Plus Designer Foam Tiles - Customer Uses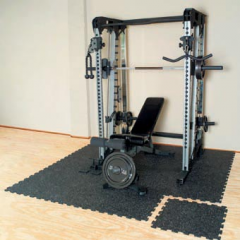 Best Home Gym Flooring Over Concrete - 5 Basement Floor Options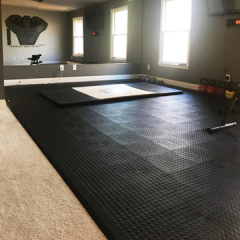 Best Home Gym Flooring Over Carpet for Workout and Exercise
Home Gym Flooring Features - View All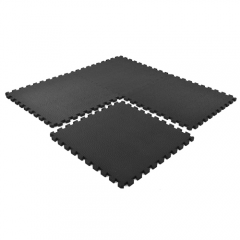 Is EVA Foam Good For A Gym Floor?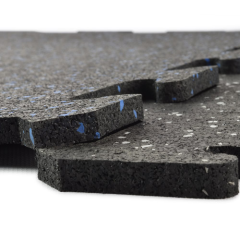 How Big Are Rubber Tiles For Home Gyms?
Comparing Garage Gym Flooring - Rubber vs Foam & PVC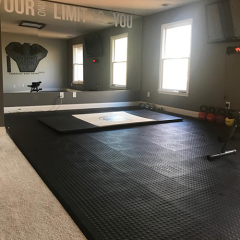 What Are The Advantages Of Interlocking Gym Flooring?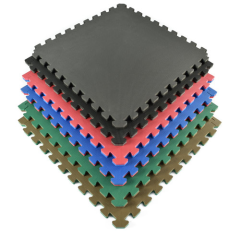 Home Martial Arts Flooring Impact Absorption Test Using Raw Egg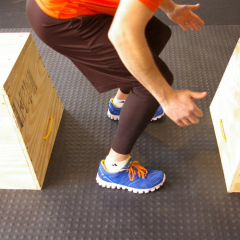 Staylock Tiles with Bump Top for Home Gyms and Anti-fatigue Matting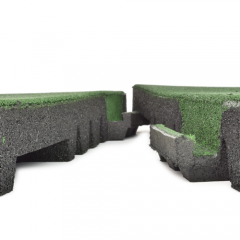 How Do Interlocking Tiles Work? - DIY Floors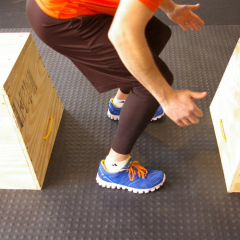 Gym Floor Tiles - Staylock Bump Top Fitness Demonstration Video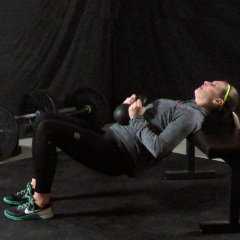 What Makes The Best Rubber Flooring for Home Gyms?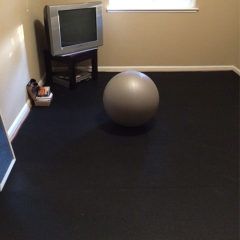 What Are the Best Mats for Online Workouts and Exercise Classes?
Rubber flooring rolls, mats and tiles, PVC durable plastic flooring tiles
Home gym flooring appears in a variety of configurations, giving homeowners multiple choices for finding just the right floor for any budget and situation. The material you choose for your floor will go a long way toward making your home a prime location for you to work out and improve your level of fitness.
Choosing the best floor for your home gym depends in part on the subfloor over which you'll install the new floor material and where you'll be creating the home gym.
Basement gym.
Many homeowners will choose to create a home gym in a basement area. Placing exercise equipment in a basement is a great way to take advantage of this often underutilized space, but you need the right home gym flooring.
Some basements will have dampness, as moisture seeps through the foundation. A waterproof mat consisting of carpet, foam, or plastic is a good choice here, especially mats that have a raised base. This design encourages airflow under the tile, allowing moisture to evaporate.
Placing rubber over concrete is another popular choice for creating a home gymnasium in a lower level of the home. Rubber doesn't absorb water, and it gives you cushioning and thermal protection from the cold concrete.
Garage gym.
Another popular area for creating a home gymnasium is a garage. With a cement floor often found here, using the same materials as we mentioned for the home gym in a basement will work in the garage too.
If you also will be parking vehicles or power equipment in the garage alongside the workout equipment, select a type of flooring – like PVC plastic or polypropylene – that resists moisture, oil, and solvents. Rubber flooring should not be used where automotive fluids will come in contact with the flooring.
Selecting a type of flooring that doesn't require adhesives is smart for a garage gym. Interlocking tiles and mats are the preferred choice here, as you can install them for workouts, but you also can take them apart and store them if you need to convert the garage back to a storage area for your vehicle.
Bedroom gym.
If you have a spare bedroom that sometimes is used for guests but sits empty the majority of the time, transforming it into a workout space is easy with the right home gym flooring.
We offer multiple products that are appropriate to use over carpet or over wood floors, like you may find in a bedroom. A PVC plastic modular style of floor is a smart choice when you have carpet in this situation, and rubber mats work well over wood floors.
You can install the puzzle style tiles easily by popping the edges together. And when you want to turn the home gym back into a guest bedroom, you can take the tiles apart and store them. Interlocking mats don't require adhesive at the time of installation, so you can assemble and disassemble them whenever needed.
Gym area in an apartment unit.
Those who live in apartments can even create a home gym in a spare bedroom or in an unused space in a living room. The right mat or section of workout floor can safely support the weight of your workout gear. Using flooring also can create a clearly defined workout space, even in a room that has multiple purposes, which is nice for an apartment.
To avoid damaging the apartment floor, you will want to select a thick style of home gym flooring that will absorb any impacts and prevent scrapes or scratches on the original subfloor. A thick style of floor also absorbs noise, which is especially important in an apartment, so the clamor of your workouts doesn't bother your downstairs neighbors. It is also important that this flooring be installed without the use of adhesives. Most Greatmats home gym flooring options meet that requirement.
Kids gym.
If you'd like to create an area in your home for kids to roughhouse and play freely on rainy days, selecting the right home gym flooring is a must. Without the proper materials, kids could injure themselves or suffer painful floor burns.
Inexpensive closed cell foam tiles are perfect for this use case. They're tough, colorful, and durable, yet they're soft enough to provide just a bit of cushioning, guarding against falls. To also protect against floor burns, select a product with Greatmats unique tatami surface texture. You even can mount these mats to the walls, providing protection if someone crashes into the wall during a workout or while playing.
Best home gym flooring.
One aspect of this flooring that you'll want to consider is the weight of the materials. If you're going to be lugging tiles down a flight of stairs to a basement or upstairs to a bedroom, you may want lightweight flooring options.
Additionally, if you will be placing tiles over the top of carpet in the home, understand that some materials could slide around, which will negatively affect your workout experience. Avoid EVA foam tiles or tiles covered with vinyl when installing flooring over carpet.
If you have additional questions or would like some advice for matching a style of home gym flooring to your particular workout area, please contact Greatmats.
For more information, use the ideas, testimonial articles, videos, and blogs we've collected in our home gym flooring guide to find the perfect options.
Which Gym Floor Is Right For You