What Are Interlocking Gym Floor Tiles Made Of?
By Brett Hart Created: November, 2022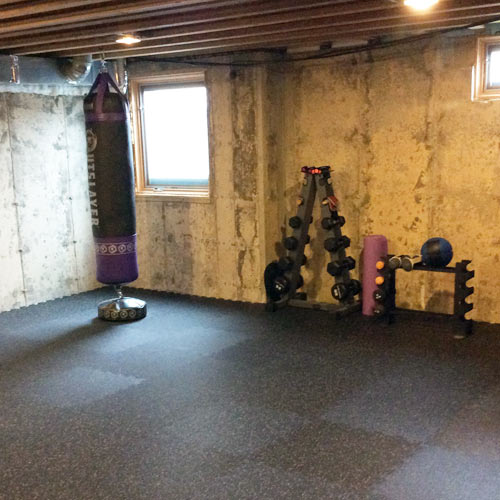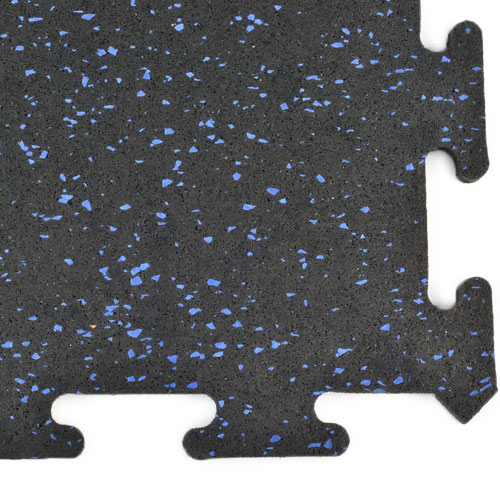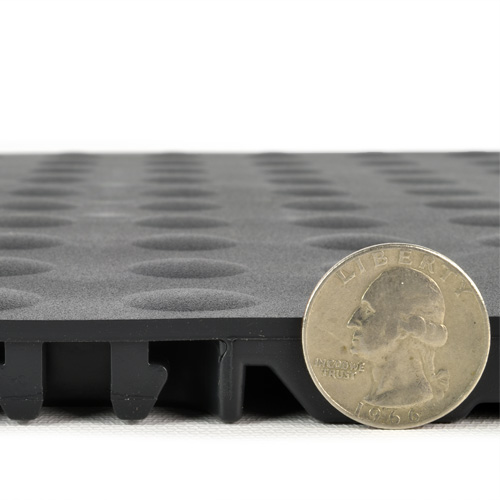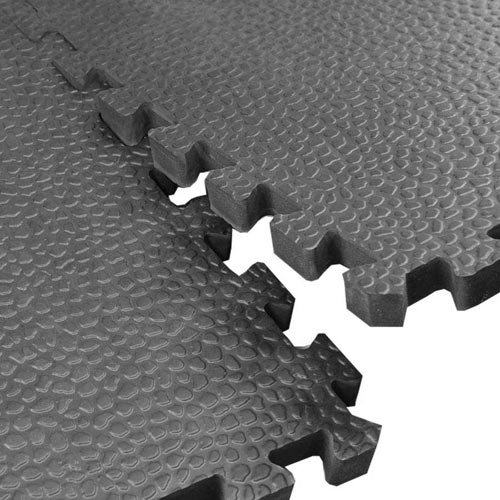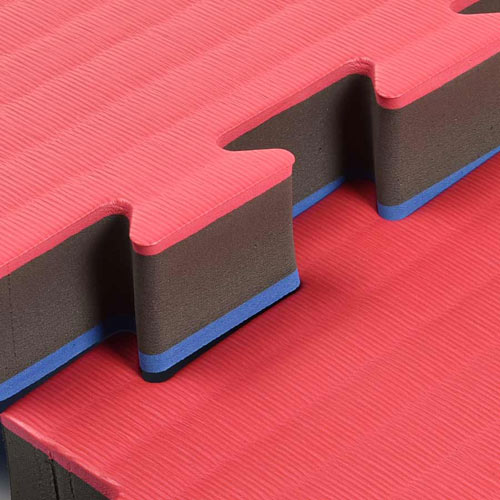 Interlocking gym floor tiles are typically made of rubber, foam, or durable plastic. Among these materials, there are different types of tiles to choose from.
Interlocking gym floor tiles are easy to install and offer protection for an existing subfloor, as well as protection for those exercising, lifting weights, or working out. Greatmats offers a huge selection from which to choose.
Top Interlocking Gym Floor Tile Products
These products are suitable for home or commercial gym settings, and they give the user confidence and the ability to work out harder and longer, without excessive fatigue or fear of injury. They also provide excellent value and a number of features and benefits.
Rubber Interlocking Gym Floor Tiles
Interlocking Rubber Floor Tiles 2x2 Ft x 8 mm Color
are interlocking gym floor tiles that are made in the USA. These rubber tiles are easy to install and clean, and they are extremely versatile.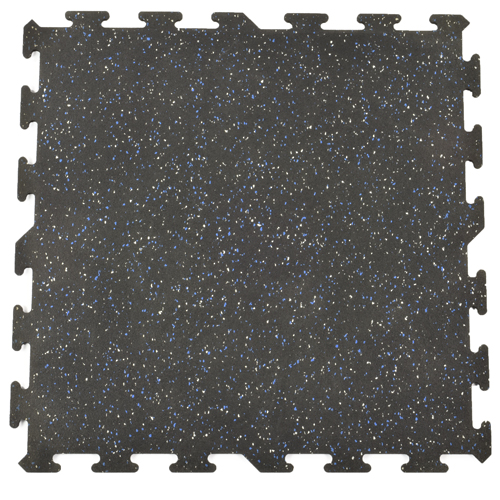 These commercial grade tiles are suitable for home gym floors, basement floors, garage floors, exercise room floors, weight room floors, health club and fitness center gym floors, and they come with flecks of grey or blue.
Because this is an interlocking flooring product, it doesn't require adhesive for installation. Each mat is 8mm thick and designed to withstand exercise equipment and intense workouts, as well as heavy and regular use and abuse.
Plastic Interlocking Gym Floor Tiles
StayLock Tile Bump Top Black Tiles
are made of strong PVC. They are a popular choice for aerobic exercises and weight lifting, and they offer a soft cushioned feel like foam with the durability of rubber.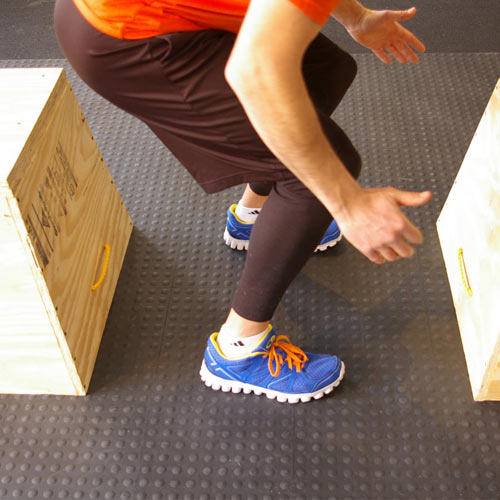 This flooring solution features a design that interlocks together tightly without separating over time - even when under extreme pressure. It delivers outstanding support and the bump top surface texture provides ergonomic benefits and anti-fatigue properties.
This tile is waterproof and it has a raised base design that prevents water from getting trapped beneath it and from it sliding around.
Max Tile Raised Floor Tile
combines top notch vinyl and plastic, resulting in a product that will perform well in virtually any gym setting.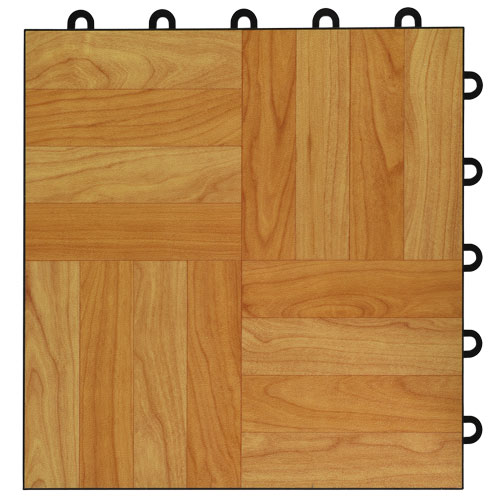 This tile is the perfect choice for gyms where excessive moisture is present, like a basement or garage. It's raised design allows for air flow and reduces the chance of mildew or mold growth. These tiles are also aesthetically pleasing, as they boast a commercial grade vinyl laminate surface that resembles a shiny hardwood floor.
The tiles are truly top notch and offer comfort and anti-fatigue benefits. With this flooring's design, versatility, and outstanding manufacturing tolerances, it's one of the best and most popular multipurpose flooring products on the market.
Put a layer of rubber underlayment under the tiles to create a sports court for everything from basketball to volleyball and even pickleball!
EVA Foam Interlocking Gym Floor Tiles
Pebble Gym Floor Workout Fitness Tile
is an EVA foam product that can be used in gyms or weight rooms. It's lead free, waterproof, and latex free, and with a ¾ inch thickness, it is strong enough to endure the use and abuse from weights and exercise machines.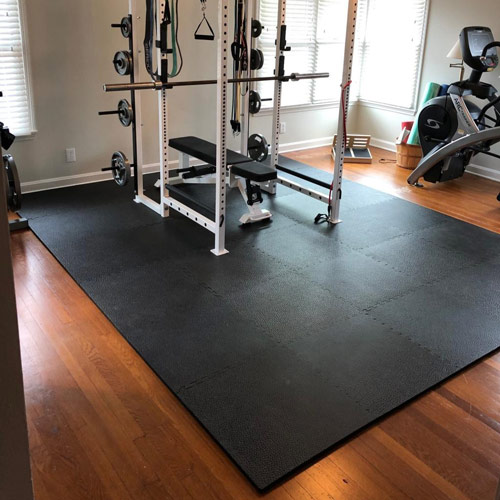 This tile can be installed wall-to-wall, or, as an island installation to go under weights or exercise machines. They also offer enough cushion for floor based or aerobic style exercises.
Tight fitting puzzle-style edges simplify installation and hold each mat tightly in place, even when subject to stress from weight or intense use.
Grappling MMA Mats
are also made from durable EVA foam, and they are suitable for home or professional use. They work well for many applications, including mixed martial arts studios, yoga gyms, and gymnastics spaces.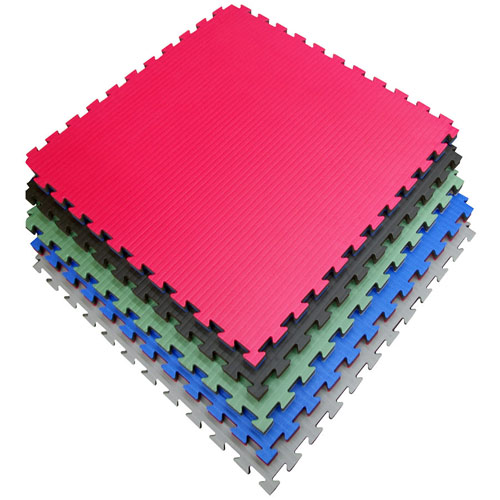 These mats deliver a 4 foot ASTM fall height rating, offering protection against head injuries and allowing for maximum safety in MMA practice and competition while doing throws and takedowns.
These mats can be used with bare feet or soft shoes, and they can be laid on any flat, hard surface. Once installed over a hard, flat surface, these mats will not pull apart during use. They are waterproof, practical, and affordable.
For The Best Interlocking Gym Floor Tiles
When it comes to interlocking gym flooring options, Greatmats offers the largest variety of the best products available. From the featured options to numerous others, there really is a product or group of products that would look and perform perfectly in your gym space.
Whether one of the highlighted flooring solutions suits your budget and preferences, or, if you want to explore other options, friendly and knowledgeable agents are standing by - ready to help you determine what the ideal solution for your gym would be. Whether you prefer rubber, foam, plastic, or even carpet, when you're ready to purchase gym flooring, let us go to work for you!