StayLock Tile Orange Peel Black 9/16 Inch x 1x1 Ft.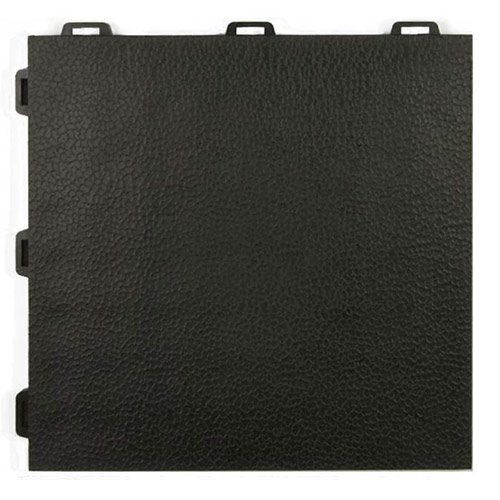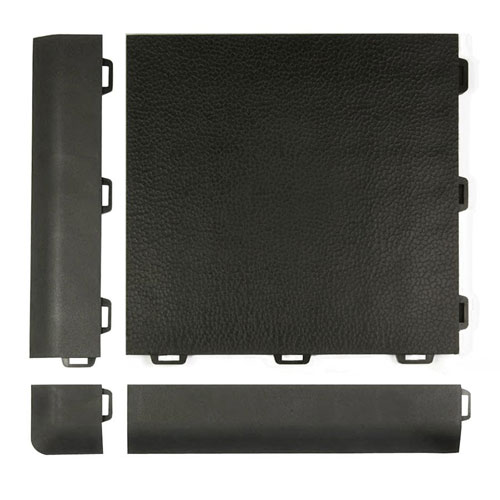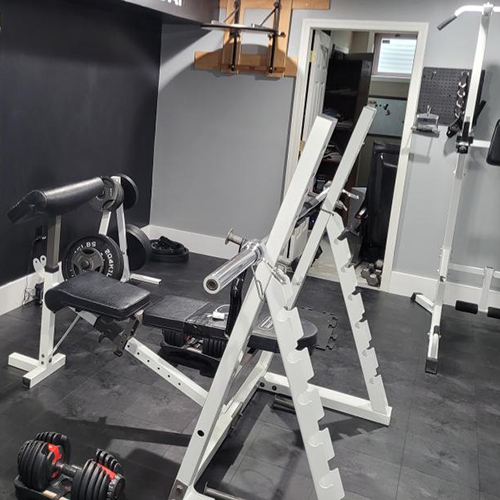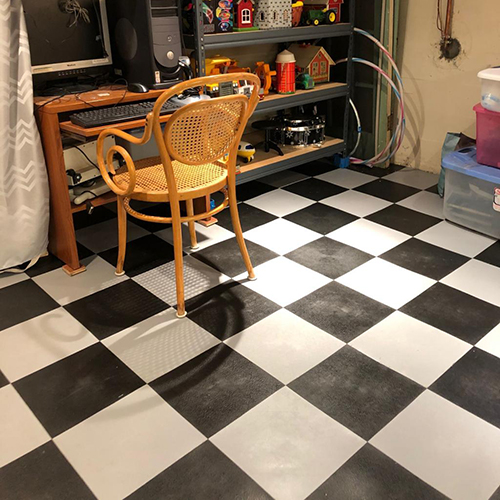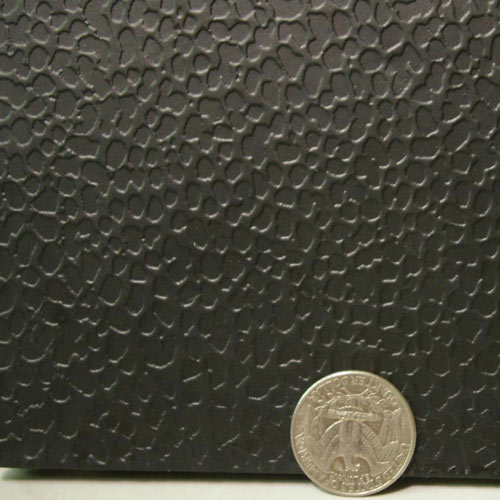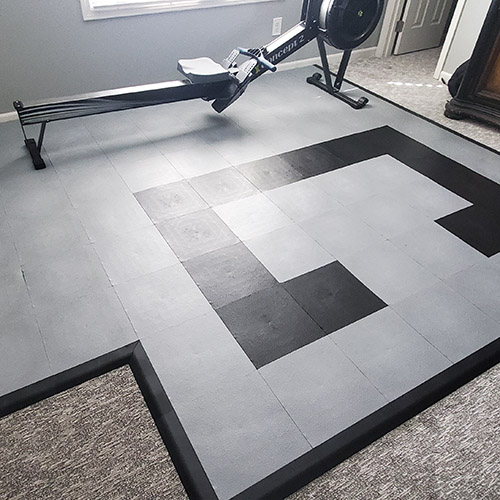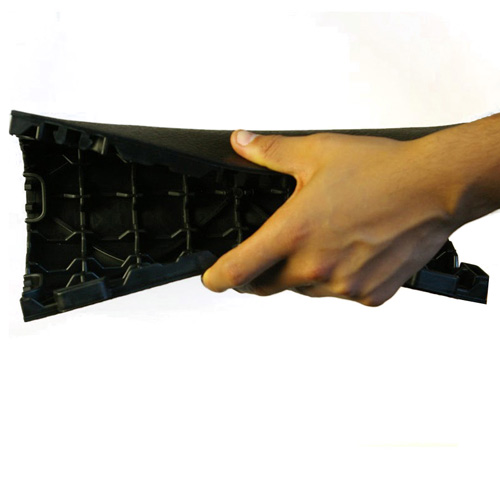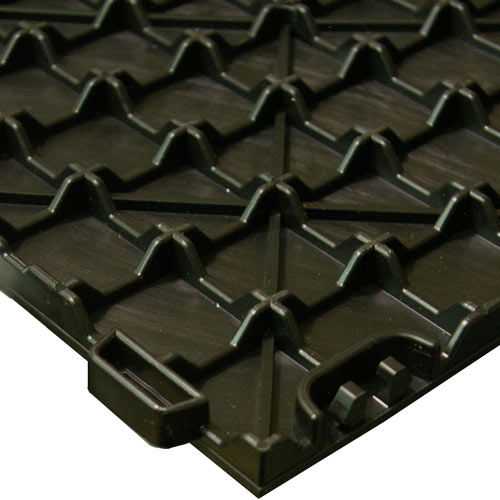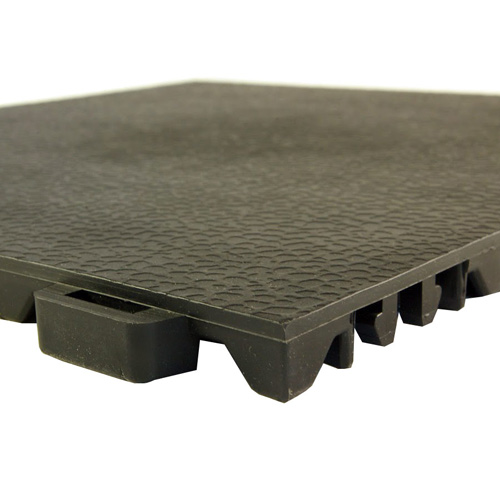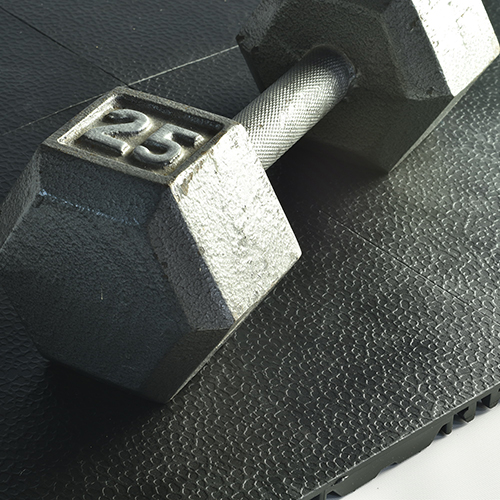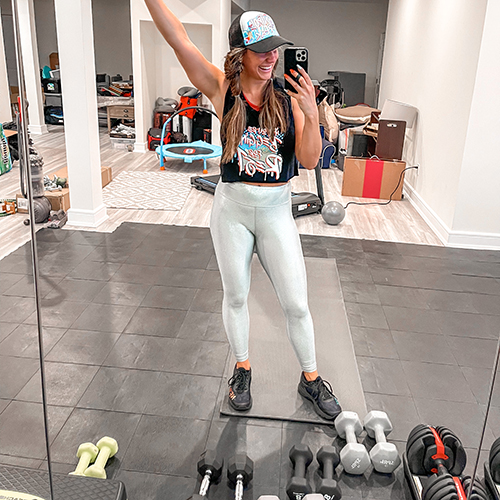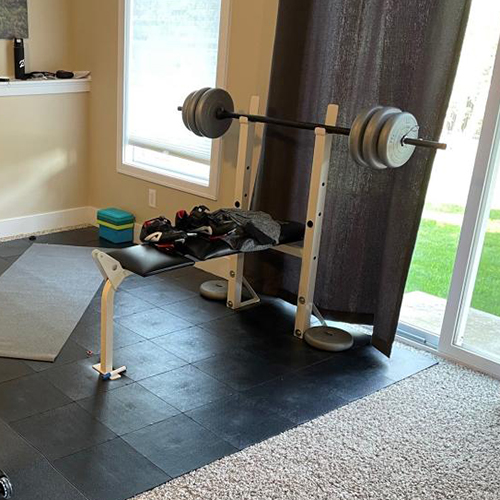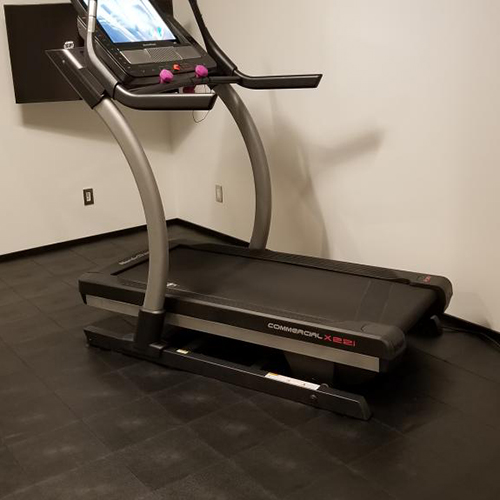 Ideal for home gyms, exercise rooms, basement flooring, and industrial fatigue flooring
Quick and easy pop together DIY installation that holds tightly together
Upscale designer tile made in the USA of recycled content
$5.98
/tile
(You Save 35%)
Call for Better Price on Volume Orders
(77 Reviews )
Ships Out: Estimate 1-3 Working Days

Black
How Much Flooring Do I Need?
VIDEOS
Orange Peel StayLock Tiles: Install over Carpet, Concrete & Laminate
StayLock Floor Tile Installation - Orange Peel PVC Floor Tiles
Staylock Orange Peel Tile Impact Test vs Baseball Bat
How to Replace Staylock Tiles - Orange Peel, Perforated and Bump Top
How Flexible Are Warm vs. Cold Staylock Floor Tiles
TOP FEATURES
Ideal for home gyms, exercise rooms, basement flooring, and industrial fatigue flooring
Quick and easy pop together DIY installation that holds tightly together
Upscale designer tile made in the USA of recycled content
Rubber-like durability with foam-like cushion and fatigue benefits
Waterproof and resistant to oils and acids
Installs over carpet, concrete, wood or tile
Typical lifespan of the StayLock Tile is 20 years
ASTM 1292 fall height rated at 20 inches
Use Types
Basement Floors, Home Gym Floors, Ergonomic Floors, Fatigue Flooring, Cushion Tiles
Our StayLock Tile Orange Peel Black 9/16 Inch x 1x1 Ft. feature a designer look with the benefits of cushioned, aerobics floorings. Our gym floor tiles are available in great looking designer colors, including gray and brown. Mix and match to make a color design or get the look of a solid, full color layout for a fraction of the cost of colored rubberized materials.
Easy to Install Black Floor Tiles

It can be installed atop any hard, flat surface. It features a unique, active locking design that does not allow it to separate or shift while being used. Simply push the interlocking tabs together by hand for a simple installation. No adhesives are required. It is raised and is waterproof, and it will allow water and air to flow under it. This modular floor tile can generally be installed over carpeting in commercial and many home installations. This installation is not guaranteed to work, as with some home carpeting, the padding and carpet thickness can vary. If the user is experiencing any issues when installing over carpet then the user may have to install some other flat surface under the tiles, such as plexiglass or plywood.

Cut them to fit around obstructions. Install them in multiple configurations, and then easily take them up and move them if needed.

This does not require underlayments to provide outstanding ergonomic benefits in athletic floors, working areas, or heavy foot traffic applications. Resistant to many acids and oils, they are easy to keep clean. No waxing or finishing is required, and they have very low maintenance costs.
How Many Borders do I Need?
For Island installations: Where the layout will have all four sides exposed to the room. In this case, the number of borders needed will be the length + width of the layout for each border type, and 4 corner pieces. Use half male and half female borders in this instance. Example 10x12 ft layout, 10+12 = 22 male borders, and 22 female borders, and 4 corners.
For Corner Installations: Where the layout will be pushed into one corner and will have 2 sides exposed to the room. In this case, the number of borders needed will be the length + width of the layout and one corner piece. Use all male borders in this instance. Example 10x12 ft layout, 10+12 = 22 borders, all male, and one corner.
For Inside corners, two border ramps will have to be manually cut at diagonal to fit. Use a sharp utility knife to cut this product or a table saw.
Shock Absorbing StayLock Orange Peel Tiles
The cushioning benefit of StayLock gym flooring, even without underlayment, is unmatched by other products. These provide superior cushioning and bounce support for intense aerobic X type workouts, including P90X, aerobics, cross fitness, and more.Gray, orange and black floor tiles are made from 100% recycled plastic material and may contribute LEED points for a building project. All of these are 100% recyclable. We will accept them at the end of their life cycle when it's replacement time.
Durable PVC Gym Floor Tiles
Choose StayLock Orange Peel tiles for industrial layouts, aerobic floors, home gymnasiums, basement floor, or anywhere a comfortable and easily installable model is needed. The StayLock Orange Peel tiles have cushion for people who have to stand for long periods of time in industrial, athletic, and standing work environments.
The bottom web structure of anti fatigue StayLock Orange Peel tiles has excellent cushion to provide relief for standing on this. It is available in bump top and faux peeled orange floor tile surface designs.
It is easy to connect them using a mallet or simply by hand. Most anyone can put a modular floor tile system together. They can easily be taken up but will stay tight for as long as needed. The typical life span of this type is 20 years or more.
When the orange flooring tiles life is completed, the materials can be reclaimed and reground back into base material. This can then be manufactured into useful products, which means this product never needs to go into a landfill. All colored tiles are made from virgin PVC materials for color consistency from lot to lot. This gray and black floor tile is made out of recycled content.
FAQ StayLock Orange Peel Tiles
What type of home gym flooring is durable?
Our shock absorption StayLock Orange Peel tiles can withstand the dropping of free weights up to 50 pounds in weight and bear the weight of most exercise equipment. They are equally great for professional fitness centers or workout gyms at the house. These are nonabsorbent and will not degrade in the future. For those who don't need the same level of durability as a commercial gym flooring studio, it is possible to use something more like a foam mat that has a nice level of longevity, while delivering a softer space to keep athletes protected and feeling fresher.
How do I choose gym floor tiles?
Think about the types of exercise planned for the space. When employing high impact workouts with jumping, absorbing the force of landing is a key component, maintaining the freshness of joints and muscles. If planning to spend much of the time in a horizontal position, such as for yoga or sit-ups and pushups, having a bit of stability with plenty of softness is a smart idea. Weightlifting has far different needs, as the exercise mats need to be extremely tough to stand up to the dropping of significant weight without allowing damage to occur to the subfloor.
What is the best aerobic flooring?
Ours is an ideal ergonomic fitness flooring option for home gyms and professional studios. StayLock Orange Peel tiles offer the durability of rubberized floorings and cushion of EVA foam interlocking floor tiles. The active connector locking system will hold them together. Its versatility is a smart choice versus some others that have a singular strength that allows them to excel as certain types of workout floor mats or as a gym mat, but that may not give them the excellence being sought for another situation. For example, rubber gym tiles can be installed here, as they have outstanding longevity and toughness, but they struggle a bit in an area where they may need to be uninstalled and stored away between working out because of the extreme weight of them versus lighter gym floor tiles.
Where do you use the best gym floor tiles?
Use these where ergonomics are required. They are tough enough for commercial installs. The StayLock Orange Peel tiles will deliver an aesthetic appeal for commercial and residential athletic, gymnasium, cardio, and aerobics installations too. Don't only consider industrial areas or factory layouts for these, though. Consider placing them in a retail area where salespeople will be standing for the entire day or in laboratory settings that require employees to be on the move regularly. The slight textured layer is an added benefit in areas where moisture is a common problem as well.
Will a basketball bounce on these tiles
Yes. A basketball does bounce well on Staylock Orange Peel Tiles.
Maintenance
Recommended cleaning: Use vinegar and baking soda and hot water to clean the family of Staylock floor tiles. Do not use any cleaning solutions that contain bleach.
Shipping
Ships in cartons via ground service to your door, for larger orders product may ship freight delivery.
This Product Ships UPS Ground, FedEx Ground and/or Freight.
Please review our shipping disclaimer.
ACCESSORIES
Accessories for STAYLOCK TILE ORANGE PEEL BLACK 9/16 INCH X 1X1 FT.
ANSWERS
Product Questions:
Q: can it be placed over carpet and not slip?
A: This tile will work well installed directly over carpeting and will not slip.
Q: Can this be used over hardwood floors without damaging the floor? Can you bounce a ball on them? Will they shift if not installed wall-to-wall?
A: Yes, this PVC floor tile can be installed over any hard flat surface and on any type of surface without any damage to the existing flooring. The tiles will not shift on their own therefore wall to wall installation in not required. You can bounce a basketball on this tile, however for an indoor court we recommend our Gym floor court tiles, made from hard plastic polypropylene.
Q: If I install this over carpet and place an exercise bike on top will the carpet be ruined if I remove it ever?
A: No the carpet should be fine in most cases, the PVC tiles might indent into the carpet somewhat.
Q: Does each case include the beveled edges shown in the pictures?
A: No, the case contains only tiles, the edging pieces are ordered separately as needed.
Q: After I install this in a room or half of a room, is it easy to take it apart to move it?
A: This modular floor tile can be uninstalled, and reinstalled elsewhere. The ease of which may depend on the person. It would take about 15-30 seconds to separate one tile from another.
Q: Hello, I was wondering, how well can these absorb the vibrations of treadmills, and heavy weights?
A: In the bumptop version, they will work well.