StayLock Tile Bump Top Black 9/16 Inch x 1x1 Ft.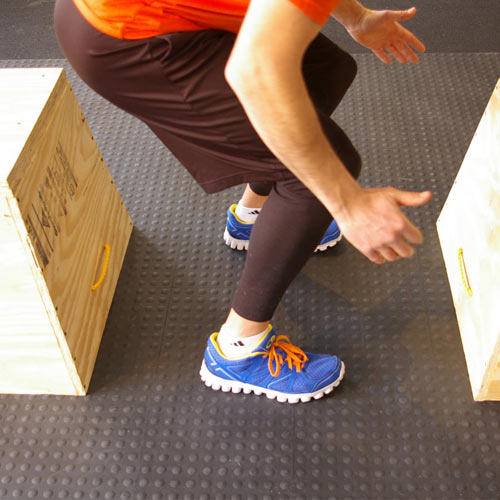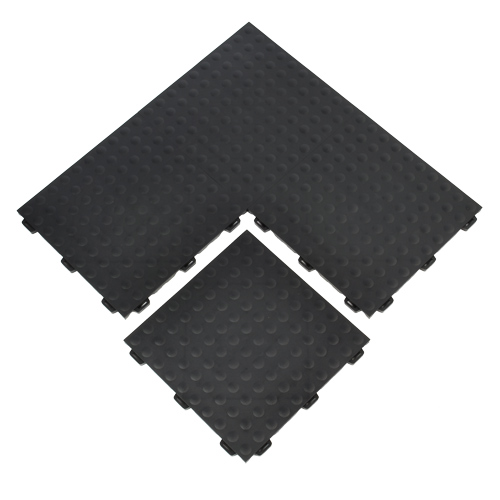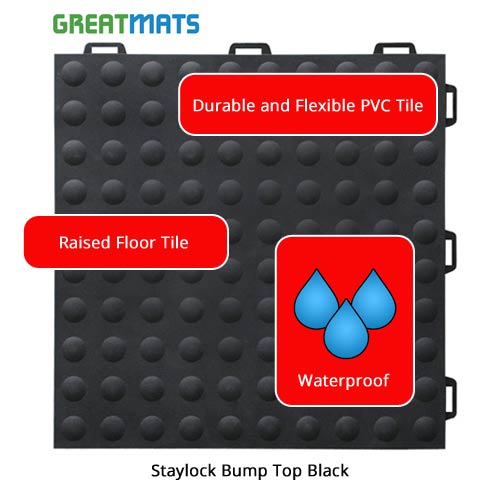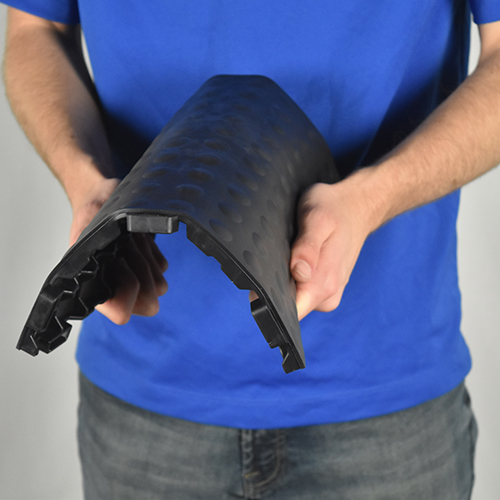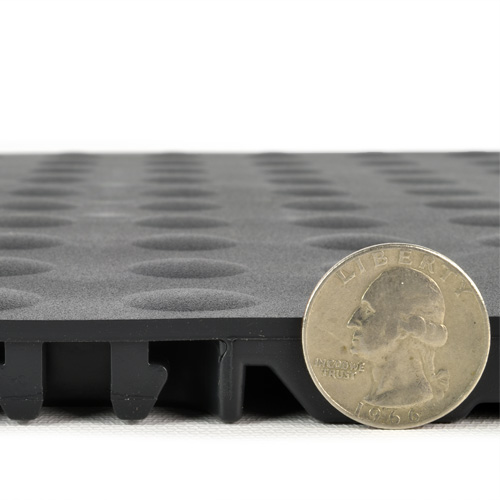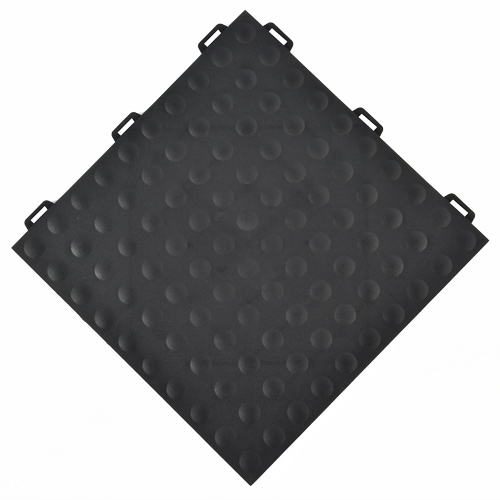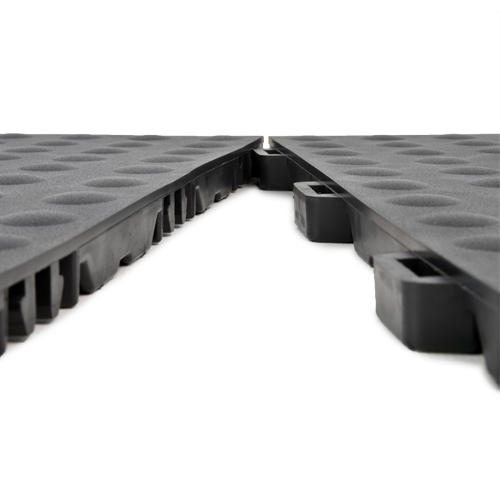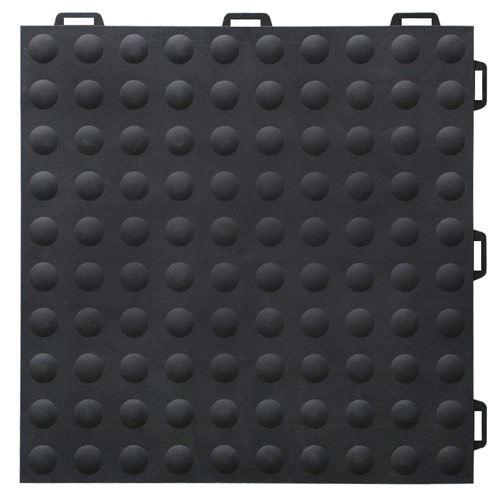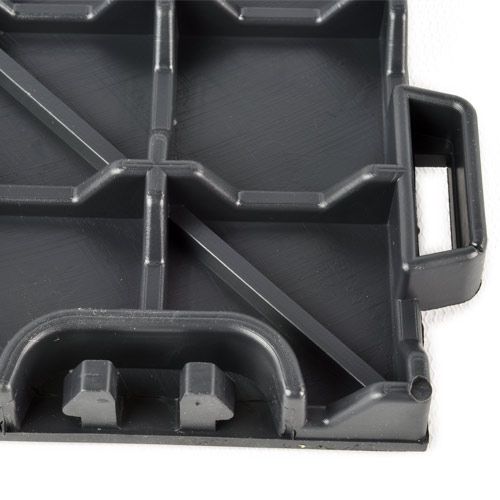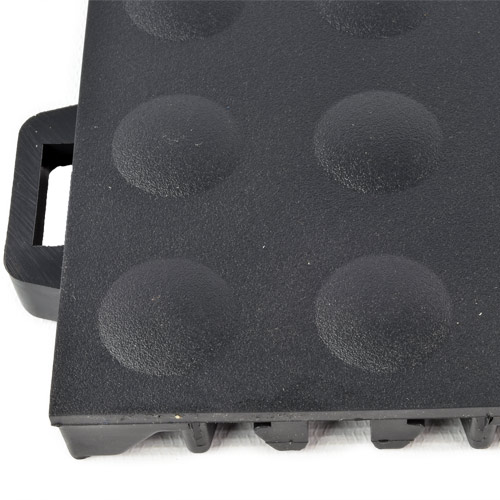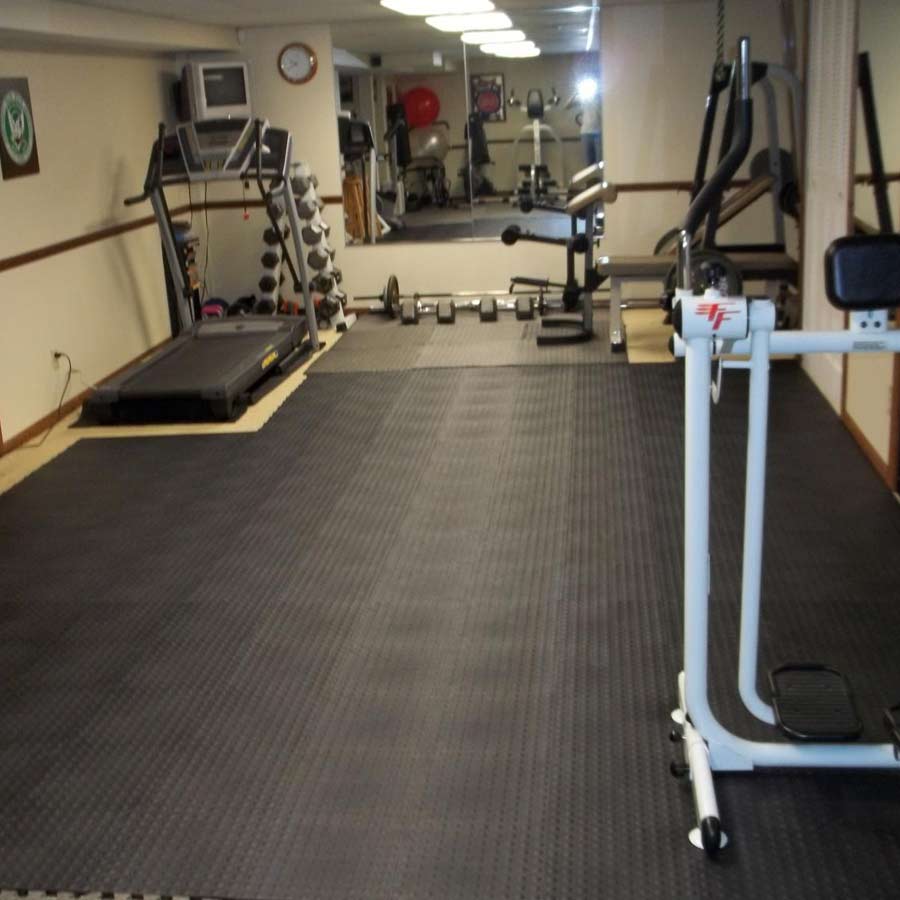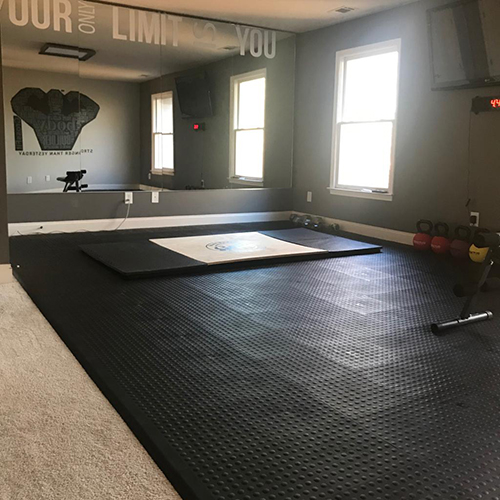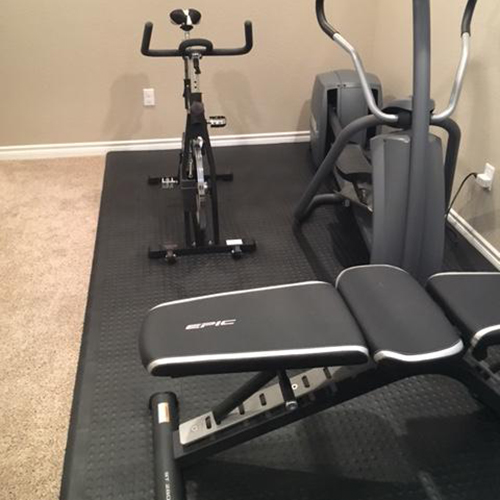 Install over carpeting, concrete, wood or tile
Durable like rubber, cushion like foam
Active locking connector system requires no glue and holds tightly
$3.98
/tile
(You Save 52%)
Call for Better Price on Volume Orders
(92 Reviews )
Ships Out: Estimate 1-3 Working Days

Black
How Much Flooring Do I Need?
VIDEOS
StayLock Bump Top Tiles for Exercise and Fatigue Relief
How to Install StayLock Bump Top Tiles Over Carpet
Staylock Bump Top Tile Impact Test vs. Baseball Bat
How To Cut PVC Floor Tiles
How to Replace Staylock Tiles - Orange Peel, Perforated and Bump Top
Are StayLock floor tiles resistant to sparks and flames
StayLock Bump Top Industrial Anti Fatigue Flooring
How to Connect Staylock Home Gym Flooring Tiles over Carpet - Low Pile and Thick
How do StayLock Floor Tiles work with high heels
Staylock Bump Top Tiles - Greatmats Fitness Flooring Demonstration
TOP FEATURES
Install over carpeting, concrete, wood or tile
Durable like rubber, cushion like foam
Active locking connector system requires no glue and holds tightly
Waterproof PVC resistant to most acids and oils
Ideal for industrial ergonomic and athletic flooring applications
No underlayment required
Ramped borders sold separately
Made from 100% Recycled Material
Use Types
Fatigue Flooring Tile, Aerobic Floors, Ergonomic Cushion Flooring, Home Gym Floor Tile
StayLock Tile Bump Top Black 9/16 Inch x 1x1 Ft. are a fitness room flooring tile that is easy to assemble and is a fantastic anti fatigue flooring for large scale installations. Use them for indoor installations for job sites, for athletic and aerobic applications, and for gymnasiums at the house. Get the durability similar to rubber tiles and the cushion similar to foam in this fitness room flooring black top floor. The active connector locking system will hold them tightly, and they'll remain flat if exposed to the stress of hard workouts.
Easy to Install PVC Gym Floor Tiles


Cut these to fit around obstructions in the rooms. Install them in any configuration. Once it's time to return the space to its original use case, easily take them up and place them in storage.

This durable PVC fitness room flooring does not need underlayment to provide outstanding ergonomic benefits for athletics, commercial working areas, or industrial walkways. They are resistant to many acids and oils, requiring very little maintenance with no waxing or finishing required. They have extremely low maintenance costs too.

Versus commercial gym flooring others provide, ours is the best floor tile for exercising. Choose it for industrial ergonomic spaces, aerobics, gymnasiums, basements, or anywhere a comfortable home gym flooring over hardwood is needed.
How Many Borders do I Need?
For Island installations: Where the layout will have all four sides exposed to the room. In this case, the number of borders needed will be the length + width of the layout for each border type, and 4 corner pieces. Use half male and half female borders in this instance. Example 10x12 ft layout, 10+12 = 22 male borders, and 22 female borders, and 4 corners.
For Corner Installations: Where the layout will be pushed into one corner and will have 2 sides exposed to the room. In this case, the number of borders needed will be the length + width of the layout and one corner piece. Use all male borders in this instance. Example 10x12 ft layout, 10+12 = 22 borders, all male, and one corner.
For Inside corners, two border ramps will have to be manually cut at diagonal to fit. Use a sharp utility knife to cut this product or a table saw.
Best StayLock Gym Flooring
This fitness room flooring features cushioned ergonomics for those who have to stand repeatedly in industrial work environments.
The bottom web structure of the StayLock floor tiles feature excellent cushion, providing relief. The upper layer textures are available in both bumped and orange peel designs. The texture provides aesthetic appeal for commercial grade applications, as well as for athletic, cardio, and aerobics installations.
These are easy to connect using a mallet or simply by hand. Nearly anyone can put this fitness room flooring together. They come apart when the workout is completed and it's time to store them. But for a more permanent use case, they will stay together tightly for as long as needed.
Long Lasting Black Floor Tiles
The typical lifespan of this type of anti fatigue flooring is 20 years or more.
Once the fitness room flooring is worn out, this material can be reclaimed and reground back into base materials. This can then be manufactured into new and useful products, which means it never needs to go into a landfill.
All color floor tile products are made from virgin materials for colors consistency from lot to lot. StayLock tile bump top black is made from 100% recycled content and may contribute to LEED points in green buildings.
There are optional border and corner ramps available for this product.
FAQ Fitness Room Flooring Q&A
How do you build a home gym floor over carpet?
This modular floor tile can generally be installed over carpeting in commercial and many home installations. This installation is not guaranteed to work, as with some home carpeting, the padding and carpet thickness can vary. If the user is experiencing any issues when installing over carpet then the user may have to install some other flat surface under the tiles, such as plexiglass or plywood.
What type of fitness room flooring is good for gyms at the house?
Rubberized tiling will protect the subfloor from damage if using free weight equipment. PVC is another great selection, as it has cushioned layers to protect the joints of the athletes, along with the firmness required to allow for sure footing and sudden movements. If the gymnasium will end up in a basement area, raised floor systems are a smart pick, as they allow air to flow underneath, which will dry moisture that seeps through the cement blocks.
How do I select flooring for my gym?
Start by determining which style of fitness room flooring is going to give the greatest level of performance for the exercises that are planned for the space. Anti fatigue tiles work well for aerobic workouts that are difficult on the joints in the hips and knees. Thick rubber gym flooring rolls have a high density, so they can protect the subflooring from heavy weight machines or weightlifting equipment. Cork gym flooring mat selections are another option for comfort and warmth.
What is a DIY gym floor?
Our customers use do it yourself projects to create exercise rooms that fit the projected use cases at a residence or pro studio setting with limited expense or time requirements. Fitness room flooring often uses a puzzled style edge, which makes the layout process a snap. By doing the puzzle piece layout without the need for professional help, the cost remains reasonable as well. It can add value, ensuring a safe and durable area for exercises.
What is anti fatigue flooring?
Anti fatigue flooring is ideal to reduce feelings of tired muscles and joints during a variety of activities. An anti fatigue mat can be used at the workplace, helping those who must stand for long periods to do their jobs with shock absorbing benefits. Greatmats StayLock bump top tiles provide cushioning to help combat sore joint and muscle problems, as well as giving a shock absorption material during exercising.
Why Greatmats Interlocking Tiles Yield the Best Cushioning
Ease of Installation: Place StayLock tiles atop any hard, flat surface. It features a unique, active locking design that does not allow them to separate or shift. Simply push the interlocking tabs together by hand for a simple installation. There are no adhesives required. It is waterproof and will let air and water move underneath.
Cushion Ergonomic: The cushioned benefit of these, even without underlayment, is unmatched by any other product, including vinyl floors. This provides superior cushioning and bounce support for intense types of workouts, such as P90X, Zumba, aerobics, and more.
Durability: These can withstand the dropping of small free weights (up to 50 lbs) and bear the weight of most exercise equipment. They are great for professional studios or workout gyms in the house. These are nonabsorbent and will not degrade in the future.
Designer Colors: These are available in great looking designer color selections, including tan and brown. Mix and match to make a color design or to achieve the look of solid, full colors for a fraction of the cost of colored rubber flooring rolls.
Environmental Product: These models consist of 100% recycled plastic material for points in a LEED project. All of these are fully recyclable. We will accept all of them for recycling at the end of their life cycle when they need to be replaced.
Greatmats StayLock Floor Tile Bump Top
Maintenance
Recommended cleaning: Use vinegar and baking soda and hot water to clean the family of Staylock floor tiles. Do not use any cleaning solutions that contain bleach.
Shipping
Ships in cartons via ground service to your door, for larger orders product may ship freight delivery.
This Product Ships UPS Ground, FedEx Ground and/or Freight.
Please review our shipping disclaimer.
WARNING: This product can expose you to chemicals including Lead and/or Phthalates, which are known to the State of California to cause cancer and birth defects or other reproductive harm. For more information go to www.P65Warnings.ca.gov.
ACCESSORIES
Accessories for STAYLOCK TILE BUMP TOP BLACK 9/16 INCH X 1X1 FT.
ANSWERS
Product Questions:
Q: Would this work on top of my hardwood floors in my living room? I'm looking for something that won't slip and has cushion for my intense, cross-training workouts. Bonus if I can de-assemble the flooring fairly easily for hiding away when company comes over.
A: This floor can be dis-assembled, but its not that easy for repeated dis-assembly. Its great for intense workouts on top of any hard flat surface and will most likely not slip around, the larger the layout the less likely for slippage. Also consider a roll of our plyometric rubber material, which is easy to roll up and store.
Q: I want to use this in my garage for a workout space but in the event that I need to bring my car into the garage Is the flooring able to withstand it or will it ruin the flooring?
A: The car may deform the tiles, would could test it and see.
Q: We currently have interlocking cheap mats that we picked up from Lowe's in our home gym and our dogs nails are tearing up the surface of it. Will light scratches effect the flooring at all or is it pretty durable as far as light scrapes/scratches?
A: This PVC tile is very durable and will not puncture from dog claws.
Q: can this be used outdoors for small playground
A: Use the perforated version of this tile, call Staylock Perforated tile. This tile is great for outdoor use and features a 20 inch ASTM fall height rating. Install a geo mesh weed barrier below the tiles.
Q: I want to do an entire room above cement. All e pictures are of partial areas. Does it work well for that? How would you do the pieces around the edges?
A: This tile can be installed on concrete, in a partial or full room layout as needed, the product does have border ramped edges. We also have good videos of installations. Please contact customer with further questions.
Q: Will this product be sturdy enough for a weight lifting workout if assembled on top of carpet?
A: Yes these tiles can be installed over carpeting, but these tiles are not as hard as rubber, and some customers have found them to be too soft for weight lifting equipment.