Best Home Gym Flooring Over Concrete - 5 Basement Floor Options
By Greatmats Staff Created: June, 2017 - Modified: October, 2023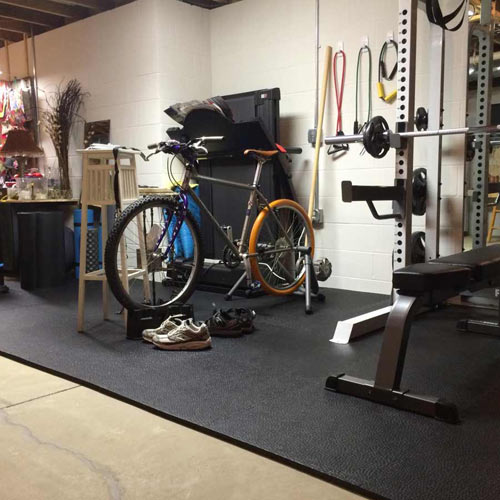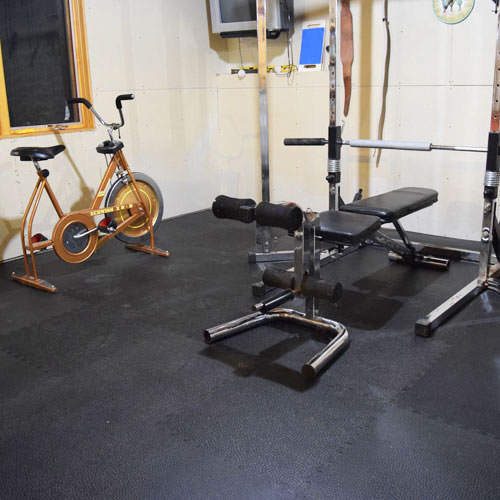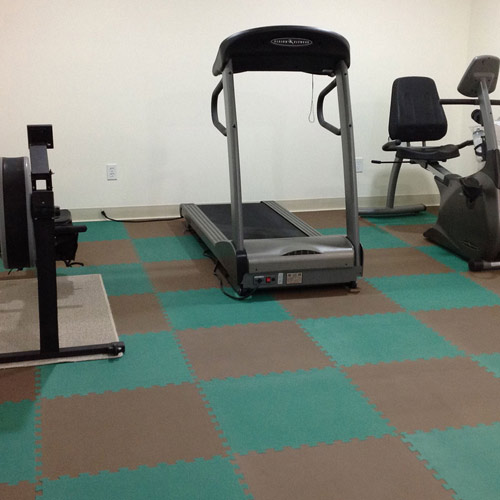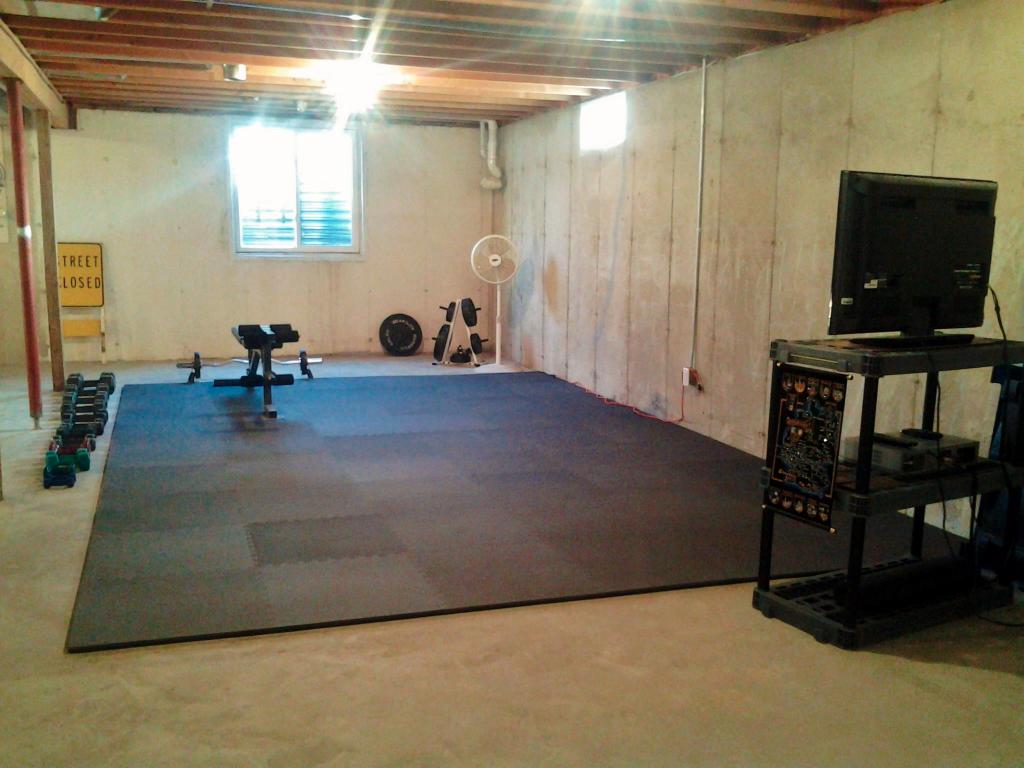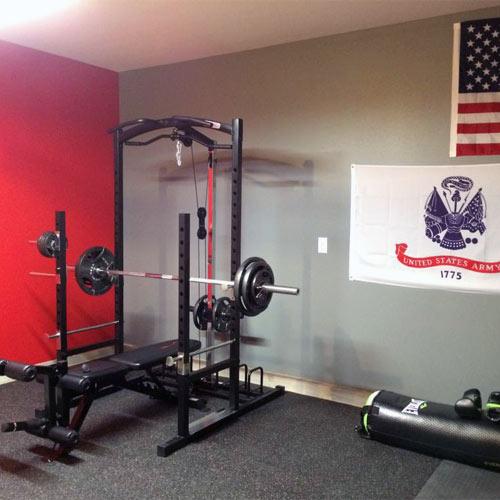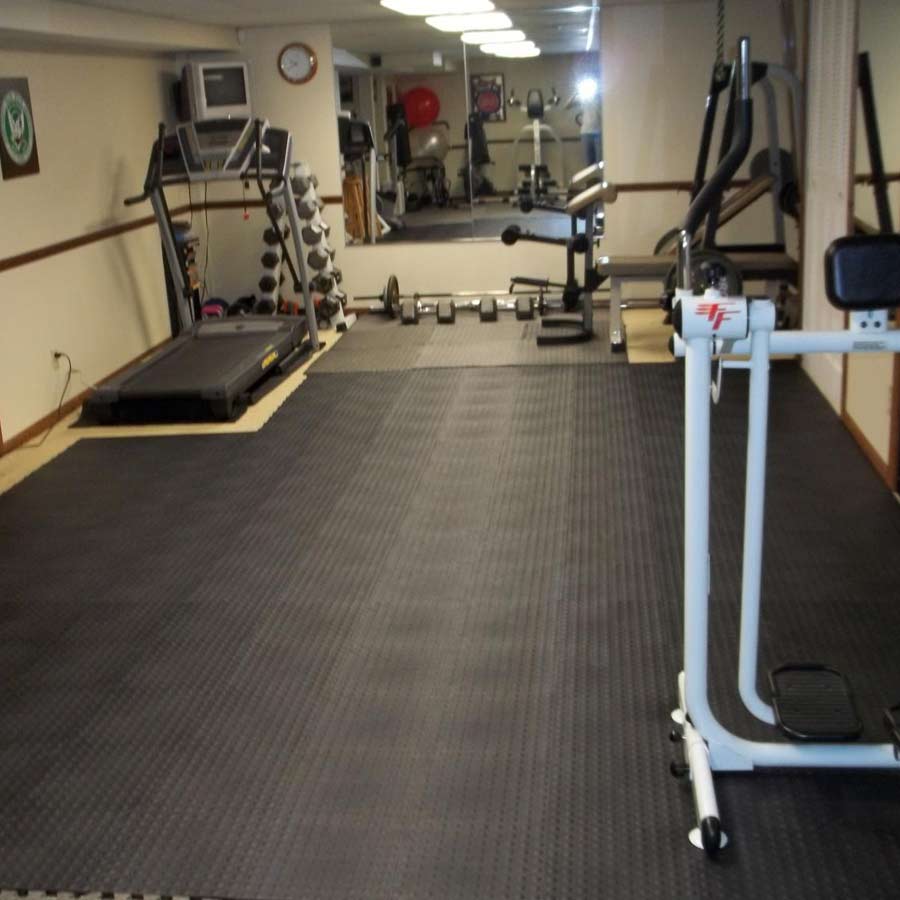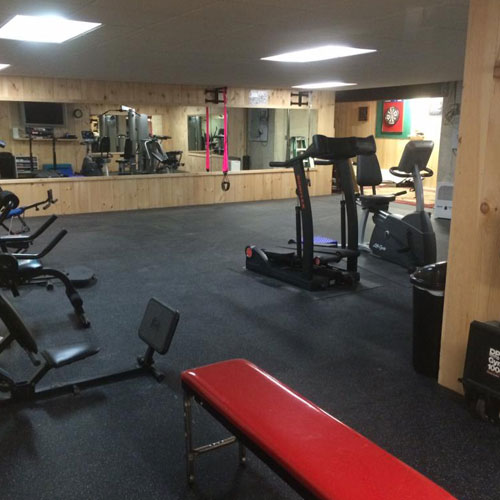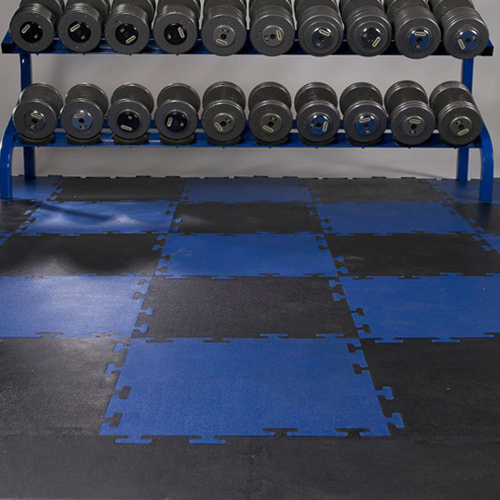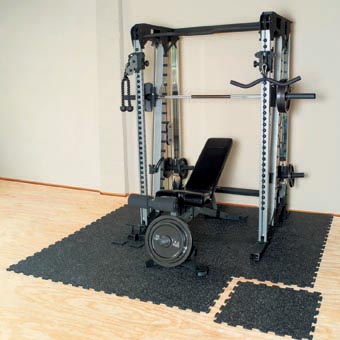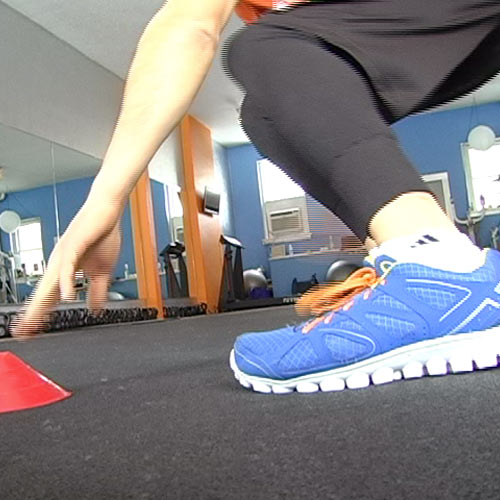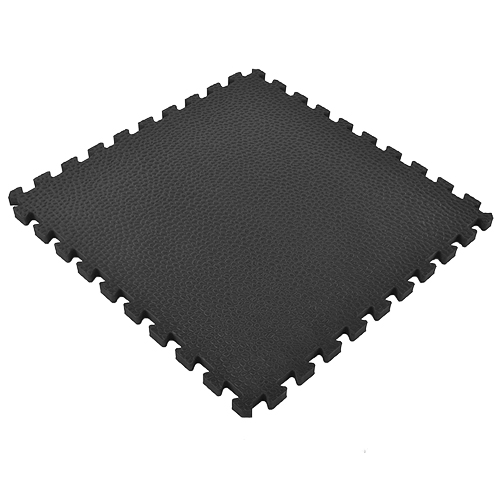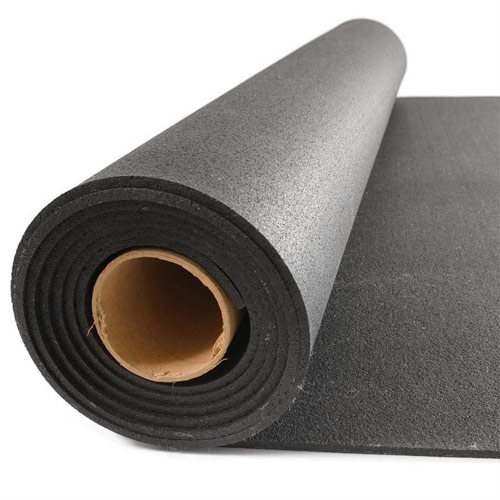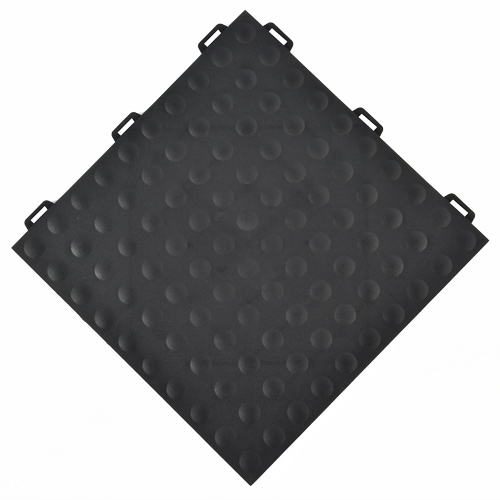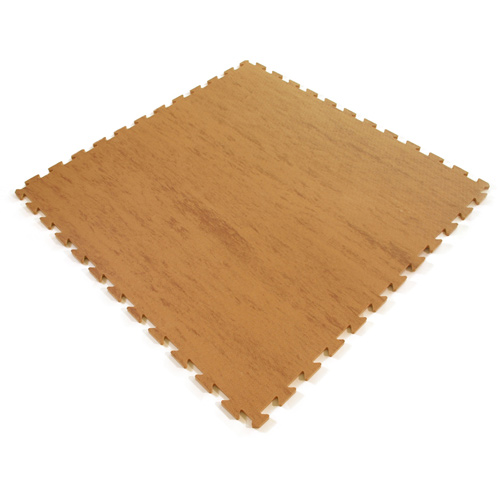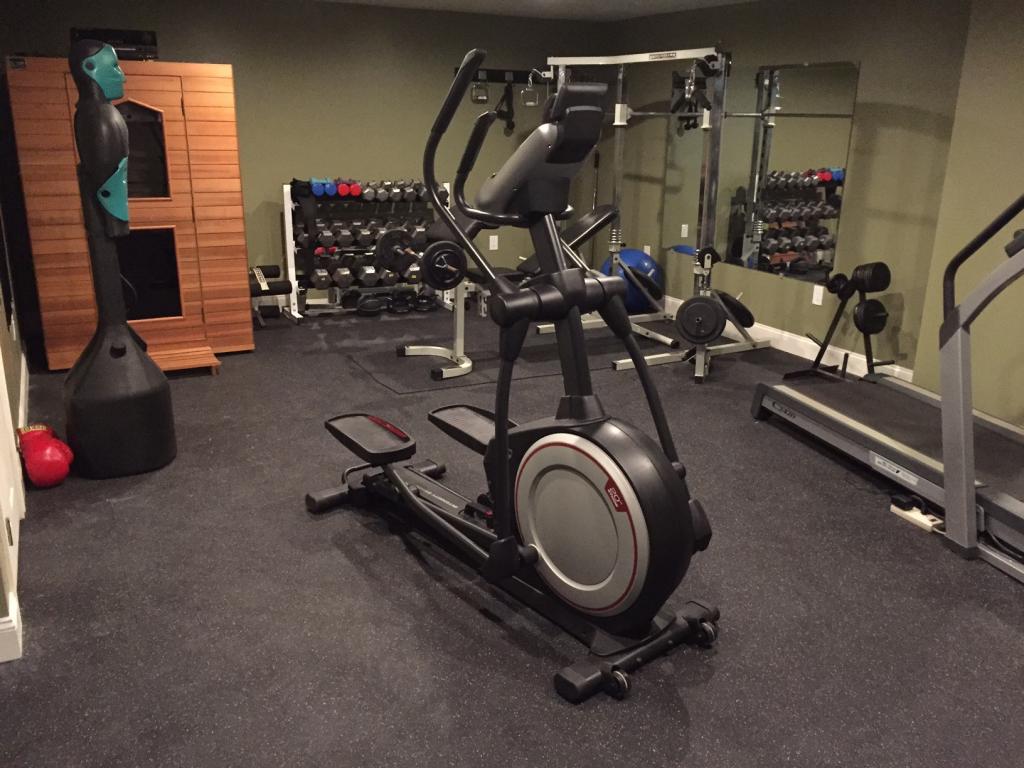 Creating a weight room you'll love to use in your own basement may be easier than you think. Greatmats carries a number of different products that are great for home gym floors directly over concrete basement floors. When covering a concrete basement floor, you'll want the best flooring system for a home gym that
Insulates against the cold
Is easy on the bones and joints
Can withstand moisture
And protects the concrete
And since this is in your home, you still want it to look great.
The most popular basement gym flooring products for installation over concrete are made of recycled rubber, flexible PVC or high density EVA foam.
1. Rolled Rubber Home Gym Flooring Over Concrete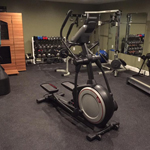 The most popular home gym flooring is rolled rubber over concrete. It is one of the least expensive basement gym flooring options and creates few seams in your exercise room floor. We generally recommend using a double-sided carpet tape beneath the rolls at the perimeter and at the seams between rolls.
Adhesive: double sided carpet tape
How to Install Rubber Flooring Rolls Over Concrete
2. Interlocking Basement Flooring Gym Tiles or Mats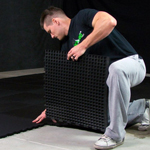 If you'd prefer an easier installation, you can opt for
interlocking rubber tiles
or
foam tiles
. Neither rubber or foam floor tile options require glue for installation. Foam tiles will offer more cushion while rubber tiles are more durable and offer greater protection for your subfloor - especially in free weight areas.
Adhesive: none
How to Install Rubber or Foam Gym Tiles
3. Plyometric Rubber Home Gym Flooring
Looking to do aerobic or cardio activities on your basement gym floor? A great product for that is our plyometric rubber flooring rolls. This rubber material is less dense than standard rolled rubber, Plyometric rubber flooring creates a cushioned surface that is great for jumping, lunging, and other aerobic type activities.
Adhesive: double sided carpet tape
How to Install Rubber Flooring Rolls Over Concrete
4. Waterproof Basement Gym Flooring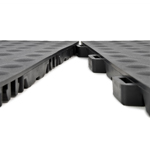 If you struggle with moisture in your basement gym area, you may wish to consider our StayLock floor tiles. Like Plyometric rubber flooring, these PVC plastic tiles provide great cushion while also protecting your concrete from heavy equipment and weights. These tiles easily interlock together to make installation simple. These tiles are also nonabsorbent and will keep your workout surface above the damp concrete.
Adhesive: none
How to Install PVC Tiles Over Concrete
5. Natural Look Home Gym Flooring Over Concrete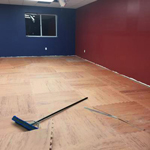 For a natural look consider our 1-Inch Thick Martial Arts Karate Mat that has a wood grain option in addition to solid colors. This foam tile is durable and has the right cushion for aerobic and dynamic dance exercises as well as yoga and martial arts. Install directly over your concrete floor in the exercise room in your basement for an upscale designer look. This tile is interlocking and easy to install with no adhesives required.
Adhesive: none
How to Install Foam Tiles Over Hard Floors
Installation Tips
Do you still have questions about flooring for your home gym, such as
What are the best conditions?
Do you need sub-flooring?
When to avoid rubber?
How to install rubber on other surfaces like tile, hardwood or carpet?
Visit the
Home Gym Flooring Installation Guide
for more information.