Rubber Flooring Roll Greatmats 1/4 Inch Colors 10 LF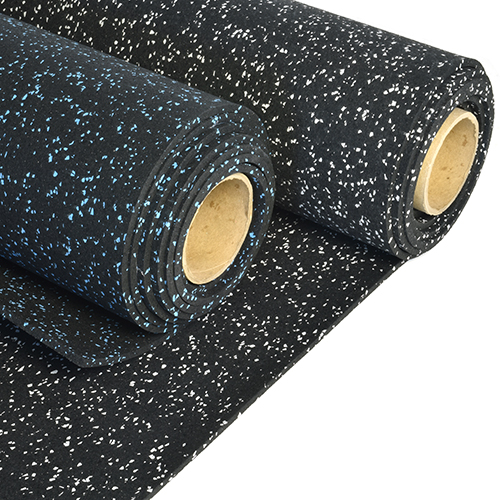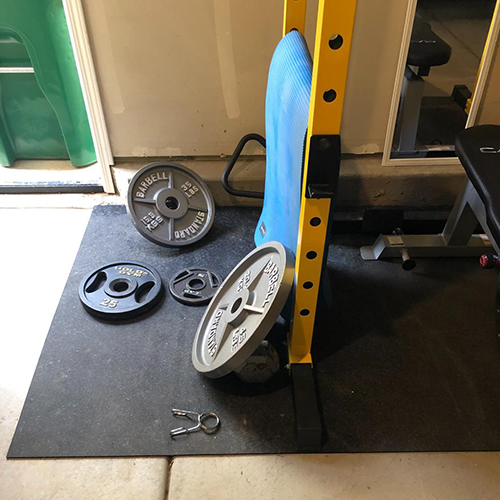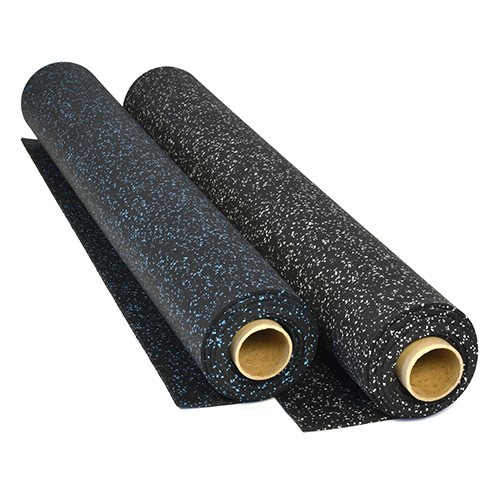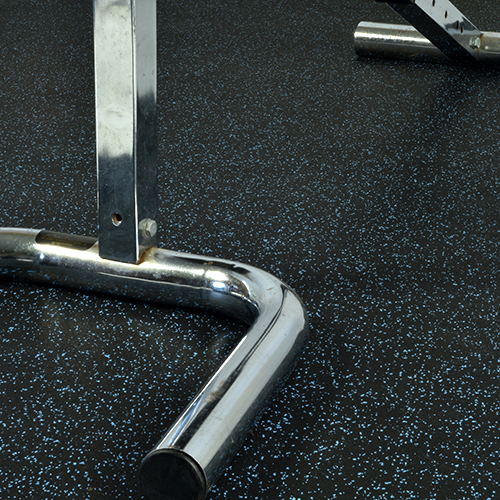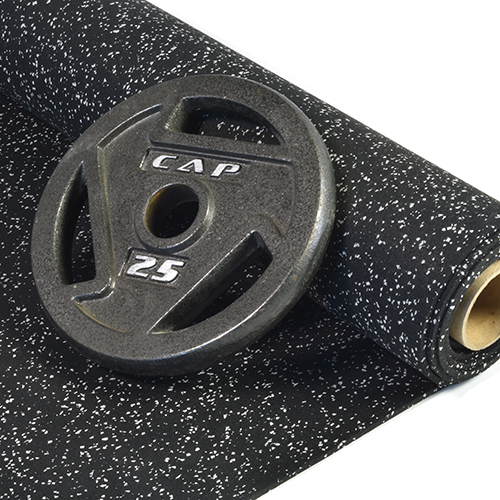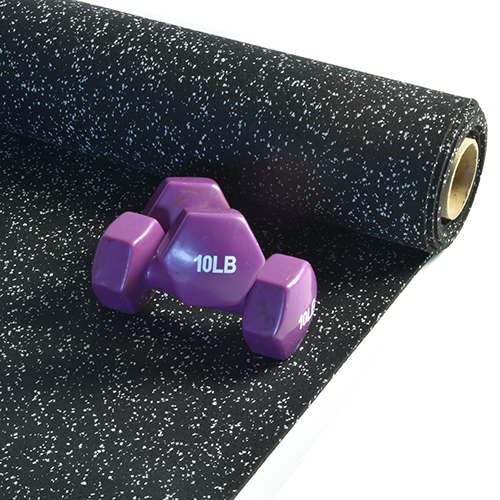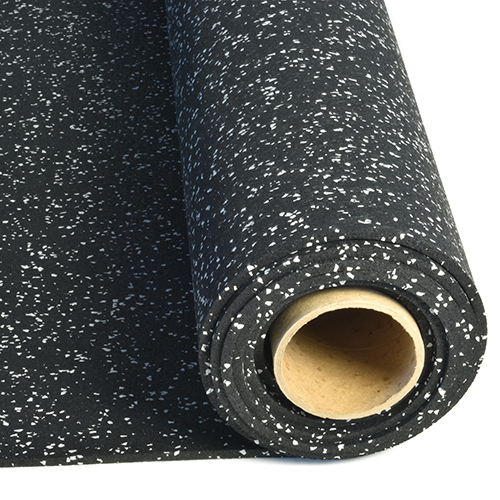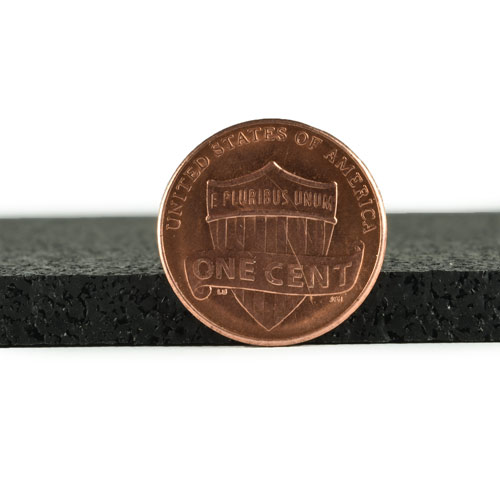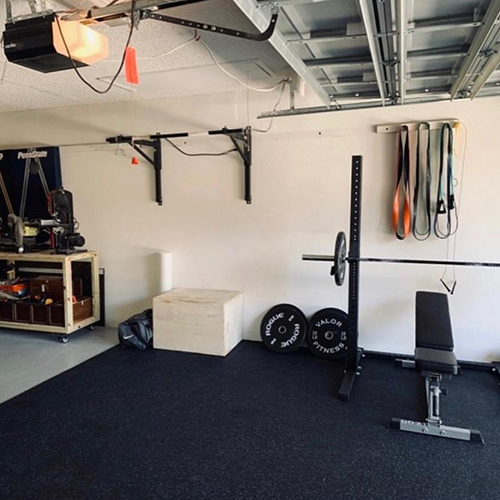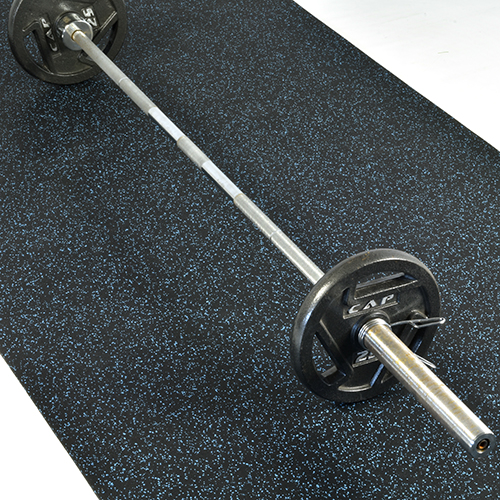 Ships ground to your door
Durable athletic gym and exercise flooring
Easy installation, no adhesive required
$120.00
/roll
(You Save 26%)
(87 Reviews )
Ships Out: Estimate 1-3 Working Days
How Much Flooring Do I Need?
VIDEOS
TOP FEATURES
Ships ground to your door
Durable athletic gym and exercise flooring
Easy installation, no adhesive required
2 colors to choose from
Great for home gym floors, basement floors and exercise rooms
Easy to clean
Easy to roll up and store
Use Types
Home Gym Floors, Home Rubber Flooring, Portable Rubber Rolls, Home Exercise Flooring
Gym rubber flooring rolls, 4x10 rubber floor rolls, Roll rubber flooring
When you need a small area of home rubber flooring roll material that both looks and performs well, the Greatmats Rubber Flooring Roll Greatmats 1/4 Inch Colors 10 LF are an excellent choice. This 4 by 10 foot single piece of 1/4-inch thick rubber floor roll is available in a 10% color fleck.
Rubber Flooring Rolls 1/4 Inch 4x10 Ft Colors have Great Durability


Rubber Flooring Roll Greatmats 1/4 Inch Colors 10 LF flooring is an excellent choice for home gyms, where you'll install the rubber under exercise equipment. Or feel free to install this flooring anywhere a tough and durable rubber rolled flooring is required. With an excellent material density rating of Shore A 60, the home rubber gym flooring rolls will stand up to whatever you can throw at it.

Please note: When installing end to end this material will need to be cut square on the ends. The ends of this product are not cut square at the factory. Interestingly enough, this is industry standard. On site installation will require that the ends of this material is cut square using a sharp utility knife, if the material is be installed end to end.

The material is not cut to a perfect 10 ft length. The rolls are 10 ft at minimum and often a few inches longer, this is common in the industry for rolled rubber material. The material is very easily cut to length, with a sharp utility knife and a straight edge.

These 4x10 rubber floor rolls are a Made in the USA product that carries a 5-year limited manufacturer's warranty. The rolls consist of recycled rubber, which yields an environmentally beneficial product that also carries LEED points.

Like all rubber flooring products, this product does have some rubber smell. Other types of rubber floors in the same flooring category type and price range usually carry a greater level of odor than our Rubber Flooring Rolls 1/4 Inch 4x10 Ft Colors product, though. The rubber smell will dissipate several weeks after installation.
Gym Flooring Rolls are an Economical Flooring Option
For those seeking home rubber gym flooring rolls that also offer a good value, these 4x10 rubber floor rolls are a smart idea. Rolled rubber flooring will typically cost less per square foot than rubber mats or rubber interlocking tiles. However, the ultimate cost of the product per square foot depends in large part on the thickness measurement of the flooring and any color flecks included in the product.
Because rubber flooring rolls ship in large sizes, they do carry quite a bit of weight, so if you don't have the means of moving these heavy rolls, please contact our customer service team to learn about some of your other options for ordering rubber flooring.
The Rubber Flooring Rolls 1/4 Inch 4x10 Ft Colors product ships in a roll that will cover 40 square feet. Each roll weighs 53 pounds, so you will need to have some help available to move the rolls from room to room.
Use Rubber Floor Rolls Anywhere
Our 4x10 rubber floor rolls have a large number of potential use cases, giving it a great amount of versatility for a homeowner.
Create a Home Gym: This product can be used in the garage to create a safe and durable flooring surface for use with exercise equipment. Our home rubber gym flooring rolls are an excellent choice for providing protection against heavy exercise equipment, including hand weights. You don't want to drop a hand weight onto a garage floor, as you could cause a chip or crack. The 4x10 rubber floor rolls protect the original flooring from damage.
- Covering Cement: You also can choose to install this durable flooring in a utility room or mud room to create a easy to clean type of floor. When installing the product over a cement floor, these rubber flooring rolls will enhance the appearance of any room, especially considering all of the different color fleck choices available.
- Easy to Clean: If you have a new puppy or other type of messy pet in the home, our 4x10 rubber floor rolls are a smart option. This type of flooring only has a slight absorption quality to it, meaning any 'accidents' the puppy has in its pen will be easy to clean up without having to worry about the smell becoming a permanent part of the floor. To clean this floor, you can sweep or vacuum dry debris on an as needed basis. For more stubborn stains, use a mop with a neutral pH cleaner to complete the job.
- Industrial Settings: If you have a warehouse where you sometimes entertain customers, our Rubber Flooring Rolls 1/4 Inch 4x10 Ft Colors product is a perfect option to give your warehouse a nicer look than a simple cement floor for holding meetings. Best of all, you can install or pick up the flooring as needed in just a few minutes, storing it out of the way when it's not in use.
- Safe Play Area: When children will be playing in an attic or basement space without a finished floor, our rubber flooring rolls are an excellent choice. Cement floor in a basement can be very cold to the touch, especially if small children are sitting on the cement and playing. Plywood flooring in an attic space can have splinters. But roll out our rubber flooring in the area, and your kids will be more comfortable while they're playing safely.
Understand that our home rubber gym flooring rolls measure 0.25 inches in thickness. Although these 4x10 rubber floor rolls will handle many types of exercise equipment and small weights while protecting the sub-floor, if you are someone who uses extremely heavy weights for powerlifting, we would recommend going with a thicker type of home rubber flooring roll product.
Just contact our customer service team and explain the types of weights you normally use. Our knowledgeable team members will be able to recommend the best thickness of rubber flooring to use for your situation.
Tack Down Options for Rolled Rubber Flooring
When installing the home rubber gym flooring rolls, you have the option of whether to adhere the roll to the sub-floor.
- Permanent Installation: If you're sure you don't want to remove the 4x10 rubber floor rolls at any time, you can use a glue down installation with this flooring. You will want to clean the sub-floor thoroughly before attempting a glue down installation, removing any debris that could leave the rubber floor unable to make a tight fit.
- Temporary Installation: We'd recommend using a double-sided carpet or vinyl type to create a temporary installation. With the tape, you'll have the option of removing the rubber roll at some time in the future. Tape will not stand up to extremely rough use on the surface of the home rubber flooring roll, as it may pop loose and move around. However, for most use cases, tape will work just fine.
- Dry Lay Installation: If you don't want to mess with any types of adhesives, simply rolling out the 4x10 rubber floor rolls will work in many instances too. If you will have some sort of equipment on top of the rubber flooring, such as a treadmill or a weight bench, the weight of this equipment will hold the roll of flooring in place without any adhesive underneath. Additionally, if you know you will be removing the floor at some point, a dry lay installation makes it easy to just roll up the flooring whenever you're done using it.
Rubber Flooring Rolls 1/4 Inch 4x10 Ft Colors and Ordering Options
We offer the best quality of home rubber flooring roll product at the most competitive prices that you'll find in the market. You'll also love the different color fleck options you have with these 4x10 rubber floor rolls.
These home rubber gym flooring rolls have color flecks in the surface of the black rubber material. This provides a nice look that our customers appreciate, especially when using the flooring in an area where people will see it.
Each of these 4x10 rubber floor rolls have a roughly 10% color fleck density in the surface of the rubber flooring. The spots of color look great, as they don't overwhelm the black base color, yet they're noticeable. Your 10% color fleck options in this black rubber flooring include the following:
- Blue
- Gray
These 4x10 rubber floor rolls are in stock and will ship direct to your door via ground service. They typically arrive within 3 to 6 working days from the time of order. Orders with 5 or more rolls will ship via freight delivery with liftgate. The customer must be present at time of delivery to accept and sign for the material.
We also offer custom cut lengths as required for your project, so please contact customer service to learn more about your options for this product. Please note that the cut lengths for home rubber gym flooring rolls are provided as a courtesy at no additional cost to customers.
Greatmats Rubber Flooring Rolls 1/4 Inch 4x10 Ft Colors (10% Blue Fleck or Gray Fleck)
Maintenance
Use a neutral Ph cleaner, such as Taski Profi.
Shipping
Ships via ground service or freight delivery with lift gate to your location.
This Product Ships UPS Ground, FedEx Ground and/or Freight.
Please review our shipping disclaimer.
ACCESSORIES
Accessories for RUBBER FLOORING ROLL GREATMATS 1/4 INCH COLORS 10 LF
SPECIFICATIONS
| | |
| --- | --- |
| SKU# | RRA14C410-GM |
| In Stock | Yes |
| Product Type | Roll |
| Material Type | Rubber |
| Product Edging | Straight |
| Thickness | 1/4 inch |
| Width | 4.00 feet |
| Length | 10.00 feet |
| SF per Item | 40.00 |
| Weight | 53.00 lbs |
| Packaging | Cartons |
| Number of Pieces per Package Type | 20 |
| Non Absorbent | Partial |
| Special Adhesives | No |
| Interlock Loss | 0.00 feet |
| Material Hardness | Shore A 60 |
| Interlocking Connections | No |
| Made In | USA |
| Surface Finish | Smooth flat |
| Surface Design | Colored |
| Installation Method | Dry lay, tape or glue down on hard flat surface |
| UV Treated | No |
| Reversible | Yes |
| Border Strips Included | No |
| Leed Points | Yes |
| Manufacturer Warranty | 5 year limited |
HOW TO'S
RELATED PRODUCTS
RELATED BLOGS
Customer Reviews
4.5 out of 5
87 star ratings
Customer Rating:
09/27/2020
Absolutely in love with our home gym mats with blue flecks. Easy to roll out. Laid out perfectly for us without having to wait. Double sided tapped it and it looks amazing! Easy to clean, sleek, very happy! Will order again to finish the job!
Customer Rating:
09/22/2020
Looking good! These roll out mats for my home gym were easy to install and the blue specks look good - exactly what I was looking for!
Customer Rating:
04/02/2018
Great customer service. Product as described. Looking really good in my garage.
Customer Rating:
06/14/2014
Exactly what I expected! Put it directly on basement floor to create my workout area. Didn't need to put anything underneath(double sided tape) because the mats didn't slide. I totally would recommend getting the type with specs in it because dusty foot prints will show up if you bought solid black. The free shipping is what sold me. When I'm ready to make my workout room bigger I'll be buying my mats from greatmats.com!
Customer Rating:
04/23/2021
It's perfect for what I needed
Customer Rating:
04/13/2021
I just finish to use this product.
great flexibility and easy to work with. strongly recommended this Rubber Floors
Thanks
Fernando
Colorado Springs, CO
Customer Rating:
02/14/2021
Great product, fast shipping reasonable price. would defintley recommened to anyone planning on building a garage gym.
Customer Rating:
09/05/2020
These mats are very sturdy and durable. I purchased this mat for my own garage which I have converted into a boxing gym. I have been boxing and training boxers for over 36 years. I am a certified USA Boxing Coach, a Rock Steady Boxing Coach and an Advanced Boxing Fitness Coach. I train many boxers during the week. I also volunteer 3 days a week working with people with Parkinson's Disease at a Rock Steady Boxing Gym in Virginia Beach, VA. At our gym in Virginia Beach, the whole surface of the gym is layered with Greatmats. The mats provide traction and stability for our Parkinson Boxers, who often have difficulty with balance and equilibrium. The mats also allow for pivoting and footwork required in boxing. We even had one boxer loose his balance falling without hurting himself. The mats provided enough cushion to break his fall. I've bought a lot of mats, over my years of training, and these Greatmats are by far the best mats on the market!
Customer Rating:
09/03/2020
Works perfectly in my new basement "gym". The included ship for free was the deal breaker. I checked other sites and the shipping costs were equal to or greater than my purchase. The mats were delivered even quicker than planned so that made my purchase even that much better! Cut open the wrapping, roll them out, and your good to go.
Customer Rating:
07/18/2020
Not bad. ordered 3 1/4 inch thick 10x4 foot segments. they were a little over 10.5 but the end cuts were not straight or even so they all had to be re-cut and squared at both ends by hand; a little extra work. the price looked good but then shipping made it about the same as everybody else. The advert said they would lie flat and even next to each other (''seamless''). Not the case but not too bad...nothing that a little double-sided carpet tape didn't fix. Laid them over foam and it makes for a cushion-y durable floor. Horse mats (i.e. same stuff) 3/4 inch 4x6 squares would have cost the same or less at the local tractor supply. shipping took a little longer then expected. BTW 10 feet of 1/4 inch is about as much of a roll as I would want to handle without help. Rubber is heavy!
Customer Rating:
07/16/2020
Good product for the exception of sporadic white flecks.
Customer Rating:
07/15/2020
The product quality itself it good, although the mat I received was clearly cut uneven.
Customer Rating:
06/20/2020
Great!
Samantha
Jacksonville, AL
Customer Rating:
06/18/2020
Excellent service and prompt delivery! Highly recommended this company.
Customer Rating:
05/28/2020
Great high quality mat for my home gym since who knows when gyms will be open again. I bought two put them on top of 3 inch carpet foam padding and used high strength duck tape on the bottom side and can't even notice.
Customer Rating:
05/01/2020
I love this mat. We installed this in our garage for a little work out area, and it's amazing. Doesn't slide at all, and provides great traction. We're currently using it to run our dog inside when it's raining, and it's still holding up amazing. (Order #: 1519527)
Customer Rating:
12/24/2018
Very slow to ship. Took a week for a stock item.
Customer Rating:
11/13/2017
Good quality mat but the piece we received was cut very uneven. I expected a symetrical peice of rubber but it will get the job done.
Customer Rating:
09/06/2017
I received my 2 mats that I bought to put under my Gym equipment. When they arrived the cardboard wrap that they were in was so tattered, it look like they fell off of the truck and were dragged. Fortunately the mats were ok. I really like the quality and the fact that you could choose the color of the specs in the mat. I didnt like the fact that the edges were cut irregular, since I was counting on the exact size for my space. Now I have to trim them. At a 1/4" thick I cant imagine what I will use to cut them.
Customer Rating:
04/03/2017
Great product and shipping
Customer Rating:
03/14/2017
If you want the best , this is where you go. Their price cant be beaten . Do your research first , but bookmark this web site!
Customer Rating:
01/30/2017
4 or 5 days from when I ordered, the mats were here. Great service!
Customer Rating:
01/30/2017
Very good service and product quality!