What Flooring Is Suitable For Low Impact Exercise Equipment?
By Paige Cerulli Created: January, 2023 - Modified: January, 2023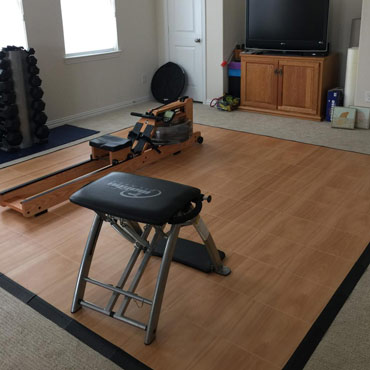 Whether you're building a home gym or planning a commercial facility, it's important to choose flooring that supports the different ways that you will use the space. Low impact exercise provides a great workout, and choosing the right flooring can help to make your workouts more enjoyable. The right flooring will support not only your floor exercises, but also your low impact exercise equipment.
5 Of The Best Flooring Options For Low Impact Exercise
Whether you're planning to do pilates or yoga or want a space for your elliptical or rowing machine, there are several types of flooring that are an ideal and versatile choice. These products support everything from dancing to pushups, helping you to meet your fitness and weight loss goals.
1. StayLock Tile Orange Peel
The StayLock TIle Orange Peel
is made of recycled PVC plastic. The result is a tile that offers the durability of rubber with the cushion and fatigue benefits of foam, making it durable enough for your home gym.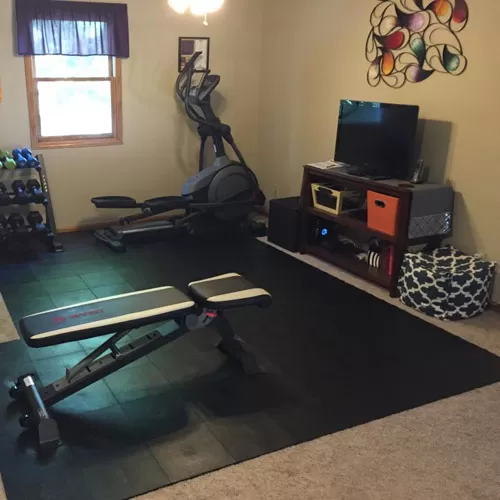 This tile is waterproof, so it's a perfect choice for a gym that you're installing in your basement or garage. You can install it directly over a hard subfloor like concrete or wood, or you can even install it over carpet.

This tile is supremely durable, and its average lifespan is 20 years, making it an excellent investment. It even offers a 20-inch fall height rating, so it's an ideal choice for seniors or anyone who is at an increased risk of a trip or fall during workouts.

You can install the tile yourself, thanks to the modular tab design. You can also remove the tiles and reinstall them as needed.




2. Max Tile Raised Floor Tile


The Max Tile Raised Floor Tile adds an eye-catching look to your workout space. It features realistic wood grain designs, and the tile is UV-treated to preserve its beautiful appearance.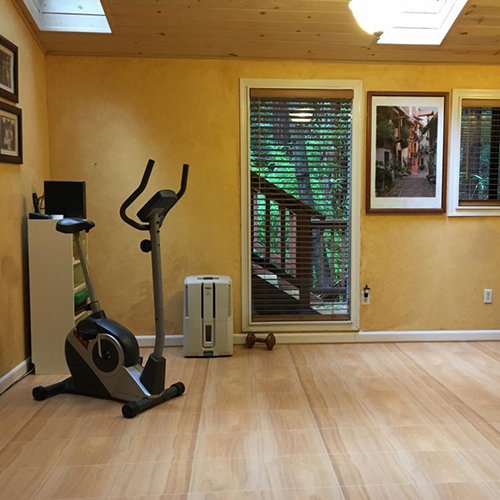 Made of waterproof materials, the tile can be installed in basements, garages, and more. It's suitable for commercial and home use, and you can install it directly over a hard surface.

Highly durable, the tile can support low impact exercise equipment, like a stationary bike used for cycling or even a rowing machine. It's a great choice for your cardio needs, and it also provides a foundation that's suitable for squats, lunges, and more.

The tile features snap-together tab and loop connectors, so you can easily install it yourself. It supports both permanent and repeat installations.





3. Martial Arts Karate Mat


The Martial Arts Karate Mat is made of a high-density EVA foam that offers valuable shock absorption and cushion. While it's designed for the impacts sustained in martial arts training, the mat is also an ideal choice for floor exercises.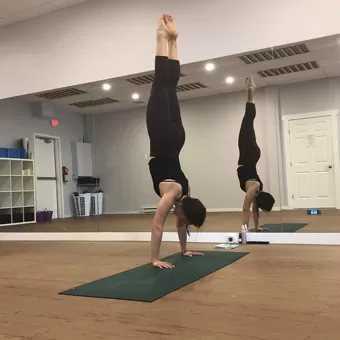 The mats feature a leather surface texture, so you can work out on them while wearing shoes. The foam won't absorb liquid, so spills are no big concern.


Thanks to their puzzle-style interlocks, the mats fit together easily, and you can install them yourself. Each tile includes four border strips, allowing you to create an island installation with clean, finished edges.






4. Plyometric Rubber Roll Geneva


The Plyometric Rubber Roll Geneva is a cushioned flooring that's ideal for plyometric training. It provides cushioned resilience, helping to reduce the amount of impact that your legs and joints sustain during a workout.






While the flooring is forgiving, it's durable enough to use with athletic shoes. It's suitable for use in your home or commercial gym, and it's a convenient way to add some extra padding to areas when you're doing higher-impact activities, like cheerleading or tumbling practice.


You can order this roll by the square foot, saving money and minimizing the amount of product waste. Choose from a tape or glue down installation depending on your needs.






5. Home Gym Flooring Tile Pebble


The Home Gym Flooring Tile Pebble is made of a high density EVA foam, so it creates a forgiving surface. The flooring is still strong and durable enough to be used underneath exercise equipment, so it might be the ideal choice for an area where you do both floor exercises and equipment workouts.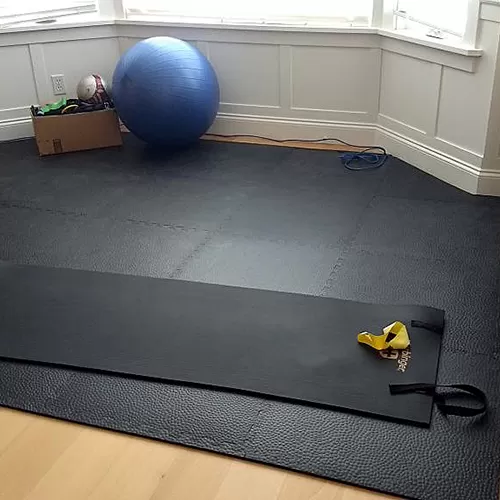 The pebble texture helps to maximize traction, and the flooring is also free of latex and lead, so it's a safe choice for your home. These tiles are ideal for everything from aerobics to using an exercise bike.


The interlocking tile edges make for a fast and easy DIY-friendly installation, and you can lay the tiles directly over a hard, flat surface. Each tile includes two border strips, making for clean, finished edges and a professional looking installation.


These tiles are also lightweight and portable, so you can easily remove them and store them away if needed. Measuring 2x2 feet, the tiles will quickly cover larger areas. They're backed by a one-year manufacturer's warranty.