What's the Best Home Gym Flooring Over Hardwood?
By Kyle Schurman Created: February, 2021 - Modified: June, 2023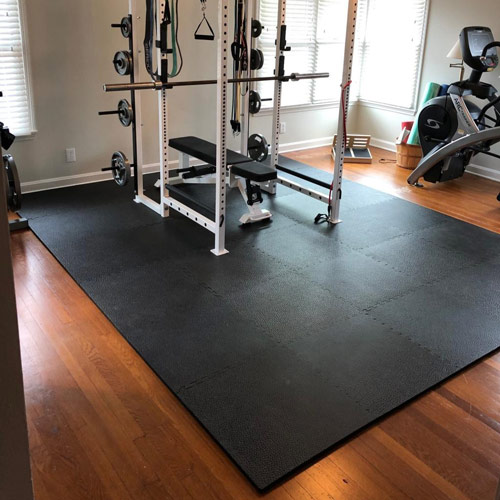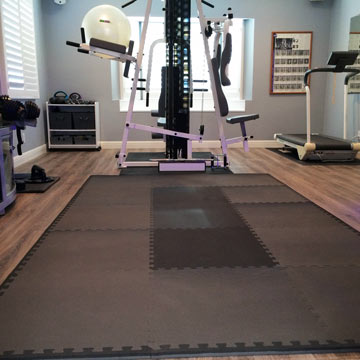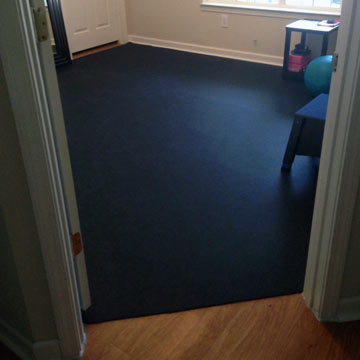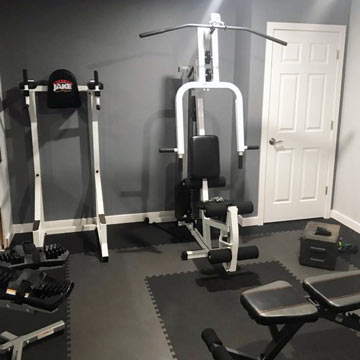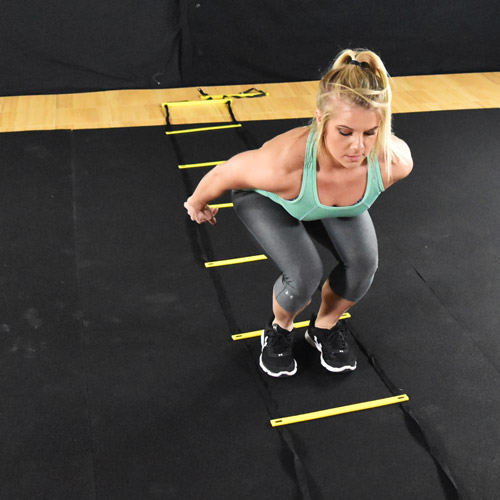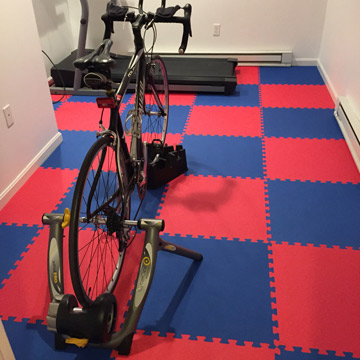 Products for using home gym flooring over hardwood can consist of a number of different materials, giving athletes the cushion and traction they need to have success. Some of the options include:
EVA foam with the Gym Floor Workout Fitness Pebble Tile or Home Sport and Play Mat

Carpet bonded to foam with the Royal Interlocking Carpet Tile

PVC plastic with the StayLock Bump Top Tile

Rubber with the Plyometric Rubber Roll
Here are some of the best design ideas for creating a workout floor over hardwoods when laying out a home gymnasium.
Is Foam Durable Enough for Home Gym Flooring Over Hardwood?
Even though foam is a lightweight material, don't assume that it is flimsy or unsuitable to provide protection for the hardwood underneath. EVA foam can have a high density design that works for protecting the hardwood subfloor from mid to lightweight barbells. It can stand up to exercise machines too.
Foam also has a reasonable price per square foot, meaning customers won't break the bank outfitting the room for the home gym with a new flooring.
The
Gym Floor Pebble Workout Fitness Tile
is a popular choice as a home gym flooring over hardwood. It has a 20 mm thickness (about 3/4 inches), and super high density so it will protect the hardwood subfloor while the workout is occurring.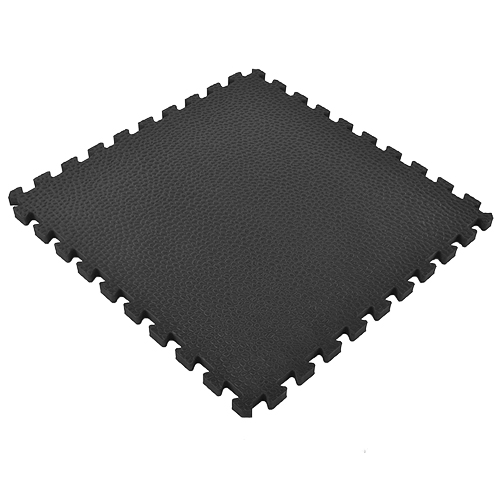 If working out directly on the hardwood without a foam mat in place, the athlete could slip. However, the black pebble top surface on this mat gives athletes a slight texture, which ensures they can make sure steps and movements without slipping on its surface. It also offers just enough cushion to make floor-based exercises more enjoyable.
For those who want more color options in a home gym flooring over hardwood product, consider the
Home Sport and Play Mat
. It is a reversible tile that's available in three color combinations of red/blue, black/gray, and green/brown.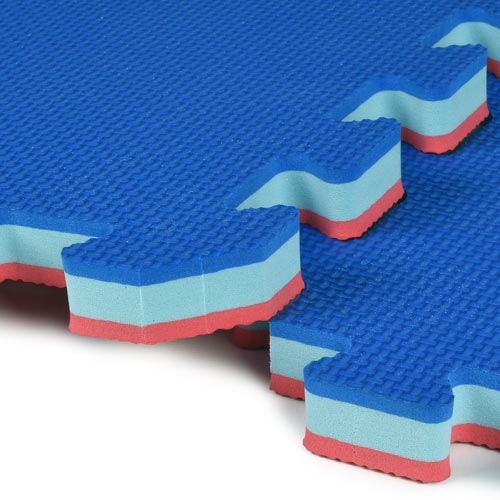 It also has 3/4 inches of thickness in the EVA foam to provide plenty of protection for the hardwood floor underneath - only slightly less firm than the previously mentioned product. These are waterproof and scuff and stain resistant, further guarding the subfloor and athlete's body.
Both of these types of EVA foam tiles measure 2-by-2 feet in size, so they'll cover the home gym area quickly. Each tile has interlocking puzzle edges, allowing them to fit tightly together without the need for adhesive. For those who want to return to the hardwood in the future, just disassemble the interlocking foam tiles and place them in storage.
Is It Dangerous to Work Out on Carpeting?
Carpet works nicely for creating a home gym setup for bodyweight and less intense weight training, as it has excellent traction and durability. It is possible that carpet could create skin burns when people slide across it, but for most people, carpet represents a safe workout surface.
If using the carpet over hardwood flooring to make a home gymnasium, installers will want a foam layer underneath it to provide cushioning for workouts. The
Royal Interlocking Carpet Tile
is an ideal selection for a workout floor, as it has the foam layer attached to the back of the carpet already, simplifying installation. The Royal carpet tiles interlock together to further simplify the layout. Don't plan on dropping weights on this flooring, however, as it is not designed for that.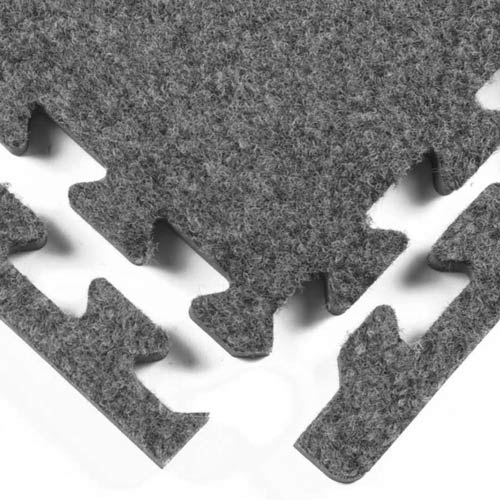 What Gym Flooring Combines the Best Features of Rubber and Foam?
PVC plastic gym flooring is a popular choice for creating a home gym in a room with hardwood subflooring, as it has a softness similar to foam and a density similar to rubber.
At 9/16 inches in thickness, the
StayLock Bump Top Tile
will protect the hardwood flooring from the stress of workouts. As a made in America product, count on the quality of the design and ingredients the manufacturer is using with this PVC plastic tile. The bump top surface has a slight texture to yield a sure footing and fatigue relief while being able to support significant weight.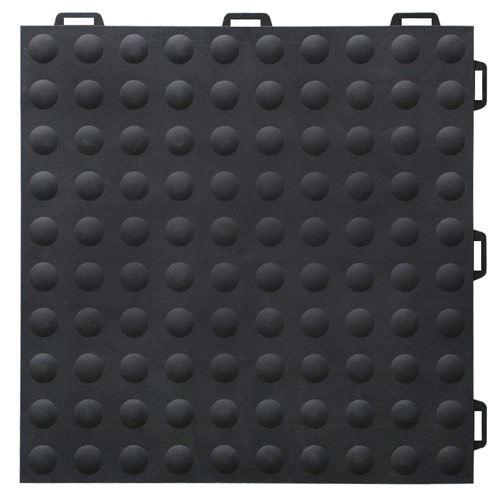 Is It Safe to Use Rubber As Home Gym Flooring Over Hardwood?
As long as customers stick with a high quality type of rubber flooring, the rolls will be safe to install as a home gym flooring over hardwood. However, it is possible that the rubber will have a reaction with certain types of finishes on the hardwood floor. To ensure that doesn't happen it is best to place craft paper between the hardwood and rubber layers.
Rubber has outstanding durability, which makes it an ideal weight training type of flooring. It has the resilience to protect the hardwood from the possibility of dropped free weights - depending on its density and thickness. It also delivers great traction for athletes who need to make quick movements for plyometrics.
For a home gym flooring over hardwood that the installer can lay out in a hurry, try the
Plyometric Rubber Roll
product. It has 8 mm of thickness (about 5/16 inches), which is great for use at home, where you may need to move it around from time to time to return the room to the original hardwood floors.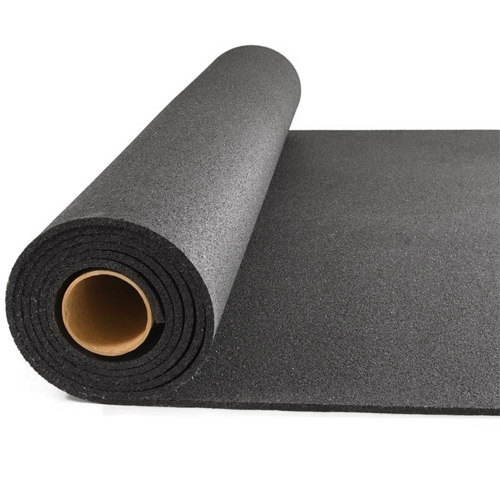 Best of all, it's made in the United States, so installers can trust the manufacturing process and the ingredients in use. Plyometric rubber is a lower density rubber that offers more cushioning that traditional rubber flooring. This makes it easier on the body for running and jumping.
However, if you plan to do a lot of weight training, it would serve you well to go with a higher density rubber flooring roll - of which Greatmats has many options.