PaviGym Flooring Tiles - What are they?
By Kyle Schurman Created: August, 2019 - Modified: May, 2020
For those who often visit health clubs and fitness centers, a particular style flooring is commonly found. You may have noticed the
Pavigym
brand name on the flooring in the workout area. Professional gyms often rely on Pavigym for the durability and performance required for multiple types of workout situations.
Durable Floors
Professional gyms appreciate the value they receive in their flooring cost when using this brand of floor product. All styles of these floors will last a long time, even when used regularly for workouts. The high density virgin rubber used in the construction of these mats means they will stand up to heavy equipment without showing wear or marks.
Even well after the initial installation, the tiles provide the high end look that a professional fitness center owner wants to present to his or her clients when they walk in the door.
The
Endurance Fitness Gym Flooring
has a commercial grade durability rating, which yields a style of rubber flooring that delivers a good value.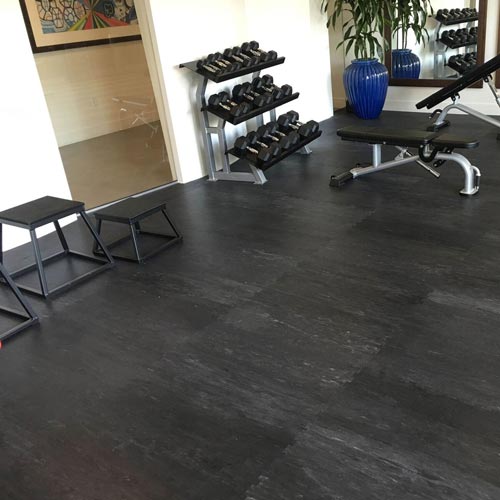 Another option is the
Endurance SS Gym Flooring
. This flooring is one of the best on the market at reducing noise and vibration from workout machines, creating an area where clients can focus on their workouts or carry on a conversation with instructors or fellow athletes. This enhances the appeal of the gym versus a facility where loud noises dominate.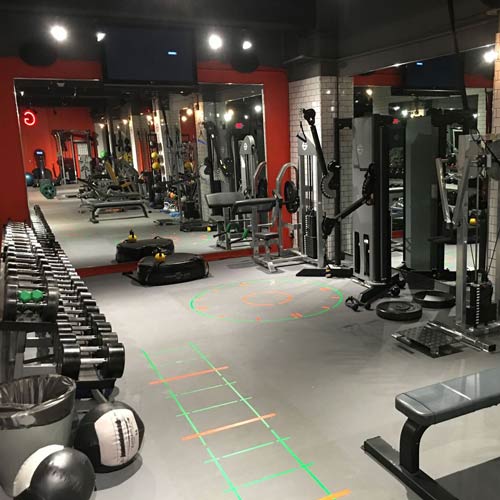 As an added level of durability, this gym flooring has a tight interlocking edge. These edges will not pop loose, even when the Endurance floor is placed under stress from workout machines or free weights.
Aerobic Workout Floors
Gyms that host aerobic workout classes frequently will select Pavigym as their favorite aerobic flooring. This style of floor has the cushioning that athletes appreciate during high impact aerobics.
Some aerobics training is performed close to the floor, which is why professional gyms appreciate the lack of odor found with this brand of flooring.
Some rubber floors will have an overpowering odor associated with them, almost like a new car smell. This odor can be especially strong when rubber floors are installed indoors, where the air circulation is limited. It can last for several weeks after installation. Facilities with a rubber flooring with a strong smell may lose clients over this odor, as it can affect the quality of the workout experience.
With high quality Pavigym rubber flooring, a vulcanized rubber is used in the manufacturing process, such as with the
Motion Group Fitness Floor
. This eliminates the odor problem.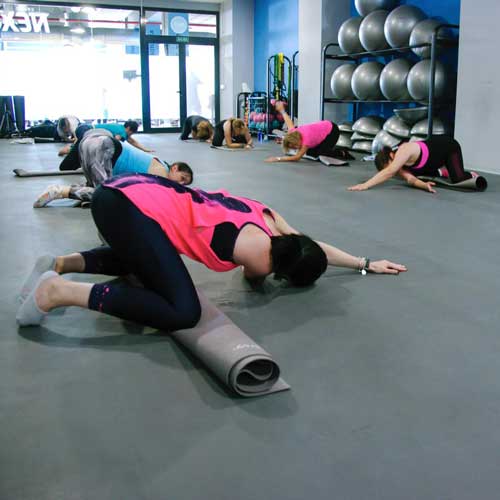 By using these mats, gym owners can receive the benefits of rubber flooring, which includes providing a sure footing for aerobics athletes, without the downside of a strong smell.
Hygienic Pavi Flooring
When visiting a gym, hygiene can be a concern for some clients. The gym owner needs to be able to clean the flooring thoroughly, giving athletes a safe area to exercise.
Pavigym flooring, such as the
Performance Fitness Gym Floor Tile
, is extremely easy to clean. You can simply mop this model of flooring with a neutral Ph cleaner and hot water to thoroughly clean it, creating a safe workout environment for all clients visiting your facility.
This particular style of fitness mat uses a virgin rubber, which makes it more wear resistant than a recycled rubber product. It also will not allow liquids to permeate the surface of the rubber, which creates a better hygiene situation than other styles of flooring.
With such an easy cleaning process, the flooring cost over time is reduced. You don't have to hire a specialized cleaning company to maintain the cleanliness of this floor.
After mopping and allowing the flooring to air dry, it will be clean, safe, and ready for the next set of athletes. Simple cleaning products will take care of the job in far less time than specialized cleaning methods too, saving you money.
Installing High Quality Pavi Flooring
Leading fitness centers and gyms throughout the world rely on Pavigym flooring to create a vibrancy that's infectious throughout the facility. Having the right flooring can set the tone for athletes using your facility, creating a comfortable workout setting that will give clients confidence in the safety and efficiency of their workouts, encouraging them to come back again and again.
This brand has provided flooring to the fitness industry for more than 55 years, delivering a style and performance that health clubs love to install and that athletes love to use for their workouts. Multiple thicknesses and customization options are available with this gym flooring, which gives a gym owner the ability to create a personalized floor that sets his or her facility apart.
Pavigym is known for its innovation in the fitness flooring arena. It's engineers work closely with clients who have installed the flooring, ensuring that the product works perfectly for the intended workout. When you want a premier style of workout flooring, Pavigym leads the industry with its wide selection of products and designs.