What Are The Best Rubber Floor Tiles for Home & Commercial Gyms?
By Paige Cerulli Created: June, 2023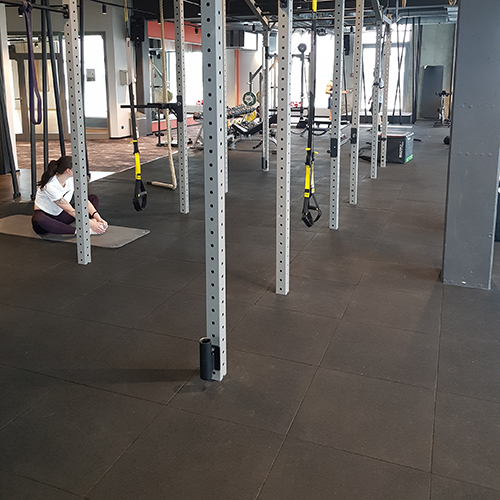 Rubber floor tiles can be a fantastic flooring choice for your home gym or commercial operation. Durable, strong, and offering excellent impact absorption, rubber floor tiles can enhance the performance, enjoyment, and aesthetic of your gym. At Greatmats, we have a fantastic
selection of rubber floor tiles
, so you'll have plenty of options.
Rubber Floor Tiles for Your Home or Commercial Gym
We carry a variety of rubber tiles that are suitable for residential and commercial installations. We've highlighted some of the best options for each application to help you get started.
Best Home Gym Rubber Tiles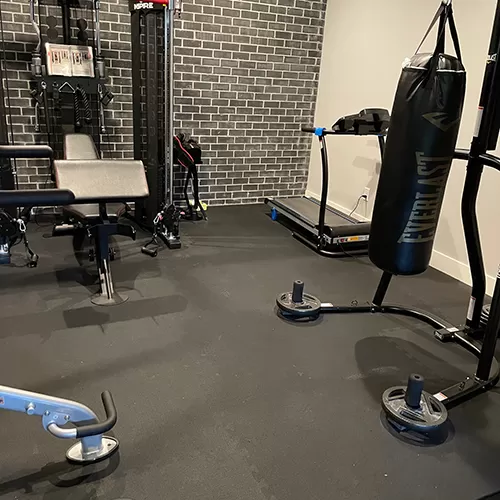 Interlocking Rubber Floor Tiles Color
2x2 Ft x 8 mm
3 color fleck options
Interlocking design needs no adhesive
Withstands the weight of exercise equipment
Durable flooring made of 85% recycled rubber
Geneva Rubber Tiles
3x3 ft x ⅜ inch
4 color fleck options
Low rubber odor for indoor use
Made with recycled rubber
No glue needed
UltraTile Rubber Weight Floor
2x2 Ft x 1 Inch
Black
Reduces force by more than 50%
Slip-resistant when wet or dry
15-year limited warranty
Interlocking Rubber Tiles Gmats Black
2x2 ft x ⅜ inch
Impact absorbing
Strong enough to withstand the weight of exercise equipment
Reversible with universal interlocks
Scuff resistant and easy to clean
Best Commercial Gym Rubber Tiles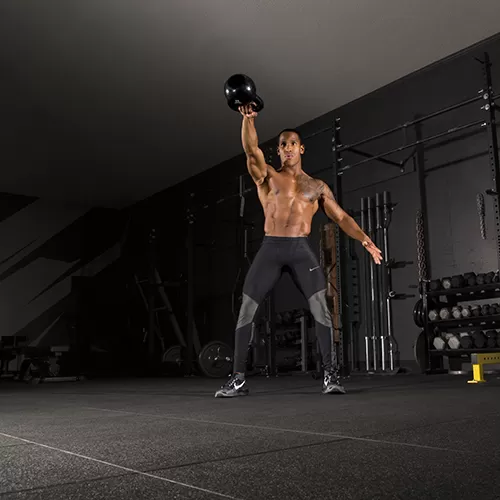 UltraTile Rubber Weight Floor Premium Colors
2x2 ft x 1 inch
Available in 4 brilliant colors
Ergonomic force reduction for more enjoyable workouts
Excellent noise reduction for a quieter environment
Strong enough to withstand repeated impact from heavy weights
Sterling Athletic Sound Rubber Tile
2x2 ft x 2 inch
Helps to decrease sound transference of heavy weight drops
Hollow foot design for maximum shock absorption during workouts
Locking system helps to prevent separating and shifting
Backed by a limited lifetime warranty
Geneva Rubber Tile
3x3 ft x ⅜ inch
4 color fleck options
No adhesive required
Low odor suitable for indoor use
Tiles weigh 18 pounds each for easy installation
Spectation Gym Floor Straight Edge Rubber Tiles
39.37 x 39.37 inches x 9 mm
11 color options
Heavy-duty vulcanized rubber
Spike resistant for excellent durability
Provides great shock absorption
How to Choose the Best Rubber Floor Tiles for Your Gym
Whether you're shopping for rubber floor tiles for your home or commercial gym, it's important to select a product that works well for your space, your budget, and your goals. As you shop for
Think About How You'll Use Your Gym
As you plan your gym, think about how you will use the space. For example, a commercial gym that will see intense use seven days a week will require a more durable flooring than your home gym that's used by just a few family members five times a week.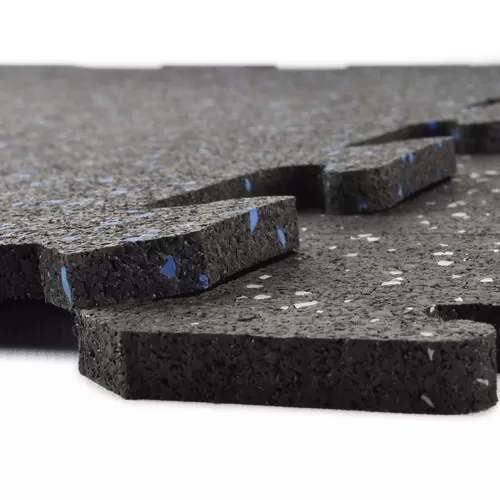 Consider the types of activities that the floor will need to support, too. If you will be doing exercises like jumping jacks and planks in the space, then it's important to choose a tile that offers appropriate traction to help prevent slips. Most tiles are strong enough to withstand the weight of gym equipment like treadmills, but if you'll be
dropping free weights
in the gym, you'll need to invest in a tile with enough thickness to absorb that impact and protect your subfloor.
As you identify your gym activities, think not only about how you're using the gym now, but also about how you might want to use it in the future. You might not be dropping free weights at the moment, but purchasing floor tiles that are thick and durable enough will allow you to introduce free weights into your workouts in the future.
Choose the Right Thickness
When it comes to the
tile thickness
, it's always better to invest in a thicker tile than you need. A thicker tile will give your subfloor extra protection, and can also offer enhanced sound and shock absorption, making the space more enjoyable for your workouts.
Rubber floor tiles that are ¼ inch thick are suitable for free weights up to 50 pounds. If you want to lift more, then consider a ⅜ inch tile, which is suitable for free weights up to 120 pounds, or a ⅓ inch tile for free weights over 120 pounds. For dropped weights, plan on tiles measuring at least ¾ inches thick.
Consider the Installation
Think about the installation that the product requires, too. Many interlocking tiles suitable for home gym use require no adhesive, making for a DIY-friendly installation.
As you explore the larger, thicker tiles often used in commercial gyms, you may need to plan for a professional installation with adhesive. Be sure to factor this expense into your overall flooring budget.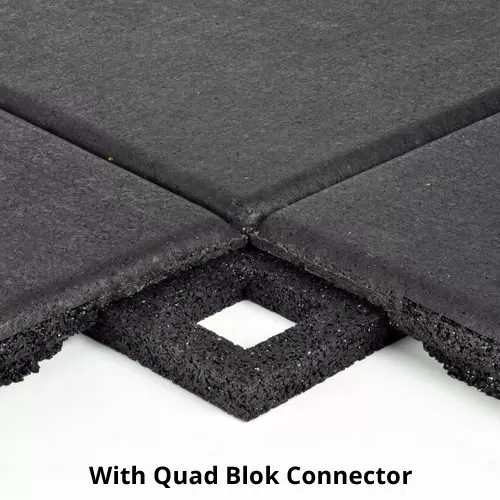 The 1'' UltraTile Rubber Tiles use the Quad Blok Connector system to ensure a very secure installation.
Purchase Your Rubber Floor Tiles from Greatmats
There are many reasons to choose Greatmats when you purchase your rubber floor tiles. Not only do we offer a great selection of rubber floor tile and mat products suitable for residential and commercial gyms, our highly knowledgeable customer service team can help you with your purchase.
Please contact us if you have any questions, need help narrowing down your product choices, or are ready to place your order. Our customer service team is happy to help with product details, product samples, shipping quotes, and more.