What Are The Advantages Of Interlocking Gym Flooring?
By Paige Cerulli Created: August, 2021 - Modified: August, 2023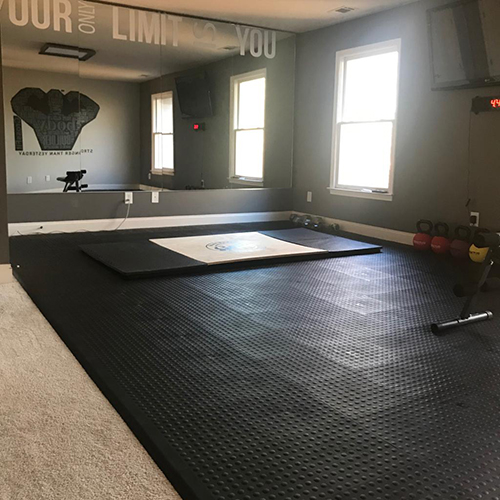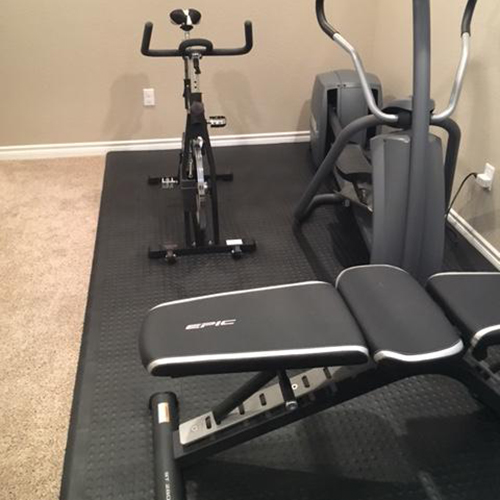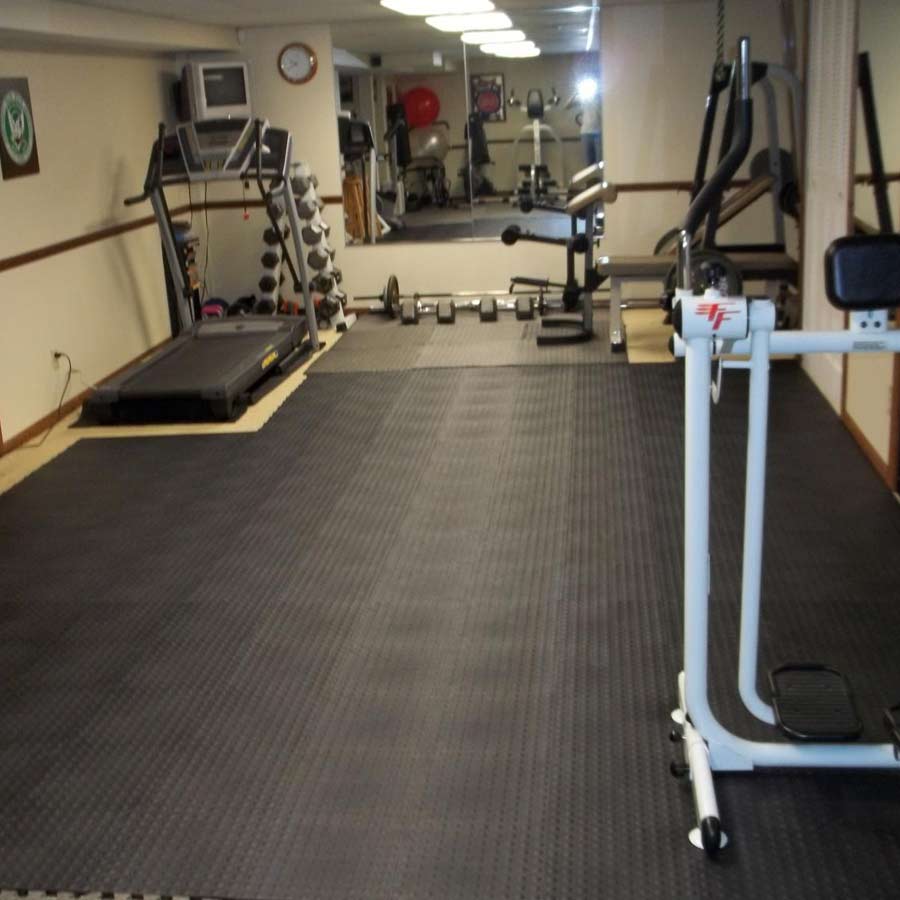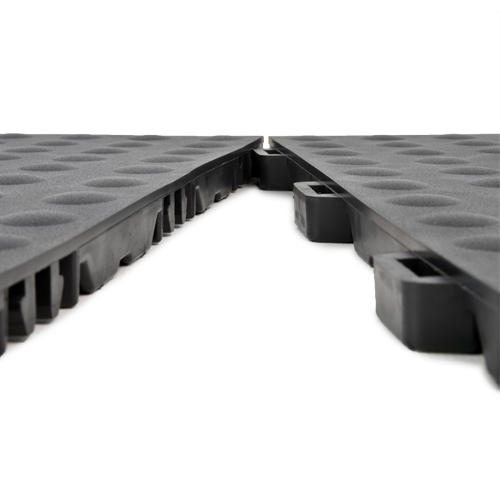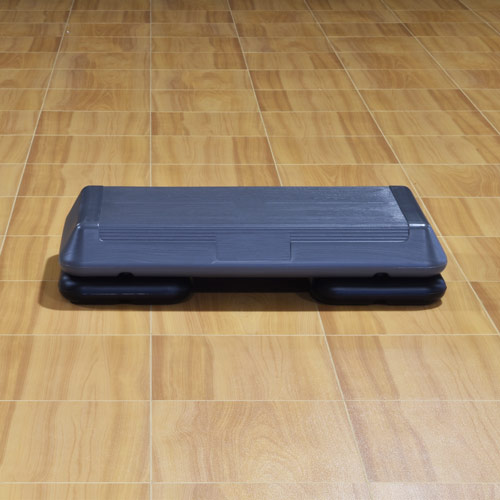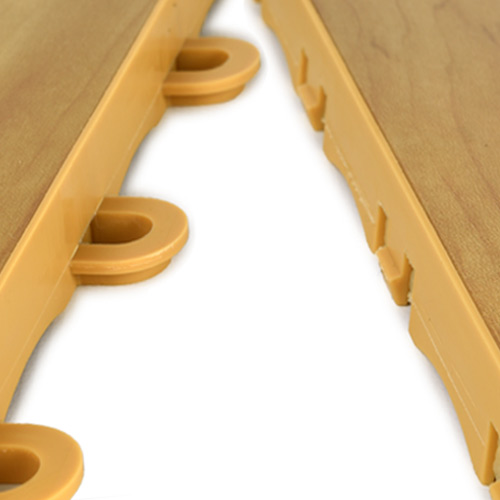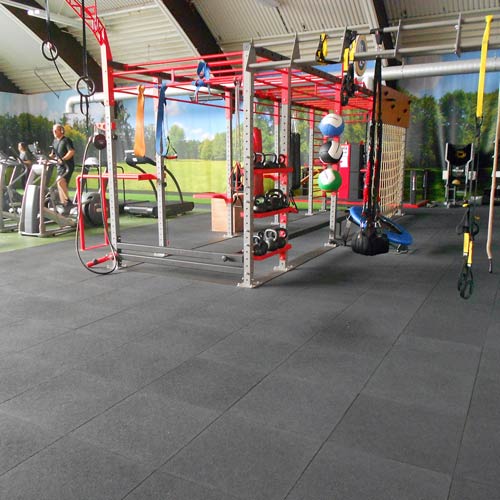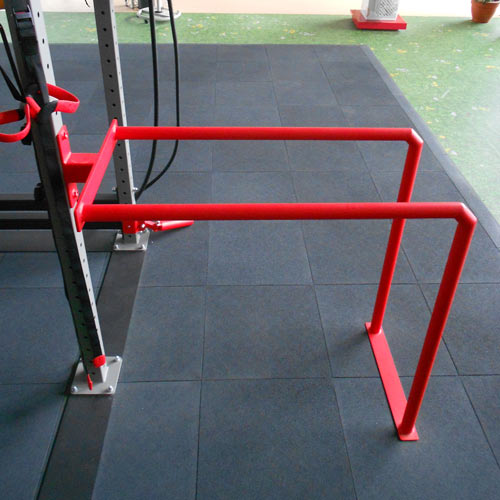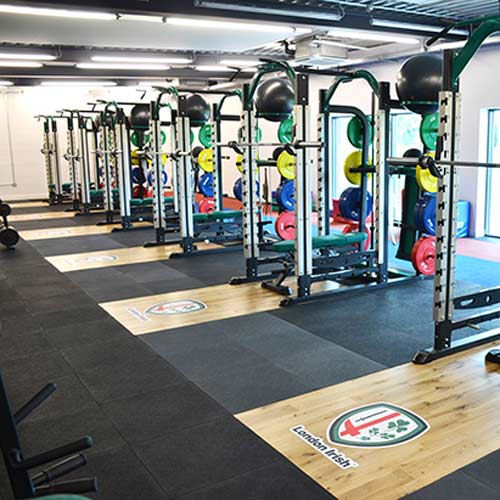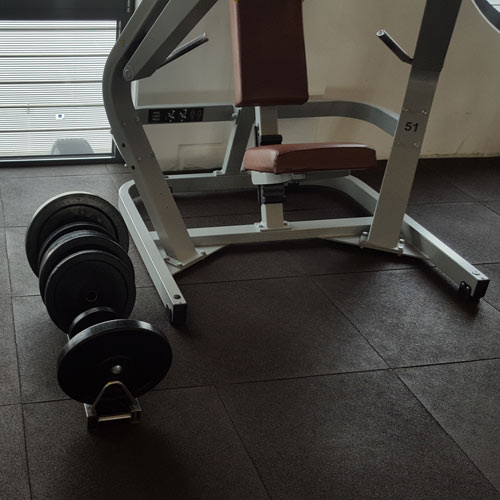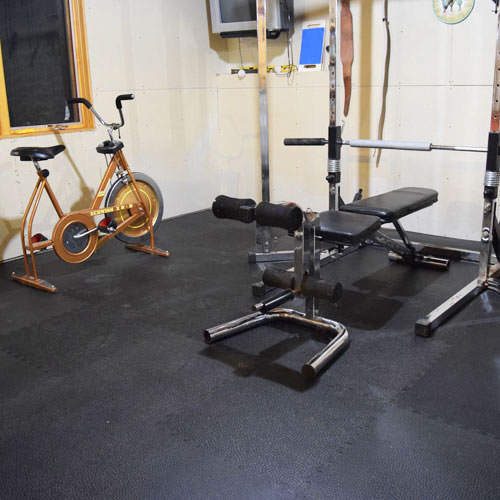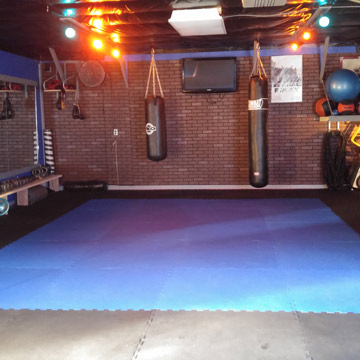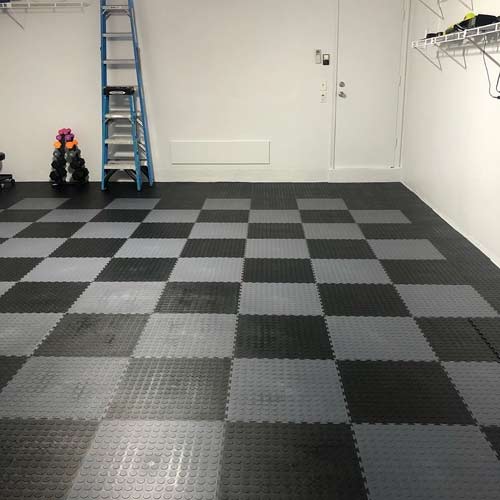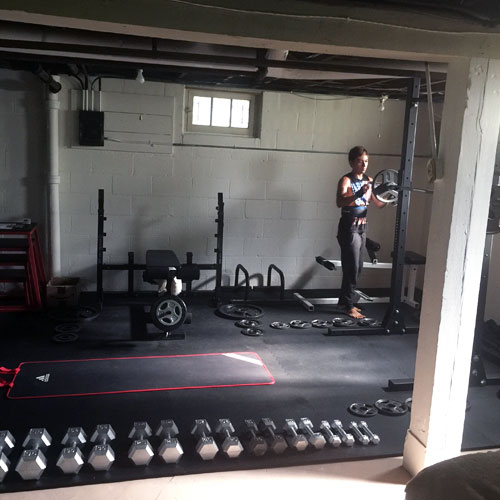 When buying flooring for your gym, you'll face two main options dedicated to use in this setting: flooring rolls or interlocking gym flooring tiles. Interlocking gym flooring offers some distinct advantages over flooring rolls, and there are many reasons to choose this type of flooring for your home or commercial gym.
Top Advantages of Interlocking Gym Flooring
Interlocking gym flooring offers many benefits, which explains why it's such a popular option for commercial gyms, home gyms, and more.
Ease of Installation
One of the top benefits of working with interlocking mats and tiles is that they're incredibly easy to install, especially when compared with larger flooring rolls. The tiles are compact and easy to lift, so even the act of getting the flooring into your building is simplified and faster.
Tiles are sized so that a single person can handle an entire installation, and most installations require no adhesive. Often, you won't need an underlayment and can lay the tiles directly on your existing subfloor.
Interlocking gym flooring is designed to create a secure connection that won't separate while the flooring is in use. Connecting tiles together is typically as simple as lining up the edges and pressing down on the seams.
With most flooring tiles, you can create a wall-to-wall or island installation. Most tiles come with edge pieces to create a clean, finished border. If you need, you can always cut the tiles to fit around poles or to fit up against the edges of your walls.
The manageable size of tiles make custom cutting a simple process as the tiles are easy to position on a table or workbench rather than having to do all of your cutting on the floor.
Easy Replacement and Repair
While gym flooring is durable, even the toughest flooring can be stained, worn, or damaged. When you've used interlocking tiles, replacing that flooring is easy.
With interlocking tiles, you can remove and replace just the worn or damaged tiles. There's no need to replace large sections or entire rooms of flooring.
This is a major advantage for gym owners. You can quickly have your gym floor repaired and keep the gym open.
This also makes it easy to always ensure your gym looks its best, helping to attract and retain memberships. The ability to replace just one or two tiles also helps to keep repairs easily within your budget.
Portability
If you invest in a modular gym flooring, you can potentially increase the versatility of a single space in your gym. Adding a soft yet easily removed flooring, like Taekwondo puzzle mats, means you can use a room for multiple purposes.
With the mats installed over a rubber or hardwood floor, the room will have the shock absorption and cushion needed for sparring, martial arts practices, and even aerobics use. However, you can also remove those mats so the same space can be used for other purposes, like weightlifting.
Versatility
Because interlocking gym flooring tiles are conveniently sized, they're easy to install in smaller spaces, like in a garage or basement, to create a home gym.
Most of these tiles are waterproof, so they can withstand moisture and other issues that would damage traditional flooring. If a basement ever seriously floods, you can easily remove gym tiles, allowing the area to dry thoroughly before replacing the flooring.
Plenty of Finish Options
With interlocking gym tiles, you can find plenty of finish options to get the exact performance that you want. Most tiles are designed to maximize traction for athlete safety.
You can also choose from a variety of colors. Look for colors that reflect your business branding, or opt for color fleck interlocking rubber gym flooring to add a pop of color to your décor.
Top Interlocking Gym Flooring Products to Consider
If you're considering interlocking gym flooring, then you'll have plenty of products to choose from.
Home Gym Flooring Tile Pebble 10 mm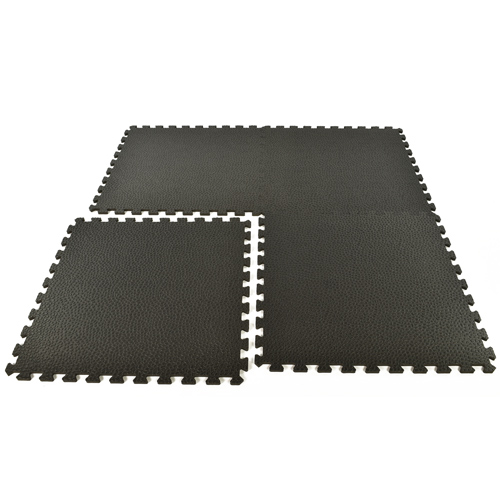 The Home Gym Flooring Tile Pebble 10 mm is made of a super high-density EVA foam for excellent durability underneath exercise equipment. The surface top texture pebble design maximizes traction for enhanced safety. The tiles are lightweight and portable, and they're free of both lead and latex.
These tiles are designed for an easy installation. They include two borders per tile and can be laid directly on a hard, flat subfloor.
Rubber Tile Interlocking 2x2 Ft ¼ Inch Regrind Confetti Pacific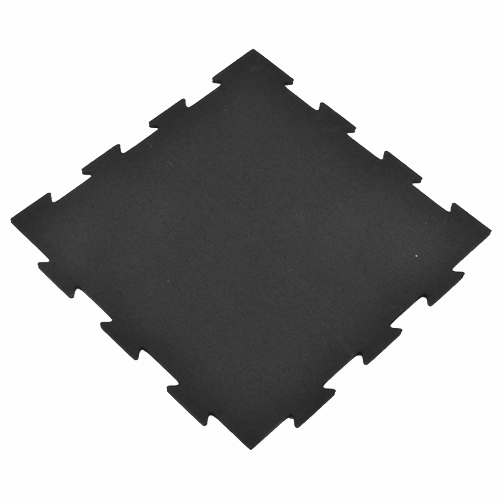 Offering superior durability for the price, the Rubber Tile Interlocking 2x2 Ft ¼ Inch Regrind Confetti Pacific tiles feature assorted colors with extra-small flecks in a 10% color mix. This economical rubber tile is made from recycled rubber, so it's a green flooring option. It's also offered at a discount pricing.
This interlocking rubber gym flooring features waterjet cut interlocking jigsaw puzzle edges that make for a precise, secure fit. The tiles are backed by a five-year warranty.
Pro Taekwondo Martial Arts Mats 20 mm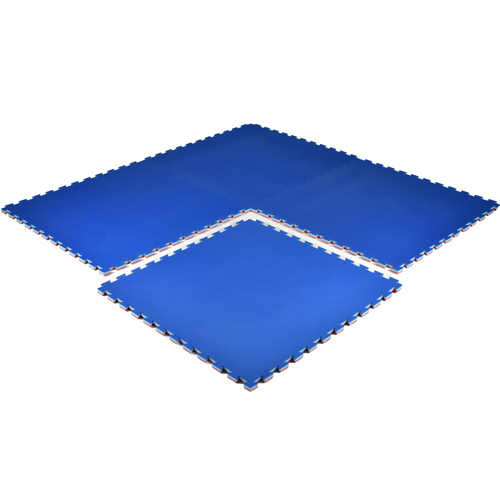 The Pro Taekwondo Martial Arts Mats 20 mm are a quality athletic waterproof flooring option. Made of lead and latex free EVA foam, these mats are firm enough to support quick movements and jumps, but they're also cushioned for safety and shock absorption.
These interlocking tiles feature a scuff resistant surface that can withstand shoes and boots.
The tiles are lightweight and interlock like puzzle pieces. They can be dry laid and removed as needed, and they feature double colors so you can alternate the tile surface to create patterns and designs.
SupraTile T-Joint Coin Black / Grays
With the SupraTile T-Joint Coin Black / Grays, you'll enjoy a durable, strong file with a coin top surface that's designed to maximize traction. These tiles are incredibly strong and can support vehicles and heavy equipment.
Just don't plan on dropping heavy weights on the floor as they are quite thin and not designed to protect subfloors from impact such as that.
Made of PVC plastic, the tiles are resistant to oils, gas, and chemicals. They're non-absorbent and aren't affected by heat, cold, or humidity.
The tiles feature interlocking sides that allow for an easy DIY installation. There's no adhesive required, so you can remove them again if needed.
Gym ¾ Inch Rubber Interlocking 4x6 Ft Center Tile Black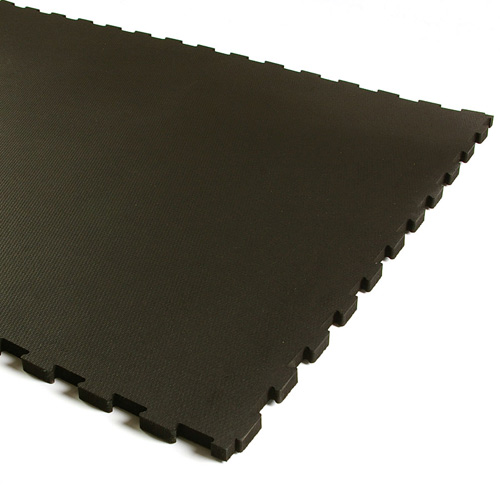 The Gym ¾ Inch Rubber Interlocking 4x6 Ft Center Tile Black is a heavy-duty tile made of recycled rubber content. This interlocking rubber gym flooring is ideal for weight lifting areas and can support heavy exercise equipment.
This tile features precision waterjet cut interlocking tabs that allow for a very tight fit, making the floor virtually seamless. The tiles are easy to install and require no adhesive.
TechFloor Solid Tile with Raised Squares Carton of 10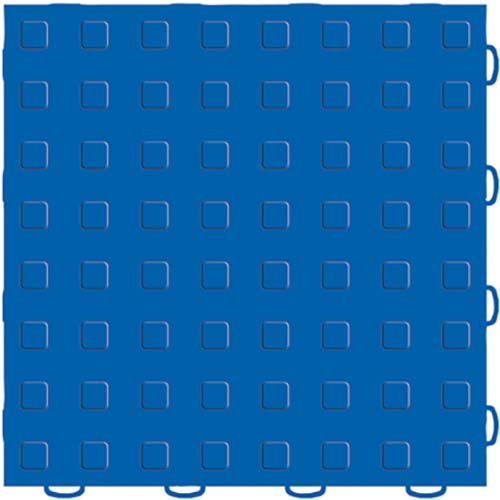 The TechFloor Solid Tile with Raised Squares Carton of 10 is a free floating floor that allows water and air to freely circulate beneath the tile. It's ideal for installation in a garage or basement where moisture is known to be an issue.
This tile is available in many different color options, and it's made in the USA. It's highly durable and can withstand use in home gyms.
The tile features hook and loop tabs that easily snap together for a quick installation. There's no adhesive required, and the tiles create a secure, seamless look.
Royal Interlocking Carpet Tile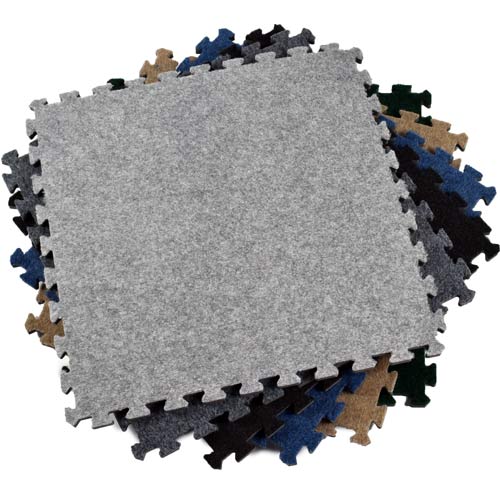 With the Royal Interlocking Carpet Tile, you'll get the look of carpeting with a much more convenient installation. You can lay these tiles directly on concrete, wood, or tile.
There's no need for adhesive, so the tiles are easy to take up again in the future. You can even mix and match colors to create a custom design for your gym.
These tiles offer anti-fatigue and installation benefits that are similar to what you'd enjoy with traditional carpeting. They're lightweight, portable, waterproof, odor proof, and stain resistant, so they're ideal for any fitness facility.
StayLock Tile Bump Top Black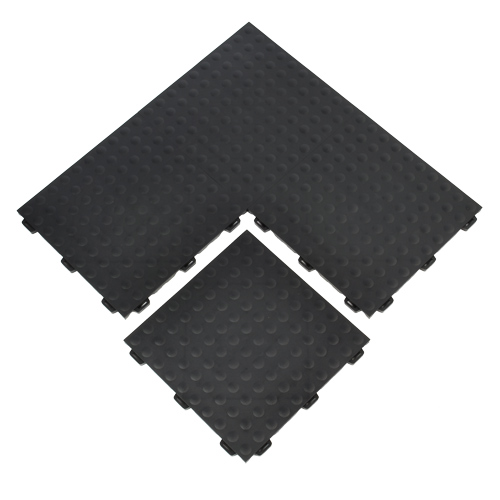 The StayLock Tile Bump Top Black is made of a highly durable waterproof PVC. It offers the durability of rubber and the cushion of foam.
The waterproof tile resists most acids and oils, and its bump top surface helps to maximize traction for increased safety. It's ideal for athletic flooring applications, and is made of recycled materials.
These tiles feature an active locking connector system for a secure connection. There's no need for glue or underlayment, and you can purchase ramped borders separately.
Basketball Court Tile Gym Floor Pro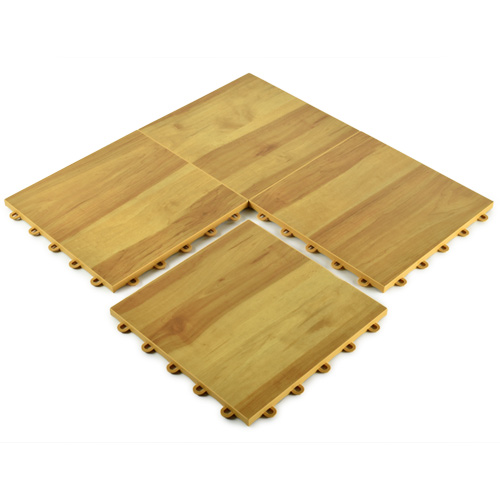 With the Basketball Court Tile Gym Floor Pro tiles, you can get the look of genuine hardwood at a fraction of the price. These tiles feature a commercial quality vinyl surface with a wear layer that resists scuffs and stains to keep the floor looking great.
You can add a rubber underlayment for extra cushion, and the easy DIY snap together installation makes for a simple and quick installation.
These tiles are line paintable, so you can create an ideal basketball court or other gym facility.
Sterling Athletic Rubber Tile 1.25 Inch Black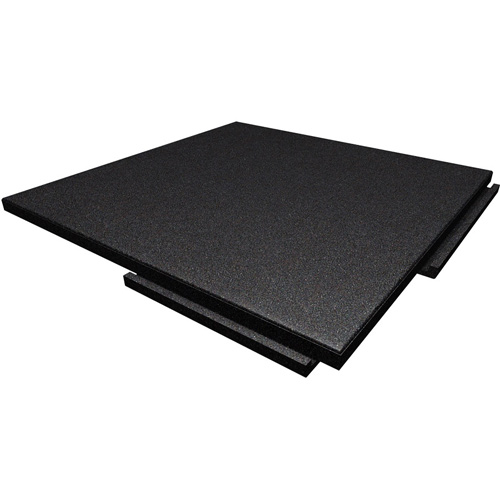 The Sterling Athletic Rubber Tile 1.25 Inch Black is a heavy-duty durable rubber floor tile that's ideal for weight room and gym flooring. It's made of a high-end, quality rubber that can help to protect your subfloor when weights are dropped.
This interlocking rubber gym flooring features edges that create a strong connection, so the tiles won't pull apart. The interlocking edges are hidden beneath the tiles, making for a clean, smooth finish.
Choosing the Right Interlocking Gym Flooring
At Greatmats, you'll have plenty of interlocking gym flooring products and materials to choose from. If you need help, please contact our Greatmats customer service team.
Our customer service team can answer questions about product details, can provide shipping quotes, and can help you to choose the product that's right for your gym.
Our interlocking gym flooring offers many advantages, so if you've been thinking about using flooring rolls, it might be time to reconsider. Flooring tiles are designed specifically for the demands of a commercial gym environment, and they might be the best flooring solution for your professional or home gym.