DIY Home Gym Flooring: Best Budget Home Gym Floors
By Cara Walters Created: May, 2017 - Modified: December, 2022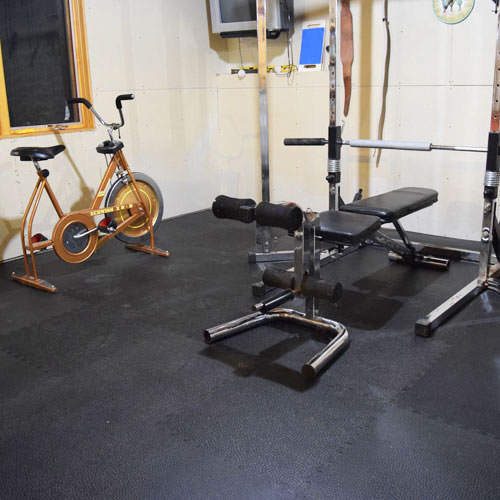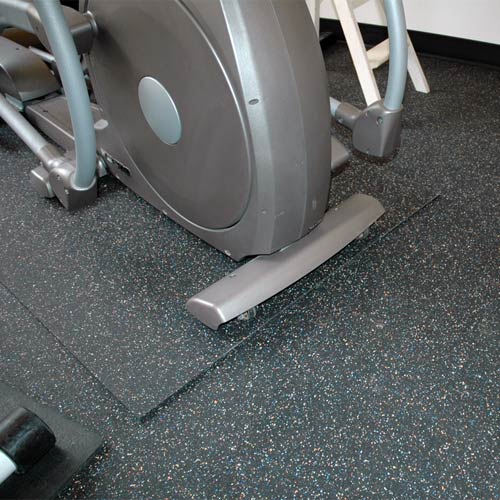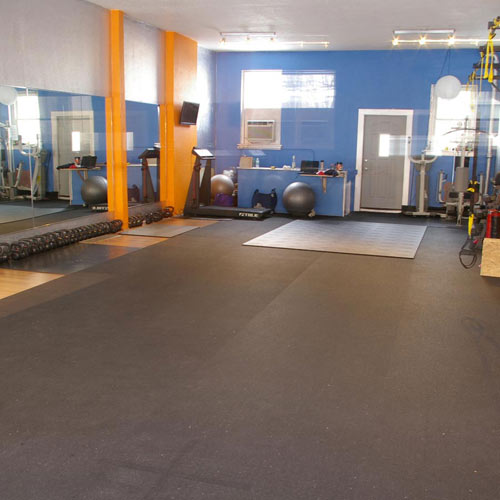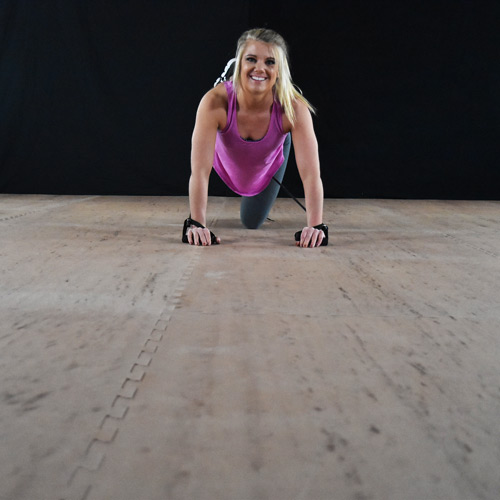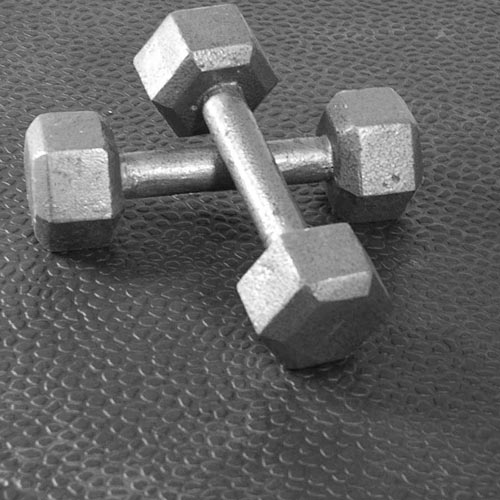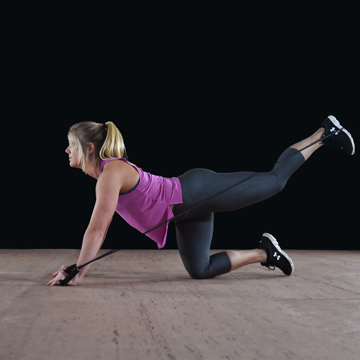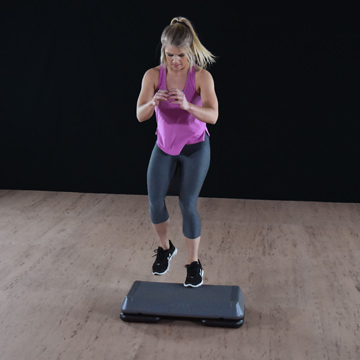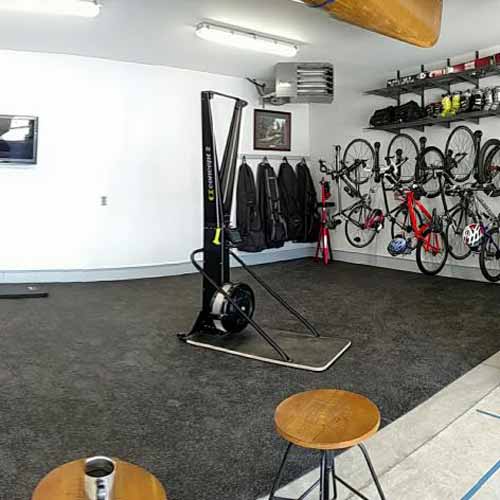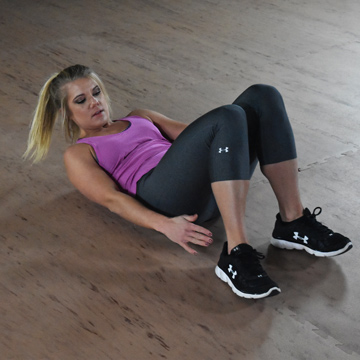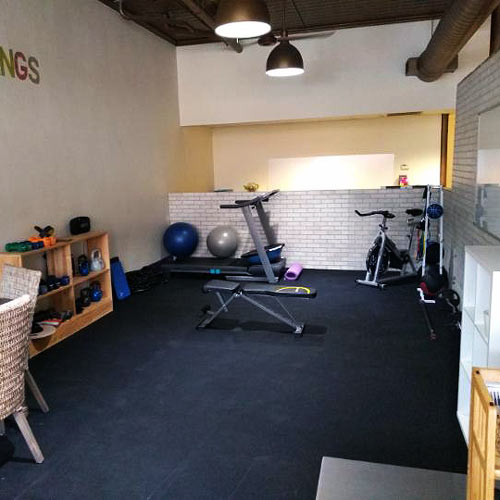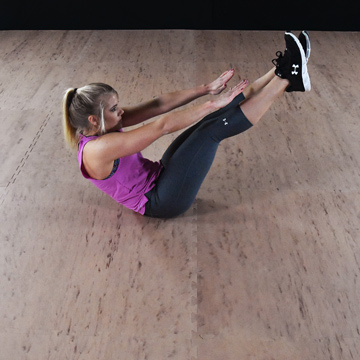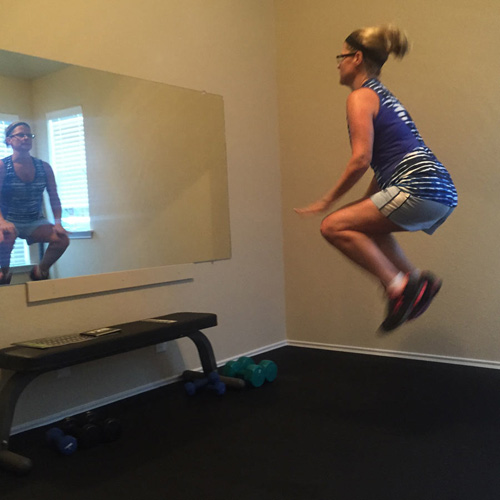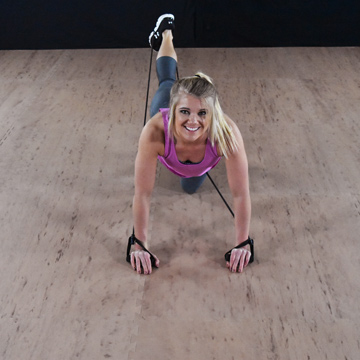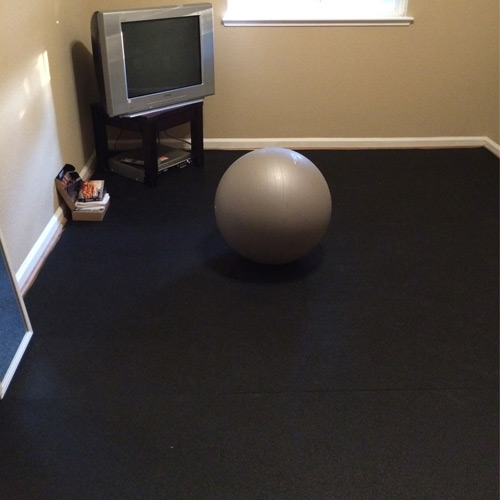 Don't let owning a home gym bust your budget. Shopping at big box stores can be exhausting and searching on the internet can be confusing. The specialty flooring experts at Greatmats.com have home gym flooring options for all types of exercise and activities, including:
Aerobics
Yoga
Dance
Weight training
Plyometrics
Martial arts
...and much more!
Whether you are balancing mind, body and soul with yoga, kicking up some energy with fitness DVDs or powering up by lifting weights, Greatmats.com has home gym flooring options that will help stretch, flex and muscle your budget even further.
Below are five home gym flooring options that will give you the best bang for your hard-earned dollar:
1. Home Gym Mats Pebble, 10 millimeter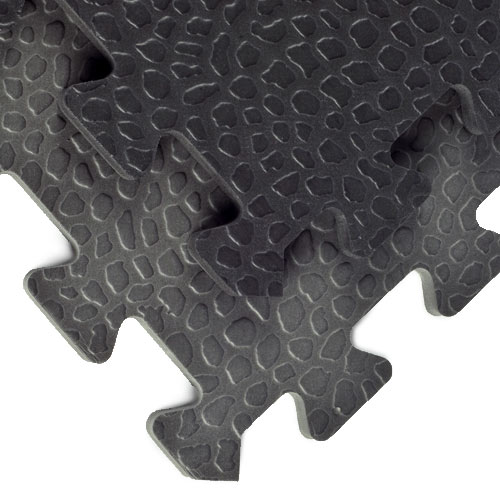 (Approximately $1.45/sq. ft.)
Pros
This interlocking home gym flooring is easily transportable and provides the same durability for years of lightweight home gym use. Each square tile is two feet by two feet, ten millimeters thick and 100 percent black in color. This flooring tile can be installed directly over any hard flat surface including tiles or concrete floors in a basement or garage.
This material is durable and designed to function similar to rubber tiles, only softer and not quite as durable as rubber. This home gym flooring option makes for an easy D.I.Y. install and the foam is easy to cut using a sharp utility knife to fit for wall-to-wall floor installations. This multi-functional home gym floor can be used under exercise equipment or for cardio exercises, yoga and stretching.
The modular nature of the home gym mats also reduces the amount of waste material when cutting is necessary for custom installations.
Cons
The material and thickness of this interlocking home gym floor has a Shore C 62 rating for hardness, making it less ideal for heavy impact exercise. If placed over carpeting as an island installation, the interlocking pebble home gym mats could shift during aerobic exercises.
More information on the
10 millimeter interlocking pebble home gym mat
can be found on its Greatmats Product Page.
2. Rubber Flooring Roll 3/8 inch Confetti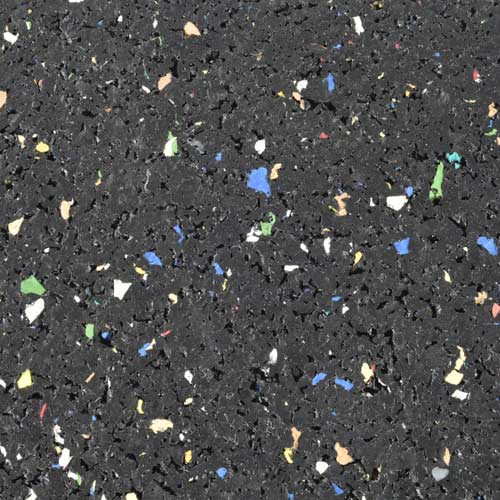 (Approximately $1.70/sq. ft.)
Pros
Rubber flooring rolls are one of the most popular kinds of home gym flooring suited for absorbing sound and heavier impact exercises. The rolls of rubber for home gym use utilize 10 percent confetti color and offer the most cost effective rubber option at Greatmats.com. Roll widths span four feet while the rolls can be cut to any length over 25 linear feet per roll, limiting the number of seams in a home gym floor.
Rubber home gym flooring is great for protecting the original flooring from the impact of free weights and exercise equipment and offer an excellent non-slip surface that will last for years. They are also firm enough to allow for maximum output during weight lifting type exercises.
Ten percent confetti Rubber Flooring Rolls qualify as green flooring as they are made from recycled content and are recyclable again at the end of their useful life.
Cons
Rubber flooring rolls with 10 percent confetti are manufactured from second run material that is made from scrap material produced during first runs. The color will vary by roll and will have a slightly higher density than other rubber flooring for home gym use. This material will not offer as much cushion as foam gym flooring and rolled flooring will inevitably have more scrap material for custom installations.
One hundred percent black rubber roll flooring is also available from Greatmats.
More information on this
10 percent confetti color rubber flooring for home gyms
can be found on its Greatmats Product Page.
3. Plyometric Rubber Roll 3/8 inch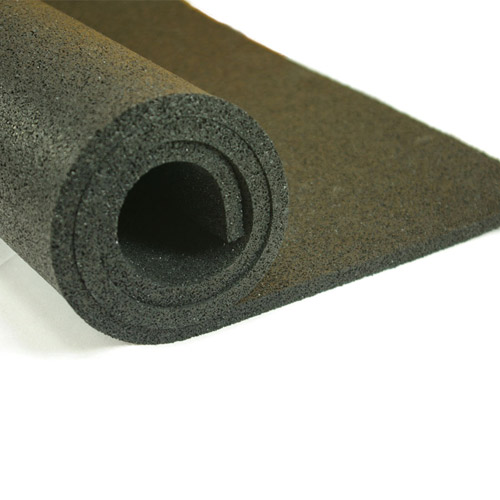 (Approximately $1.80/sq. ft.)
Pros
Plyometric rubber home gym floor rolls provide cushioned resilience that absorbs impact to reduce leg injuries and is extremely durable. Plyometrics, or jump training, can be high-intensity training sessions or incorporated into your everyday exercises. With any heavy amount of jumps and hops, home gym flooring that can absorb the shock is important to protect your knees and joints. This home gym flooring option is ideal for for running, bouncing, jumping and is also great for dance studio subfloors, as well as for use under individual pieces of equipment such as treadmills or elliptical machines.
Plyometric rubber gym floor rolls are easy to roll out over any surface to create a versatile all-purpose floor.
Plyometric rubber rolls are less dense than standard rubber rolls for home gym floors, ultimately providing more cushion. This is also made from recycled content and qualifies for LEED points for green building.
Other sizes available for plyometric rubber rolls include 4 feet by 10 feet by 8 millimeters thick.
Cons
This specialty home gym flooring does involve cleaning with a neutral pH cleaning solution and a damp mop and may not be thick or dense enough to protect a floor from heavy dropped weights.
More information on the
plyometric rubber roll home gym floor
can be found at Greatmats.
4. Aerobic Foam Floor Tile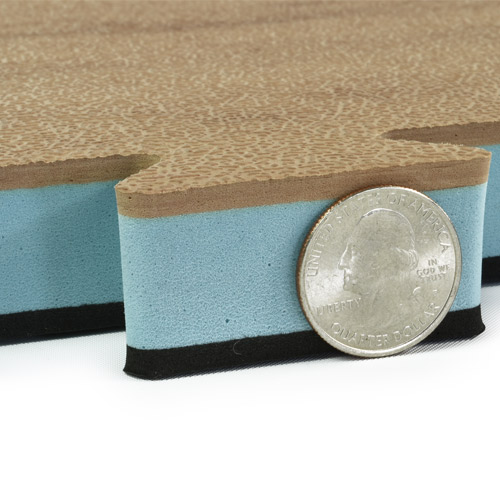 (Approximately $1.60/sq. ft.)
Pros
For athletes who want to bring their aerobics or dance studio home, the aerobic sport floor tile is the perfect choice for home gym flooring on a budget. This interlocking tile features a durable surface texture that will stand up to the most punishing aerobics training. The high-density EVA foam floor tile is perfect for at-home dance exercise programs and practice.
This aerobic flooring for home gyms will lock together tightly and easily. This aerobic floor tile's interlocking design makes installation as easy as laying the tiles down and piecing them together. When interlocked, the tiles will stay put and lay flat. Because no glue is required, this home gym flooring is an excellent choice for temporary or non-permanent installations.
These commercial sized aerobic tiles measure 40 inches by 40 inches. The larger tile size reduces the number of seams in your floor when compared to a traditional 2-by-2 foot interlocking home gym floor tile.
The 3/8 inch thickness provides all the support and cushion needed for aerobic, step and dance movement even when placed directly over a hard floor such as concrete.
The aerobic sport floor tile is the ideal economical choice for home gym flooring for dance studios or aerobic gyms. The commercial grade surface texture is designed to last for many years of commercial use with athletic footwear. Most importantly, the tiles will provide the anti-fatigue cushion needed for practicing dance and aerobics at home.
Cons
Like most foam flooring, it is not recommended to be installed under sharp or heavy equipment and are not recommended for areas in which hard, heavy objects will be dropped. The larger tiles may be harder to transport than 2-by-2 foot home gym tile, especially in smaller vehicles.
Learn more information on the aerobic sport floor tile to make an informed decision.
Outfitting your home gym doesn't have to be expensive. The experts at Greatmats.com have flooring for home gym use available in all sizes, materials and densities, including tile, mat and roll out varieties. Save time and money on transportation and membership fees by bringing the gym, dance, or martial arts studio to your home.