Gym Floor Workout Fitness Tile Pebble 3/4 Inch x 2x2 Ft.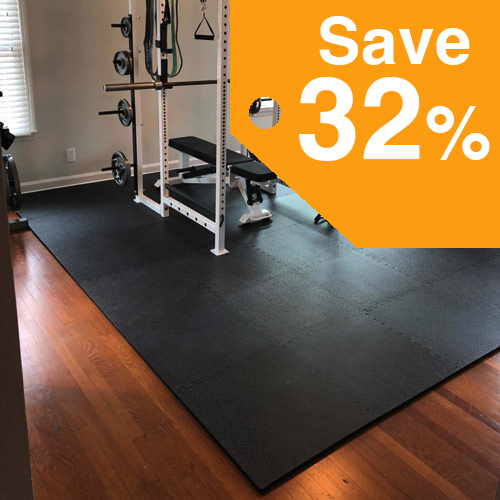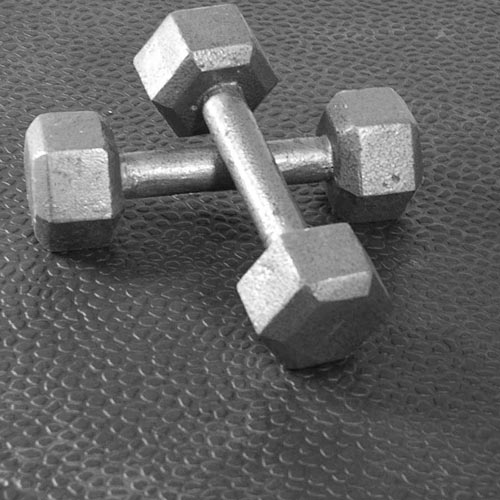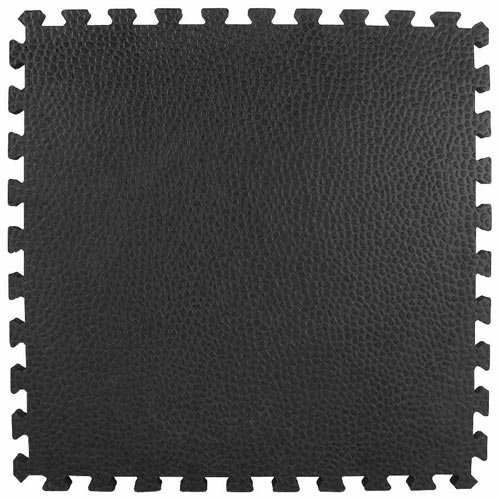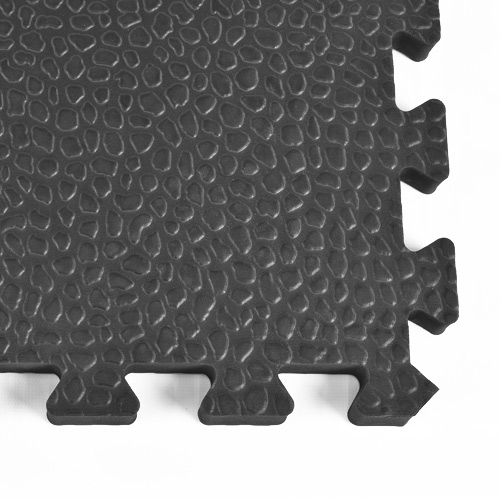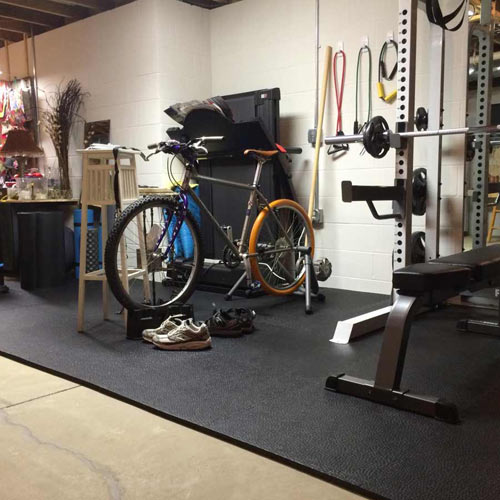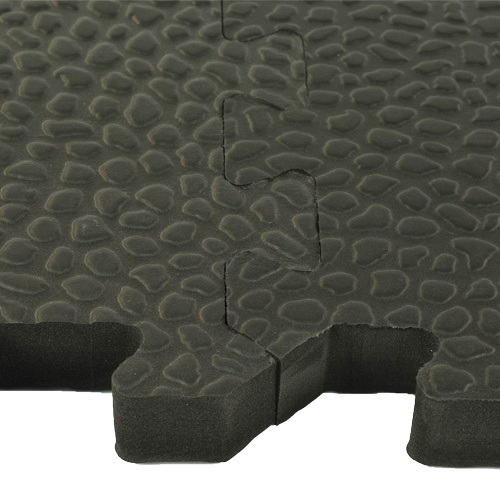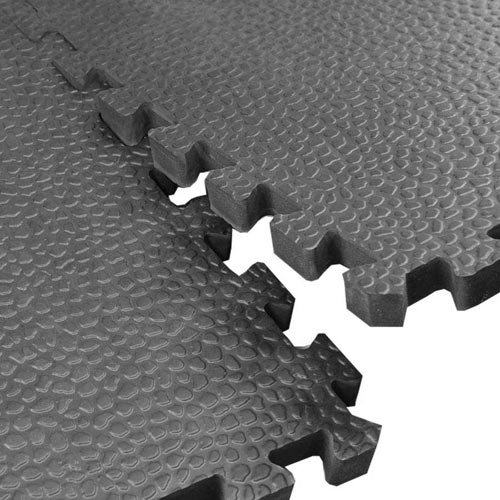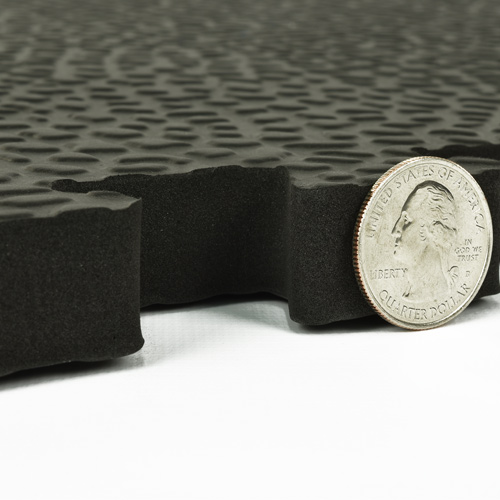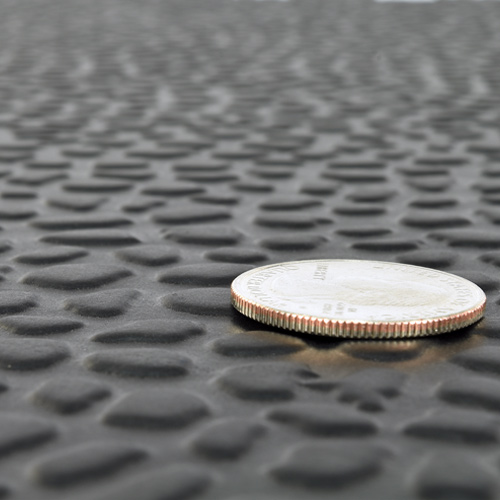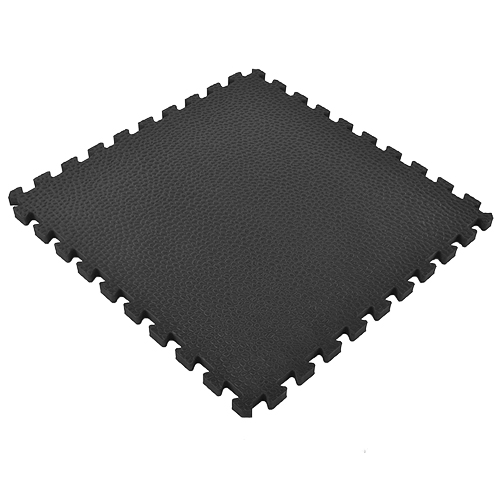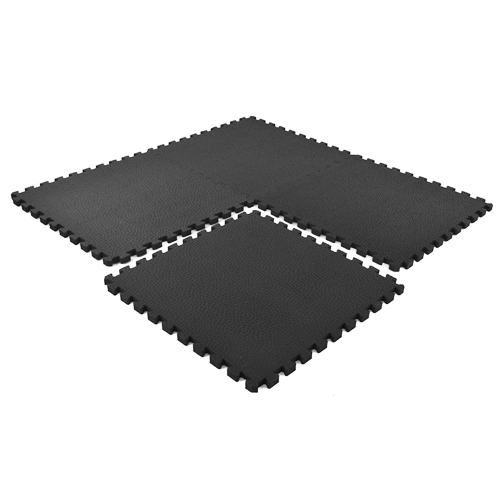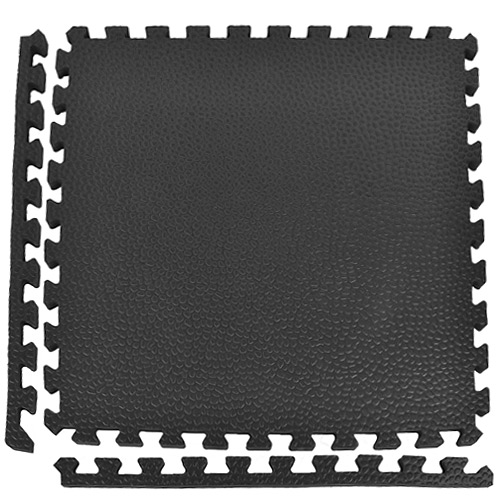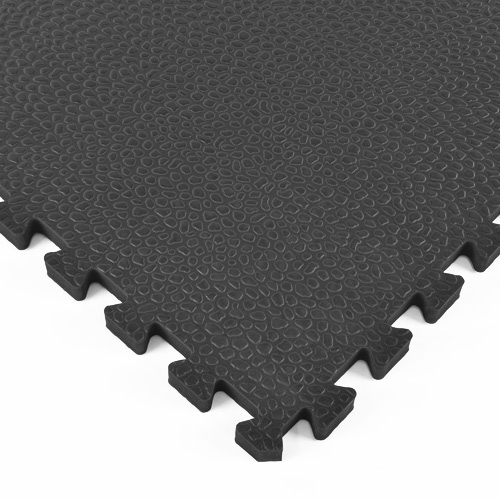 Ideal for home gym weight room flooring
Lightweight, super high density durable EVA foam material
Designed to withstand the weight of exercise equipment
$8.98
/tile
(You Save 32%)
(194 Reviews )
Ships Out: Estimate 1-3 Working Days

Black
How Much Flooring Do I Need?
VIDEOS
Introducing Gym Floor Workout Tile Pebble Top 3/4
Install a 10x10 home gym floor in just 15 minutes!
Workout Fitness Tile Pebble - Sam Kwongs Greatmats Story
Archie Sutton sculpture using Greatmats pebble top foam gym floor tiles
How long does it take to remove 100 square feet of Greatmats Foam Gym Flooring
How To Clean EVA Foam Mats
How to Cut Foam Mats in 4 Easy Steps - Greatmats
How To Remove And Replace Foam Floor Tiles
TOP FEATURES
Ideal for home gym weight room flooring
Lightweight, super high density durable EVA foam material
Designed to withstand the weight of exercise equipment
Waterproof and easy to clean
Easy DIY interlocking installation, no adhesive is required
Double sided with non-slip pebble texture for longer life
Each tight-fitting tile includes 2 border strips
Lead free and latex free
Use Types
Exercise Room Flooring, Home Gyms, Weight Rooms, Portable Temporary Horse Stall Mats
Durable exercise room flooring, Foam workout room flooring, home gym floors
An excellent solution for an economical and easy to install home exercise room flooring is the Gym Floor Workout Fitness Tile Pebble 3/4 Inch x 2x2 Ft.. These interlock together and provide a sturdy workout room flooring for multiple athletic activities.
Interlocking exercise mats from Greatmats deliver a high level of density that's perfect in gymnasiums at the house. Our exercise room floor will adequately protect the subfloor from damage from any hefty exercise equipment. Our flooring for workout room is made to be easy to assemble and disassemble, saving time.


Exercise Room Flooring

Our workout room mats provide plenty of versatility. Sometimes, a customer prefers the wall to wall install method, where DIY gym flooring rolls will cover the entire space. Another great option is an island, where it will only cover a small section.

No matter how our customers make use of the puzzle exercise mat, they receive long lasting performance and a good value, outperforming box store gym flooring. The pebbled EVA surface is durable, meaning it will hold up nicely, even under heavy use, and will continue to look great.

Compared to rubberized floors, this commercial gym flooring doesn't have quite the same level of durability. But the foams weigh a lot less than rubber, which makes installing much easier.
Workout Room Flooring Foams
Our pebble workout room flooring pieces each measure 2x2 feet, creating almost 4 square feet of coverage area per tile. (Because of the interlocking tiles edge shape, a little bit of the expected coverage is lost.) The workout puzzle mats edges simplify installation and hold them tightly in place, even when they're subject to stress.
Individually, they don't weigh much at 2.2 pounds apiece. The size and weight of each one means a single person can handle the assembly and disassembly. Carrying them to and from storage will go fast, making this a convenient choice.Additionally, with such a large size per piece, customers receive a desirable value per square foot.
These workout floor mats have puzzle piece sides that ensure interlock goes fast and easily. Just line up the workout room flooring so the interlock tabs match the slots on the adjacent units. Then use a hand or foot to press the tabs into the slots and create the tight fit between them.
The fitness room flooring comes with two border strips, making corner or island layouts a simple process. The borders all make use of the same interlocked tabs.
Depending on the type of install, it might be necessary to cut them to fit the location or to go around support posts and other obstacles in the rooms. This goes quickly, as it only takes a utility knife and a straight edge to score through them. If the tile begins to fray while cutting, switch to a new, pin sharp blade.
Although using adhesive is possible when installing this flooring for exercise room, glue is not needed. The interlocked edges on these fit together tightly enough that there's no worry about seams popping up and causing a tripping hazard. Additionally, if ever planning to disassemble them, avoid the use of adhesives.
This workout room flooring can withstand extensive weight from equipment. Our gym floor tiles officially measure 21 millimeters thick (or about 0.83 inches). Because of our tight manufacturing tolerances, rest assured that the exercise room flooring thickness will remain within tolerances of plus or minus 1 millimeter.
Those that are cheaply made could have thin areas or impure materials that can result in folding and buckling of the exercise room mats. On the other hand, ours are designed to last an extended period of time, and they come with a 1-year manufacturer's warranty against manufacturing defects.
Understand that this is not rated for commercial grade use in high traffic areas. Additionally, understand that there will be a lip on island installations on this type of tile of 21 mm. These do not have a ramp finish that would cause a gentle slope of the edge and reduce tripping hazards.
Each border strip has the same thicknesses as the rest of the thick exercise mats, so there are no uneven edges that are displeasing aesthetically.
High Density for Horses
Although this exercise room flooring is primarily designed for human foot traffic and hefty fitness gear, these durable EVA foam floor tiles also can be used as a portable horse stall mat for temporary installations.
The soft foam tiles will not absorb moisture, which means they'll perform great in an installation in a barn for horses, where moisture from urine or spilled drinking water is common.
The excellent build quality of our workout room flooring is one of the reasons why this foam will work in this use case. Even if the horse moves around a lot, count on them not buckling or folding when the subfloor or subsurface is flat and sturdy.
They work nicely atop concrete or wood and are excellent in trailers. Keep in mind that rocks or other sharp objects can puncture them on the underside, but this will not affect their ability to perform their intended tasks as long as the entire thickness is not penetrated with the puncture.
This anti fatigue workout room flooring is reversible. So should any one unit become gouged or discolored, flip it and hide the damaged area. These are only available in black, and the black color extends throughout the thickness, as well as on both sides, minimizing the visibility of blemishes.
These are easy to clean. Start by sweeping them with a standard broom to remove dry debris. Some choose to run a vacuum on them, but always test the vacuum in an area that isn't easily seen. Some powerful vacuums can cause damage to the surface.
For a more extensive cleaning, damp mop them using hot water and a common household floors cleaner that doesn't contain bleach. Spot clean small areas using a sponge or gentle scrub brush and a household cleaner.
Avoid steam cleaning them, as this process may heat them up and cause them to expand. They will not absorb any water from the steam, but the heat can create expansion.
After mopping, allow them to air dry in place or disassemble them before washing them and allowing them to dry in another location.
FAQ Workout Room Flooring Q&A
What is the best recycled rubber flooring for home gym mats?
For those seeking an alternative to foams, selecting a rubber surface as workout room flooring is popular. It is highly durable and provides certain shock absorbent features for the joints of the athletes. Where large machines or free weights will be in use, it will protect the subflooring from damage. Among our most popular selections is the
Plyometric Roll 4x10 Feet
, which is 8 mm thick (almost 5/16 inches). Understand that rubberized floorings can be extremely heavy, which may complicate the installations.
Is it OK to work out on carpet tiles?
The exercise tiles selected depend on what the athletes will be doing. A carpeted material is fine for yoga or similar ground based exercises, as long as skin burns are not a concern. Heavy equipment, however, will leave an indention in exercise flooring. And a carpeted workout room flooring almost has too little shock absorption and too much traction for cardio or exercises with twisting motions, as an athlete risks a sprain or twist to the ankle or knee. For these reasons, our customers often prefer the foamed options for floors for exercising.
Can you put home gym flooring over carpet?
Sometimes, depending on the materials in use. PVC, such as the
StayLock Bump Top
, delivers flexibility and cushioning for those performing the workouts, and requires no underlayment to be safe to use. Foamed exercise room flooring also works nicely, but it could slide a bit more than PVC, so it is best employed in a layout that extends to all four walls. Cork gym flooring is another potential choice here.
What are the best home gym floor mats?
Our pebbled exercise floor mat is safe to use for both adults and children. It provides a nice level of cushioning, creating a smart choice for home gym flooring over hardwood, concrete, ceramic, stone, or vinyl flooring. The pebbled top provides just a bit of traction for athletes. It will not soak up moisture, keeping the space free from odors related to mold and mildew formation.
Can you put interlocking gym mats for home on carpeting?
The most common use case for this gym mat is to place gym room flooring atop cement or wood. Although they can be used over low pile carpeted spots, the lightweight nature of them may result in sliding across the carpet. Just make sure that the subfloor is firm and sturdy before installation.
Greatmats Home Gym Floor Tiles 2x2 Ft x .75 Inch Pebble Design Interlocking Flooring Tile for Treadmills
Maintenance
Product can be damp mopped with common household floor cleaners, avoid bleach. Test your vacuum before use.
Shipping
Ships in cartons via ground service to your door, for larger orders product may ship freight delivery.
This Product Ships UPS Ground, FedEx Ground and/or Freight.
Please review our shipping disclaimer.
ANSWERS
Product Questions:
Q: Does this product have beveled edges for a floor that does not go wall to wall?
A: This tile does not have beveled edges. The border strips provided have a 90 degree edge.
Q: Can the pebble top foam gym floor tile be painted? If so, what type of paint is best suited for the job? For a basement playroom.
A: We do not have an experience with painting these tiles.
Q: Can this product be cut for wall to wall installation?
A: Yes this product can be cut using a sharp utility knife for a wall to wall fit.
Q: Can this product be used for an outdoor weight/workout area? I live in Sierra Vista, AZ. Lots of sun, and heavy rains in the summer months. Temperatures seldom top 95 degrees, and is typically in the high 80's.
A: This product is a foam material and is designed for indoor use only. Not intended for exposure to extreme heat or direct sunlight.
Q: Does it work well on carpeted floors?
A: Yes this durable high density thick foam tiles can be installed over a low height carpet in a wall-to-wall installation. Depending upon use, foam tiles may slip over carpeting. Visit our
Gym Flooring Over Carpeting
blog for other options.
Q: Is this Low VOC and Non-Toxic? I have problems with chemical odors.
A: I would suggest getting a sample first. We don't have any testing per your questions to make a statement.