Gym Floor Workout Fitness Tile Pebble 3/4 Inch x 2x2 Ft.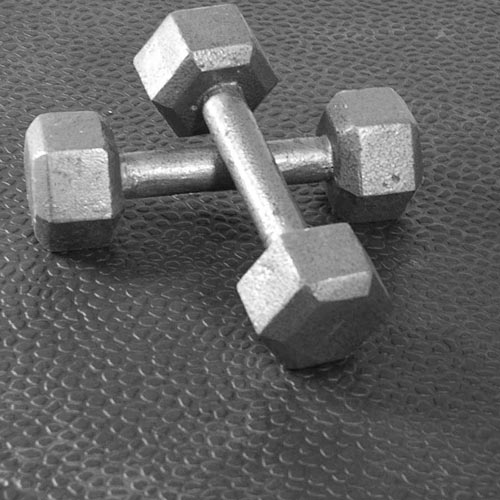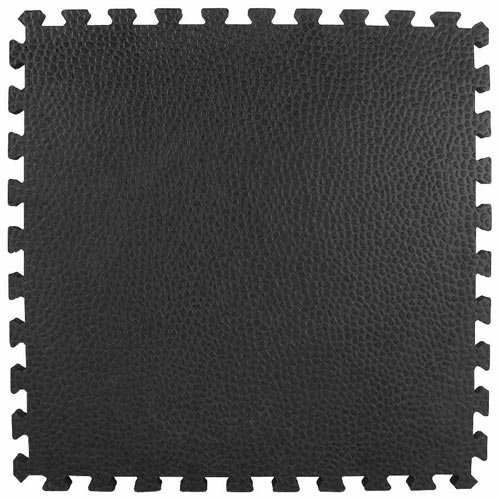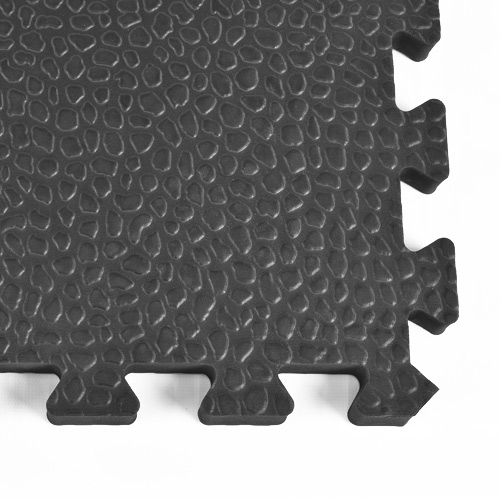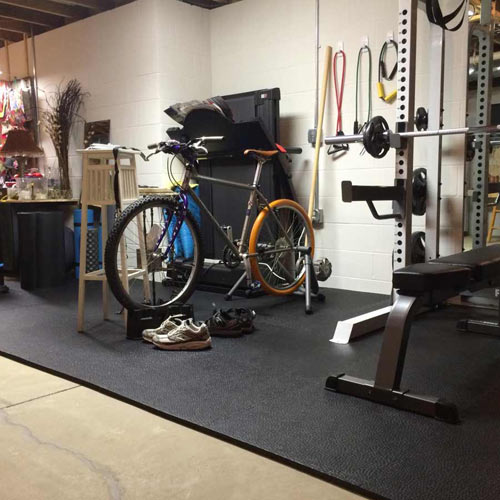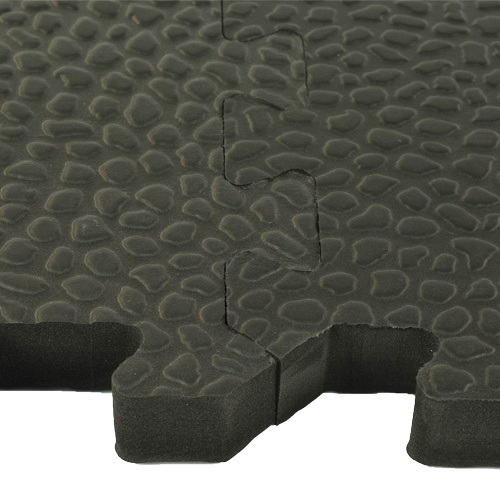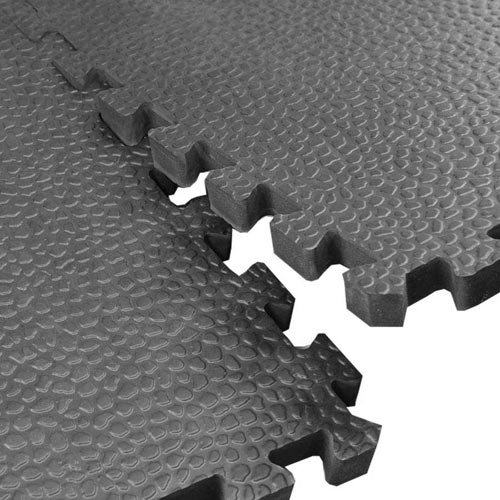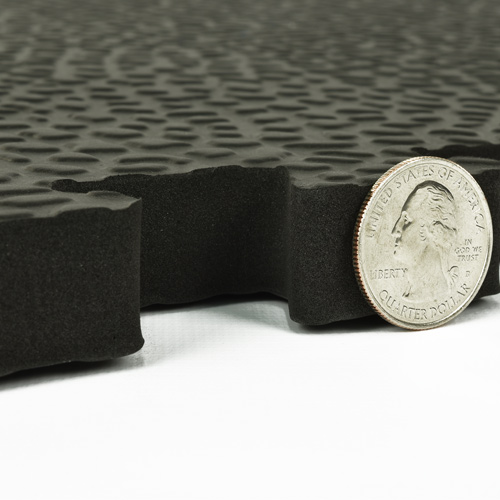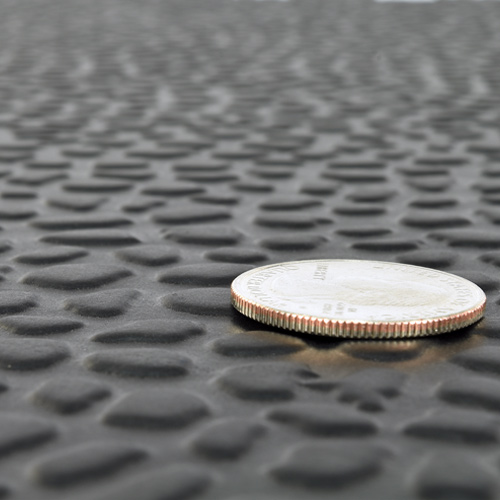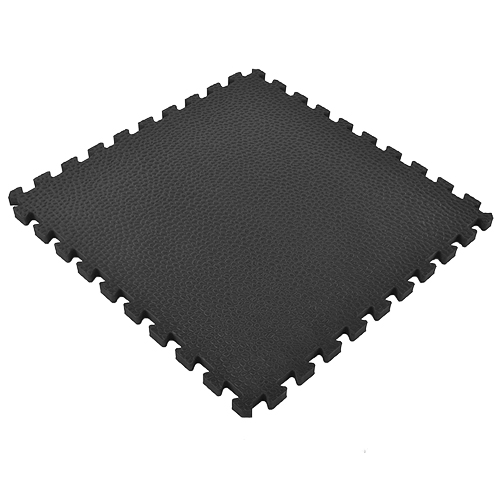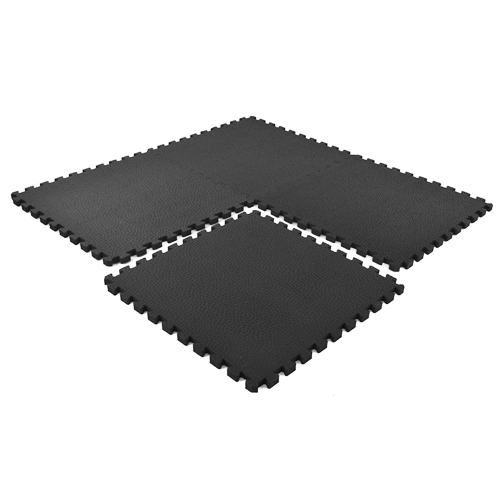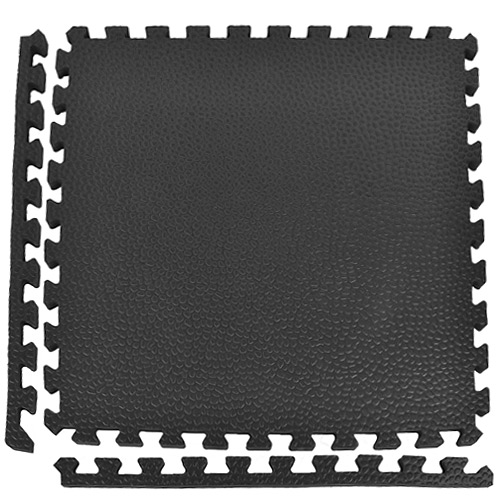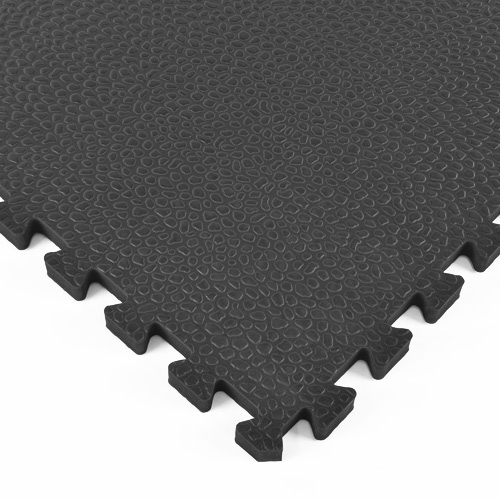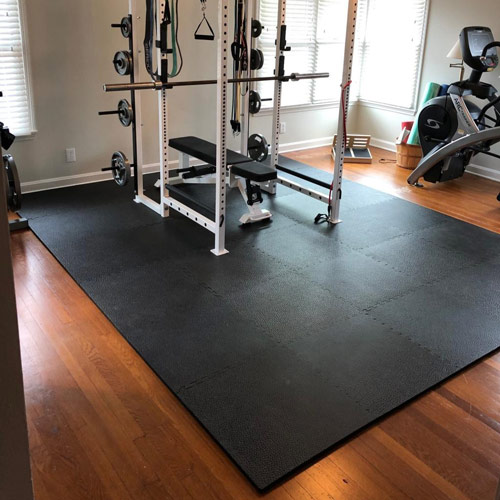 Ideal for home gym weight room flooring
Lightweight, super high density durable EVA foam material
Designed to withstand the weight of exercise equipment
$7.98
/tile
(You Save 39%)
(200 Reviews )
Ships Out: Estimate 1-3 Working Days

Black
How Much Flooring Do I Need?
VIDEOS
TOP FEATURES
Ideal for home gym weight room flooring
Lightweight, super high density durable EVA foam material
Designed to withstand the weight of exercise equipment
Waterproof and easy to clean
Easy DIY interlocking installation, no adhesive is required
Double sided with non-slip pebble texture for longer life
Each tight-fitting tile includes 2 border strips
Lead free and latex free
Use Types
Exercise Room Flooring, Home Gyms, Weight Rooms, Portable Temporary Horse Stall Mats
Durable exercise room flooring, Foam workout room flooring, home gym floors
An excellent solution for an economical and easy to install home exercise room flooring is the Gym Floor Workout Fitness Tile Pebble 3/4 Inch x 2x2 Ft.. These interlock together and provide a sturdy workout room flooring for multiple athletic activities.
Interlocking exercise mats from Greatmats deliver a high level of density that's perfect for home gyms. Our exercise room floor will adequately protect the subfloor from damage from any exercise equipment. Our flooring for workout rooms is made to be easy to assemble and disassemble, saving time.

Our pebble workout room flooring pieces measure 2x2 feet, creating almost 4 square feet of coverage area per tile. (Because of the interlocking tiles, a little bit of the expected coverage is lost.) The interlocking edges like a puzzle simplify installation and hold them tightly in place, even when they're subject to stress.

Individually, they don't weigh much at 2.2 pounds apiece. The size and weight of each one means a single person can handle the assembly and disassembly. Carrying them to and from storage will go fast, making this a convenient choice.
No matter how our customers make use of the puzzle exercise mat, they receive long-lasting performance and good value. The pebbled EVA surface is durable, meaning it will hold up nicely, even under heavy use, and will continue to look great.
Compared to rubberized floors, this gym flooring doesn't have quite the same level of durability. But the foam weighs a lot less than rubber, which makes installing it much easier.
Although this exercise room flooring is primarily designed for human foot traffic and exercise equipment, these durable EVA foam floor tiles also can be used as a portable horse stall mat for temporary installations.
This anti-fatigue workout room flooring is reversible. So should any one unit become gouged or discolored, flip it and hide the damaged area. These are only available in black, and the black color extends throughout the thickness, as well as on both sides, minimizing the visibility of blemishes.
Cleaning
These are easy to clean. Start by sweeping them with a standard broom to remove dry debris. Some choose to run a vacuum on them, but always test the vacuum in an area that isn't easily seen. Some powerful vacuums can cause damage to the surface.
For a more extensive cleaning, damp mop them using hot water and a common household floor cleaner that doesn't contain bleach. Spot clean small areas using a sponge or gentle scrub brush and a household cleaner.
Avoid steam cleaning them, as this process may heat them up and cause them to expand. They will not absorb any water from the steam, but the heat can create expansion.
After mopping, allow them to air dry in place or disassemble them before washing them and allowing them to dry in another location.
Installation
Each tile comes with two border strips, making corner or island layouts a simple process.
Depending on the type of installation, it might be necessary to cut them to fit the location or to go around support posts and other obstacles in the rooms. This goes quickly, as it only takes a utility knife and a straight edge to score through them. If the tile begins to fray while cutting, switch to a new, sharp blade.
Although using adhesive is possible when installing this flooring for exercise room, glue is not needed. The interlocked edges on these fit together tightly enough that there's no worry about seams popping up and causing a tripping hazard. Additionally, if ever planning to disassemble them, avoid the use of adhesives.
This workout room flooring can withstand extensive weight from equipment. Our gym floor tiles officially measure 21 millimeters thick (or about 0.83 inches). Because of our tight manufacturing tolerances, rest assured that the exercise room flooring thickness will remain within tolerances of plus or minus 1 millimeter.
Understand that this is not rated for commercial-grade use in high traffic areas. These do not have a ramped or beveled edge.
Workout Room Flooring FAQ
Can I drop weights on this?
While it is durable to place exercise equipment on, we don't recommend dropping weights on this flooring.
Can you install this on carpeting?
We don't recommend this over carpet. The foam tile may slide across the carpet. The subfloor should be flat and hard, ideally.
Are these tiles waterproof?
These tiles will not absorb moisture. However, water can seep between the seams. Always clean up spills as soon as possible.


Maintenance
Product can be damp mopped with common household floor cleaners, avoid bleach. Test your vacuum before use.
Shipping
Ships in cartons via ground service to your door, for larger orders product may ship freight delivery.
This Product Ships UPS Ground, FedEx Ground and/or Freight.
Please review our shipping disclaimer.
ANSWERS
Product Questions:
Q: Does this product have beveled edges for a floor that does not go wall-to-wall?
A: This tile does not have beveled edges. The border strips provided have a 90-degree edge.
Q: Can the pebble top foam gym floor tile be painted? If so, what type of paint is best suited for the job? This is for a basement playroom.
A: We do not have any experience with painting these tiles.
Q: Can this product be used for an outdoor weight/workout area? I live in an area with lots of sun and heavy rains in the summer months.
A: This product is made of foam material and is designed for indoor use only. Not intended for exposure to extreme heat or direct sunlight.
Q: Is this low-VOC and non-toxic? I have problems with chemical odors.
A: I would suggest getting a sample first. We don't have any testing, per your questions, to make a statement.
Q: Would this be appropriate for barefoot dancing? Is it slick, tacky, or neither? Is there any kind of oil or other substance on the mat that would come off on my feet? I have mats from another company that I have tried to scrub clean, but they still have residue.
A: I would suggest a marley vinyl for a dance floor. This
blog
covers a few options for dance floors for home use.
Q: I've read reviews of other tiles that complain of the tiles sliding around on the floor and pulling apart with any type of aerobic activity. Do you know how these tiles stand up to vigorous movement?
A: Because these tiles are thicker and heavier than any other type of interlocking foam tile that we know of, this would be less of an issue. But if installed over carpeting, that is the worst-case scenario for tile slippage. Install over a hard, flat surface and use double-sided carpet tape as needed.
Q: Will this protect a concrete floor from weights up to 300 lbs being dropped on it?
A: This product is super high-density foam and not rubber. It can handle very heavy equipment and an occasional accidental weight drop. It is not recommended for heavy powerlifting. Rubber flooring would be a better selection for your application.