Plyometric Rubber Roll Greatmats 3/8 Inch Black 10 LF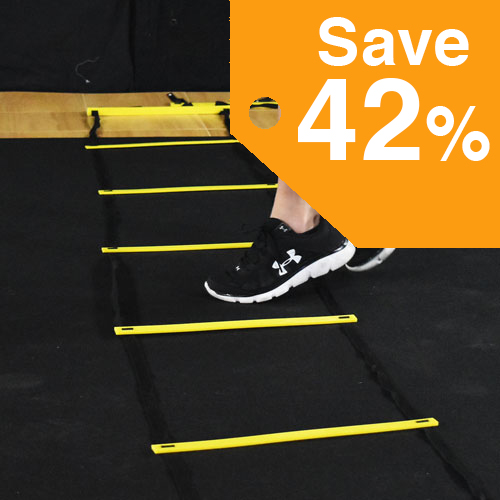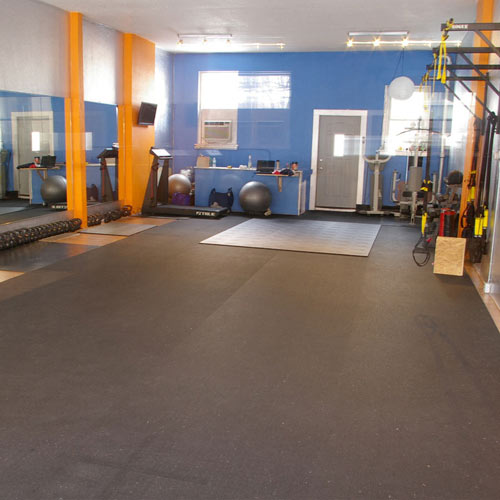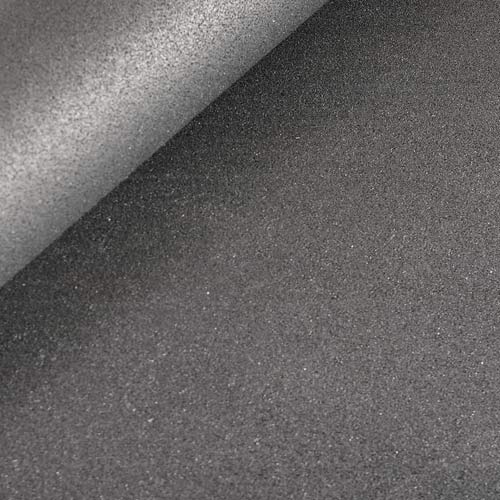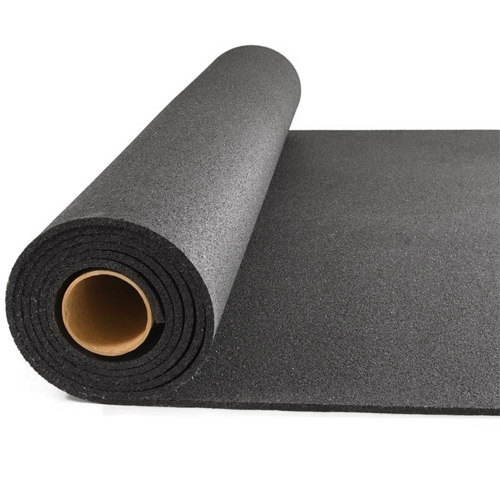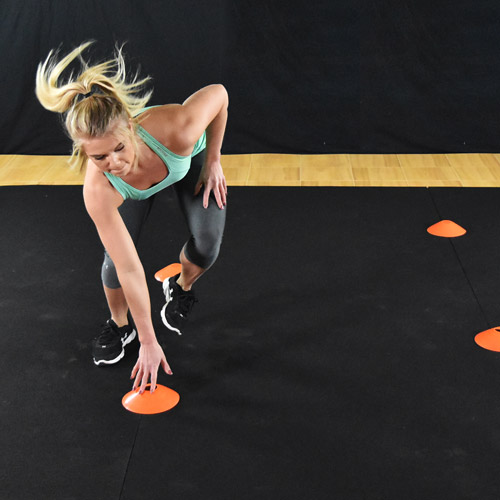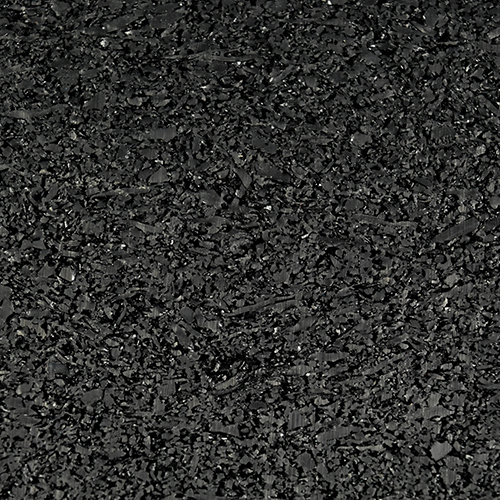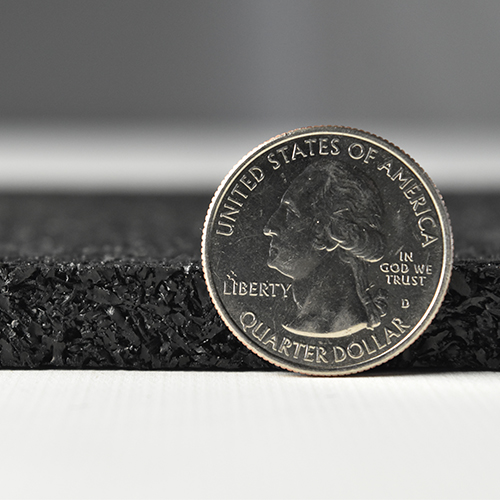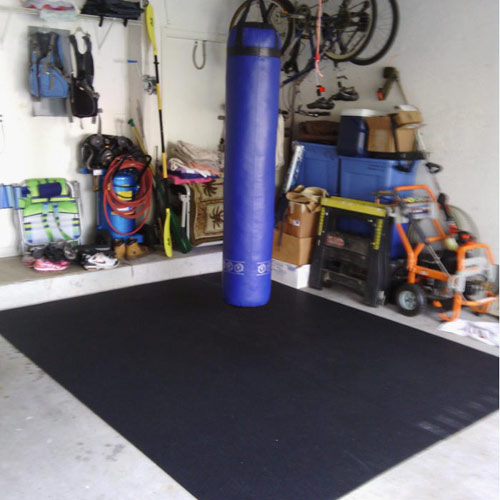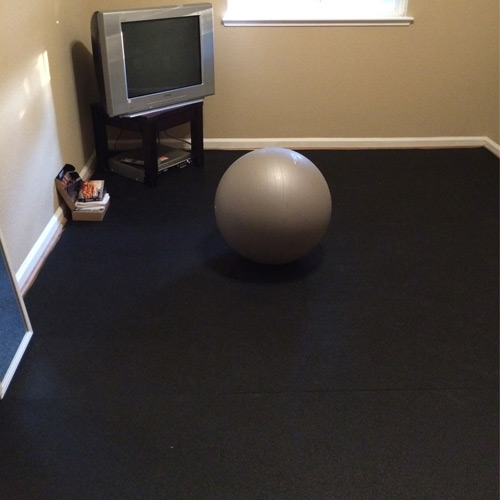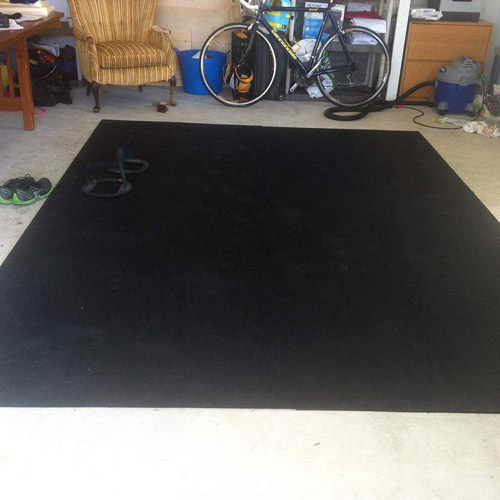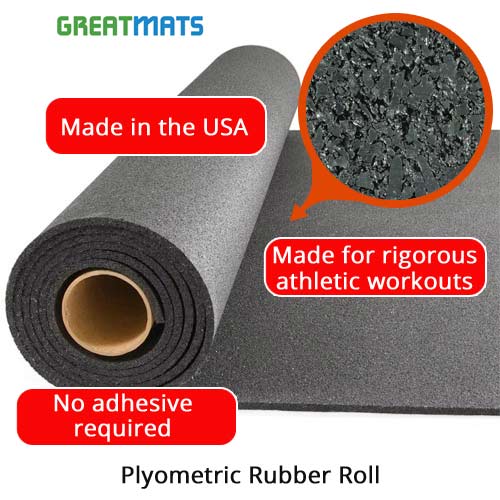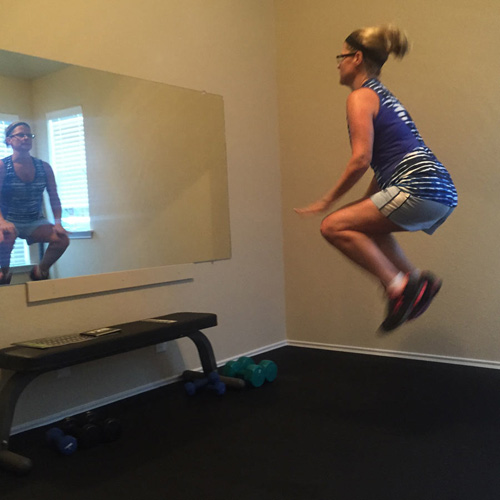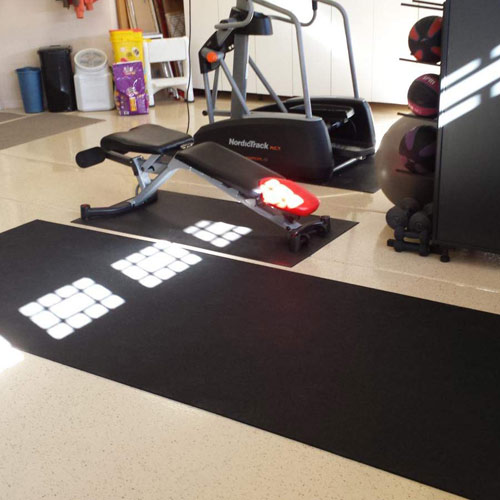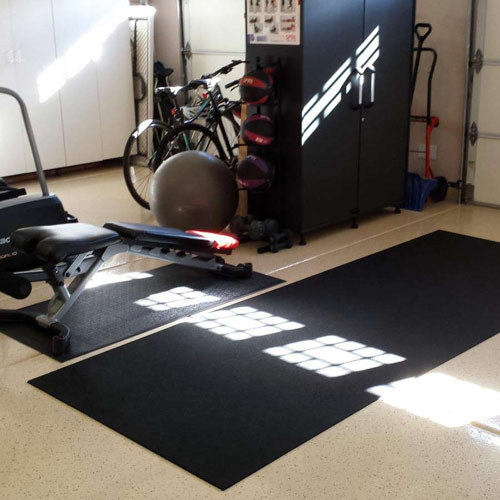 Provides exceptional cushion and shock absorption
Made in the USA with quality craftsmanship and materials
Designed specifically for repetitious and rigorous athletic workouts
$109.00
/roll
(You Save 42%)
(1 Reviews )
Ships Out: Estimate 1-3 Working Days

Black
How Much Flooring Do I Need?
VIDEOS
Best Exercise Mat for Plyometrics - Plyometric Rubber Flooring
Plyometric Rubber Exercise Mats with Bodybuilder Terra Mitzel
Comparing Exercise Mats - Folding, Roll Out, Puzzle and Plyometric Exercise Flooring - Greatmats
Plyometric Flooring at HB Fitness - demonstration
Plyometric Rubber Flooring at Personal Space Fitness - Kate Walton Greatmats Story
St. Cloud School of Dance on Greatmats Marley, Rubber Subfloor and Barres
Garage Dance Practice Flooring - Josie Stewart
Rubber Rolls - Installation Made Easy - Greatmats
How to Clean Rubber Flooring in 4 Easy Steps
How To Cut Rubber Flooring Rolls
TOP FEATURES
Provides exceptional cushion and shock absorption
Made in the USA with quality craftsmanship and materials
Designed specifically for repetitious and rigorous athletic workouts
Rolled material requires no adhesive for easy do-it-yourself installation
Smooth non-slip surface
Reversible and can be trimmed to fit
Designed to withstand the weight of exercise equipment
Qualifies for LEED points for green building
Use Types
Plyometric Drills, Aerobic Exercise, Work Out Mat
Home Rubber Plyo Floor Roll Black - Plyometrics Mat for Insanity
Our plyo floor workout mat offers an ideal surface for athletes looking to set up a home gymnasium. Use it for plyo box drills, including boxes and side jumping, lunging, and all other aerobics. Our Plyometric Rubber Roll Greatmats 3/8 Inch Black 10 LF is durable, high performing, and convenient. The density is lower than similar rubberized products. This provides the superior cushion and shock absorption needed for this type of athletic endeavor. Ours consists of the same material that can be found in professional gyms nationwide.
Best Exercise Mat for Plyometrics

We've collected some of the smartest reasons for making use of our plyometrics mat for insanity types of home workouts, as outlined below.

Box jumps: It gives a solid footing from which to start a leap onto the box. And during landing, it has just enough cushioning to keep joints safe. Additionally, the boxes will remain in place while going onto and off of them, because of the friction provided.

Broad and skater jumps: A sure footed surface is required when performing these, which our model provides.

Jumped rope:

 With rope jumping, certain floorings will wear down by landing in the same spot repeatedly. Ours is designed for and will stand up to this type of repetitiveness easily.

Please note, if laying them adjacent on ends, they will need to be cut square on the ends, because this does not happen at the factory, which is the industry standard. On-site installs will require that the ends of this are cut with a sharp utility knife if it is be installed end to end.

The large exercise mat is not always shipped at a perfect 10 ft length. The plyometric rubber roll is 10 ft at minimum and often a few inches longer, which is common in the industry. Cutting it to the desired length is a piece of cake, though.

This highly padded exercise mat is 4 x 10 ft, which is the ideal layout for jumping or intense aerobics. It's cushioned while remaining durable, which is perfect for plyometric exercises.

It absorbs sound, so in a building or house with multiple floors where the noise from people bouncing around and doing a workout could bother others in the building, it can fix this problem.

Our 3/8 inch thick plyometric mat will yield the cushioning desired to perform these exercises safely. However, if using it for free weights, a thicker material is advisable.

Kettlebells and barbells may cause damage to the subflooring if dropped without the proper thickness. Contact us to learn about our options for thicknesses.

Plyometric flooring rolls tend to be among the most cost effective options for installing a gym flooring mat at a house or studio. Additionally, this is relatively straightforward for a DIY job. There's no need to spend additional money on hiring professional installers.

Because of their size, these will have fewer seams in a big layout than other types of floorings too. They have better durability than what's found with foam. But foam is lighter, which makes it easier to install and cheaper to ship.

Doing calculations for ordering the correct numbers of the plyo mat is a straightforward process, thanks to the straight edges on them. For questions during the calculation process, contact our customer service team for help.

Each weighs about 50 pounds and covers 40 square feet of area. If placing them adjacent, there's no interlock required. A single person can perform it. However, the heavy weight of an individual plyometric mat means it's easier if more than one person is involved in moving it and in the installation.
Installing a Plyometric Mat
For preparing to install the plyo mat, make certain the substrate consists of a hard and smooth surface. Concrete and wood are the most common types of subsurfaces for these. If the subsurface has defects in it, these imperfections will show through. Repair cracks, knock out imperfections, and fill in indentions in the subfloors before rolling out the plyo mat.
Clean the subflooring as thoroughly as possible before laying them out. Remove any dust, grease, and foreign objects. Additionally, allow the subflooring to dry completely before the layout.
Finally, store it in the room where it will be installed, allowing it to acclimate to the temperature and humidity levels in the room for at least 24 hours ahead of installations.
Use a dry lay technique by taping it around the edges. There's also the option of employing a full glue down for better permanency. Don't use too much adhesive, as excess glue could leak through the seams, creating a significant mess.
We recommend gluing it where it will be subject to heavy foot traffic. Double faced carpet tape installations will work perfectly well for an area with average traffic. Do not use duct tape to fasten the seams, as it will leave a residue that's difficult to clean.
Unroll it, starting in a corner leaving a 1/4 inch gap from the wall, to allow for expansion and contraction.
Or create island installations of the plyometric mat. An island is appropriate in a space that is used for multiple activities. The island design shrinks the covered area, allowing other activities or weight machines to occupy the extra spaces in the room.
Durable and High Quality Plyo Mats
These are Made in the USA products, so count on the construction and the durability of the materials.
Our 5-year limited manufacturer warranty backs the unmatched durability of this. It is specifically designed to withstand the explosive repetitions performed in rigorous athletic workouts.
Like all rubberized floors, this product does have some rubbery smell. The level of odor is very low when compared to others in the same category type and price range.
However, those who have a heightened sensitivity to odors may not like this in an enclosed space with little ventilation. Attempt to reduce the intensity of the rubbery odor in the plyometric mat by washing it. This smell should dissipate naturally over time.
Store any leftovers in a vertical position. Put it back onto the cardboard center post that shipped with it initially to protect it. Store it on its end, so its weight doesn't cause it to collapse on itself, which could happen if it's stored horizontally. If the cardboard tube is gone, use a PVC tube that has a similar diameter as the original cardboard.
This is economical and easy to maintain. Perform a daily, basic cleaning by just vacuuming it as needed. For a thorough cleaning, use a damp mop with a neutral pH cleaner. Note that the slightly porous structure requires more drying time than standard rubbery materials. (But this also gives it its resiliency.)
Be sure to avoid using any solvent or oil-based cleaners, as these materials will cause the plyo mat to come apart.
To order, please contact us. We can help with custom cut lengths, regular orders of 10 feet in length, or custom lengths of 30 feet or longer. We can send a free sample to show the quality of it if desired.
FAQ Plyometric Mat Q&A
What equipment is needed on a P90X mat?
For P90X, athletes can use a simple set of gear to achieve the results they're seeking. The majority of people will want to have dumbbells, resistance bands, and push up bars at a minimum. For comfort during ground work, this model will serve well, although some appreciate yoga matting atop it too.
What are the highest rated plyometric floor mats?
The Greatmats 3/8 plyometrics rolls are among our most popular selections. If choosing to go with an extra large plyometric mat, it'll provide plenty of coverage and cushioning, allowing the athlete to move freely back and forth while working out. Certain customers appreciate interlocking plyo mat tiles, which don't weigh as much as larger pieces, which can be a challenge with rubberized material.
What is the best plyometric mat roll?
Greatmats plyometric black products are offered in a variety of configurations, which equate to multiple price points, simplifying the process of finding just the right unit to fit within a particular budget. As a general rule, extra thick rubber flooring rolls have a higher price per square foot than thinner ones.
What is the top plyometric jump mat?
If seeking a rope skipping mat or one that will provide the perfect level of cushioned landings along with a sure footing for powerful movements, our plyometric mat has the features that customers are seeking when taking on high impact aerobics.
What are the best floorings for home gyms?
It really depends on the goal for the space. Plyometric rubber flooring mats have outstanding toughness, which is ideal for hefty machines. For those with a smaller budget, foam is designed specifically for absorbing the shock on the lower body joints, delivering a comfortable spot for floor exercises or as a cardio mat. Artificial turf is pricier than the others, but it has good slip resistance for sprint workouts. PVC is also pricey, but it's extremely tough, sometimes delivering the look of a hardwood floor.
Maintenance
Always use Neutral Ph cleaner on rubber flooring. Damp mop with hot water, use two buckets to keep mop clean.
Shipping
Ships via ground service or freight delivery with lift gate to your location.
This Product Ships UPS Ground, FedEx Ground and/or Freight.
Please review our shipping disclaimer.
SPECIFICATIONS
| | |
| --- | --- |
| SKU# | PR.38I410B |
| In Stock | Yes |
| Product Type | Roll |
| Material Type | Rubber |
| Product Edging | Straight |
| Thickness | 3/8 inch |
| Width | 4.00 feet |
| Length | 10.00 feet |
| SF per Item | 40.00 |
| Weight | 50.00 lbs |
| Packaging | Cartons |
| Number of Pieces per Package Type | 1 |
| Non Absorbent | Partial |
| Special Adhesives | No |
| Universal Interlock | No |
| Interlock Loss | 0.00 feet |
| Material Hardness | Shore A 55 |
| Interlocking Connections | No |
| Made In | USA |
| Surface Finish | Smooth |
| Surface Design | Solid color |
| Installation Method | Dry lay, tape or glue down on hard flat surface |
| UV Treated | No |
| Reversible | Yes |
| Border Strips Included | No |
| Leed Points | Yes |
| Manufacturer Warranty | 5 year limited |
HOW TO'S
RELATED PRODUCTS
RELATED BLOGS