Plyometric Rubber Roll Sport 6 mm Natural Per SF
Work out impact protection
Temporary exercise areas
Recycled Rubber
Handling Time Estimate: 4-6 Weeks

Black
Roll Calculator
Note: Material Width for this Product is 4' wide
Rolls are cut to 15 ft minimum
Option 1

Option 2

Custom Roll Length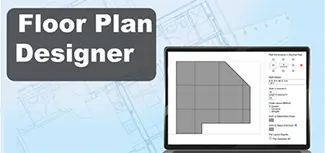 VIDEOS
How To Cut Rolled Rubber Flooring
Work out impact protection
Temporary exercise areas
Recycled Rubber
Durable for use with athletic shoes
Home or fitness center use
Indoor training
Slip resistance
GreenCircle Certified

Plyometric Flooring, Dance Studio Subfloors, Athletic Floors, Plyometric Training Facilities, Home Aerobic X Floors, Cheerleading Practice
NOTE: This item is a custom order and is not returnable.
Plyometric Rubber Roll Sport 6 mm Natural Per SF - Recycled rubber
The cushioning of the Plyometric Rubber Roll Sport 6 mm Natural Per SF flooring offers just the right mix of cushion and firm footing to allow for the quick movements that occur in various types of exercising, including plyometrics.
Sport Natural Plyo Floor Rubber Roll, Custom Cut Lengths

For areas where athletes need a cushioned floor to be able to work out safely and protect the joints in the hips, ankles, and knees, our Sport Natural Plyo Floor Rubber Roll is an excellent choice.

When incorporating plyometric exercises into a workout routine, using cushioned materials in the floor is the best solution. Plyometrics require regular jumping, skipping, hopping, bounding, and running. All of these movements can challenge the athlete's physical stamina and strength.

They also can be challenging to the lower body joints for the athlete, as repeated jumps on a hard flooring surface can lead to significant pain and leg fatigue, reducing the amount of time the athlete can work.

With our roll of 6 mm plyo floor, the athlete can take advantage of the cushioning to preserve the body for a long workout session. Use this roll for a temporary floor over the top of an existing hard cement or vinyl floor, or place it underneath tile flooring for workouts to deliver cushioning benefits.
How Cushioned Flooring Helps With Plyometrics
Plyometrics can involve a wide range of movements to create powerful muscles and quickness. Some athletes will incorporate workout props in the session, such as an exercise ball, a jump rope, a box, or resistance bands. Sometimes, the athlete will engage in a squat, pushup, or crunch type of movement.
The key to plyometrics is the use of a wide range of jump and hop motions, however. Athletes need to be able to trust the solid footing and resistance the plyo floor delivers to make the most of each set of movements during the workout.
Athletes involved in plyometrics appreciate the stability of a rubber floor. Even if the rubber becomes wet, it will not be slippery, so athletes can always trust the footing they will receive. This creates a safer atmosphere for athletes.
Plyo is especially good for those athletes involved in high-impact workouts where they need to make explosive movements suddenly. These may include volleyball, wrestling, and football.
Because of the cardio aspect of a plyo workout, it also works well for athletes who play sports that require high levels of fitness to go with their explosive movements, such as tennis, soccer, or basketball.
Having plenty of cushioning in the floor when involved in plyometric workouts is especially beneficial for athletes playing a sport. With a forgiving style of rubber floor available, the athlete will not become too sore after the plyo workout to be able to practice for the desired sport.
Safe Manufacturing Process
The manufacturer of our rubber plyo roll uses safe materials and follows precise manufacturing tolerances. It uses 100% consumer rubber tires and post-industrial EPDM rubber to create the rolls, which provides significant environmental benefits.
Our floors keep these materials out of the landfill, giving the materials a second chance. This type of green flooring should be able to help a business qualify for LEED credits.
Because of the high-quality manufacturing process in use, customers will deploy this flooring in fitness centers, health clubs, school athletic facilities, indoor recreation centers, locker rooms, physical therapy facilities, and weight training rooms. It isn't limited to use for plyometric workouts alone.
The manufacturer uses only cleaned rubber to build this roll of flooring, ensuring that it is safe for any use case as flooring. People and pets who are sitting or laying on the floor will be able to do so safely.
In an extremely noisy workout environment, our rubber floor naturally has sound absorbing properties, which creates a more comfortable environment for everyone.
Recycled Workout Flooring Roll Specifications
Width: 4 feet

Length: Custom cut by the foot

Thickness: 6 mm (about 1/4 inches)

Weight per linear foot: 1.2 pounds

Color: Black with white flecks

Texture: Smooth
Maintenance and Care
A busy fitness facility appreciates the ease of cleaning and maintenance they receive with a rubber roll of flooring. This material does not require much time or effort to maintain the integrity of the floor, resulting in a long lifespan and a good value.
Remove dry debris and dirt from the surface of the plyo floor every one to three days. Locations that experience a high level of foot traffic may need to sweep the area more than once a day. Customers can use a broom, a dry mop, or a vacuum to remove dry debris.
When customers cannot sweep soils away, wet mopping or use of an auto scrubber may be necessary. The manufacturer recommends a neutral pH cleaning solution when mopping is necessary.
Should puddles form after the mopping, the customer can remove them with a wet/dry vac. Excessive liquids left on the surface of the plyometric mat could cause staining over time. After eliminating puddles, allow the entire layout to air dry naturally.
The roll carries a one-year limited manufacturer warranty, but most customers will receive a far longer lifespan from the material with proper care.
Rolls are ordered in by the square foot.
Maintenance
Sweep, dust mop or vacuum. Scrub with neutral pH cleaner.
Shipping
Ships via freight delivery only, shrink wrapped on pallets.
This Product Ships Freight Only.
Please review our shipping disclaimer.
| | |
| --- | --- |
| SKU# | R7619-6mm |
| In Stock | Yes |
| Product Type | Roll |
| Material Type | Rubber |
| Product Edging | Straight |
| Thickness | 6 mm |
| Width | 4.00 feet |
| Length | 1.00 feet |
| SF per Item | 1.00 |
| Weight | 1.20 lbs |
| Packaging | Shrink Wrapped on Pallets |
| Number of Pieces per Package Type | 1 |
| Non Absorbent | No |
| Special Adhesives | No |
| Interlock Loss | 0.00 feet |
| Interlocking Connections | No |
| Made In | USA |
| Surface Finish | Smooth flat |
| Surface Design | Solid |
| Installation Method | Tape or glue down on hard, flat surface |
| UV Treated | No |
| Reversible | Yes |
| Border Strips Included | No |
| LEED Points | Yes |
| Manufacturer Warranty | 1 year limited manufacturer |
RELATED PRODUCTS