Plyometric Rubber Roll Sport 8 mm Natural Per SF
Home or fitness center use
Slip resistant
Durable for athletic shoes
Handling Time Estimate: 4-6 Weeks

Natural
Roll Calculator
Note: Material Width for this Product is 4' wide
Rolls are cut to 15 ft minimum
Option 1

Option 2

Custom Roll Length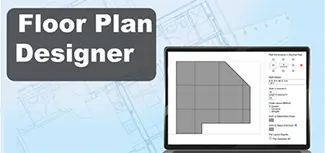 VIDEOS
How To Cut Rolled Rubber Flooring
Home or fitness center use
Slip resistant
Durable for athletic shoes
Indoor training
GreenCircle Certified
Temporary exercise areas
Recycled rubber
Work out impact protection

Plyometric Flooring, Dance Studio Subfloors, Athletic Floors, Plyometric Training Facilities, Home Aerobic X Floors, Cheerleading Practice
NOTE: This item is a custom order and is not returnable.
Plyometric Rubber Roll Sport 8 mm Natural Per SF - Recycled rubber
Plyometric Rubber Roll Sport 8 mm Natural Per SF is perfect for the running, bounding and jumping exercises that are part of plyometric workout.
Plyometric 8mm Sport Rubber Floor Mats and Rolls, Custom Cut Lengths

In plyometric workout spaces that need a slip resistant and durable style of flooring, our Plyometric 8mm Sport Rubber Floor Mats and Rolls deliver an excellent level of performance.

Our rubber roll measures about 5/16 inches in thickness, creating a lightweight style of flooring that still has an impressive level of durability. The manufacturer offers a 1-year limited warranty, but the majority of customers are able to use this mat for far longer.


How Does the Right Floor Help With Plyometrics?

Athletes interested in trying plyometric workouts are looking to build strength through the use of explosive, rapid movements. Through these short interval exercise movements, athletes can increase their ability to deliver extra power with each movement.

Plyo workouts can be hard on the lower body joints, as athletes are regularly jumping and making rapid changes of direction. Quick side-to-side jumps over a rope or another object close to the ground can tax the ankles and knees.

Some of these workouts involve front and lateral box jumping. It can be difficult to gain the height needed to complete these jumps successfully without a sure footing option available.

Our sport rubber floor mats provide benefits in a couple of different areas for this type of workout.

First, the sheet of rubber flooring has a natural grippiness, giving athletes the sure footing they need to make explosive movements. If the athlete has worries about slipping on the floor, it makes the workout process far less effective. Slips can lead to significant injuries as well.

Second, rubber offers just a little bit of cushioning during jumps. The cushion will protect the knee, ankle, and hip joints, giving athletes the ability to work out for longer periods of time. The following day, athletes should need less recovery time after a tough exercise session.
Versatile Plyo Roll of Flooring
Even though our sport rubber floor mats excel in helping with plyometric exercise sessions, they will deliver strong results in other situations as well.
Rubber rolls are popular for an install at all kinds of athletic facilities. Our sport rubber floor mats will work in a home gym, a school weight room, an athletic club, or a fitness center.
These floors cut down on noise generation in the exercise rooms, as rubber naturally absorbs sound. In a space that makes use of hard floors, noise from exercise machines and dropped free weights could echo throughout the building.
Cheerleading and dance studios may also choose our plyo rolls, especially in areas where the athletes may be incorporating difficult jumps into their cheerleading or dance routines. The mixture of cushioning and a sure footing that rubber flooring delivers is difficult to duplicate in other floorings.
Some customers even choose to install this type of rubber roll in entrances to the building, where it can prevent visitors from tracking moisture into the building, where it could create a slipping hazard.
Environmentally Beneficial Rubber Floor
This flooring consists of recycled rubber, which means it keeps rubber items out of landfills. To give this floor a more interesting color design, the manufacturer includes flecks of white recycled rubber along with the primary black base color.
This is an inexpensive flooring option as well. Customers typically will pay less than $2 per square foot of coverage when selecting this roll.
The installation process is simple, as customers do not have to use glue or tape if they prefer a dry lay installation. There's no need to hire a professional installer. Just roll up the floor after the workout and place it in storage.
Each roll measures 4 feet in width, but customers can order a custom length (with a minimum of 15 feet in length).
Recycled Workout Flooring Roll Specifications
Width: 4 feet

Length: Custom cut by the foot

Thickness: 8 mm (about 5/16 inches)

Weight per linear foot: 1.8 pounds

Color: Natural (black with white flecks)

Texture: Smooth
Maintenance and Care
Our sport rubber floor mats do not require a significant amount of maintenance to keep them looking like new. For a busy school or athletic club, having a floor that only needs occasional cleaning is a significant benefit.
Depending on the amount of foot traffic the facility receives, owners might clean every two or three days. Busier environments may need cleaning two or three times per day.
For a quick cleaning, customers can make use of a broom, a dry mop, or a vacuum to remove dirt and dry debris. Removing these items before visitors to the space grind them into the rubber gym floor will save time on cleaning down the road.
To mop the floor and remove more stubborn soils, customers can make use of a neutral pH cleaner diluted to match the instructions on the cleaning product. Use a standard mop or an auto scrubber to apply the cleaner.
Allow the area to dry in the air before people begin walking on it again.
This recycled rubber product is manufactured with some white fleck mixed in with the black rubber.
Rolls are ordered by the square foot.
Maintenance
Sweep, dust mop or vacuum. Scrub with neutral pH cleaner.
Shipping
Ships via freight delivery only, shrink wrapped on pallets.
This Product Ships Freight Only.
Please review our shipping disclaimer.
| | |
| --- | --- |
| SKU# | R7619-8mm |
| In Stock | Yes |
| Product Type | Roll |
| Material Type | Rubber |
| Product Edging | Straight |
| Thickness | 8 mm |
| Width | 4.00 feet |
| Length | 1.00 feet |
| SF per Item | 1.00 |
| Weight | 1.80 lbs |
| Packaging | Shrink Wrapped on Pallets |
| Non Absorbent | No |
| Special Adhesives | No |
| Interlock Loss | 0.00 feet |
| Interlocking Connections | No |
| Made In | USA |
| Surface Finish | Smooth flat |
| Surface Design | Solid |
| Installation Method | Tape or glue down on hard, flat surface |
| UV Treated | No |
| Reversible | Yes |
| Border Strips Included | No |
| LEED Points | Yes |
| Manufacturer Warranty | 1 year limited manufacturer |
RELATED PRODUCTS