Can You Purchase A Plyometric Rubber Roll In Custom Lengths?
By Kyle Schurman Created: July, 2022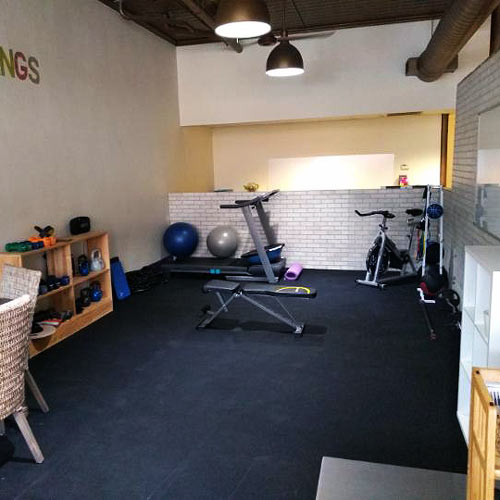 Cushioned flooring is the ideal material to use with tough workouts in the gym, as it protects the athletes' lower body joints far better than a hard floor. The
Sport Natural Plyometric Rubber Roll
Flooring delivers excellent cushioning along with anti slip capabilities for the best workout floor - and it's available in custom lengths.
8 mm Recycled Rubber Roll - Custom Cut By Foot
Width: 4 feet
Length: Custom cut by the foot
Thickness: 8 mm (about 5/16 inches)
Weight per linear foot: 1.8 pounds
Color: Natural (black with white flecks)
Texture: Smooth
Greatmats also offers several plyometric rubber roll options by the square foot for increased ease of customization.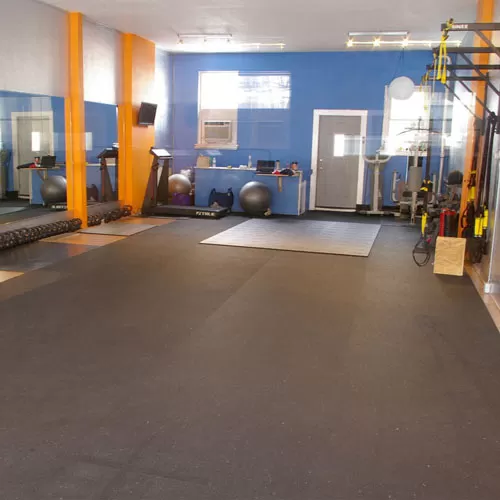 With a plyometric rubber roll, customers can place it directly on top of a cement, wood, or hard vinyl subfloor. It can stand up to regular use and foot traffic without showing damage.
Another option is to lay out the rubber as the subfloor mat and then place an athletic flooring over the top of it. Fitness centers or dance studios that want a nice-looking faux wood vinyl floor for visitors can place tiles over the top of the rubber, which still delivers a high level of cushioning under the vinyl tiles.
Extremely Versatile 5/16 Inch Underlayment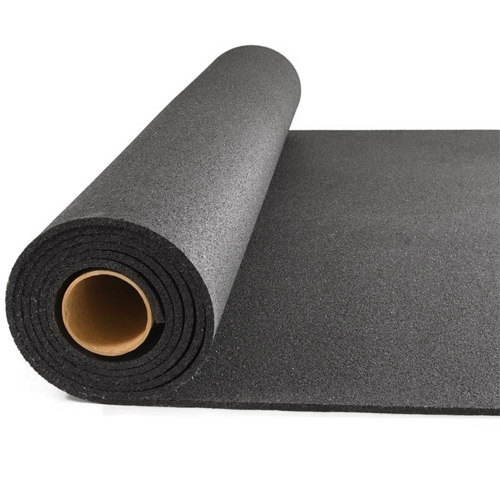 At only 8 mm thick, or about 5/16 inches, plyometric rubber roll will not add significant thickness to the existing athletic floor when used as an underlay. This delivers the desired benefits of cushioning without creating a significant lip on the floor that results in a tripping hazard.
When used as an underlayment, customers can choose to glue or tape the rubber flooring down to the subfloor, creating the sturdiest setup.
Additionally, a plyometric roll of rubber also works in a dry lay installation as an underlay, as customers can place the other flooring directly over the top. This works especially well when the customer wants the option of picking up both the other flooring and the roll of rubber underlay after the workout.
Safe Flooring for Multiple Types of Workouts
This style of rubber roll also works as the top layer of flooring, where athletes will be walking on it. It can stand up to any kind of athletic shoes successfully, even in a busy foot traffic location.
Some customers using this floor for weightlifting sessions may lay it over the existing floor to create a safe buffer. Should the athlete want to slam or drop a barbell to the floor, the plyometric rubber roll may not be the best option, however. In those cases, a more dense rubber material is recommended.
High Quality Plyo Flooring
Ideally, plyo flooring works to deliver protection for the athletes using it. It needs to deliver a sure footing, which rubber does as a naturally anti slip type of material. Athletes can trust that they can use the floor as leverage for the sudden movements required in plyometrics.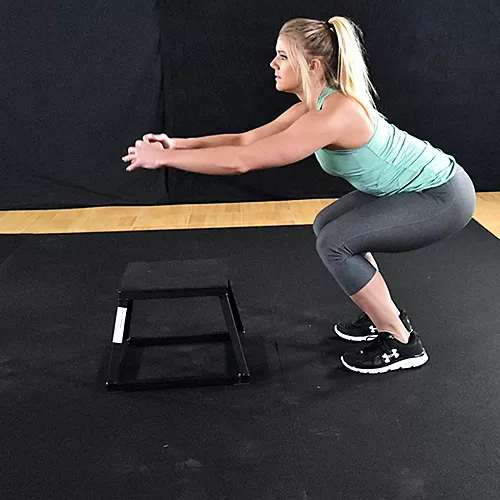 Plyometric workouts work nicely for athletes seeking better cardio and better explosive strength. Success with plyo relies on athletes making powerful jumps to build quick, explosive muscles in the legs.
An athlete participating in plyometrics may use box jumps, where they leap from the rubber floor onto a box, using varying heights to build explosiveness. A plyo workout can involve jumping rope or quick jumps back and forth across a low barrier on the floor as well.
With so much jumping, hopping, and skipping involved in a plyo workout, the joints in the lower body of the athlete may become sore. The cushioning in this rubber roll protects the athletes' knees, ankles, and hips from impact injuries and overuse, reducing fatigue in the legs.
Athletes are able to bounce back better after the plyometric workout and the next day when they have some cushioning from a roll of rubber plyo flooring available.
For athletes who are using plyometrics to prepare for another sport, such as basketball or volleyball, the rubber keeps them fresher for practicing for their preferred sports.
Maintenance and Care
Operating a fitness center or a workout room at a school doesn't require extensive maintenance and floor care work when installing a plyometric rubber roll. Rubber is a hardy material for workout spaces, and it requires very little maintenance time.
To avoid having soils grind into the rubber through heavy foot traffic, customers should remove dry debris and dirt daily, either through sweeping with a broom, using a dry mop, or running a vacuum cleaner over the area.
For times when the customer desires a more thorough cleaning process, this type of rubber plyo flooring will stand up to mopping or scrubbing with a neutral pH cleaning solution. Even if the customer chooses to mop the floor as often as daily, it should not show any unwanted wear and tear.
After mopping, use the mop or a wet/dry vacuum to remove any excess liquid or puddles. Then simply allow the area to air dry.
Rubber flooring has a natural level of durability that other flooring materials can struggle to match, especially those floors made for sport workouts. Customers receive at least a one-year limited manufacturer warranty with most rolls, but most customers experience a far longer lifespan.