Home Gym Flooring Tile Pebble 3/8 Inch x 2x2 Ft.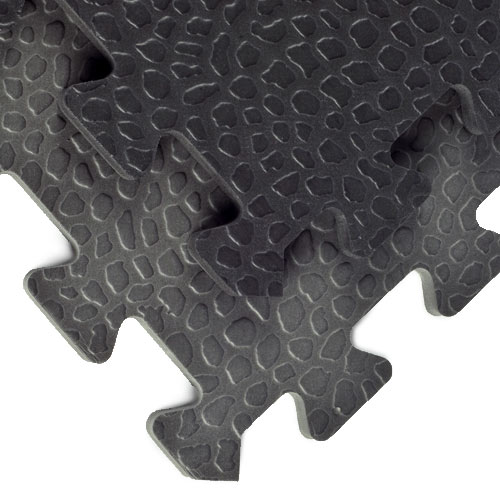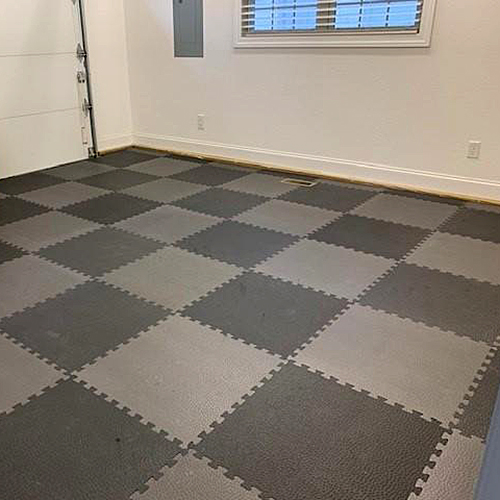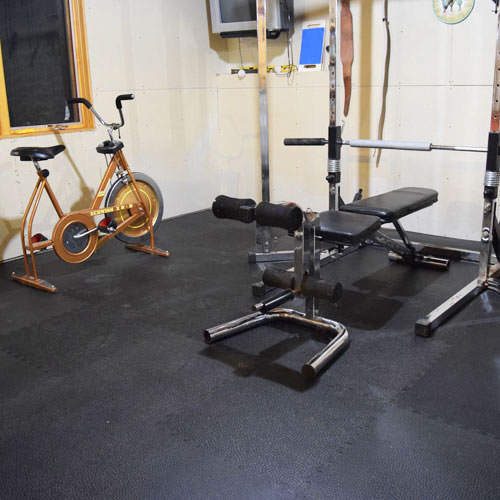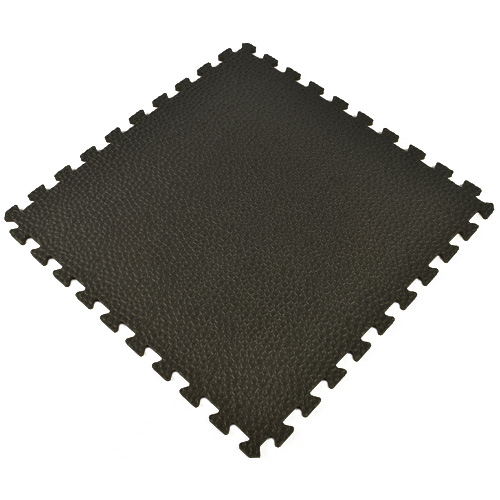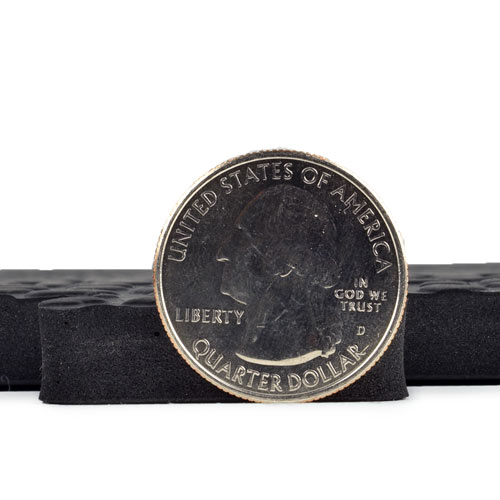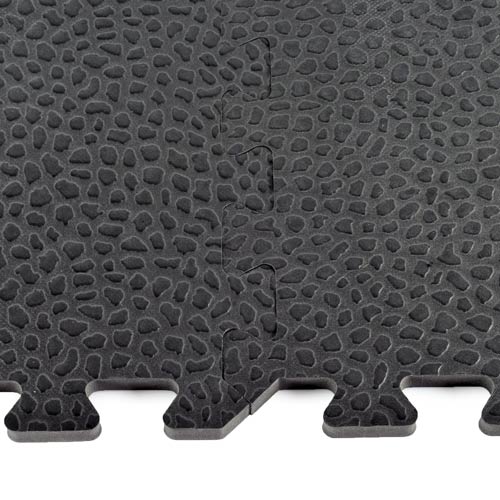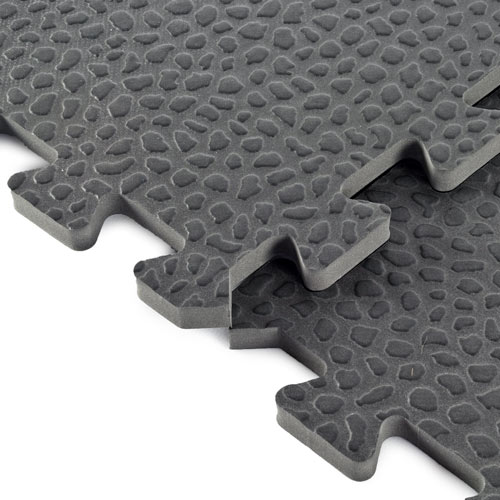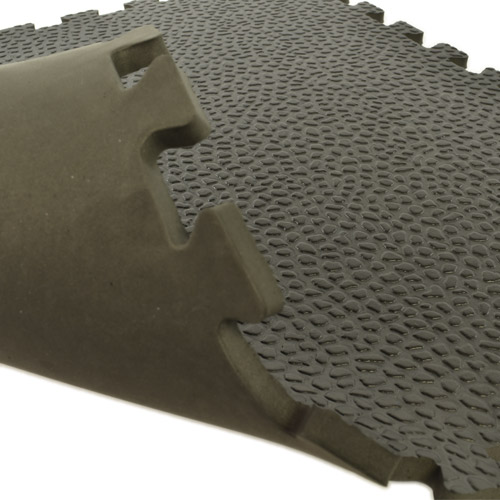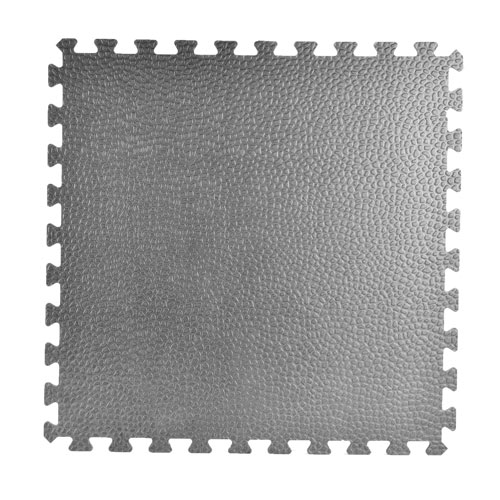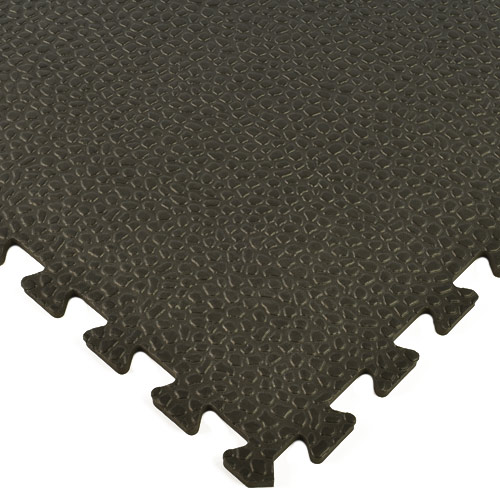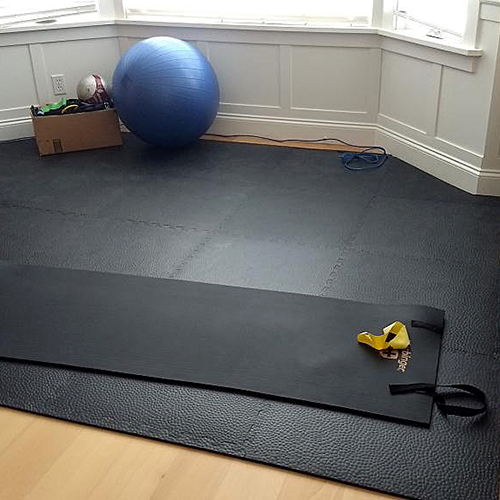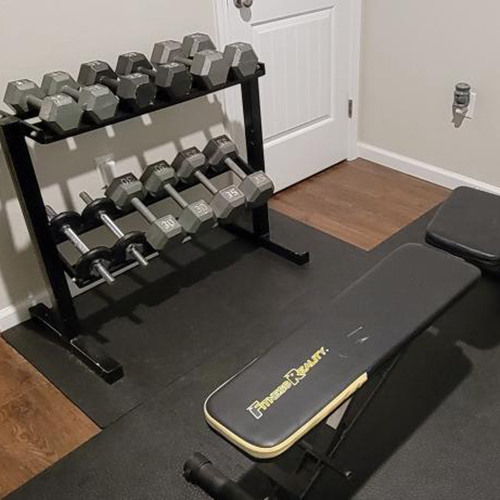 Great for home gym floors
High density EVA foam material
Durable for use under exercise equipment
$5.49
/tile
(You Save 43%)
(63 Reviews )
Free Shipping
- lower 48 with $85 Purchase
Ships Out: Estimate 1-3 Working Days
How Much Flooring Do I Need?
VIDEOS
Home Gym Flooring Tile Pebble 10 mm - Durable Interlocking EVA Foam Mats
How to Install Greatmats Home Gym Mats Pebble 10 mm Tiles
Home Gym Flooring Tile Pebble 38 Inch - Erik Browns Greatmats Story
Foam Floor Basketball Court Options - Dribble Test
Foam Gym Flooring with Pebble Surface Texture
Home Gym Flooring - Home Gym Mats Pebble 10 mm
How To Clean EVA Foam Mats
How to Cut Foam Mats in 4 Easy Steps - Greatmats
How To Remove And Replace Foam Floor Tiles
TOP FEATURES
Great for home gym floors
High density EVA foam material
Durable for use under exercise equipment
Latex and lead free
Durable surface top texture pebble design
Interlocking design makes an easy DIY installation
Lightweight and portable
Includes 2 borders per tile
Use Types
Home Gym Floors, Basement Floors, Interlocking Foam Flooring, Foam Tiles for Home Gyms
Foam gym mats for home, Foam home gym mat flooring
Whether seeking a type of exercising mat for gym use at a residence or in an athletic studio, finding the perfect combination of durability and looks is important. Our Home Gym Flooring Tile Pebble 3/8 Inch x 2x2 Ft. is able to fit both usages successfully and at a great price point.
These rugged, high density, interlocking gym mats feature a pebbled surface that is excellent for gymnasiums where durability is needed in lightweight materials. And it looks good enough to be used in a professional studio too, as it will stand up to heavy equipment for exercises.


Home Gym Flooring for Exercising Equipment

This home gym flooring will match the exact performance requirement, no matter where the install is taking place. Our home gym flooring tiles can withstand having all types of workout gear placed on them. They are designed to last for years without suffering damage, meaning ours have a greater level of construction and longevity than home gym floor mats big box stores have for sale and their soft foam floor tiles cheap materials that simply don't last.

However, if planning to use large sets of weights, explain to our customer service personnel what kinds of weights will be in use. The team can recommend the perfect style of commercial gym flooring for free weight training, which often involves rubberized ingredients.

Our pebbled textured product yields surety of footing, thanks to the foamed ingredients. This feature is a great option for being able to make the kinds of sudden and strong moves students require to gain the most out of cardio.

These interlocking tiles are non-absorbent and water resistant, so they will not soak up sweat or spills from water bottles. These are important features for exercise tiles, as it means they will not absorb sweaty odors either. This carries a 1-year limited manufacturer's warranty, yielding long lasting performance.

Understand that if expecting to perform aerobics activities on these, we do not recommend placing them atop of carpeting. They could slide and shift over the carpet, potentially causing the athletes in the aerobics class to lose their footing.
Gym Mats for Home Design
These are colored black throughout and will maintain a great look, as they resist showing wear and tear, thanks to the tough EVA foams used. The pebble surface has a professional, finished look, meaning our customers can be comfortable installing them in locales where visitors will see them. They look professional enough to use in a studio too.
We do have to mention that the color and shade for individual pieces may vary somewhat within the same order. This is a common occurrence with these, and it is not a manufacturing defect. Most of our customers report that the all black configuration doesn't reveal these shade variances as much as the gray tiles do.
And once gear is put atop them, variations in shades or colors become virtually unnoticeable. (Please note that the gray color will potentially vary in tone and shade within a single piece.)
This product works for either permanent or portable layouts, thanks to the processes used. Ours are easily handled for a single person, as the individual unit weighs 1.8 pounds.
Foam Gym Mats Installation
We feature a puzzled style edge on these foam gym mats. To place the home gym flooring over concrete, line them up next to each other, with the tabs matching the slots on the adjacent ones. Then step on them or use a hand to press the edges of them together.
Once the edges are connected, they will form a tight seal that will remain in place, even as people walk on them or after placing hefty equipment on them.
We use a precise cutting method for the jigsaw shapes of the home gym flooring, ensuring that they will connect to others perfectly, even if the individual units come from different manufacturing batches.
These foam gym mats can be installed directly over any hard flat surfaces, including concrete in a basement or garage flooring. This is durable and designed to function similar to rubber tiles or rubber gym flooring rolls.
However, it is not as durable as rubber floor mats, and it's not designed for high traffic areas, such as would be found in an entryway. Additionally, high heels can puncture it, so be cautious with the types of shoes that are allowed on it.
The process of laying them out will go quickly. Each has dimensions of about 2 by 2 feet. However, it doesn't quite give 4 square feet of coverage area with the use of puzzle edges instead of straight lines.
For some advice for calculating the number of home gym flooring units required, please contact our customer help team for determining the interlock loss.
The large size of these means installs can be completed in almost no time, even if working in a large, open locale. Compare the coverage of these 2x2 foot home gym flooring models to a type of tile that measures 1x1, and it's clear to see why this goes much faster versus something with a smaller size.
Each comes with two border strips that connect to the tile using the same puzzle design. This allows for installing this unit tightly to the walls in the room or in an island layout in the center of the space.
By employing the borders, fewer cuts are going to have to be made to achieve a flat setup to the perimeter. With a connectable border, it will be beautifully finished, allowing faster completion of the installation.
If needed, though, cutting it is an easy process. Just use a sharp utility knife with a straight edge to deeply score it.
We emphasize recommending allowing them to acclimate to the room in which they will be installed at least 24 hours ahead. They may expand with changes in heat and humidity, so having them acclimate to the conditions in the room beforehand will allow for more successful installations. For this same reason, allow for a 1/4 inch expansion gap for wall to wall installations.
These are perfect for using in areas where disassembly is going to be done in the future to return to the subfloor. Taking them apart is as easy and fast as putting them together.
Because no special adhesive is required to either connect the home gym flooring together or to adhere it to the subfloor, disassemble and pick it up whenever desired. To disassemble it, just step on one and pull up on the connected ones, which will pull apart the puzzled outline on the interlocking exercise floor mats.
When preparing to store foam floor mats until the next time they're needed, users can stack them for as long as required. Because these are so lightweight, no damage will occur from crushing problems by stacking them.
They are lead and latex free, so they're safe for a variety of indoor use cases. Feel comfortable about deciding to use athletic shoes or bare feet on these without causing damage to the surfaces.
We do not recommend employing these outdoors. When used outside, they might expand and curl if exposed to direct sunlight in warm climates for extended periods of time.
They are easy to clean. Use a broom to sweep any dry debris. Or use a vacuum cleaner set at its highest setting. Some people prefer to use a hose and nozzle setting on the vacuum. Do not use a power head, which could result in damages.
Finally, for a more thorough cleaning, use a damp mop and common household floors cleaners on the tile, as long as avoiding a cleaner containing bleach. Steam cleaning may heat them up and cause them to expand.
FAQ Home Gym Flooring Q&A
What is the best foam gym flooring?
Multiple styles will work well in a residential gymnasium in a basement or spare bedroom. One of the best selections is foam gym mats. These have a level of comfort for the athletes that is tough to find in other materials. They also have a surprising level of durability and traction, all at a reasonable price. Some others worth considering include a rubber mat, carpet tiles, as well as PVC, artificial turf, and vinyl flooring for home gym mats purposes.
What are EVA foam gym mats?
These gym matts are a closed cell type of foamed material, which prevents moisture from entering the structure. By keeping wetness out, there will be no formation of mold and mildew. These are lightweight, so they're easily moved into location for the installing process. Often times, a puzzled edge around the perimeter simplifies the processes of laying out the entire space by just connecting them like jigsaw puzzles. Gym foam mats are soft and cushioned, delivering shock absorption, which is vital for athletes looking to protect the joints of the lower body.
How thick should foam gym mat flooring be?
It depends on the planned use case. For supporting hefty exercising machinery or free weights, extremely thick rubberized surfaces are recommended. For martial arts that will involve throws, 2 or more inches of soft padding is helpful in an open cell shock absorbent material. For general working out needs, though, our foams work extremely well. An athlete will able to work for longer periods without pain in the ankles, knees, and hips with the forgiving nature in these foams.
Is EVA foam good for gym floors?
Yes. It yields outstanding versatility, meaning once it's laid out, there are multiple types of exercises that can be performed on it. Our thick gym mats have a measurement of 3/8 of an inch and a material density rating of Shore C 62, providing the toughness and durable nature that can support activities at home or in a pro gym setting, including supporting many kinds of machines.
Do I need a puzzle exercise mat?
Adding this atop of your current floors can be a smart choice for certain workouts. With our separate mats featuring edging like puzzles, they will grip, rather than sliding around, making workouts safer. If working out while laying down, it gives a bit of extra cushioned space that's nice for certain workout patterns. Using a yoga mat on top of it, for example, works nicely, because it allows the athlete to lay on top of a cushioned surface, and the yoga matting will not shift and slide.
How many tiles would I need for an exhibition booth?
10x10 trade show booth = 25 tiles
10x20 trade show booth = 50 tiles
10x30 trade show booth = 75 tiles
20x20 trade show booth = 100 tiles
20x30 trade show booth = 150 tiles
20x40 trade show booth = 200 tiles
30x30 trade show booth = 225 tiles
40x40 trade show booth = 400 tiles
Maintenance
Product can be damp mopped with common household floor cleaners, avoid bleach. Test your vacuum before use.
Shipping
Ships in cartons via ground service to your door, for larger orders product may ship freight delivery.
This Product Ships UPS Ground, FedEx Ground and/or Freight.
Please review our shipping disclaimer.
ANSWERS
Product Questions:
Q: Is this good to use for floor aerobics?
A: Yes this high density foam tile is good for a home aerobic flooring surface. Do not install over carpeting as the foam tiles need to make flat contact with the subfloor in order to not slip around.
Q: I need something that I can lift weights on and not have to worry if I dropped them. will this work?
A: This high density foam tile can handle weights up to about 35 lbs, over that you might consider the 20 mm version of this same product or 3/8 or 8 mm rubber tile.
Q: go for tumbling
A: Not really, I would recommend a gym folding mat.
Q: Can these be used outside on concrete and do they slide?
A: This is an indoor EVA foam floor tile only.
Q: Can this mat be used in my man cave? I will have a saltwater aquarium in there so sometime a little water spillage can happen oh and spilled beer when I over indulge.
A: These tiles can be installed over any hard, flat, indoor surface. If you are placing furniture over the top, we suggest furniture sliders to help disperse the weight and prevent indents. It is a dense, durable foam. The tiles are water/liquid proof, but the seams are not.
Q: How long can I expect these foam tiles to last in a home gym that gets used 3-4 times per week?
A: The length of time your mats would last depends on the type of use. Customers can expect years of use out of these mats for light home gym use.