Home Gym Flooring Tile Pebble 3/8 Inch x 2x2 Ft.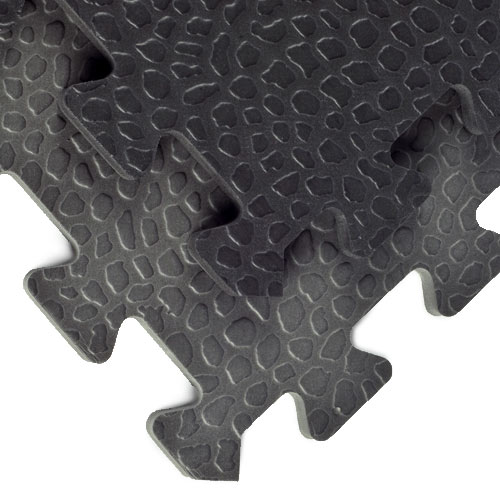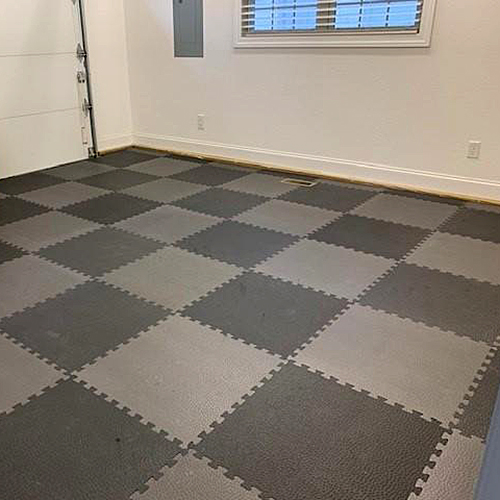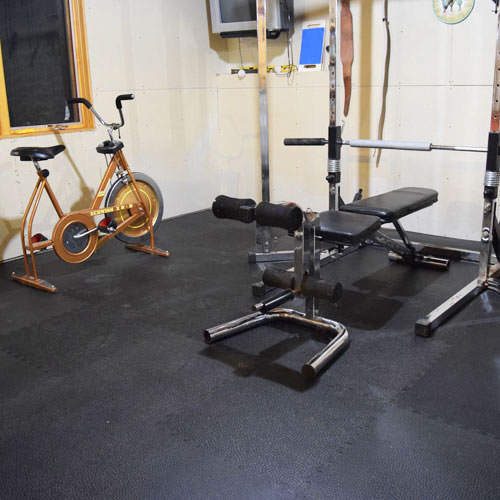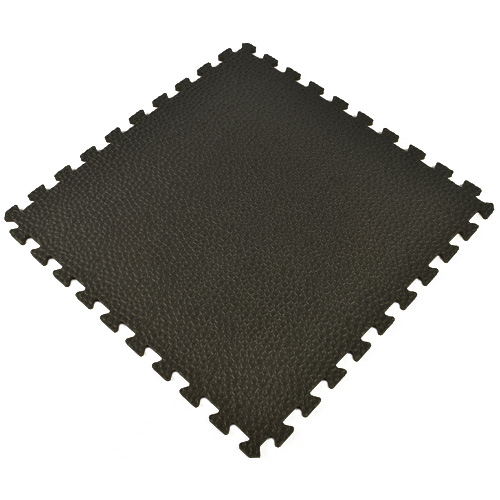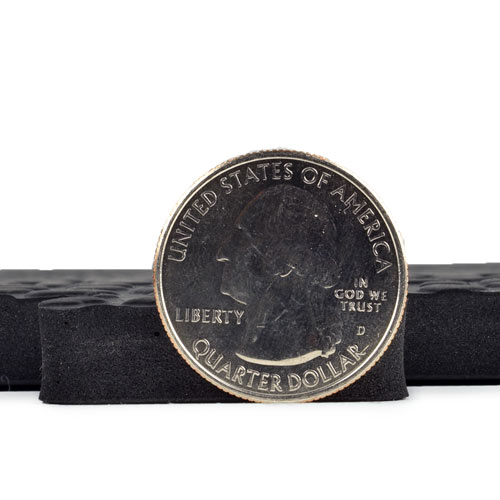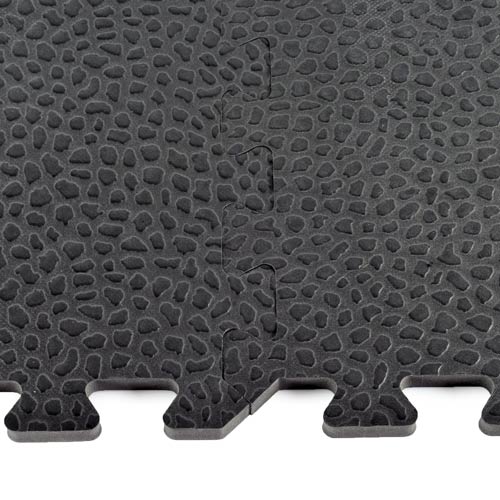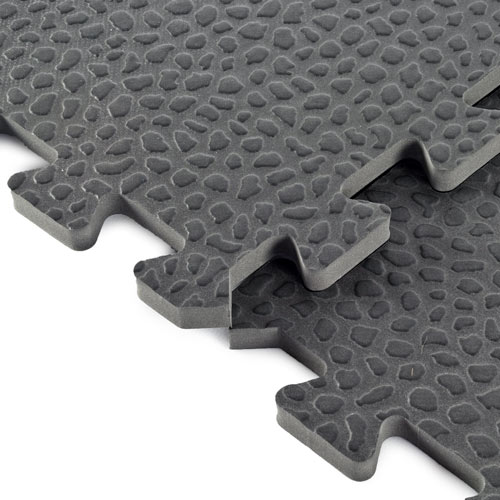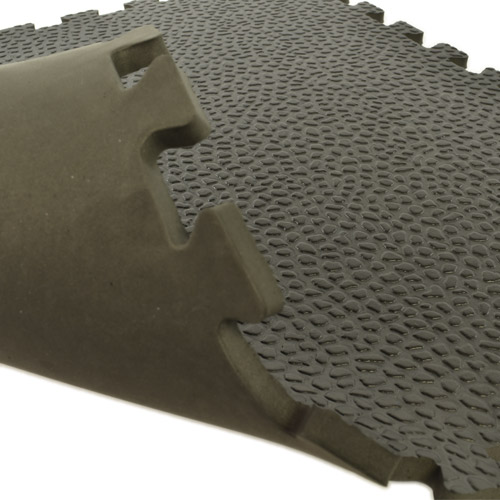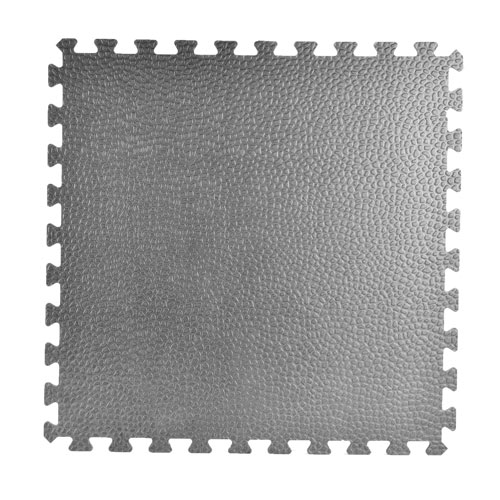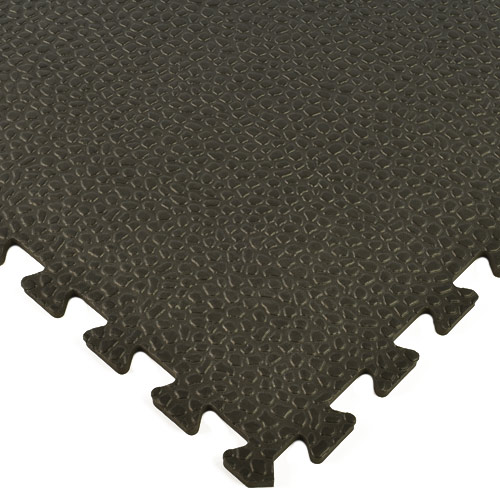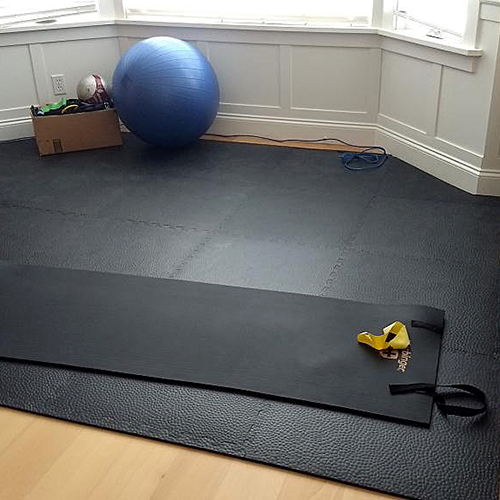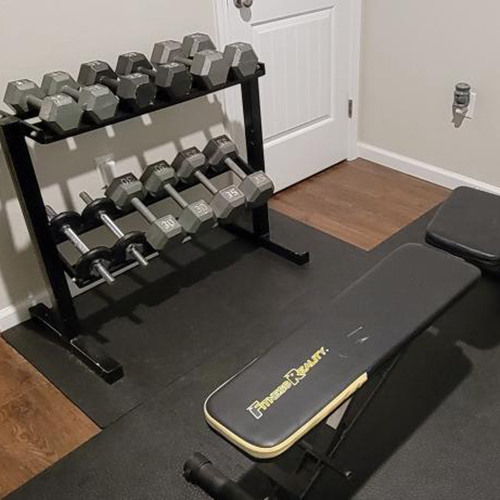 Ideal cushioning level for home gyms
Long-lasting EVA foam material
Supports weight of exercise equipment
$5.49
/tile
(You Save 35%)
(64 Reviews )
Free Shipping
- lower 48 with $85 Purchase
Ships Out: Estimate 1-3 Working Days
How Much Flooring Do I Need?
VIDEOS
TOP FEATURES
Ideal cushioning level for home gyms
Long-lasting EVA foam material
Supports weight of exercise equipment
Safe material that's lead- and latex-free
Slip-resistant pebble texture design
Portable and lightweight material
Simply DIY installation with puzzle edges
Finish the edges with included borders
Use Types
Home Gyms, Basement Gyms
Comfortable and Durable Foam Gym Mats
One of the best things about EVA foam gym mats is the durability they provide without sacrificing comfort.
These long-lasting home gym floor tiles can
support the weight of exercise equipment
, while also standing up to workout sessions in shoes. Additionally, because the tiles have a pebble surface texture, they deliver traction needed for workouts that rely on quick, precise movement.
This is a soft type of home gym flooring, so athletes can reduce the possibility of suffering lower body joints during intense workouts.
Budget Home Gym Flooring
These foam gym mats are among the most affordable types of workout tiles that we offer. You can cover a large space with our interlocking foam gym flooring without breaking the bank.
Because these puzzle tiles are perfect for a DIY installation, you don't have to hire a professional to do the work for you. They don't need glue, either, as the edges pop together securely, further reducing the cost of the installation. You can even directly
install these mats over concrete
.
Smart Alternative to Rubber Flooring
Some people prefer rubber flooring as the best indoor gym flooring choice. Certainly, rubber home gym mats are extremely durable. Both rubber and foam for home gym flooring deliver excellent traction.
But our
pebble floor mat
has a few advantages over rubber floors.
Generates less odor than rubber
Has more cushioning than rubber
Weighs less than thick rubber tiles
Easier to install than rubber
Additionally, some people believe rubber is too expensive, especially compared to the low cost per square foot of our foam mats.
Popular Foam Gym Mats for Homeowners
Although commercial gymnasium owners can make use of our interlocking matting to create an EVA foam flooring layout, homeowners are the most common customer for this product.
Whether you want to easily and quickly set up indoor gym flooring in a basement, spare bedroom, garage, or attic space, our mats deliver excellent results.
If creating a basement gym at your home, for example, these
EVA foam tiles
are waterproof, which helps combat any potential moisture seepage through the foundation. They also provide some temperature protection against a cold concrete floor for ground-based workouts.
Disclaimer:
Color tones and shades may vary within a single order. Such variations commonly occur with EVA foam tiles. Please note the gray color of this product tends to have more shade variances. Using a checkerboard can make this variation less noticeable. Also, high heels and other sharp objects could puncture the top. Since the material is soft, furniture can indent the tiles but doesn't typically affect the use of the floor. You can use furniture coasters to disperse the weight of the furniture. Finally, avoid installing them atop carpeting, as they may shift and slide.
Not recommended for use outdoors as EVA foam will expand when exposed to direct sunlight and heat
Maintenance
Product can be damp mopped with common household floor cleaners, avoid bleach. Test your vacuum before use.
Shipping
Ships in cartons via ground service to your door, for larger orders product may ship freight delivery.
This Product Ships UPS Ground, FedEx Ground and/or Freight.
Please review our shipping disclaimer.
ANSWERS
Product Questions:
Q: Is this good to use for floor aerobics?
A: Yes, this high-density foam tile is good for a home aerobic flooring surface. Do not install over carpeting, as the foam tiles need to make flat contact with the subfloor to not slip around.
Q: I need something that I can lift weights on and not have to worry if I drop them. Will this work?
A: This high-density foam tile can handle weights up to about 35 lbs; over that, you might consider the 20 mm version of this same product or 3/8 or 8 mm rubber tile.
Q: Is this product good for tumbling?
A: Not really; I would recommend a gym folding mat.
Q: Can these be used outside on concrete, and do they slide?
A: This is an indoor EVA foam floor tile only.
Q: Can this mat be used in my man cave? I will have a saltwater aquarium in there, so sometimes a little water spillage can happen.
A: These tiles can be installed over any hard, flat, indoor surface. If you are placing furniture over the top, we suggest furniture sliders to help disperse the weight and prevent indents. It is a dense, durable foam. The tiles are water/liquid proof, but the seams are not.
Q: How long can I expect these foam tiles to last in a home gym that gets used 3-4 times per week?
A: The length of time your mats would last depends on the type of use. Customers can expect years of use out of these mats for light home gym use.
Q: Can these be laid out over carpet? They will be ''boxed in'' by 2 walls, plus a 2 foot bump out. As well as a pillar on the opposite corner. I'm hoping that would prevent sliding.
A: Foam tiles should be installed over a hard, flat surface. If your carpeting is low pile and non-padded, this application will work.