Best Home Gym Flooring Options for 2023
By Paige Cerulli Created: March, 2023 - Modified: October, 2023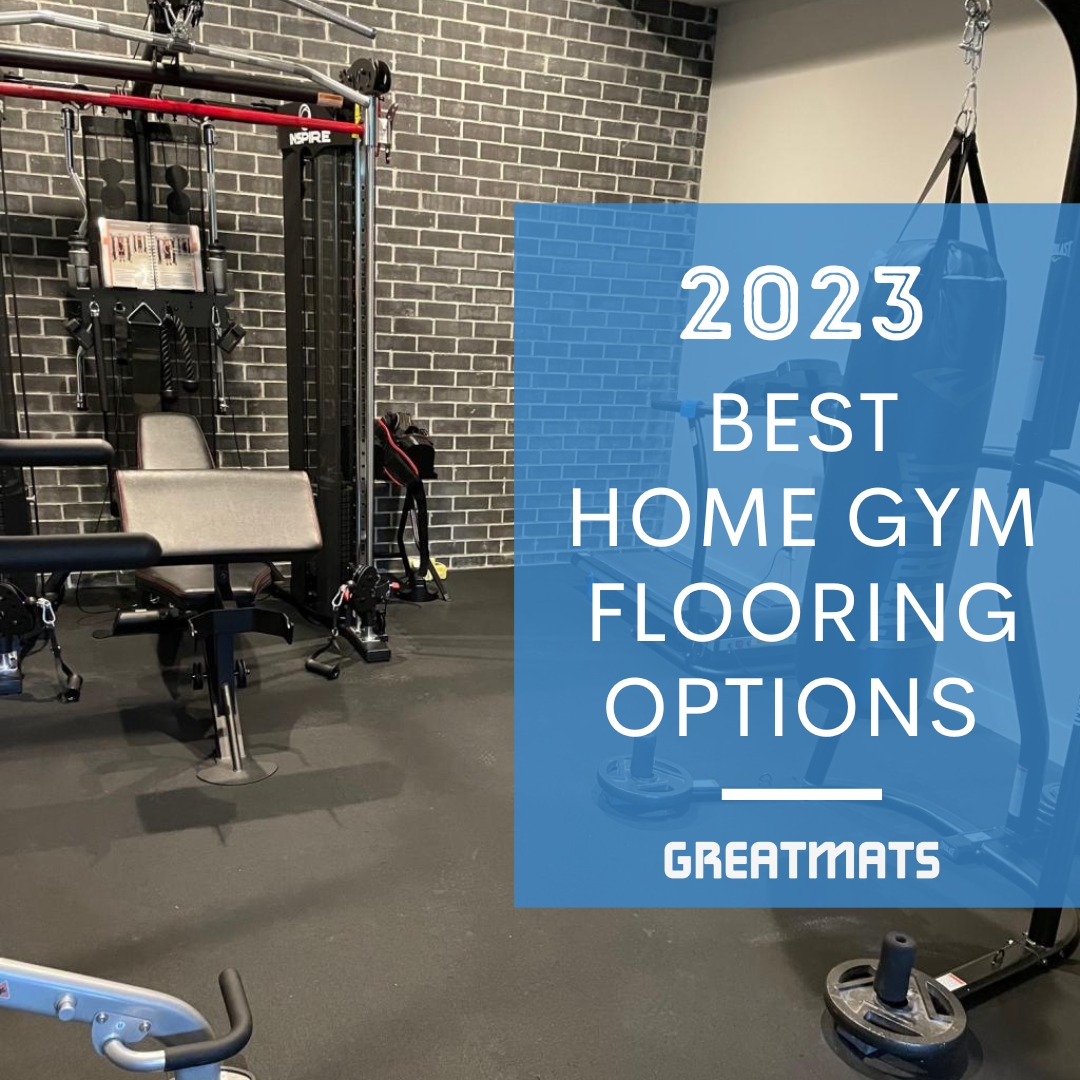 A home gym can be a fantastic way to fit in your workouts and save money compared to a gym membership. Whether you're planning to put a gym in your basement or garage, the safety and quality of your home gym starts with the flooring that you choose. As you shop for flooring, you'll have plenty of choices that can work over a variety of flooring surfaces. We've highlighted some of the best home gym flooring options to help you get started.
On This Page
How to Choose the Best Home Gym Flooring
There is no one flooring product that's the best choice for home gyms. Instead, it's important to consider factors like how you'll be using the gym and the type of subfloor that you'll be installing your gym flooring over. These three tips can help you to choose the flooring that's the best fit for your needs.
1. Foam vs Rubber for Home Gyms
While gym flooring products are made of many different materials, foam and rubber flooring are two of the most popular choices for use in home gyms. Both of these materials offer desirable qualities for a gym, but it's important to understand the differences to determine which is right for you.
Foam flooring tends to be softer than rubber. It offers excellent shock absorption and foam products are often preferred for repetitive exercises, like aerobics, or for floor exercises or yoga that need a softer surface.
Since foam is a softer surface, you will need to consider whether you want to place heavy gym equipment on the floor. High-density foam flooring can support some gym flooring, but the equipment will leave indents on the flooring.
Rubber gym flooring is stronger than foam, and it's more durable. It offers excellent protection to subfloors, especially when you will be dropping weights. Rubber is often preferred for areas that will see heavy use, including under machines like treadmills and in weightlifting areas.
While rubber is durable and ideal in many ways, it can have a strong smell when initially installed. Rubber is also much heavier than foam, so you will need to plan out how you will transport the flooring to your gym area. You may also need multiple people to help with the installation.
2. Best Thicknesses for Rubber
Rubber mats, tiles, and rolls are available in multiple thicknesses. Thinner products tend to be more economical, but it's also important to choose a product that is thick enough for the ways that you will be using the gym, especially if you will be repeatedly dropping weights.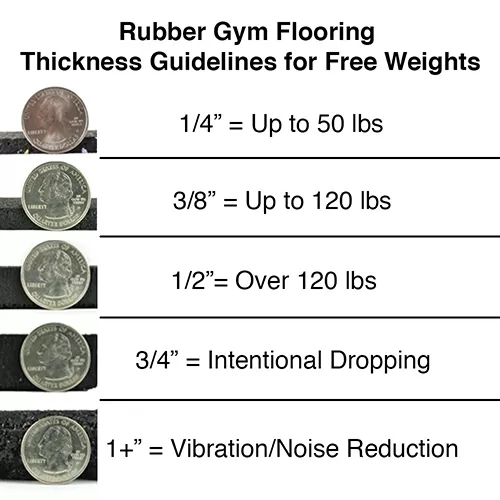 The thinner ¼-inch rubber flooring products are ideal for protecting your floor from machinery, and they can withstand dropping of very light weights. An 8 mm or ⅜-inch rubber is the most popular choice in home gyms. This thickness is suitable for use with heavy gym equipment and in areas where you'll be using 50 to 75 pound weights.
Stepping up to ½-inch rubber flooring is really only necessary if you will be dropping 100-pound weights regularly. We also have ¾-inch and 1-inch rubber products that are suitable for intense use. Keep in mind that these thicker products become significantly heavier, and they are also more expensive.
3. Installing Home Gym Flooring
As you shop for gym flooring, it's important to consider the type of installation that is best. At Greatmats, we offer many flooring products that feature a DIY-friendly installation to save you time and money compared to hiring a professional installer.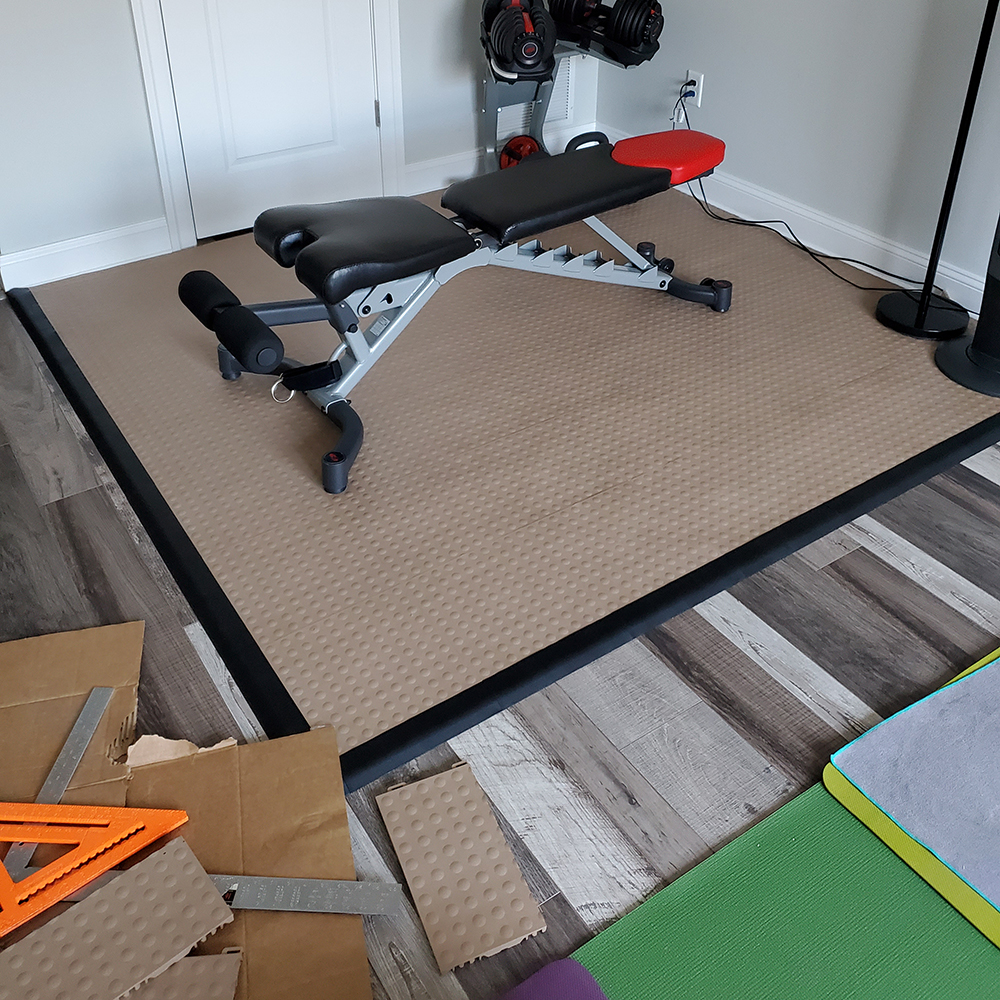 The type of installation you will perform will depend on your subfloor. You can install gym flooring over concrete, hardwood, carpet, and tile.
If you have a carpet subfloor, your best option will be a modular tile, like a StayLock tile. These tiles feature an underside with many feet, allowing the tiles to sit right down in the carpet and stay flat.
With a concrete subfloor, you will have many more options, including high-density interlocking foam tiles, rubber tiles, or rubber mats.
If you're installing over hardwood or tile, interlocking tiles or rubber mats may be an ideal choice. StayLock tiles, which straddle the line between foam and rubber properties, are also often suitable.
Depending on the product that you choose, your installation process might consist of simply dry laying a mat or installing interlocking tiles. Many of our
modular tiles
are easy to cut to fit a space using a straight edge and a sharp utility knife. You may also be able to purchase finished edge pieces to create a clean and finished island installation.
It's also important to consider whether the product you purchase requires a glue-down installation, or if it can be dry laid. Dry-laid installations are ideal for home gyms, since they allow you to remove the flooring in the future if needed.
Best Home Gym Flooring: Top Picks for 2023
At Greatmats, we carry many quality home gym flooring products. The right product for you will depend on where you plan to locate your gym within your home. We've highlighted some of the best options for you to consider.
Spare Room
Whether you're installing a floor over carpet or a flat surface in your spare room, there are plenty of products to choose from.
Over Carpet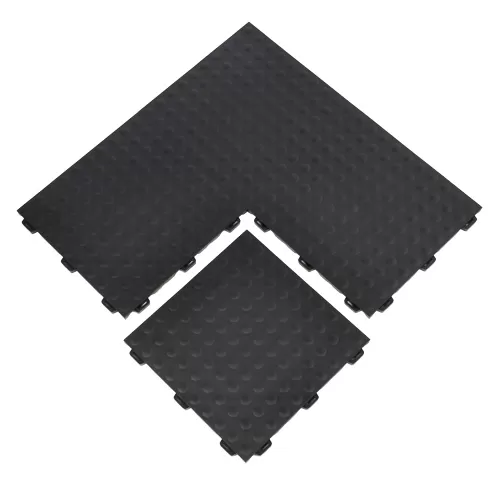 1. StayLock Tile Bump Top
tiles create a forgiving surface with some shock absorption, and their bases have many feet that sit right down in the carpeting surface. The bump top texture maximizes traction to prevent falls.
2. StayLock Tile Orange Peel
tiles offer that same base, which is ideal for carpet. The orange peel texture provides plenty of traction and aesthetic appeal.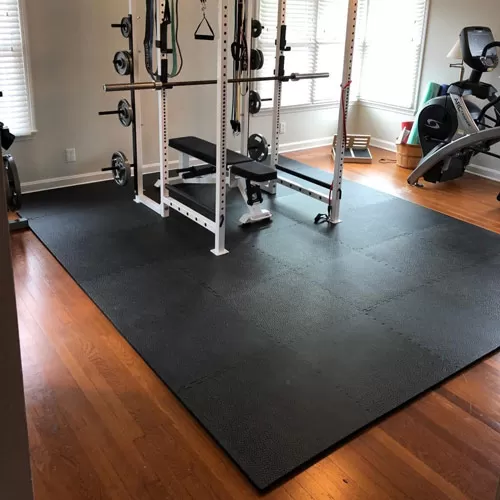 Over Flat Surface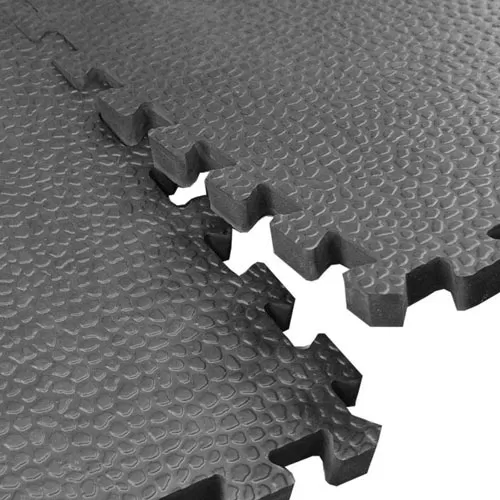 1.
Gym Floor Workout Fitness Tile Pebble
is a lightweight yet durable EVA foam that's strong enough to support exercise equipment and that interlocks for an easy installation.
2. The
Plyometric Rubber Roll
offers cushioned resistance to help absorb impacts, making a hard floor more forgiving.
3.
Interlocking Rubber Floor Tiles
are strong and highly durable, so they can withstand the weight of exercise equipment. Their interlocking design means you can install them without adhesive.
4.
Home Sport and Play Mats
are made of quality EVA foam, so they offer a soft cushion yet are also resistant to scuffs. The tiles are waterproof and include border strips for a clean island installation.
Garage Gyms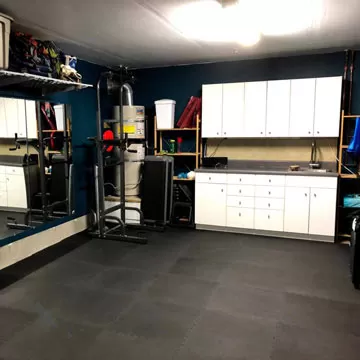 Many products can be easily installed over concrete, quickly transforming your garage into a gym.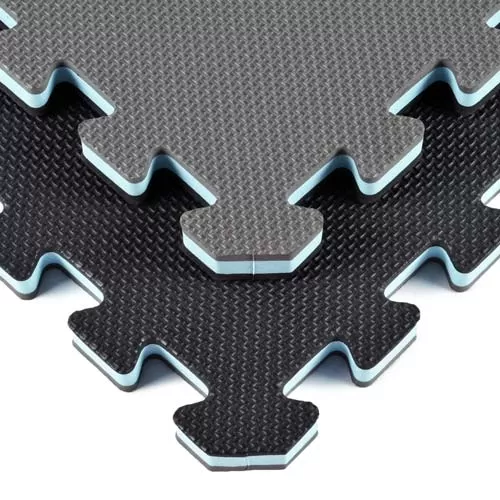 1. The
Home Sport and Play Mat
is an EVA foam mat with a scuff-resistant texture for use with athletic shoes. The mats easily interlock together and are available in bright colors.
2. The
Plyometric Rubber Roll
adds cushion to your floors, making an ideal surface for floor exercises. It can be taped or glued down.
3. The
Rubber Flooring Roll
measures ¼ inch thick, and it's strong enough to withstand the weight of exercise equipment.
4. With its ¾-inch thickness, the
Sundance Mat
offers excellent shock absorption and is suitable for areas where you'll be dropping heavy weights.
Basement Gyms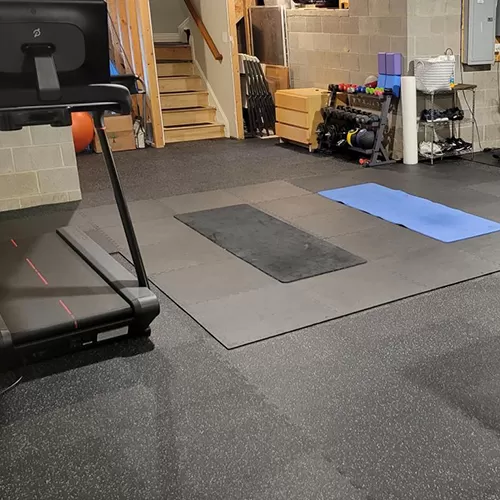 A basement is often an ideal place for a gym, and these flooring products are suitable for basement installations.
Over Concrete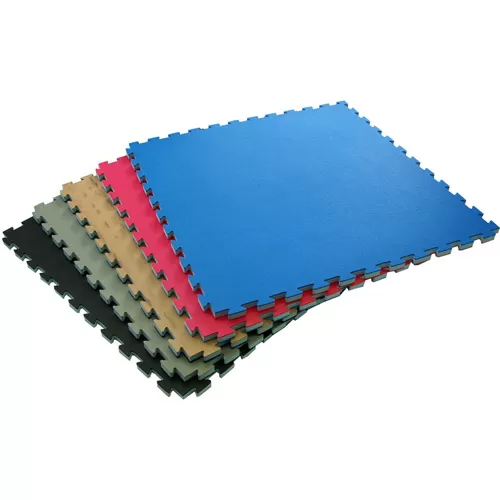 1.
Martial Arts Karate Premium Mats
feature a high-density EVA foam that offers great shock absorption, and the mats are waterproof in case leaks occur.
2.
Recycled Rubber Flooring Rolls
are economically priced and made of recycled rubber. They feature color flecks to add detail to your gym floor.
3.
Interlocking Rubber Floor Tiles
are durable and able to support exercise equipment. They can be installed without adhesive, so you can remove them in the future.
4. The
UltraTile Rubber Weight Floor Tile
offers valuable shock and noise absorption and is slip resistant when wet or dry, ideal for basements. These tiles are good for free weights.
In Possible Wet Areas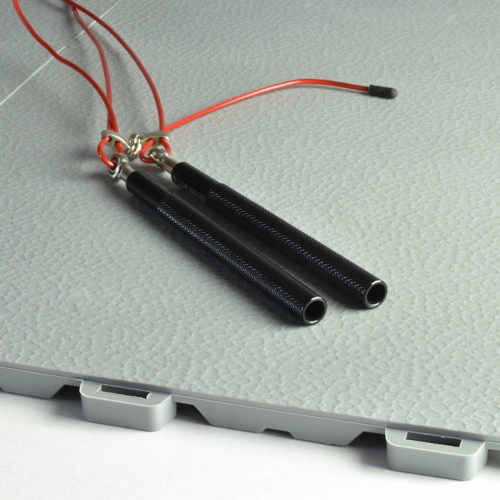 1.
StayLock Tile Bump Top
tiles offer the durability of rubber and the cushion of foam. They are waterproof and can be removed if your basement leaks.
2.
StayLock Tile Orange Peel
tiles are strong and durable, and they're also waterproof. You can remove them if needed after a leak.
Portable Workout Mats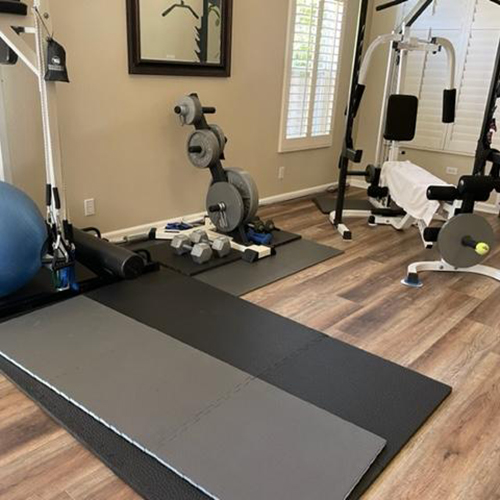 If you use a portable workout mat, you can take your workout just about anywhere within your home, or add extra cushion to your existing gym floor.
Folding Mats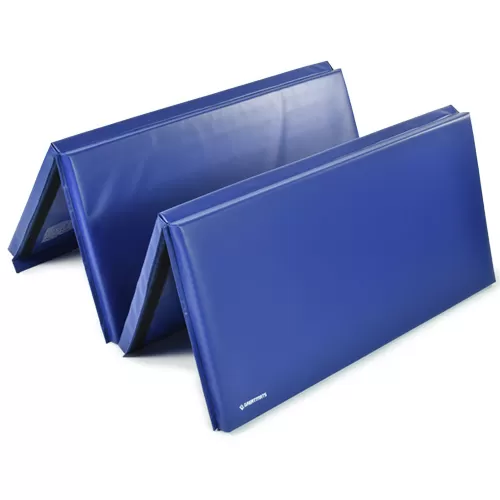 1.
Gym Mats 2 Inch
can add cushion and impact absorption to your existing floor. These commercial grade quality mats feature hook and loop connectors on all four sides, so you can connect them together to make lanes or broader floor surfaces.
2. The
Gymnastic Mat 5x10 feet
is a mat suitable for gymnastics, cheerleading, martial arts, and more. It folds up for convenient storage when not in use.
Puzzle Mats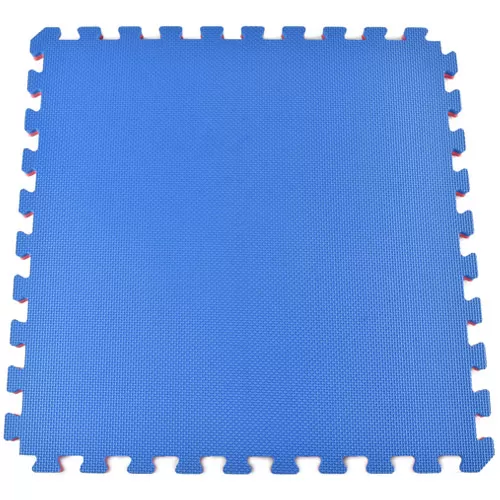 1. Made of durable EVA foam, the
Home Sport and Play Mats
feature a scuff-resistant texture and are available in bright colors. Their puzzle edges make it easy to install and remove the tiles.
2. The
Home Gym Flooring Tile Pebble
is made of a high-density EVA foam for durability, and it features a textured design to maximize traction.
3.
Home BJJ Mats
provide enough cushion for grappling, and their no skin-burn tatami texture can help to prevent painful rugburns. The mats are waterproof, so they're a versatile choice for a home gym, and they're sized to be easy to store.
Roll Out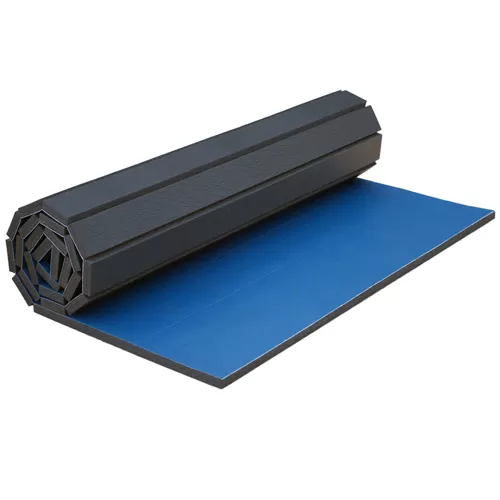 1.
Roll Out Wrestling MMA Mats
are made of foam for optimal shock absorption and cushion, and they roll up for convenient storage when not in use. These mats feature a smooth top vinyl surface and are ideal for martial arts and home exercise and aerobics workouts.