Interlocking Rubber Floor Tiles Color 8 mm x 2x2 Ft.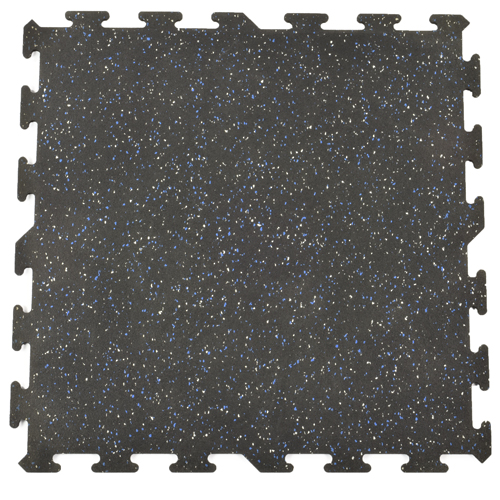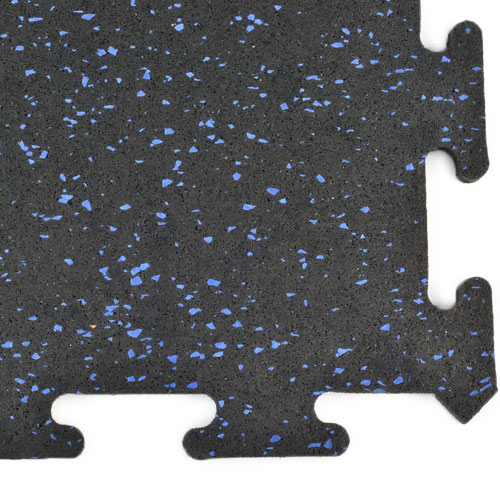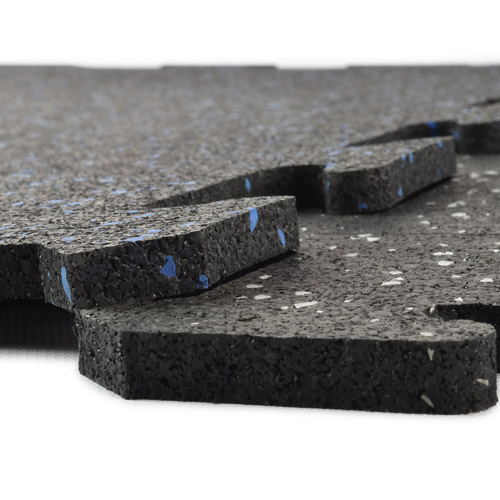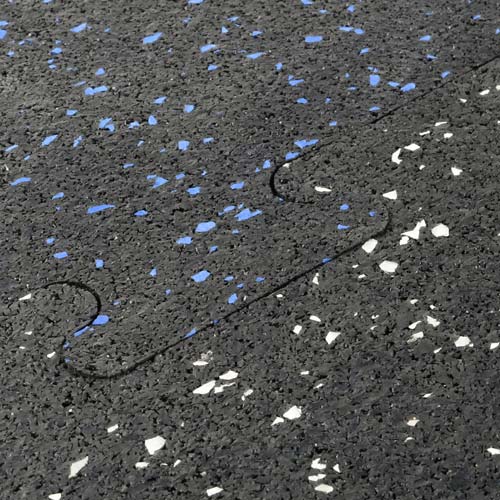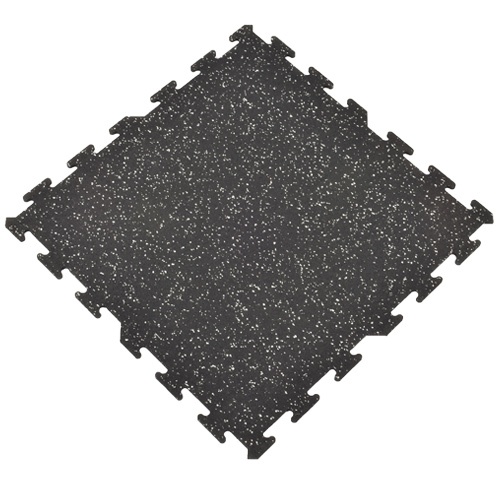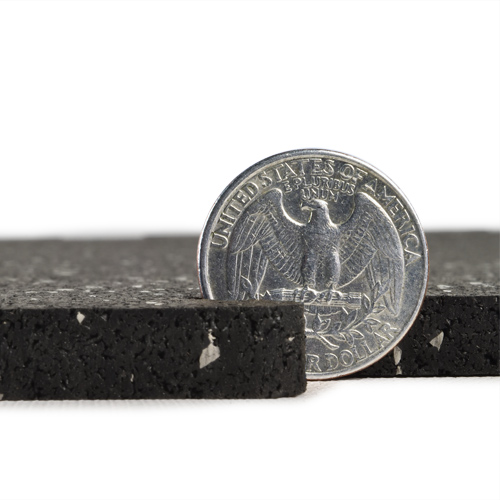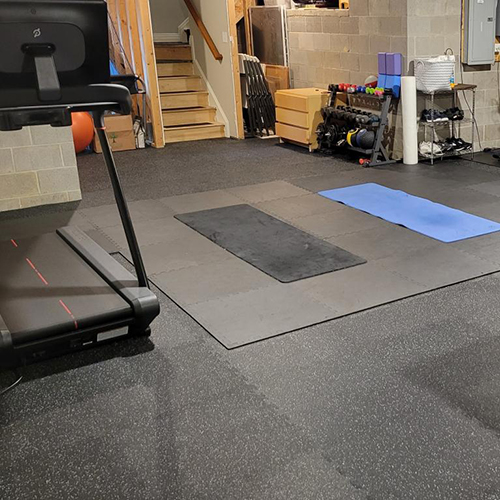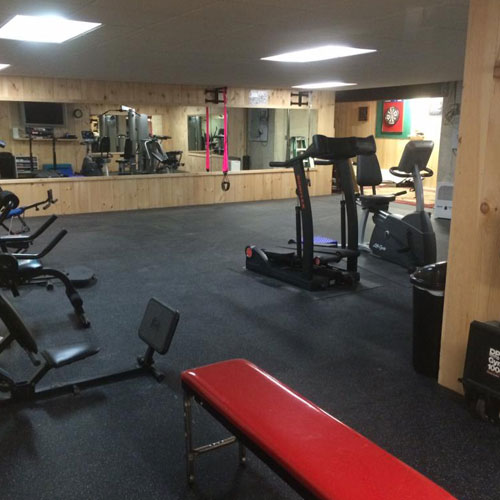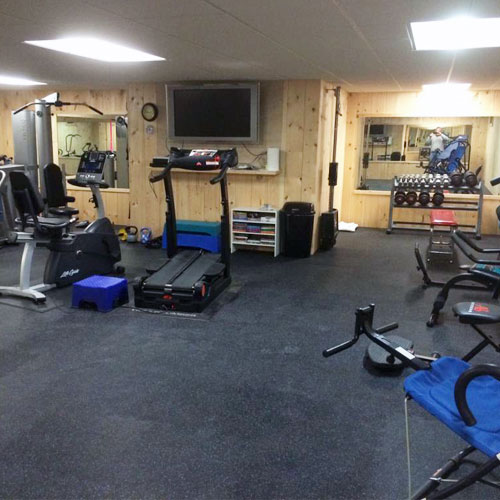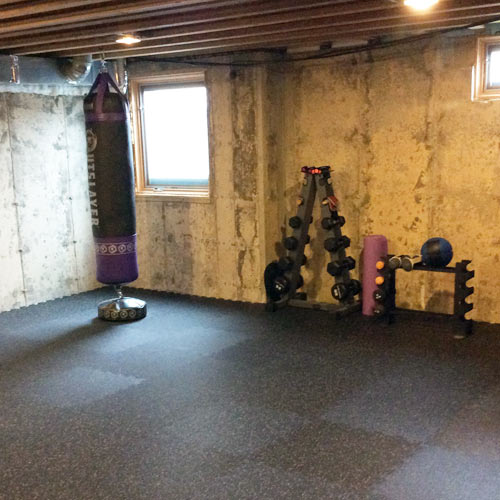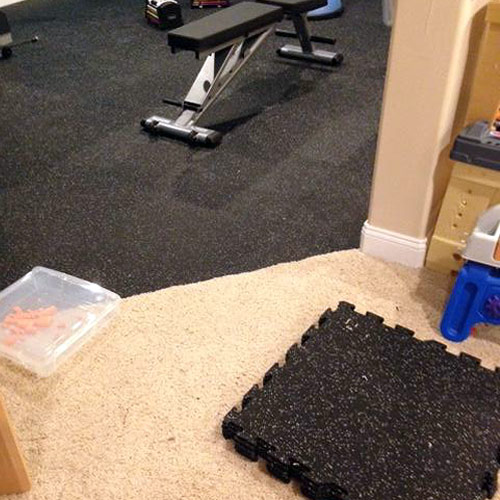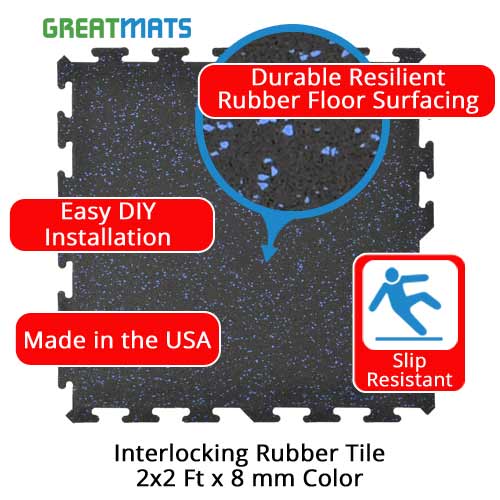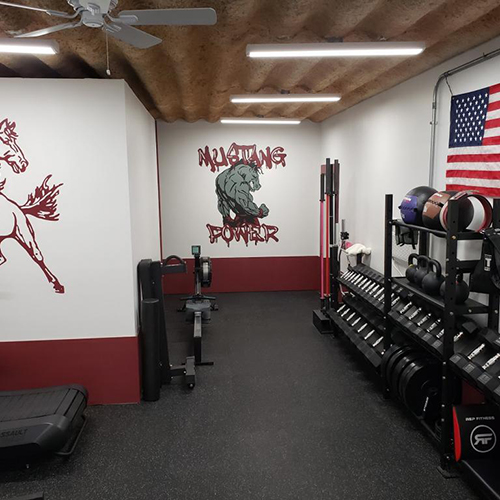 Interlocking tiles require no adhesive for easy DIY installation
Easy to install and keep clean
Great for home gym floors
$13.38
/tile
(You Save 19%)
Call for Better Price on Volume Orders
(47 Reviews )
Ships Out: Estimate 3-5 Working Days

10% Light Gray

10% Blue/Light Gray

10% Blue
How Much Flooring Do I Need?
VIDEOS
Interlocking Rubber Tiles Installation Video
Interlocking Rubber Tiles 2x2 - Features and Benefits
Interlocking Rubber Tiles 2x2 Ft Colors flooring install.
How To Cut Rubber Tiles Video
TOP FEATURES
Interlocking tiles require no adhesive for easy DIY installation
Easy to install and keep clean
Great for home gym floors
Made in the USA
8 mm thickness for durable long lasting surfacing
Designed to withstand the weight of exercise equipment
For larger areas use a 3x3 ft interlocking rubber tile
10% color rubber is 85% recycled content
Use Types
Home Gym Floors, Basement Floors, Garage Floors, Exercise Room Flooring, Weight Rooms, Commercial Gym Flooring
NOTE: This item is a custom order and is not returnable.
Gym interlocking rubber flooring tiles, Indoor interlocking rubber tiles and mats
Interlocking Rubber Floor Tiles Color 8 mm x 2x2 Ft. represent an extremely popular flooring option for home gyms and weight rooms. These types of floors also work well for weightlifting rooms in schools, small athletic studios or residential multipurpose spaces.
Interlocking Rubber Floor Tiles
Weight rooms require high quality gym flooring that will withstand the rigors of machines and free weights. We offer just the right product with the interlocking rubber floor tiles that measure almost 2-by-2 feet individually.

These easy-to-install DIY interlocking rubber floor tiles offer a smooth, non-slip surface with long-term durability. And they are made in the USA! They'll provide a great value over the long term, which explains why they're some of the best-selling rubber flooring products that interlock.

Here are the top five reasons to install our 2-by-2-foot interlocking rubber floor tiles.
1. Easy DIY Installation Interlocking Rubber Mats
Size and Weight:
The interlocking rubber floor mats weigh a little more than seven pounds each, making them easy to handle and install. The square rubber interlocking tiles are easier to install than other heavier rubber flooring options, including rolled rubber flooring.
The interlocking rubber floor tiles measure exactly 23-by-23 inches in size and offer 8 mm of thickness (roughly 0.31 inches). This size works well for easy installation of indoor athletic flooring. The 8 mm rubber is durable and provides a bit of forgiveness over a traditional hard floor. The nearly 2-by-2-foot tile size means one person can carry and place the individual tiles with relative ease.
Subfloor requirements:
Installation of these rubber tiles works best when performed over a flat floor. An uneven base floor could cause a raising of the seams between the tiles.
As long as the subflooring or current floor is hard and even, you can install our interlocking rubber floor tiles directly over the current flooring. There is no need waste time tearing out existing flooring.
Installing our interlocking rubber floor tiles over carpeting is possible, but the carpet needs to be flat with a low pile, similar to a commercial grade carpeting. In most cases there are installed over a concrete basement or garage floor to create comfortable, classy and functional exercise rooms.
Determining Number of Tiles Needed:
These interlocking rubber flooring tiles feature a tile coverage of 3.67 square feet after interlocking the tiles together. To help calculate the tile count for your room, try our interactive Floor Plan Designer or give one of our helpful representatives a call.
For larger commercial rubber gym floors where an interlocking rubber floor tile is needed, our larger Geneva line of heavy duty 3-by-3-foot rubber gym tiles (covering roughly 9 sq. ft. each) should be considered.
Laying rubber flooring tiles
Because the dry lay interlocking rubber gym flooring tiles fit together tightly, no adhesive is required to install this floor. Each tile contains the same interlocking pattern on all four sides - called a universal interlocking system. This allows rubber tiles to lock together, no matter which sides align, and allows the installer to work more quickly without having to line up each tile in a certain orientation.
Although installation of this type of floor requires no adhesive, it can still be used to permanently adhere the rubber mats. Double-sided carpet tape is a popular choice to adhere the tiles to the subfloor. When creating an island installation of the tiles, for example, adhering them to the subfloor works well to prevent movement of the island. However, if furniture or heavy exercise equipment will be placed on top of the island installation, there's no need for the adhesive, as the floor will be weighted down and won't slip.
These tiles are waterjet cut from a 4 ft wide rolled rubber material that is skived from a cylinder core, which means that some tiles may have a slight curve to the tiles. All of the rubber tiles in a job should be installed with the same side down. If the tiles do not want to lay perfectly flat during initial installation, try using indoor double sided carpet tape in order to hold the tiles flat. Often waiting some time to allow the tiles to relax flat will also work.
Cutting rubber tiles
For a wall-to-wall installation, a common utility knife with a fresh blade and a sturdy straight edge are all that are needed to cut the interlocking rubber mats at the edges or to go around obstacles to fit properly.
Many customers install this flooring with no help or with help from one person in a short amount of time - especially once they've gotten a feel for the installation process and have gotten into a rhythm.
2. No Slip, No Trip Interlocking Rubber Floor Tiles
The individual mats in our system feature tight-fitting seams. This feature of interlocking rubber floor tiles for home gym use works perfectly as those participating in the class or game won't trip over any exposed seams or uneven areas of the floor. And since the tight seams fit together perfectly, it eliminates concerns about debris collecting in the seams.
These tiles offer commercial grade construction quality, and they feature a non slip surface with just the right tackiness. Plus, the smooth slip-resistant rubber surface looks great.
3. Durable Rubber Interlocking Floors
Those seeking a durable residential flooring for home gyms or playrooms in basements and garages will appreciate our interlocking rubber tiles. Be sure to read the customer reviews at the bottom of the page to learn why customers love having interlocking rubber floor tiles for home gyms.
When installing these interlocking rubber tiles in a home gym with free weights, 8 mm rubber tiles work great to protect the subfloor should a small free weight be dropped on the floor. For free weights of more than 100 pounds, at least a one-half inch thick rubber floor is recommended for better shock absorption for commercial gyms.
These rubber tiles provide some resistance to various types of chemicals, including alcohol, ammonia, bleach, disinfectant and human sweat. Should any of these substances end up in the flooring, it's still recommended to clean it up as quickly as possible to prevent damage. These tiles are partially non-absorbent, which also helps them resist odors.
Additionally, the tough rubber flooring shouldn't experience any color change if it comes in contact with any of these chemicals or substances. Be sure, however, not to use them in automotive areas, as automotive fluids are known to break down rubber materials.
These interlocking rubber mats are made completely in the United States and carry a five-year limited warranty.
4. Versatility of Interlocking Rubber Floor Tiles
Should the interlocking rubber mats be installed in a building that is being leased, the building's owners may not allow permanent changes to the floor. Installing interlocking rubber tiles works well as a temporary floor.
If heavy equipment is being used in the building that could damage the original floor, the durable rubber floor tiles will also protect the original floor.
Rubber interlocking mats also help to dampen noise. The flooring will absorb noise from materials dropped onto it, as well as absorbing noise from workout machines. This helps prevent the nasty echo of hard open rooms.
Our interlocking rubber floor tiles fit well into multiple types of room designs with five different colors of tiles available for sale. The interlocking rubber mats offer the color combinations of 100 percent solid black, as well as 10 percent color fleck in blue/light gray, blue, and light gray. For the two-color combined options, each color in the combination makes up 5 percent of the blend. These interlocking tiles are not reversible. These tiles are also available in Black with 10% Tan/Brown color flec. Contact our customer service team with any questions.
Unlike other types of rubber flooring, including some rubber rolls and most horse stall mats, our shock absorbent rubber tiles produce almost no rubber odor. The interlocking rubber tiles are constructed with a urethane binding agent that limits the odor produced. This makes them an ideal choice in a residential spaces such as home basements or garages, which may have limited air flow.
5. Rubber Interlocking Floor Ease of Maintenance
Daily cleaning of the interlocking tiles works by simply sweeping or vacuuming it. Should a more extensive cleaning be needed, apply a neutral pH cleaner with hot water using a damp mop.
If the floor should become damaged, you can simply swap out the damaged tiles without having to replace the entire floor. Interlocking rubber floor tiles are easy to disassemble and move, should they need to relocate.
These rubber interlocking floor tiles consist of firm recycled rubber material, qualifying them for LEED points and reducing environmental concerns. While they do absorb shock and sound, they will yield more durability and less cushioning than foam mats or pvc gym flooring options.
We offer these interlocking rubber gym mats at the most competitive prices available. All colors and black ship from our warehouse in Wisconsin.
Homeowners and those looking to use this water-resistant flooring system for commercial applications should speak with customer service about quantity availability for large installations.
NOTE: Understand that rubber mats will expand and contract slightly, depending on whether the tiles receive exposure to varying temperatures, sunlight or humidity. Because of the changes in size of the tiles when exposed to sunlight, it's not recommended to install these tiles outdoors.
Whether installed in a large commercial or small residential space, these interlocking rubber mats are up to the challenge.
Maintenance
Always use Neutral Ph cleaner on rubber flooring. Damp mop with hot water, use two bucks to keep mop clean.
Shipping
Ships via freight delivery shrink wrapped on pallets.
This Product Ships Freight Only.
Please review our shipping disclaimer.
ANSWERS
Product Questions:
Q: Are there seams that will collect debris? And what about edging?
A: The seams are very tight as the tiles are cut using a waterjet cutting machine. The seams will not collect debris. You can use commonly found floor transition strips for the edges where needed.
Q: can it be used outdoors?
A: No this is for indoor use only, rubber will expand with sunlight and heat.
Q: Can I install this on top of existing carpet?
A: The 3/8 inch or 1/2 inch thickness is best over carpeting and only if the carpeting is fairly flat already, such as a commercial grade.
Q: Is there a strong odor with this product?
A: All rubber has some odor level, how strong of a smell is individual. This tile has a lower smell than some rubber tiles as these tiles are not made with sulfur, which tends to produce a higher smell. We suggest requesting a free sample.
Q: Is this tile made from recycled tire material?
Q: Is it possible to get edge pieces for this product?
A: Borders are not available for this product. To have a clean straight edge, cut off the tabs using a straight edge guide and a sharp utility knife.