UltraTile Rubber Weight Floor Black 1 Inch x 2x2 Ft. with Quad Blok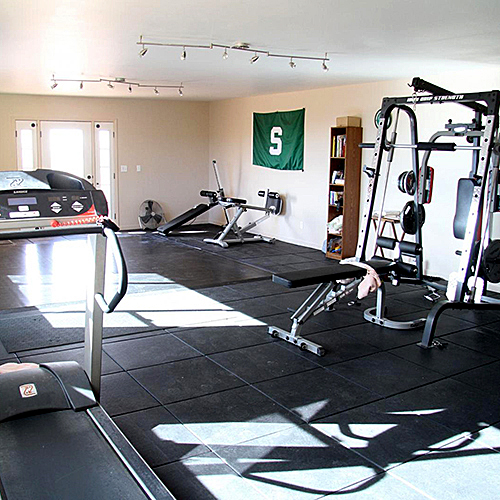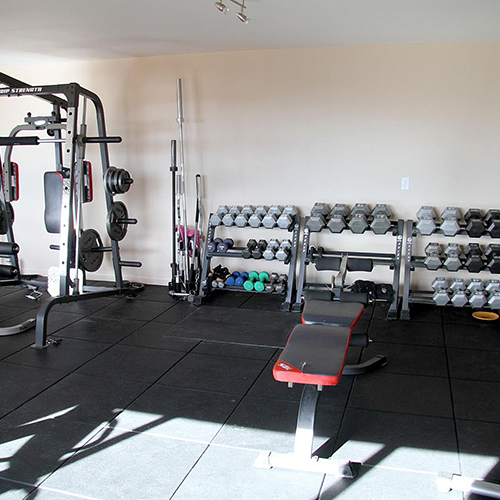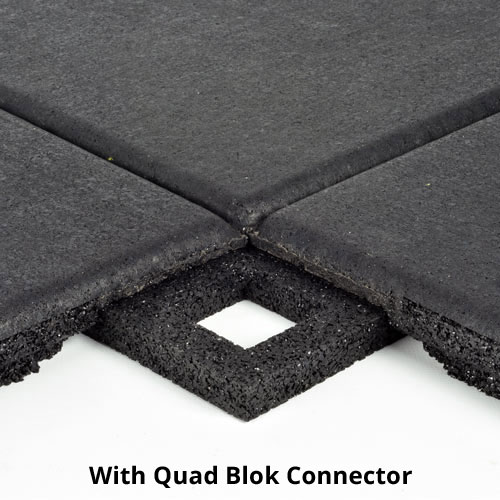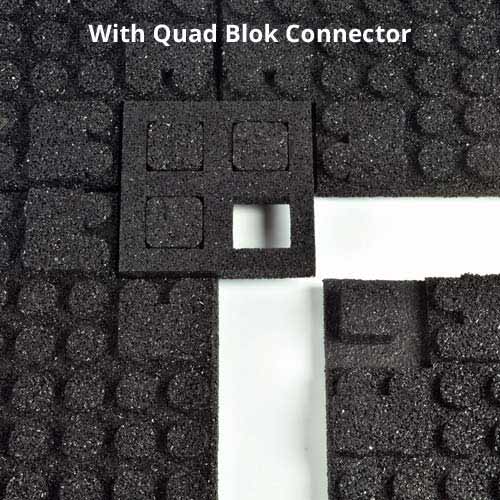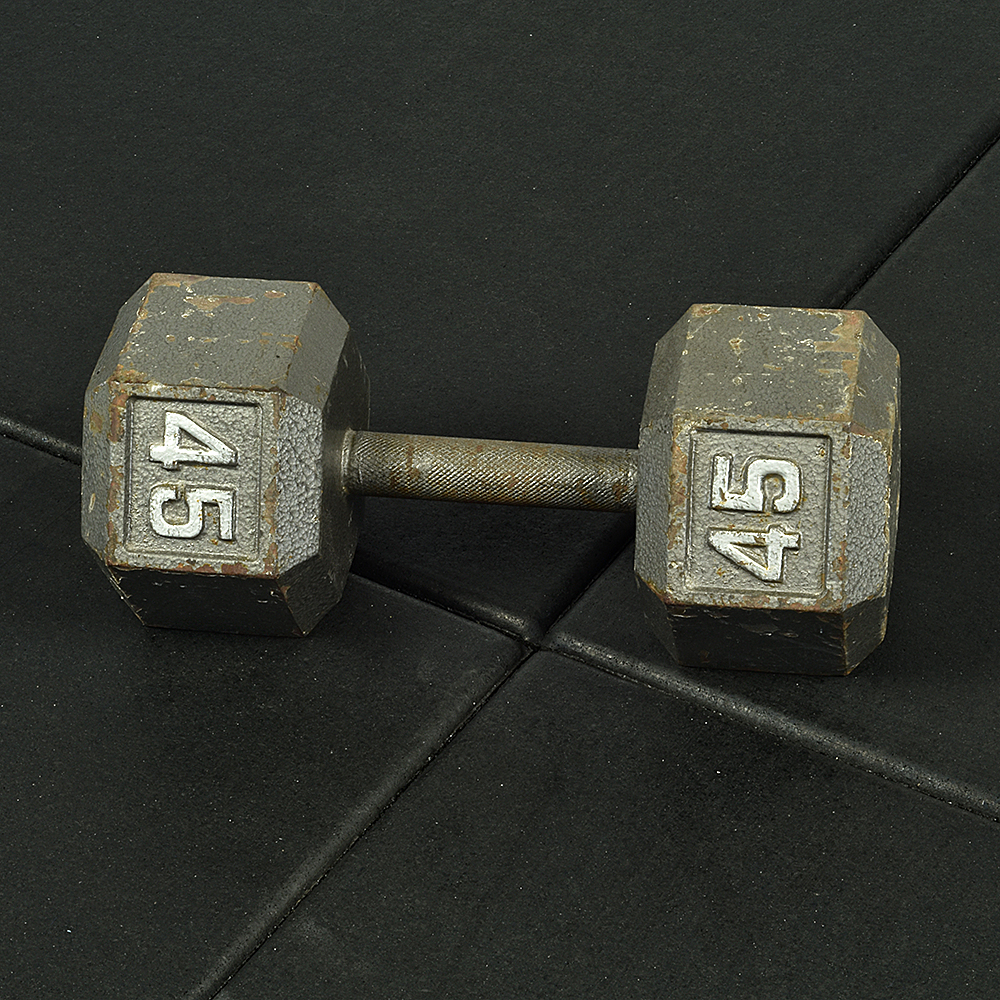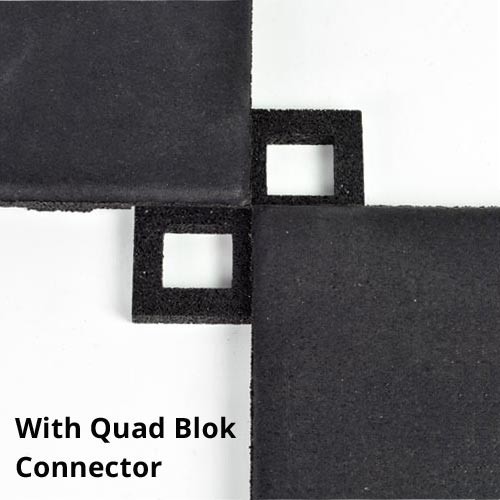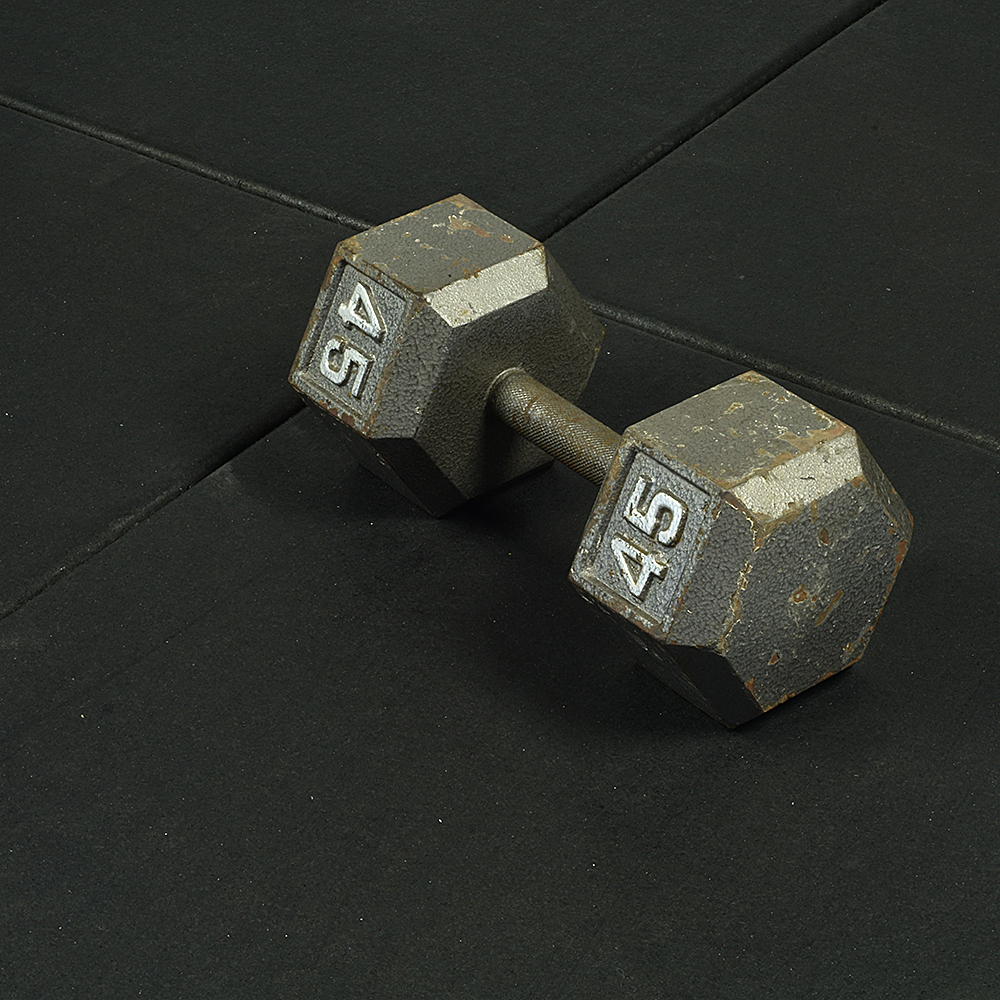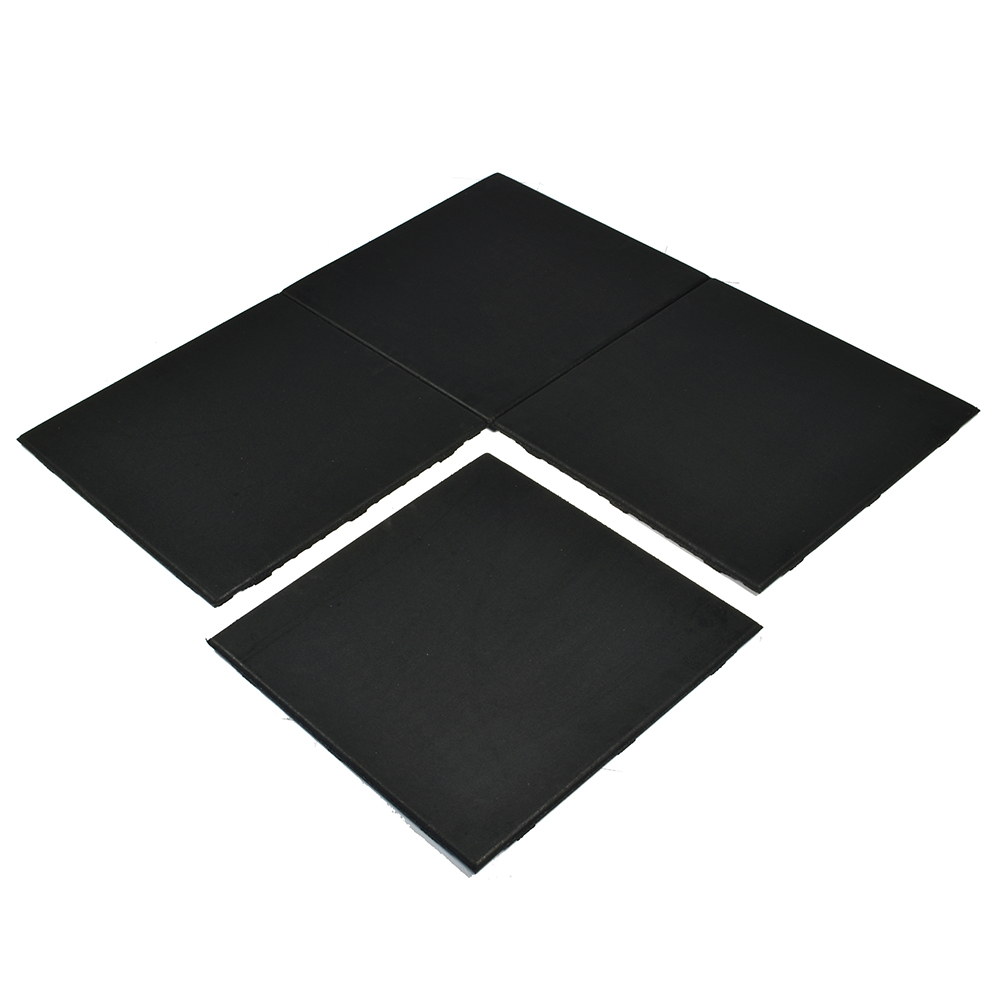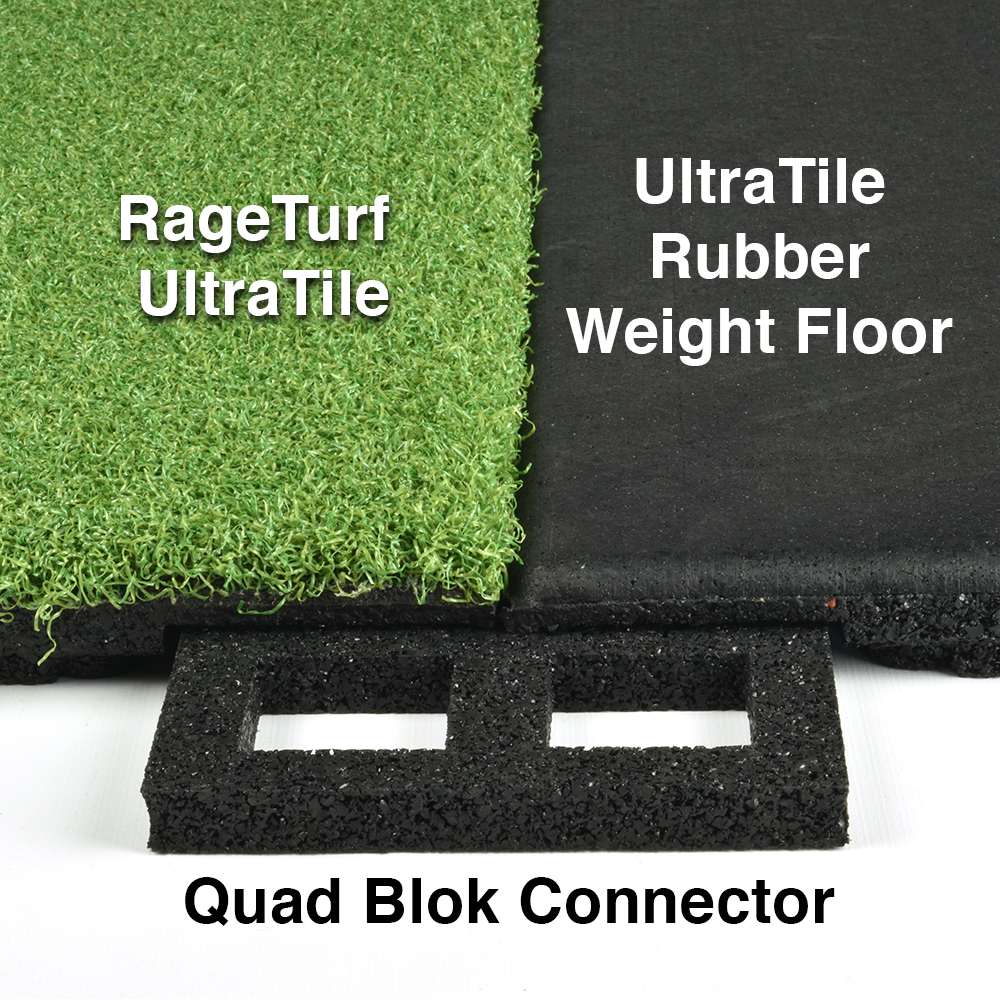 Absorbs noise and shock
Withstands repeated heavy impact
More than 50% force reduction
$33.50
/tile
(You Save 20%)
(2 Reviews )
Ships Out: Estimate 2-4 Weeks on Average

Black
VIDEOS
TOP FEATURES
Absorbs noise and shock
Withstands repeated heavy impact
More than 50% force reduction
Easy Quad Blok installation
15 year limited warranty
Slip resistant wet or dry
Molded vulcanized reclaimed rubber material
Made in the USA
Use Types
Weight Rooms, Olympic Style Lifting, Cardio, Free Weight Areas, Functional Training
UltraTile Rubber Weight Floor Black 1 Inch x 2x2 Ft. with Quad Blok
UltraTile Rubber Weight Floor Black 1 Inch x 2x2 Ft. with Quad Blok are very durable rubber tiles that are designed for the most demanding athletic and weight room floors. Choose this high end rubber Ultra Tile gym tile for home and professional weight rooms and gyms. UltraTile is also available in standard colors, team colors, and premium colors to let you choose the perfect look to match your school, health club or fitness center decor.
UltraTile Rubber Gym Flooring Tiles, 2x2 Feet

For the ultimate fitness tile that creates noise absorption, cushioning for athletes, and long-lasting performance, count on the 1 inch thick UltraTile Rubber Gym Flooring Tiles. These black tiles work for both indoor and outdoor installation needs, creating the ideal workout space. UltraTile Rubber Weight Floor Black 1 Inch x 2x2 Ft. with Quad Blok can also interlock with RageTurf UltraTile 1 Inch x 24x24 Inches, to create a dual workout area.

The UltraTile uses pegs on the underside of the rubber that add to its shock absorption properties. The pegs are also a key component in securing the installation through the Quad Blok install system.

Installers can use Quad Blok to create a permanent style of tile, using adhesive at the time of installation, or they can use Quad Blok alone without adhesive.

Each tile includes one Quad Blok Connector for Tiles 1 inch x 4.5x4.5 inch.
Installation Options for Quad Blok Rubber Tiles
When installing these tiles indoors, installers can go over the top of concrete, asphalt, plywood, or vinyl with or without adhesive. For an outdoor install, only a glue-down layout over concrete or asphalt is possible.
Installers will need either a heavy duty utility knife or a saber saw to cut through the 1 inch thickness of these rubber gym flooring tiles. The manufacturer recommends placing the cut edges of the tiles against a wall or other stationary object to hide any raggedness on the edge from the cut.
For the glue-down installation, the manufacturer recommends using E-Grip III adhesive specifically. Add the glue to the Quad Blok piece and place the rubber gym flooring tiles over the top.
After completing the installation using adhesive, wait at least 24 hours before allowing people to walk on the tiles. Wait at least 72 hours for placing any heavy equipment over the top of the rubber floors.
As a final aspect of the installation, customers can choose to add an ADA ramp around the perimeter, allowing the use of wheelchairs and reducing the trip hazard of the 1 inch lip of the tiles.
Potential Applications for Our Rubber Gym Flooring Tiles
Some of the most common customers for our rubber UltraTile product include:
Fitness centers

School gymnasiums

Student recreation centers

Childcare facilities

Outdoor and indoor playgrounds

Weightlifting centers using free weights

Home gym and workout areas
These tiles work well to provide slip resistance in areas where children may be running, such as a playground. They also work nicely in areas where athletes need maximum footing and grip to provide the support and resistance for weightlifting and other strength training exercises.
In addition to the added safety and performance levels this rubber flooring delivers, it aids in force reduction. The manufacturer measures the absorption of impact energy for the floor at 50.2%. The manufacturer also measures the useful return of the impact energy at 47.9%.
In an environment where athletes will be dropping weights and making noise with weight machines, the rubber will absorb some of the noise, creating a more enjoyable environment for everyone using the space.
Branding Options Available
Some fitness centers or schools may want to go beyond the basic black color available in these tiles. They may prefer some sort of branding opportunity to make the center more appealing and inviting to customers.
At the time of ordering, customers can select among custom color and logo options. These unique design choices give a customer the ability to personalize the flooring layout.
With a type of flooring designed to last 15 years or more, having a custom logo added to the floor is a nice finishing touch. The patented Ultra high density wear layer on the surface of the tiles helps to ensure long-lasting performance.
Extra Heavy Duty Weight Room Tiles Specifications
Width: 2 feet

Length: 2 feet

Thickness: 1 inch

Coverage per tile: 4 square feet

Weight per tile: 16 pounds

Pieces per carton: 100

Coverage per carton: 400 square feet

Color: Black

Texture: Smooth with a slip resistant wear layer
Maintenance and Care
Maintaining these rubber gym flooring tiles is an easy process, which is important for a busy fitness center where there is little time to do routine cleaning.
For a daily cleaning process, use a broom to sweep dry debris or use a vacuum over the top. The virgin rubber tiles do not have a pre-coated factory finish applied to them at the manufacturer, so regular maintenance and cleaning is important.
The manufacturer recommends using E-Cleaner solution to scrub or mop the floor on a regular basis. When going over a large space, try using an auto scrubber or a buffer scrubber to clean the rubber.
Afterward, rinse or mop the entire surface with clean water. Pick up any excess rinsing water with a wet/dry vacuum. Then allow it to air dry naturally.
These tiles deliver the ultimate value for a commercial fitness center or a home gym, offering a 15-year limited manufacturer warranty. With proper cleaning and maintenance techniques deployed, the best case scenario will be for an even longer lifespan.
This product is manufactured from 92% post-consumer recycled rubber material.
Maintenance
Always use a neutral Ph cleaner on rubber flooring material.
Shipping
Ships via freight delivery, shrink wrapped on pallets.
This Product Ships Freight Only.
Please review our shipping disclaimer.
ACCESSORIES
Accessories for ULTRATILE RUBBER WEIGHT FLOOR BLACK 1 INCH X 2X2 FT. WITH QUAD BLOK
ANSWERS
Product Questions:
Q: Hi, I think I purchased rubber floor tiles from you for my gym floor back in 2016. I want to order more but, obviously, I want them to match. Can you check your records to see what I ordered? My credit card statement shows a purchase on 08-12-2016 and my billing / shipping zip code or 02493. Please let me know if you need any additional information from me. Thank you.
A: We will be happy to help you with this. Please reach out to us at 877-822-6622 to speak to a member of our team.
Q: Hello, I am opening up a training center next to my gym. I have a question about matts for 1000 sq ft for functional training? Availability and pricing? thanks
A: Please call 877-822-6622 to speak to a member of our sales team to discuss the options available.
SPECIFICATIONS
| | |
| --- | --- |
| SKU# | UltraTile-Blk |
| In Stock | Yes |
| Product Type | Tile |
| Material Type | Rubber |
| Product Edging | Straight |
| Thickness | 1 inch |
| Width | 2.00 feet |
| Length | 2.00 feet |
| SF per Item | 4.00 |
| Weight | 16.00 lbs |
| Packaging | Shrink Wrapped on Pallets |
| Number of Pieces per Package Type | 100 |
| Non Absorbent | Yes |
| Special Adhesives | No |
| Interlock Loss | 0.00 feet |
| Material Hardness | Shore A 60 |
| Interlocking Connections | No |
| Made In | USA |
| Surface Finish | Smooth flat |
| Surface Design | Solid color or color fleck |
| Installation Method | Quad Blok, adhesive |
| UV Treated | No |
| Reversible | No |
| Border Strips Included | No |
| Leed Points | Yes |
| Manufacturer Warranty | 15 year limited |
HOW TO'S
RELATED PRODUCTS
RELATED BLOGS
Customer Reviews
4.5 out of 5
2 star ratings