Is 20 mm Rubber Gym Flooring Thick Enough For Dropping Weights?
By Paige Cerulli Created: March, 2022 - Modified: May, 2022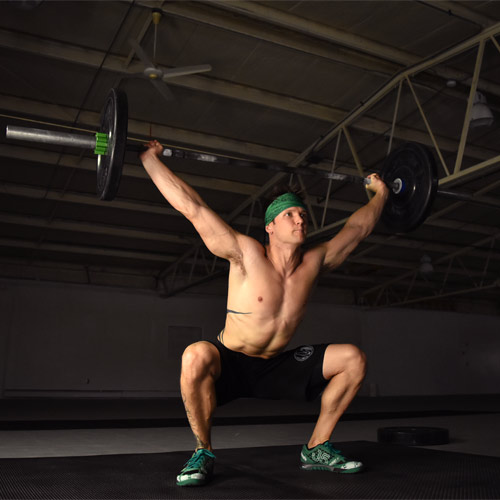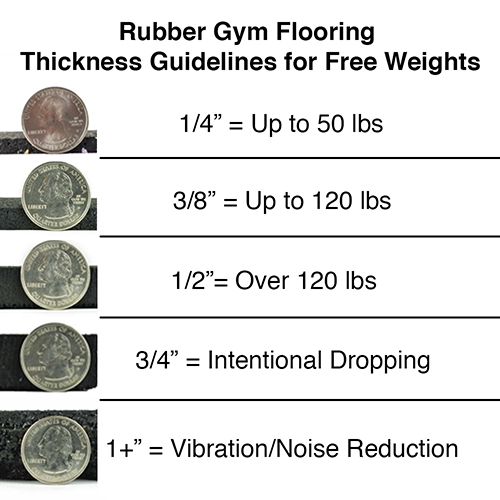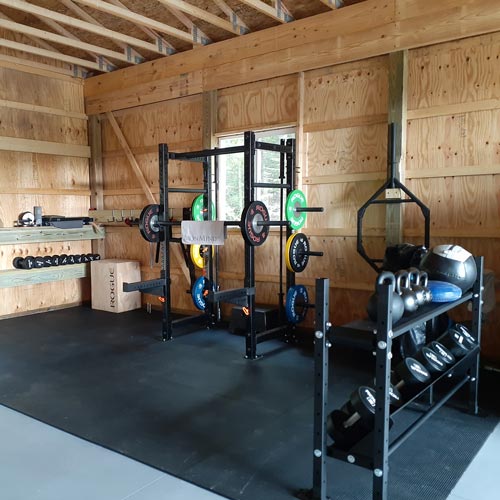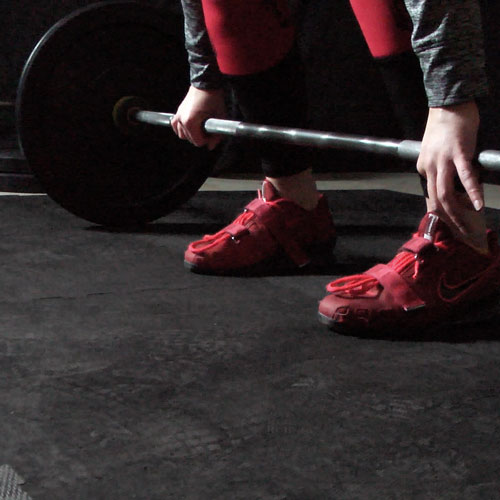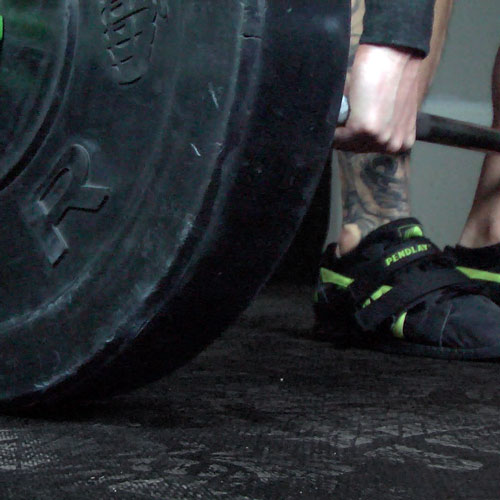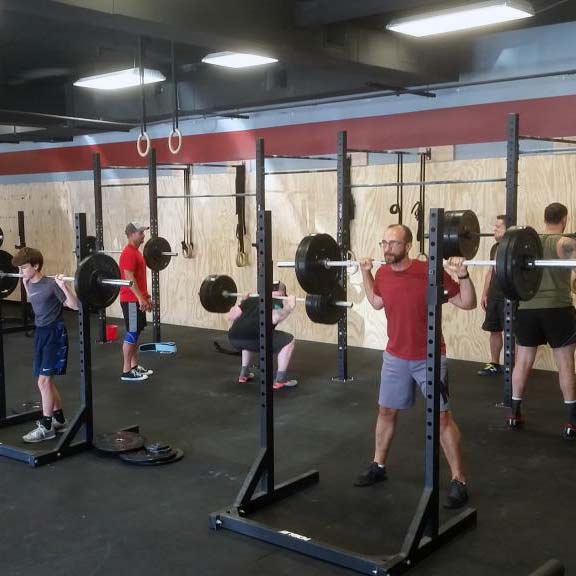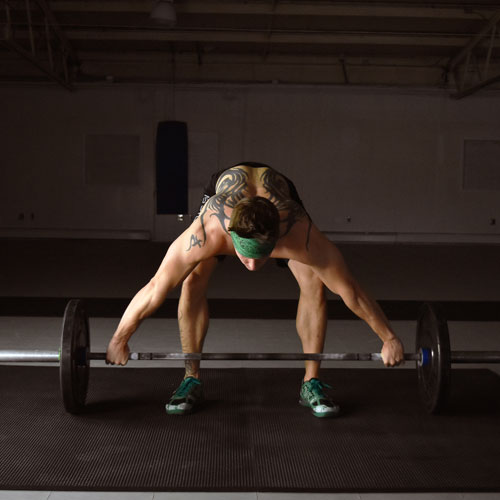 Weightlifting is a fabulous activity that's great for your body, but not so great for your floors. If you'll be intentionally dropping weights during your workout, it's important to choose a flooring surface that adequately protects your subfloor.
Why Your Weightlifting Floor Matters
When choosing floors for your home or gym weightlifting room, it's important to pick a surface that absorbs the impact of the weights while protecting your subfloor. If you choose a floor that's too thin or that doesn't give your subfloor the protection it needs, you could crack and chip your subfloor.
The solution is often a rubber flooring product that's at least 20mm, or approximately ¾ inch, thick. This type of flooring offers the absorption and protection you need when lifting and dropping heavy weights.
You can absolutely use 20mm thick rubber products for dropped weights.
That ¾-inch rubber is the minimum recommended thickness for intentionally dropping weights. It can accommodate many barbells, dumbbells, kettle bells, and slamming medicine balls.
Keep in mind that if you're lifting substantially heavier weights, you may need to choose a thicker rubber product for extra vibration and noise reduction.
When shopping for a rubber floor, keep in mind that most ¾-inch rubber products are flat-bottomed. That flat-bottomed design lacks significant anti-vibration properties, so the mat won't do much in terms of reducing the noise transfer during the slam of a weight hitting the floor.
The Shoklok flooring below is an exception; its waffle bottom helps to reduce noise and vibration.
As you explore the different 20mm rubber gym flooring products available, consider which qualities are most important for your home or professional gym. Installation, cleaning, durability, and lifespan are all important considerations.
20mm Rubber Gym Flooring Products
At Greatmats, we carry several rubber gym flooring products that fall in that 20mm realm, all of which are suitable for use with dropped weights.
Sundance Mats 2x2 Ft x ¾ Inch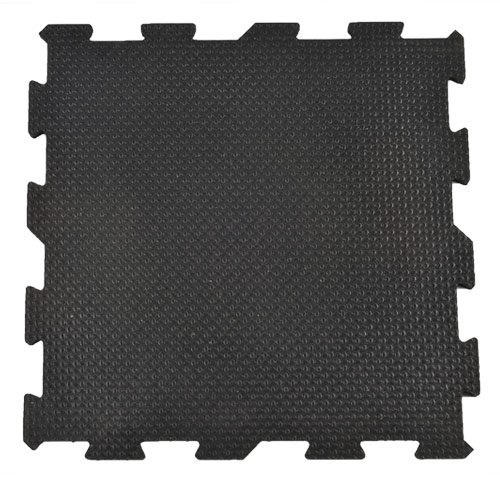 The interlocking Sundance Mats 2x2 Ft x ¾ Inch are economical rubber tiles. Their 2x2 foot size means they easily cover larger areas, making them ideal for bigger rooms.
The tiles feature a surface top texture that's durable and that offers excellent traction for weightlifting. The mats are strong and can easily withstand the impact of dropped weights - in fact, they're strong enough to support horses.
With an interlocking puzzle-style edge, the tiles fit together securely, so they won't separate while in use. You can install them on top of concrete or any hard surface, and can also cut them to fit a space as needed.
4x6 Ft x ¾ Inch Gym Rubber Floor Mats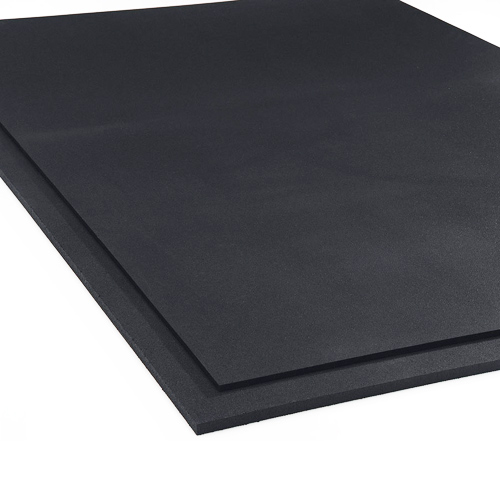 The 4x6 Ft x ¾ Inch Gym Rubber Floor Mats offer excellent protection to your subfloor. They can easily withstand the impact of dropped weights and can be loose laid on a smooth, flat surface for an easy installation.
The mats feature one side with a flat surface, while there's an anti-skid wire mesh texture on the opposite side. That texture can contribute to athlete safety and help to prevent slips and falls.
Since these mats are generously sized, they can quickly cover larger areas, including a weightlifting area or entire room floor. There's no adhesive needed for the installation, and you can move and store these mats as needed.
ShokLok 4x6 Ft ¾ Inch Interlocking Tile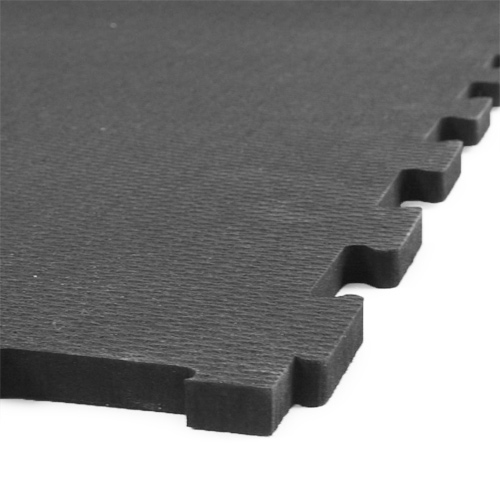 The ShokLok 4x6 Ft ¾ Inch Interlocking Tile features a waffle bottom design that helps to reduce both vibration and noise, making the environment more enjoyable while you or others are lifting weights. The tiles are made of commercial grade recycled rubber, so they're not only highly durable, but are also eco-friendly.
The tiles won't harbor or promote bacteria growth, and since they're non-absorbent, they're easy to clean and help contribute to a healthy environment. They've been treated with a mitigating agent that helps to kill off odors.
The top diamond pattern offers valuable texture and traction, and the tiles are thick enough so that they won't curl. The interlocking edges are water jet cut, allowing for a tight installation that won't separate during use.
Mega Lock Rubber Floor Tile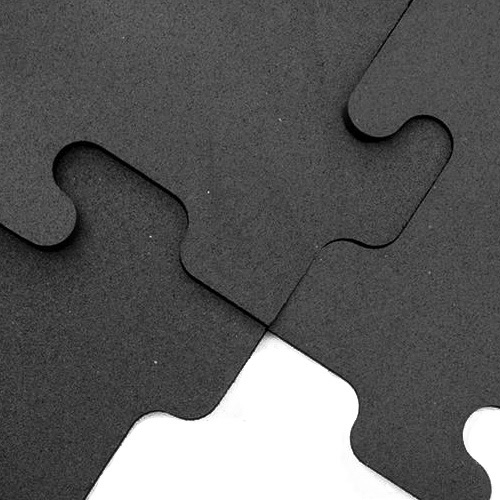 The Mega Lock Rubber Floor Tile is made of recycled rubber, so it's an environmentally friendly option for your home or commercial gym. The tiles are slip resistant and offer excellent traction to help keep weight lifters safe.
These tiles help to absorb both sound and shock, and have a low odor. Plus, they're made in the USA.
The interlocking tab design fits together securely, so the tiles won't shift around. Border pieces also feature interlocks, so you can create clean, finished edges.
Sundance Mat 4x6 Ft x ¾ Inch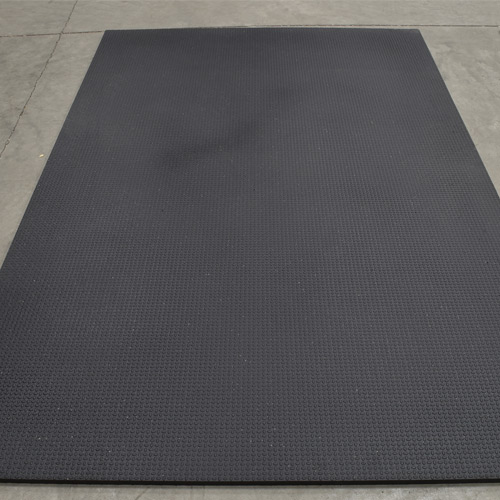 The Sundance Mat 4x6 Ft x ¾ Inch is a highly durable, strong mat that's ideal not only for weight room floors, but also for horse stalls. The mat features a non-slip pebble top that's comfortable underfoot, but that also helps to keep athletes safe.
The mat offers valuable anti-fatigue benefits and absorbs shock. It even offers some insulation against cold, which is ideal for basements in the winter.
Made entirely from recycled rubber, this mat is an eco-friendly choice. It can be dry laid on top of existing flooring, and because it's so heavy, it stays in place well.