Play Mats Foam Puzzle Tile 4 Pack 1/2 Inch x 2x2 Ft.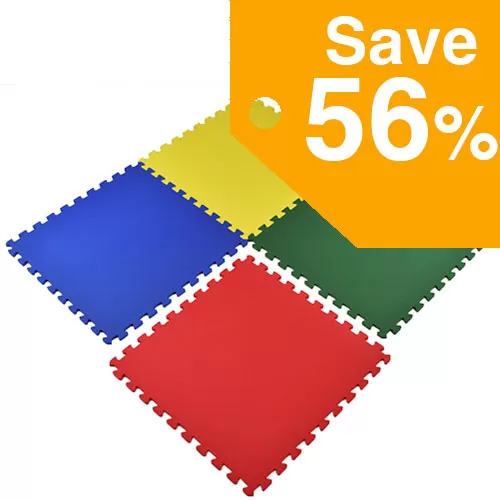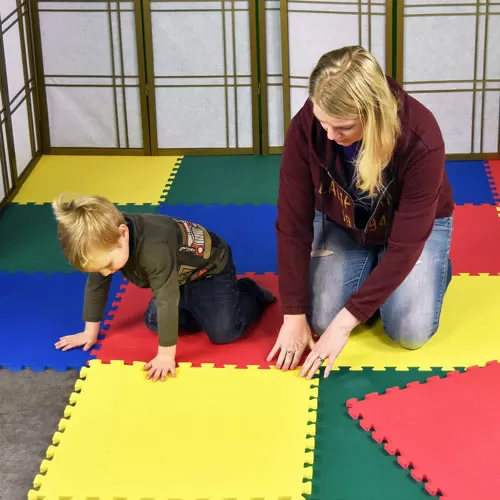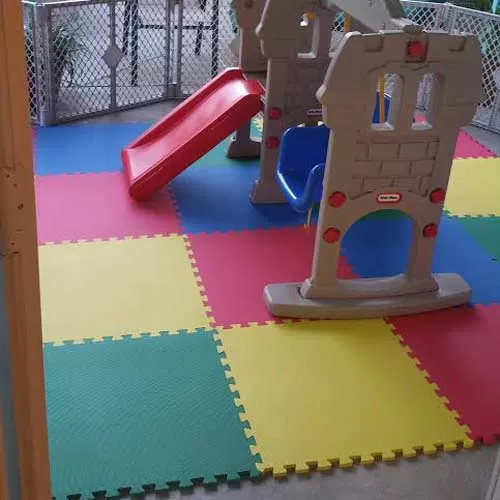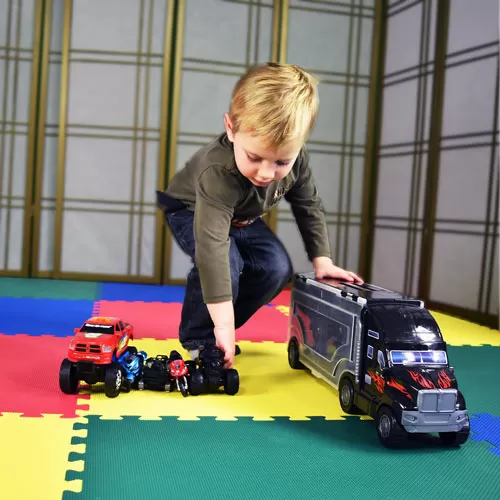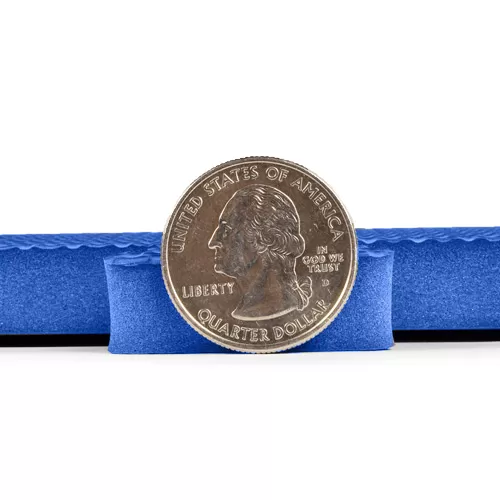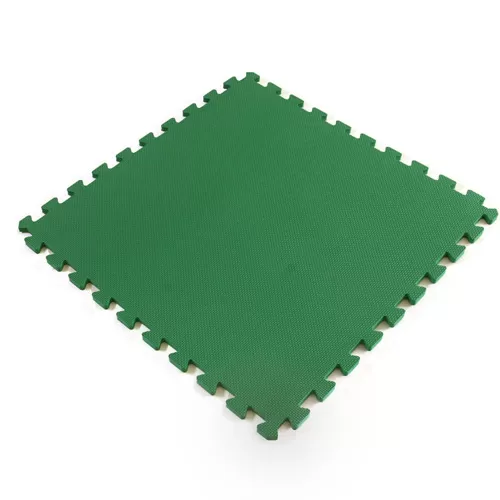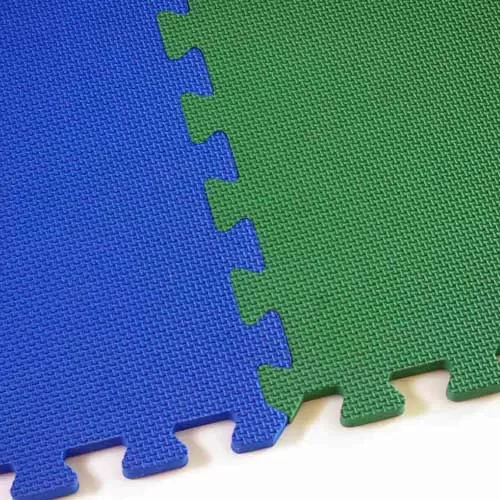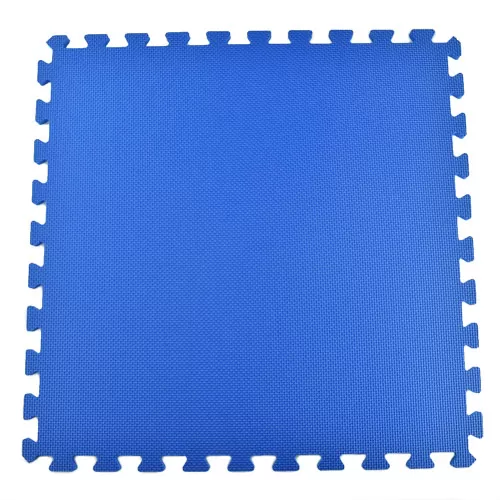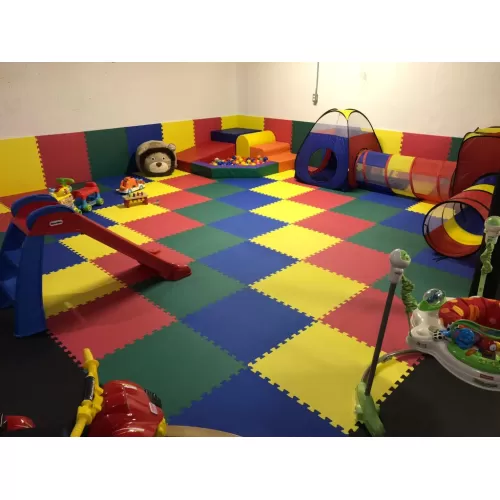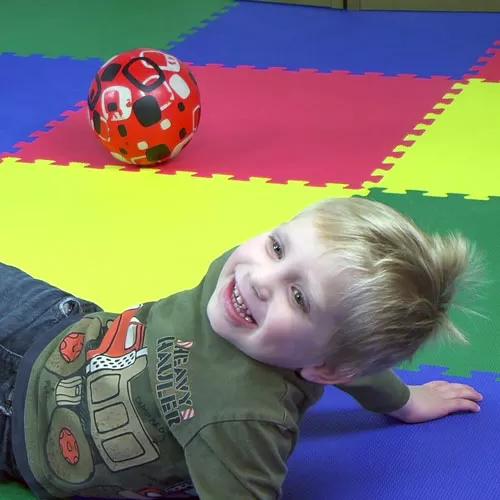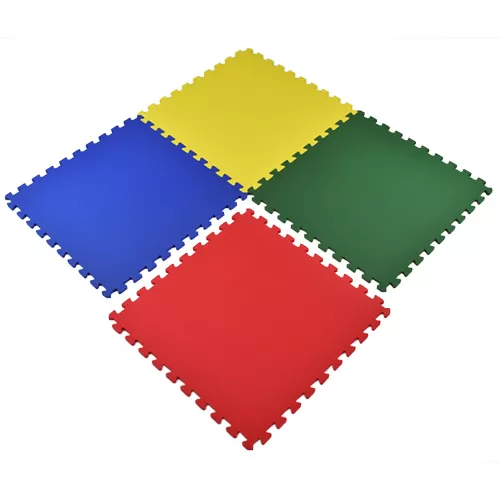 4 different color mats per pack
Waterproof and easy to clean with soap and water
Scuff resistant top texture
$16.98
/pack
(You Save 56%)
(217 Reviews )
Free Shipping
- lower 48 with $85 Purchase
Ships Out: Estimate 1-3 Working Days
VIDEOS
Play Mat 4 Pack Hand Video
Play Mat Demonstration Video
Foam Play Mats 4 Pack - Features and Benefits
TOP FEATURES
4 different color mats per pack
Waterproof and easy to clean with soap and water
Scuff resistant top texture
Latex and lead free
1/2 inch of EVA foam cushioning
Install over concrete, wood, tile and other hard surfaces
Lightweight and portable
Puzzle style interlocks make for easy adhesive-free DIY installation
Use Types
Kid's Playrooms, Basement Floors, Playroom Flooring, Preschool Floor Tiles
Our 1/2 inch thick interlocked Play Mats Foam Puzzle Tile 4 Pack 1/2 Inch x 2x2 Ft. feature four puzzle matting pieces in a single pack. Use these foam play mats in the home, at a daycare, or at school. Easily combine them by simply popping them together as if assembling puzzles. Each playmat pack comes with one puzzle tile of each of the following primary colors: blue, yellow, red, and green.
These economical foam play mats are waterproof and easy to clean. Use under art projects anywhere in the house to protect subfloors from spilled paint. This is a great colorful and cushioned subflooring that youth will love at a desirable price.


Tough Kids Foam Mats

They are made of high density EVA that is scuff resistant and will last for years. Safe and soft, these are perfect for youngsters, exercise, or both. Children can have fun and help lay out the room by creating patterns using the four different colorings. Lay directly on a hard subfloor for a durable surface that will soften any space.

Use this in toddler recreation rooms, allowing youngsters to skip hop and jump freely. Each pack offers four vibrant colors to mix and match to create a unique, fun design for safe children's playing surfaces. These are 12 mm thick (or 0.47 inches) and feature bright colors. The puzzled edges are cut with precision and feature a very tight fitting interlock design when assembled without the need for adhesives.

This foam play mat is 2x2 feet in size and weighs 1 pound. With a universal interlock, these can be laid down in any direction, making installations as simple as can be. Just pop them together, and they are ready to go.
Interlocking Foam Squares
With such an easy installation process, simply change the pattern or layout anytime without it taking a great deal of effort. Easily pick them up to swap with others or completely start fresh. Completing the layout goes fast and does not require special tools.
A child will love to be involved in the installation and redesign process, as it is just like putting together a mega-sized puzzle. The colorful foam play mats can be cut to fit for a tight to the wall finish.
These foam play mats are a wonderful solution for creating a soft room for infants, toddlers, and small children. Create brightly colored patterns to generate a lively spot for a child to have fun. And have peace of mind in knowing that they are protected against slips, trips, and falls with this soft surface. Plus, the thatch surface texture helps with creating non-slip surfaces.
As with all kids foam floor tiles, indents will occur if heavy objects are left on them for a long time. In most cases they will return to their original form after the hefty objects are removed. It will take approximately the same amount of time for the indents to disappear as it took for them to form. In some cases, indents could be permanent.
Foam Play Mat Tiles Cleaning Tips
Use cleaners on them regularly. Start with a vacuum to remove dry debris, after testing to make sure that the vacuum does not damage them. Have the vacuum cleaner set at its highest setting or use the hose and nozzle alone. Don't use a power head. Consider washing them with a damp mop as needed using basic household soap and hot water. Wipe clean spots with a scrubby and a sponge.
Please note these additional tips:
High heels can puncture them.

For aerobics activities, do not place them on top of carpeting, as foam tiles can shift.

When used outside, they may expand and curl if exposed to direct sunlight in warm climates for extended periods.

Color and shade could vary somewhat within the same order, but this is standard with these designs and materials.

Allow them to acclimate to the room's climate and temperature before installation.

The foam playmat can expand with changes in heat and humidity, so allow a 1/4 inch expansion gap against any walls.

This is not rated for commercial use in high traffic areas.

Steam cleaning could heat them up and cause them to expand.

These are not machine washable.
Contact customer service for questions regarding these. With some types of orders, we even offer free shipping.
FAQ Foam Play Mats Q&A
How do you deep clean foam play mats?
In cases where extensive cleaning is needed, the foam play mats can be easily pulled up and taken outside for cleanings. Wait for them to dry before laying them back down to prevent moisture from becoming trapped underneath or between them. The closed cell foam playmats themselves will not absorb moisture. Walk behind automatic scrubbing machines may be a good choice in large commercial areas.
Is a jumbo foam play mat safe?
Our floor play mats consist of EVA, or ethylene vinyl acetate. This material will absorb impacts, which protects little ones if they fall down. It also has thermal insulation properties, making it nice to use over a cold cement, protecting those crawling or laying on it. It appears in multiple types of products that we use every day, including shoe insoles, insulation, underlayment for carpeting, and underfoot matting for exercising, workstations, and kitchens. EVA foam flooring tiles represent a safer material, because they are BPA free and do not use phthalates.
How do you choose a foam play mat set?
Look for a material that gives floor mats for kids some durability. Youngsters will put a lot of pressure on anything that is installed, so it needs to have quite a bit of toughness to it. Our floor play mat features a 1-year limited manufacturer warranty and a double sided design, so an individual kids play mat can be flipped over if damage happens. Cushioning is important too, saving a child from unwanted bumps and bruises when a fall occurs. Finally, look for great color combinations. Our red, yellow, blue, and green play mat will yield a colorful, stimulating environment that toddlers and preschoolers are sure to love for play time.
How much do preschool play mats cost?
One of the biggest advantages of our reversible foam play mats is the low price, which is less than $1.50 per square foot. It's possible to pay far more for those models with designer artwork, sometimes as much as $100 for a 4x6 stylish foam play mat that may run $4 or more per square ft. Yet with those, should it become damaged, the entire foam mat is ruined. With the interlocking edging and individual pieces in our model, just replace a single damaged piece to maintain the integrity of the floorings and the overall value.
Can you use large foam play mats outside?
These are intended for indoor use. They are not UV treated. If using them outdoors, only leave them in place for a little while. Then disassemble the interlocking play mats and bring them back into a climate controlled environment for storage or for more permanent installations.
Maintenance
Product can be damp mopped with common household floor cleaners, avoid bleach. Test your vacuum before use.
Shipping
Ships in cartons via ground service to your door, for larger orders product may ship freight delivery.
This Product Ships UPS Ground, FedEx Ground and/or Freight.
Please review our shipping disclaimer.
ANSWERS
Product Questions:
Q: How many 4packs do I need to do a 10x 10 room
A: Each tile is 2x2 ft or 4 SF, and 10x10 ft is 100 SF, therefore 25 tiles are required to cover a 10x10 ft area or 7 - 4 packs which is 28 tiles.
Q: Is it possible to buy border strips for these sets?
A: This product does not offer border strips.
Q: we remodeled our house and the kids were wanting this put down on the floor and I was wondering if this could be installed directly on the sub flooring (plywood)? Thanks
A: Yes, any hard flat surface is fine.
Q: Can the tiles be used on carpet?
A: For smaller children yes, the issue is that carpet does not allow the foam tiles to get a good grip on that surface and may slip around some with certain activities.
Q: How many tiles or 4 packs do i need for an 8 x8 area?
A: 8x8 ft is 64 SF, each 4 pack has 16 SF, so you would need 4 packs.
Q: Hello what is the thickness size?
A: Each tile is .5 inches thick