Indoor Playground Flooring Tiles 1-1/2 Inch x 1x1 Meter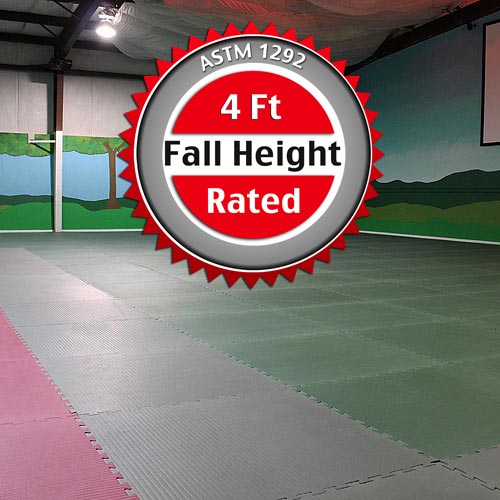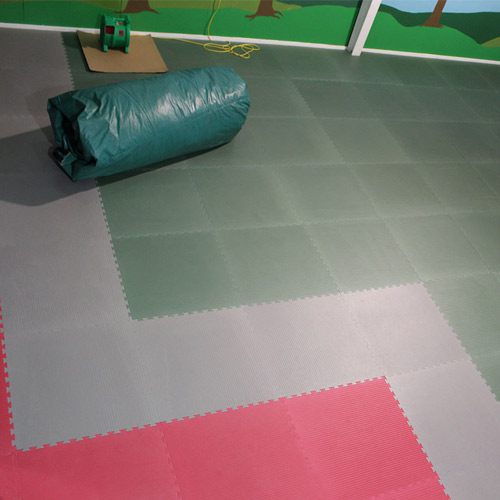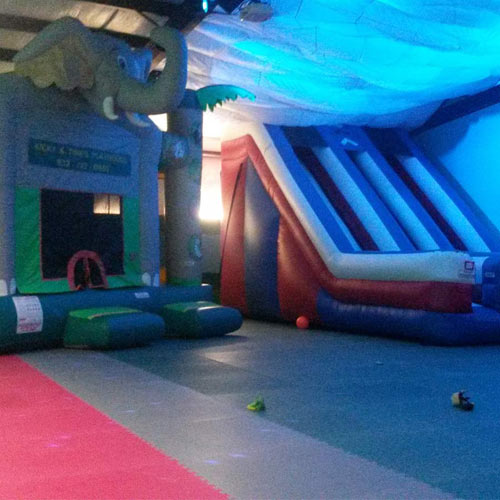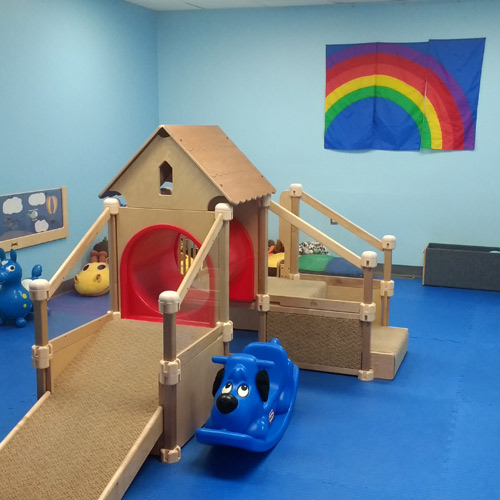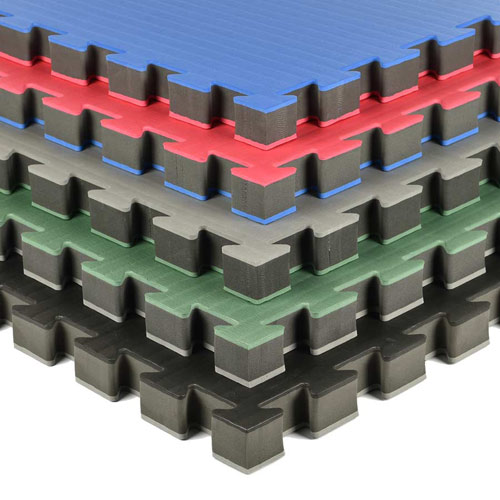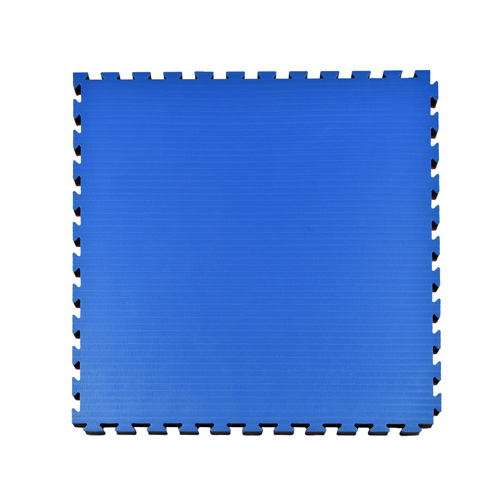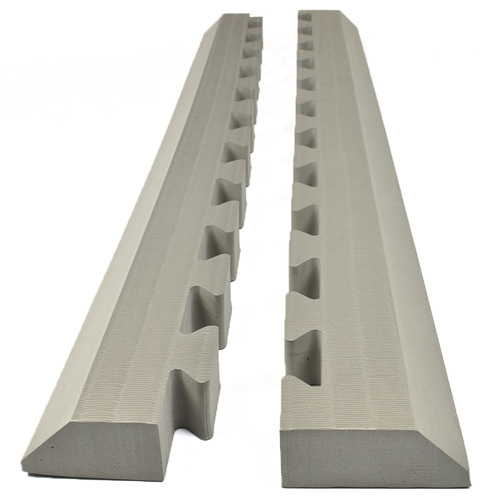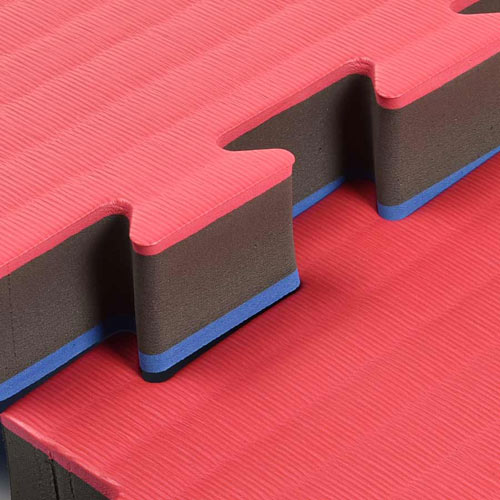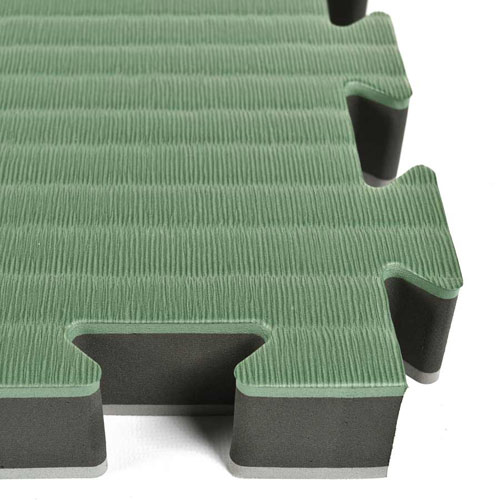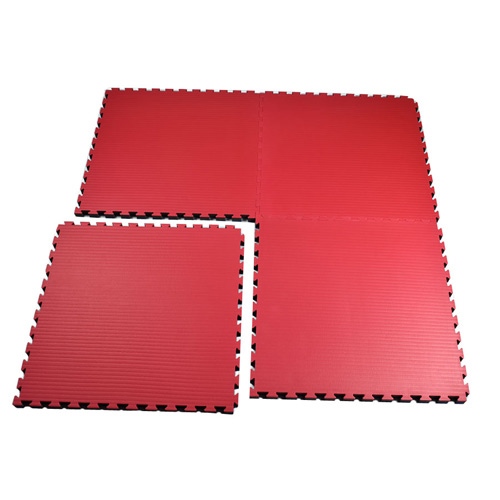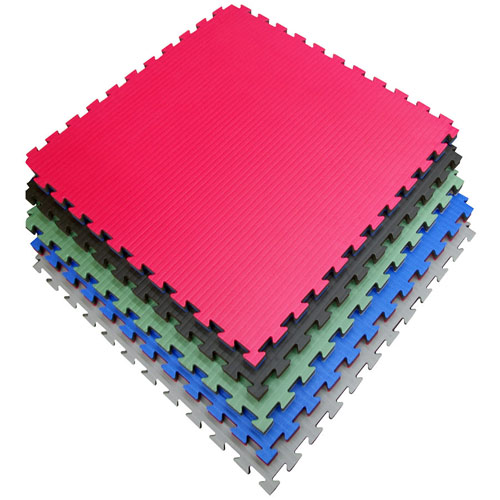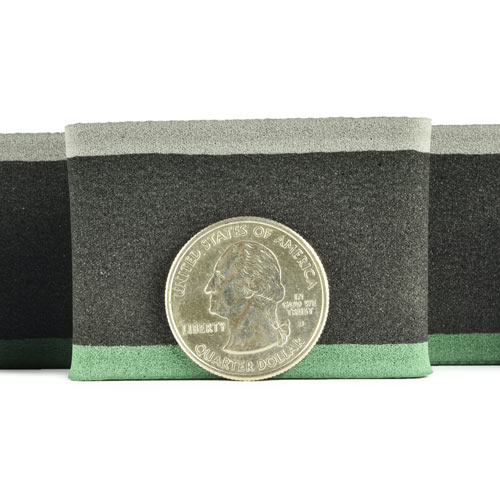 4 ft fall height ASTM rated
Lead free and latex free, no rug burns tatami top texture
Material density: 103 kgs/m3, hardness: 35 Shore C
$32.95
/tile
(You Save 21%)
(6 Reviews )
Ships Out: Estimate 1-3 Working Days

Red/Blue

Green/Gray

Black/Gray
How Much Flooring Do I Need?
VIDEOS
TOP FEATURES
4 ft fall height ASTM rated
Lead free and latex free, no rug burns tatami top texture
Material density: 103 kgs/m3, hardness: 35 Shore C
Waterproof and non absorbent, easy to clean
4 straight border strips included per tile - Ramped borders sold separately
Easy to assemble, no adhesive required
Reversible and removable for portability
Safe for kids, Easy to clean, Waterproof
Use Types
Indoor Playground Floors, Playground Safety Surfacing, Indoor Play Floors
Indoor Playground Mats, Foam Indoor Playground Area, Kids Gym Playground Mat
City recreational departments, churches, schools, small businesses, and youth organizations all can make use of Indoor Playground Flooring Tiles 1-1/2 Inch x 1x1 Meter, as can households that have a large play areas.
Parents often prefer that their youngsters have a fun and safe time playing on children's play flooring outdoors. It's great to exercise in the fresh air. But for those times when the weather doesn't allow the toddlers to make it outside, having the option of an indoor padded playground works great. Such kids play area flooring requires a safer material for the youngsters to protect for falls from short heights and to prevent burns on the skin.


Installing Residential or Commercial Indoor Playground Flooring Surfaces

When ready to install them, we offer 1.5 inch foams that work well in this type of use case. The interlocked seams fit tightly and virtually disappear from view.

They provide a safer and more comfortable surface with unsurpassed durability. These consist of EVA foams in 40x40 inch interlocking foam floor tiles. They will last for many years and are completely waterproof.
Top 7 Features of our Indoor Playground Flooring
1. 4-foot ASTM Fall Height Ratings
It's important to select an indoor playground flooring that meets recommended high impact fall heights for any over foam play equipment expected to be deployed. With climbing toys, for example, this is extremely important. (It is defined as the distance between the base and the highest step or platform on the indoor playground equipment.)
The American Society of Testing and Materials (ASTM) rates surfaces for youngsters in terms of a safe height. Ours are rated up to 4 ft. By successfully picking surfaces to match the maximum measurement of the tall structures in use, it will reduce the severity of injuries from falling, particularly reducing the potential for dangerous head injuries.
In addition, these passed significant testing, including a drop of a raw egg from 68 ft. Not only did the egg not break, but it actually bounced. Take a look at the
video of our 68 ft. Egg Drop Test
on this page or our YouTube channel.
2. Safer for Kids
Our EVA contain no latex or lead. (EVA is short for ethylene vinyl acetate.) This consists of elasticized closed cells, which provide these with their softness and flexibility. This construction also offers a shock absorbing quality, which is great where youths will be running and jumping ... and potentially falling.
Although these have a shock absorbent softness, the closed design provides just the right amount of firmness to ensure youth won't sink too far into it and potentially suffer a twisted ankle injury.
The mixed and matched softness and firmness yield an anti fatigue capability, which allows people to exercise or run for a longer period of time without suffering muscle fatigue versus harder subfloors, such as concrete.
They provide a thickness of 1-1/2 inches (with tolerances of plus/minus 1 mm in thickness). They offer a
tatami texture
with a glossy appearance.
The surface texture is appreciated because of its unique no-burn tatami, which prevents the possibility of skin burns after falls. For example, those with highly textured surfaces would stand up to shoe traffic better, but the textured top could scrape up the child's skin if a trip occurs.
3. Materials Density
The hardnesses and densities measurements for these indoor playground flooring selections are Shore C 35-40 and 103 kilograms per cubic meter.
We measure these in terms of Shore C, which specifies how hard they feel to the touch with a hardness measurement tool. The hardest types have measurements of 60-65 C. The softest types measure 30-35 C.
Density and hardness are two different measurements. The density measurement relates to the amount of weight the material can support on a given area.
To add heavy equipment to the locale, placing it atop these can cause indentions. We recommend putting the permanent structures in first and then installing floors around them by cutting to fit instead of sliding the floorings underneath them. A temporary structure can go atop the floorings.
They will last longer if toddlers are playing on them with bare feet or softer shoes. Regularly allowing street shoes on them could eventually cause scuffing. (For something that will need to stand up to street and hard sole shoes, we have other solutions that may be better options. Contact our customer service team for some advice.)
4. Waterproof and Non-Absorbent
The closed cell foams will not soak up liquids, meaning spills are easy to clean up should they occur. This water resistant capability is an advantage if cleaning them with a damp mop to remove any stains on them without having the cleaning liquid soaking into it.
Additionally, where adults will be exercising and sweating, don't worry about the indoor playground flooring absorbing sweat and odors.
For daily cleansing, run a beater brush-free vacuum over them. The seams pop together tightly, so don't be worried about dirt and other debris becoming stuck in the seams that will need to be removed.
In addition to the strong build quality, they give thermal insulation as well. For installs on cement in a basement, the concrete naturally will be colder. However, if the youngster is playing using bare or socked feet, they won't feel the cold of the cement subfloor because the surface takes on the ambient temperature of the air.
For installs of the indoor playground flooring in a spot with subfloors heating, the EVA will not inhibit the heat from entering the room's air. Keep in mind that heat and humidity can cause it to expand, so be sure to leave room for expansion.
5. Easy to Assemble, No Adhesive Required
If calculating the desired coverage, understand that each has a size of 40-by-40 inches. However, when the interlocked pieces are squeezed together, it actually covers roughly 39.25-by-39.25 inches. That yields roughly 11 square feet of coverage.
Each weighs 9 pounds, meaning a single person can perform the positioning and installation alone.
The most common and successful installations occur on firm floors that are already in place, such as hard tile or concrete. However, it is possible to lay out them on thin pile carpet. For concerns about them slipping across the subflooring, use a double sided tape to adhere them.
Although no adhesive is required, a contact cement type of glue is possible to make the installation more permanent.
6. Flat Edges With Four Border Strips
It has interlock edges on all four sides of the square tiling, almost looking like a puzzle piece. To create a flat edge up to a wall or at the edge of island installations, use the included thin border strip, which fits into the interlock pattern on the main section. Ramped borders are sold separately. The border ramps are sold in pairs to match up with the interlocking edge design. If you are installing borders on only one side of the installation, you will need to cut some of them to ensure a proper fit. You may need to order extra ramps to do this depending on the size of your installation.
Should cutting one be needed for fitting it up against a wall or other object, use a simple utility knife and a straightedge to cut them to fit, resulting in a straight finished line.
7. Reversible and Removable
There's no need to use adhesive, so move them to new rooms or locations as needed. Just pull them apart to move them. This is a smart choice inside a room that has multiple purposes, necessitating a change in the subfloor on various days.
Soft Play Area Flooring Options
Additionally, the piece has a pair of different colors, one on each side. Because they are reversible, try creating various patterns. Ours are available in black/gray, red/blue, and green/gray color combinations. Understand that if using the reverse side of the same tile, the grain of the tatami will run perpendicular to the original side.
Color tone variations can and will most likely occur within the same batch. Even the foam interlocking floor tiles that are made at the factory within minutes of others can vary in color. This is common with all interlocking EVA foam tiles.
Cleaning Play Flooring Matting
Vacuuming is the smartest method for regularly caring for these playground flooring mats. We recommend testing the vacuum first to ensure the machine won't result in damage. (Some especially heavy and powerful vacuums could damage it.) Test it with the vacuum in a locale where, if damage occurs, it won't be noticeable.
To wipe up a water spill or sweat, just use a dry towel. To clean spots, only use diluted vinegar or diluted bleach. Dawn dish soap is also very gentle for these. The best idea is to use a scrub brush and a sponge for spot cleanings.
In large commercial areas for a more thorough cleansing, try a walk behind auto machine. The non-absorbent play flooring does not soak up any water or chemicals during the cleansing process.
Should one section become damaged, simply reverse it for a new look.
FAQ Indoor Playground Flooring Q&A
What is the best indoor playground flooring?
Indoor gym flooring may consist of a series of different materials, allowing customers to
choose the playground option that best fits
. With soft tiles for youth indoor play areas, they often have a rating that guards against falling risks, while remaining easy to install with a variety of colors available. Others will select recycled rubberized designs, which also have certified protection.
What is the material used in indoor playground mats?
At Greatmats, we offer multiple types of selections for the
materials in children play area flooring
. Starting with foam flooring tiles, which are safe fall zone mats that are easily cleanable, customers receive soft flooring for children's play areas that's incredibly durable. These kids foam floor tiles are lightweight, which simplifies installation, and carry a reasonable price. Rubberized indoor playground flooring will yield protection against trips or falls from toddlers running or climbing on structures, while being extremely durable. Another option for soft floor tiles is PVC plastic, which are colorful and tough.
How much does indoor playground flooring cost?
Expect to pay between $2 and $5 per square foot for the play flooring for a DIY
cost effective playground project
. This is another advantage to going with Greatmats, as our high quality interlocked units work perfectly for a DIY job, which saves money on the overall project versus having to hire a pro to do the job with the indoor play mats.
Maintenance
Product can be damp mopped with common household floor cleaners, avoid bleach. Test your vacuum before use.
Shipping
Ships via freight delivery shrink wrapped on pallets.
This Product Ships Freight Only.
Please review our shipping disclaimer.
ACCESSORIES
Accessories for INDOOR PLAYGROUND FLOORING TILES 1-1/2 INCH X 1X1 METER
ANSWERS
Product Questions:
Q: Can you install heavy indoor playground equipment on this foam tile?
A: Generally, the foam tiles are not rated to hold heavy equipment without indenting. One option is to install the equipment first and then install the foam tiles around the equipment.
Q: Are there any issues with people wearing shoes on this and scuffing or causing problems for the product?
A: This product is a foam tile and will last longer with soft shoes or socks. Street shoes could scuff the foam tiles under heavy use. For a more durable option, consider an all-rubber playground floor tile.
Q: Can this product be glued down if we are concerned about corners coming up over time? What glue would we use?
A: Yes, and we don't see this as an issue with any of our installations. The glue would be contact cement.
Q: Can these be laid over carpet?
A: These can be installed over a thin carpet. They might slip a little in smaller installations; double-sided carpet tape can be used to keep them in place if needed.
Q: Have these been tested for formamide levels or other VOCs?
A: All EVA foam tiles have some levels of formamide present at the time of production; these dissipate over time. It's possible to test the tile after 6 months and have a test that passes acceptable levels. This tile has not been tested for such.
Q: How do these tiles do in extreme heat? We are in LV, and it hits triple digits all summer long.
A: These EVA foam floor tiles are designed for indoor use; for outdoor use, always choose a rubber playground tile.
Q: I want to put this in my basement, but I'm afraid my pets will go down there and use the mats as a restroom. How hard are they to clean/sanitize if they have accidents on the mats?
A: The mats are easily cleaned with water and household cleaners like dish soap. Liquids can seep in between the seams. You want to make sure the mats are pulled up and cleaned thoroughly.