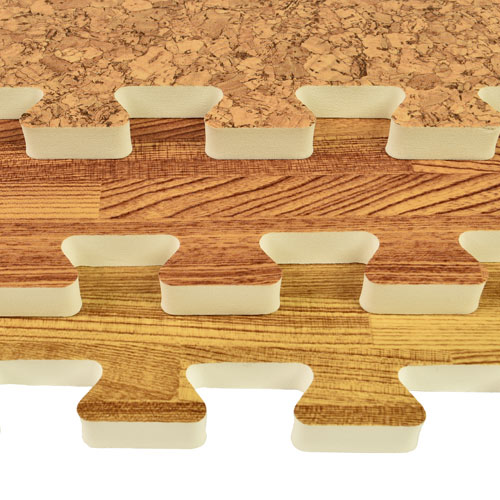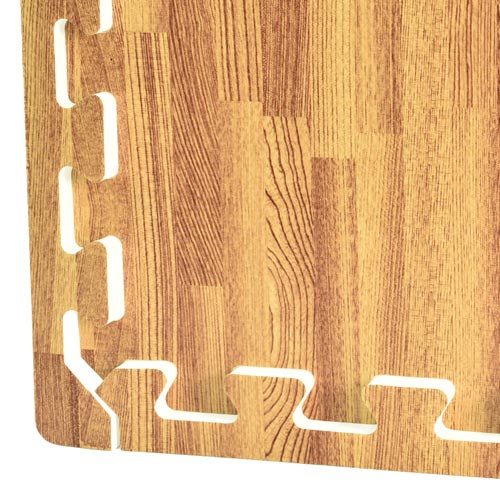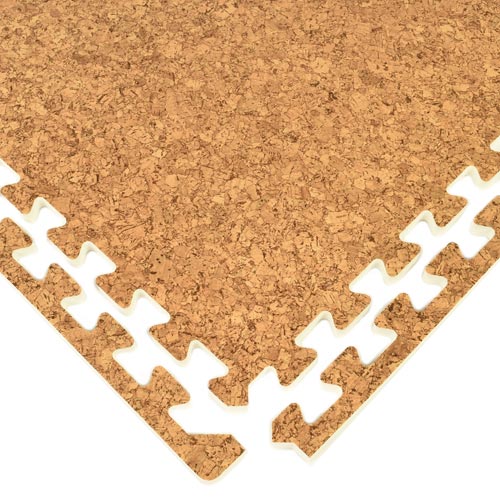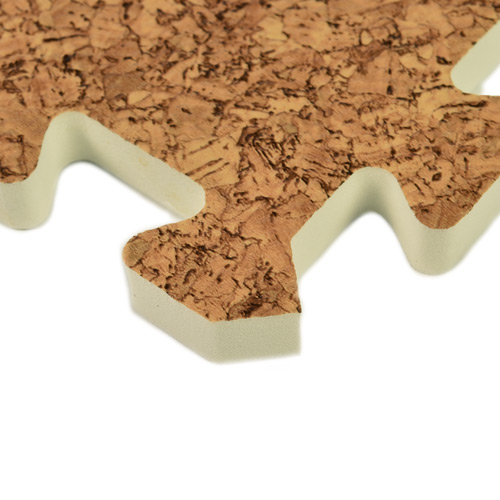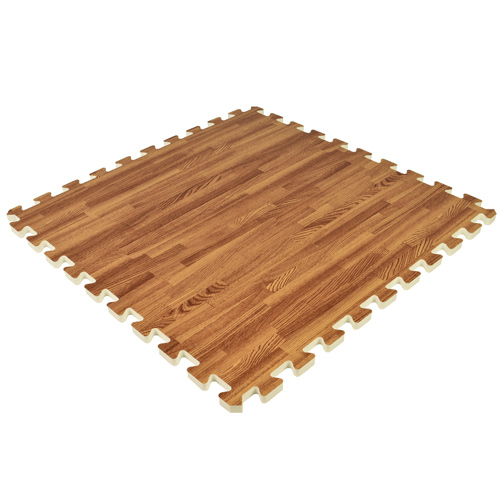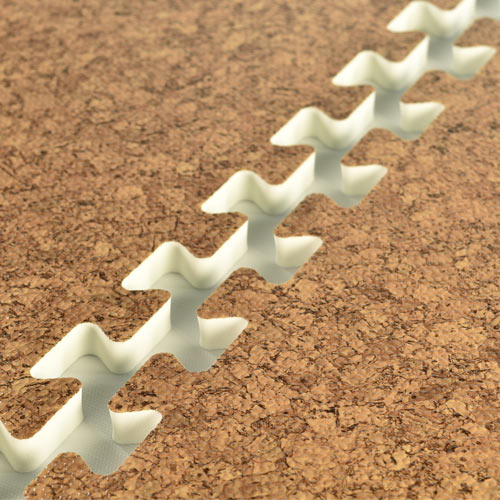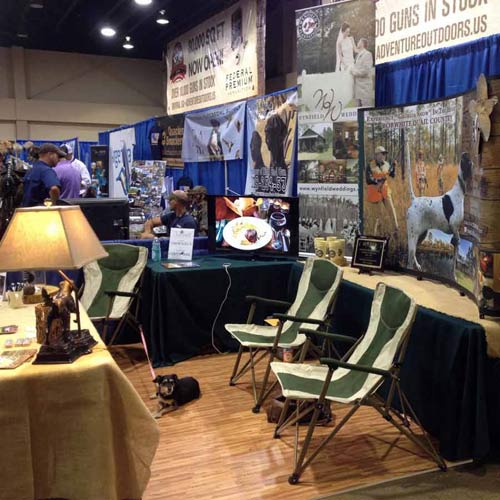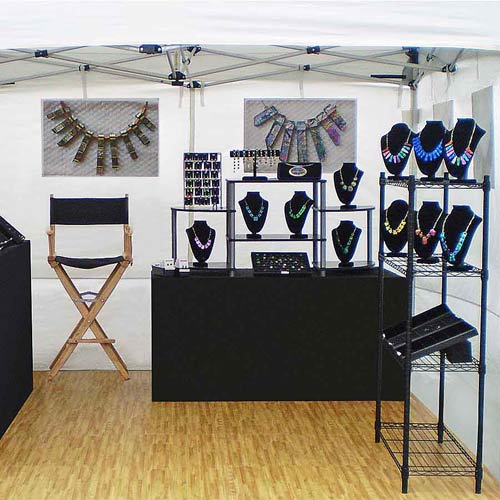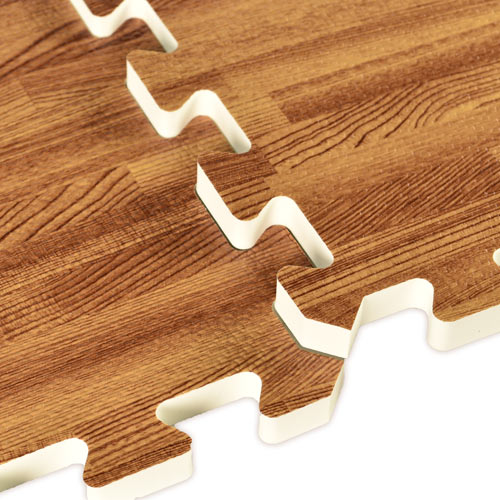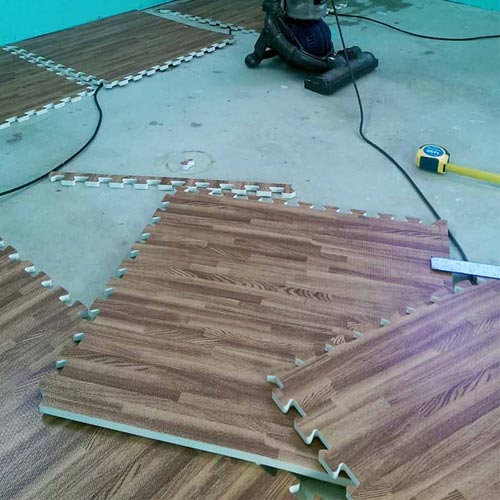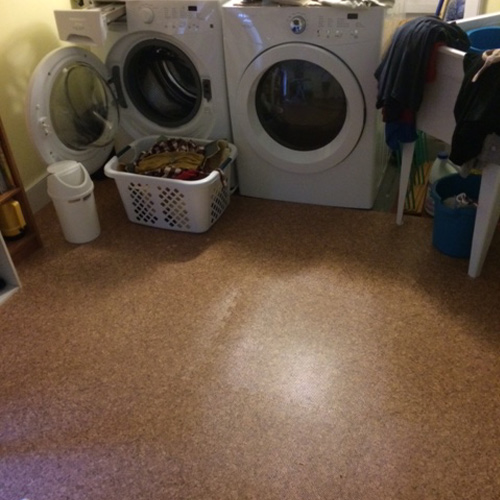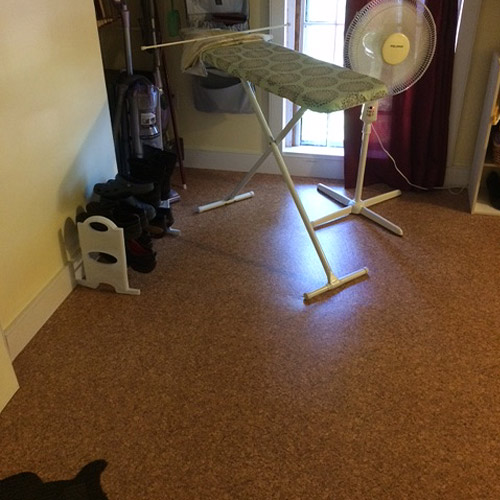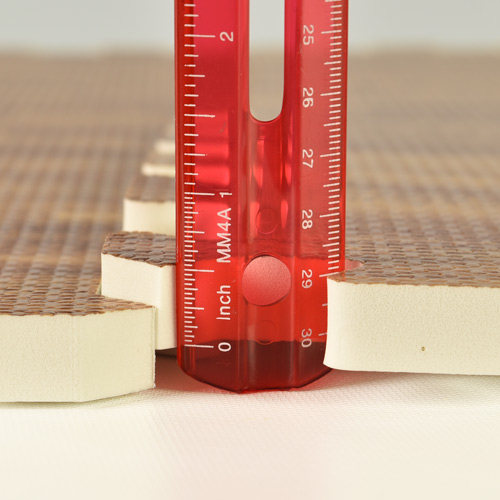 Foam Tiles Wood Grain
(91 Reviews ) Write a Review
SKU# FTWG22
On Sale
Reg: $9.16 per Tile
$6.36 per Tile - In Stock
$1.59 per SF
Free Shipping
- lower 48
Ships out 1-3 Days
Ship times are typical, inquire for immediate availability.
GREATMATS CUSTOMERS ALSO VIEWED
DESCRIPTION⌃ Back to top
Benefits
Easy foam tile installation with interlocking tile design
Each tile includes 2 border strips
Lightweight and portable
Waterproof, will not absorb moisture
Can be removed and relocated if needed
Available in dark wood, light wood, or cork surface designs
Lead free and latex free
Use Types
Basement Wood Foam Tiles, Interlocking Faux Wood Flooring, Home Wood Look Foam Mats
Wood grain foam tiles feature two wood grain colors and a natural cork design. Use these foam faux tiles for around the home, these grain foam mats are great for basement floors or anywhere an upscale faux wood flooring is desired. These wood foam tiles feature 14 mm thickness.
Turn any room or trade show floor into a comfortable and warm environment. These foam tiles are 1/2 inch thick, 2 x 2 ft in size and will easily interlock together and can be cut to fit for a wall to wall installation.

A new wood-grain foam tiles design is totally waterproof and will provide an upscale look to your home or trade show. These foam tiles are anti-fatigue and are made of closed-cell durable foam. These foam tiles are dense enough to withstand the weight of common foot traffic and are designed for light duty environments, not recommend for kids rooms. We recommend using our Premium Foam Mats in solid colors and 5/8 inch thickness for most kid's room foam tile applications. Top wooden design pattern is a layer of film heat transferred to the foam, and can be susceptible to punctures and scratches.

Please Note:
Have your vacuum cleaner set at highest setting or just use hose and nozzle. Don't use power head.
High heels can puncture the foam tiles.
For aerobics activities do not place the tiles on top of carpeting, as foam tiles can shift.
When used outside the foam tiles may expand and curl if exposed to direct sunlight in warm climates for extended periods of time.
Color and shade may vary somewhat from foam tile to foam tile within the same order, this is common with EVA foam tiles.
Allow the foam tiles to acclimate to your room before installation. The foam tiles can expand with changes in heat and humidity, allow a 1/4 inch expansion gap for wall to wall installations.
Maintenance
Product can be damp mopped with common household floor cleaners, avoid bleach. Test your vacuum before use.
Shipping
Ships in cartons via ground service to your door, for larger orders product may ship freight delivery.
This Product Ships UPS Ground, FedEx Ground and/or Freight.
Please review our shipping disclaimer.
SPECIFICATIONS⌃ Back to top
| | |
| --- | --- |
| In Stock | Yes |
| Product Type | Tile |
| Material Type | Foam |
| Product Edging | Interlocking |
| Thickness | 1/2 inch |
| Width | 2.00 feet |
| Length | 2.00 feet |
| SF per Item | 4.00 |
| Weight | 1.20 lbs |
| Packaging | Cartons |
| Number of Pieces per Package Type | 25 |
| Non Absorbent | Yes |
| Special Adhesives | No |
| Universal Interlock | Yes |
| Interlock Loss | 0.03 feet |
| Kid Safe | Yes |
| Material Density | Shore C 35-40 |
| Interlocking Connections | Yes |
| Made In | Taiwan |
| Order Minimum | 15 |
| Surface Finish | Smooth |
| Surface Design | Wood grain or cork patterns |
| Installation Method | Interlocking, dry lay |
| UV Treated | No |
| Reversible | No |
| Border Strips Included | Yes |
| Manufacturer Warranty | 1 year limited |
PDF DOCUMENTS⌃ Back to top

View Installation Instructions

View Cleaning and Maintenance

View Warranty

View Specifications Data Sheet
You will need Adobe® Acrobat® Reader to view PDF documents.
Download
a free copy from the Adobe Web site.
VIDEOS⌃ Back to top
Q & A⌃ Back to top
Ask a question about this product
Product Questions:
What do you suggest for use to protect the foam tiles from table and chair leg punctures?
You can use a plastic coaster under the legs of couches, chairs or tables for example. Chairs that get moved around a lot, not sure.
Could these be installed on top of carpeting? We are renting a house with light colored carpet in the dining room and I fear my three kids will ruin it if I don't put something on top. I would prefer a surface that could be swept and wiped as opposed to an area rug. Do you think these tiles will work for this? Thanks.
Generally we recommend these tiles be installed over a hard flat surface. If the carpet is very think pile it might work.
I am wondering what to select for our basement floor that will hold up to kids dragging things across the floor. I have concern about the surface coming off right away. What do you recommend?
I would suggest requesting a few free samples, I like foam for kids, generally our premium foam tile is very popular.
REVIEWS⌃ Back to top
Customer Rating:
01/06/2016
looks good. no flaws
mary
stockton, CA
Customer Rating:
11/06/2015
I'm very sorry but I am not happy with this product. It looks great, feels great but the surface after just a few weeks is coming off. I think it's something that's easy to install but has a very short operational lifetime. I installed it in my 240 square foot artists studio. I do small still life paintings and just walk around in the studio with tennis shoes. The surface to the foam is extremely fragile. It is a very temporary (but nice looking) product.

Hopefully their other products are of higher quality and more robust. Sorry to not be more positive.
donald
Seattle
Customer Rating:
10/21/2015
I love the cushioned mat in my workshop. It really helps my feet and knees as I work on projects plus it enhances the look of the room.
Paul
Austin, TX
Customer Rating:
09/10/2015
This product is great! It took me about 2 hours to install, but only because I needed to cut five pieces in order to cover my laundry room wall to wall. I was very impresses by the overall quality and will definitely purchase from GreatMats again!
Catherine
Kingston, RI
Customer Rating:
09/02/2015
The product looked better than advertised once it was installed. I selected the cork look and it does look exactly like the real thing. It is soft on the feet, warms up the basement and looks amazing.

The standard delivery came within a week no issues there, I was tracking it as I work in logistics.

Installation was easy make sure you have a sharp knife and take your time cutting, definitely order extra you will make mistakes.

I am completely happy and will purchase more to do different rooms.
mark
sayreville, NJ
Customer Rating:
08/21/2015
I use Greatmats interlocking light wood floor tiles for my craft booth. It makes it look like a high end store or an art gallery. I get so many comments and refer all inquiries to your website. I love my floor!
Ed
Boca Raton, FL
Customer Rating:
08/13/2015
Great service from great mats. The product was good quality but trying to line up all the wood grains was impossible, causing the intersections of the tiles to be somewhat visible. Held up well enough at our tradeshow that we should be able to use it for at least one more show.
Mark
Huntsville, AL
Customer Rating:
08/08/2015
I keep buying more and more. I actually prefer the reversible woodgrain floor tiles, but these are great, too. My wife and I like to have a fun and safe place for our little grandchildren to run and play and crawl and romp, and these are terrific for that purpose. They are easy to install, light weight, excellent quality, and always arrive promptly. We have two rooms completely covered and will be doing more.
John
Naples, FL
Customer Rating:
05/30/2015
I love my floor! I have had it for 3 years and use in my art show booth on weekends during the season in Florida, October to May. I can't count the number of comments I get about it and have told countless people where they can purchase it.
I have had one or two problems with it. For some reason about a third of my tiles went ''dull''. Perhaps it was the heat here or maybe humidity. It occurred all at once. They just gave up the ghost some to speak. Granted, I had them for two years.
Went I went to replace them the price, shipping terms, and minimum order had changes. But after I complained the customer service at Great Mats was terrific and agreed to all my requests. So now my floor is lovely again.
Edward
BOCA RATON, FL
Customer Rating:
02/22/2015
Product was really great - was easy and quick to install and looked excellent. Another benefit was that the foam cushioning made it more comfortable than carpet when standing for three days. In addition, rather than waste the fee for hiring carpet from the conference organisers, we were able to donate the 'floor' to a group of people who were going to use it in their community hall - so there was no need to throw it away at the end of the conference. This means less crap going into landfill sites or the incinerator.

We also had an excellent assistant who was great to deal with. She made it all so easy.
Michael
Christchurch, CO
Customer Rating:
02/06/2015
Love the mats.
Ruchi
Glen Allen, VA
Customer Rating:
12/24/2014
We used this product for water-proof, mold-resistant flooring in our basement. It looks fantastic- you can't see the vast majority of the seams, and only from certain angles (we chose the cork finish). It went down like a dream- cutting the edges was relatively painless (molding took care of any imperfections). The only thing that we are currently dealing with is how fragile the finish is. We have already managed to scratch it in two places, and it went down two days ago. I knew this was a possibility after reading other reviews, but didn't expect it to be THAT easy to do. We are going to ask all guests to take their shoes off when in the basement, and need to look into extra thick padding to put on the chairs/stools. Other than that, we love it. Love the look. Love the feel. Love hoe easy it was to install.
Caitlin
Oak Park, MI
Customer Rating:
12/19/2014
Great product...better then expected . Got the shipment about 2 weeks sooner then expected after being told the style we ordered was out of stock. Installation went smooth . Would buy again and tell others to buy.
Ken
Bradenton, FL
Customer Rating:
11/22/2014
Installing was simple I was able to by myself !!Looks great !!
jannette
council bluffs, IA
Customer Rating:
11/08/2014
Great Floor for a trade show. Light to carry around. Sets up fast. Comfortable and little to no cleaning day to day at the show. Guys lugging carpets were jealous.
Andreas
SAVANNAH, GA
Customer Rating:
08/20/2014
Great for the kids' play area!
Gene
New York, NY
Customer Rating:
08/20/2014
These floor tiles make SUCH a huge difference at trade shows or expos! Having to stand all day on concrete is the worst and these tiles not only add so much to the look of your booth, they are a lifesaver on your feet/legs/back! The only downfall is having to really watch out not to scratch the ''wood grain'' coating.
Annick
Albany, GA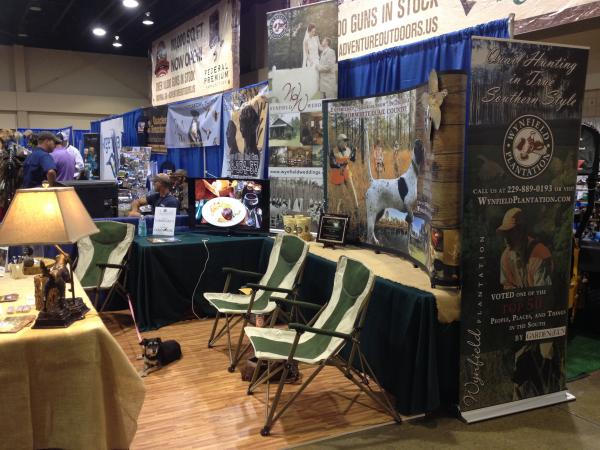 Customer Rating:
07/03/2014
The product is awesome but mostly the customer service was above and beyond
Alan
San Diego, CA