Rubber Floor Mats Black 1/2 Inch x 4x6 Ft.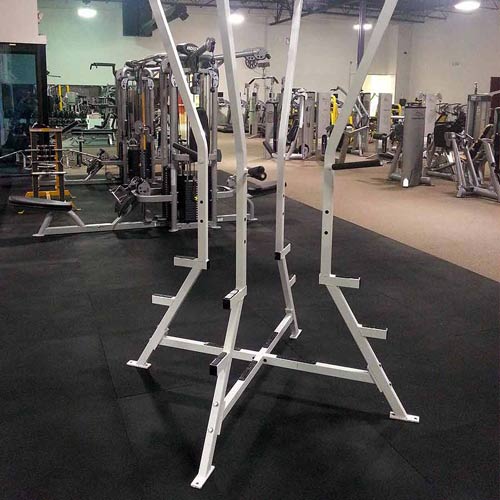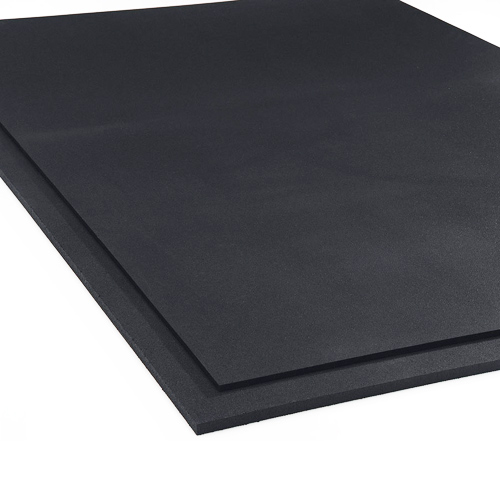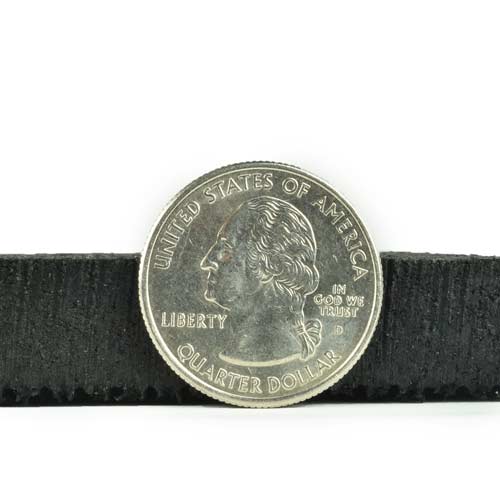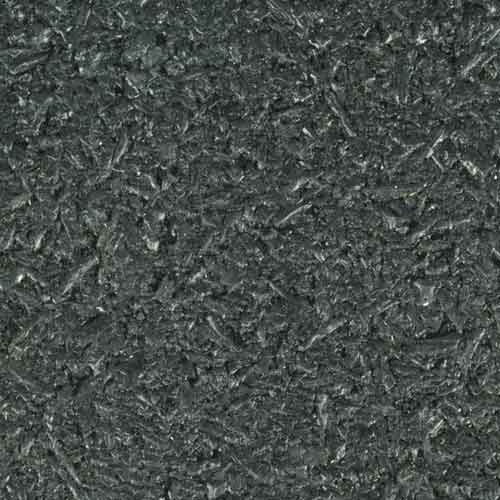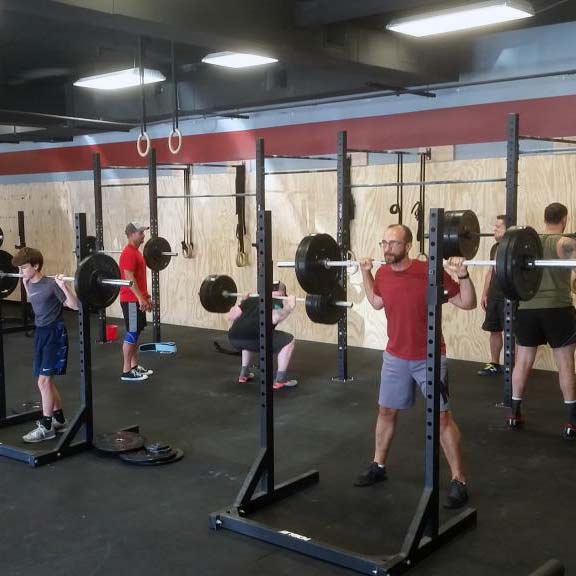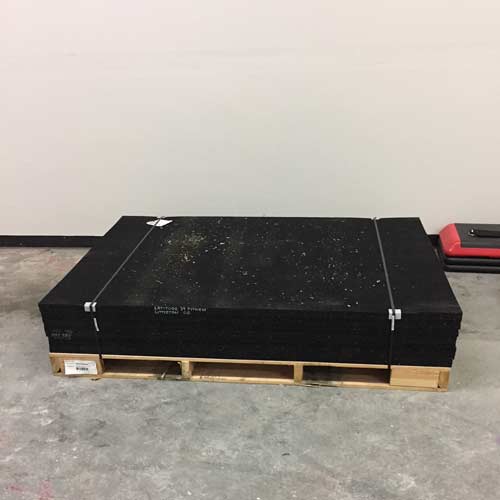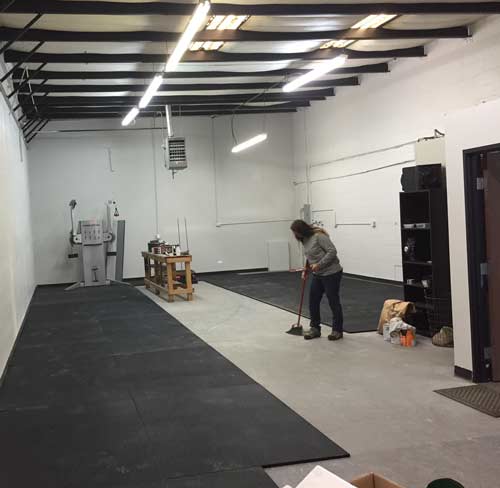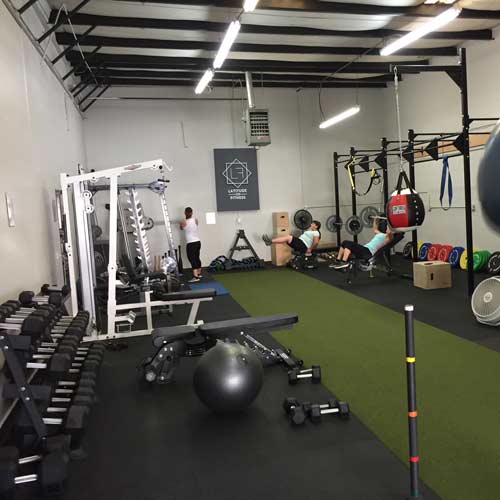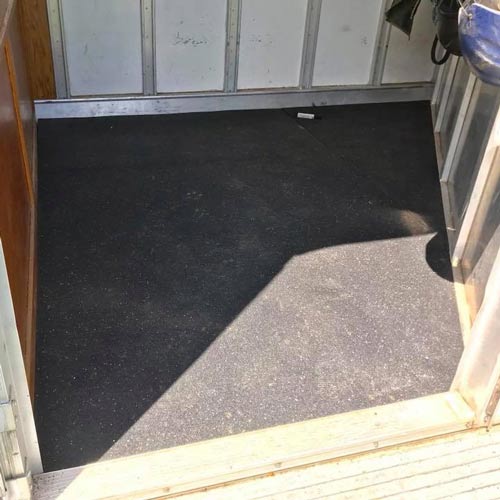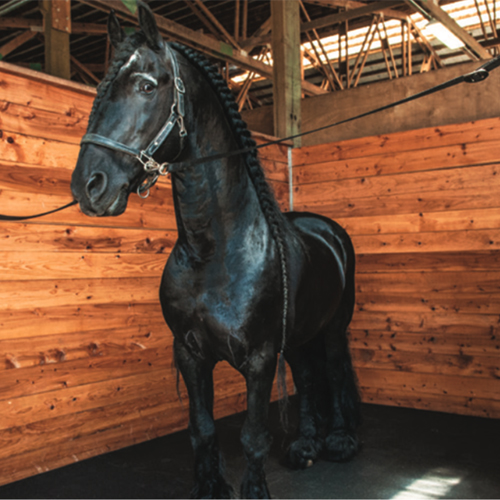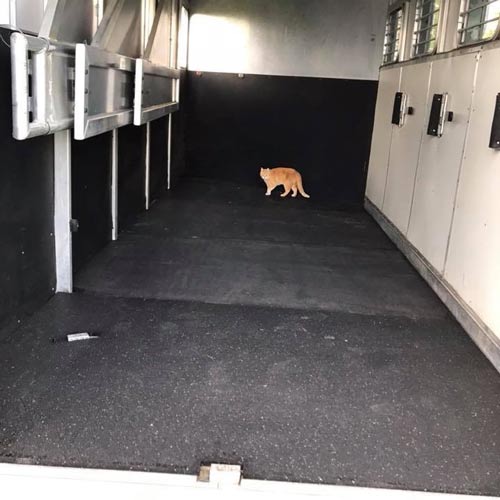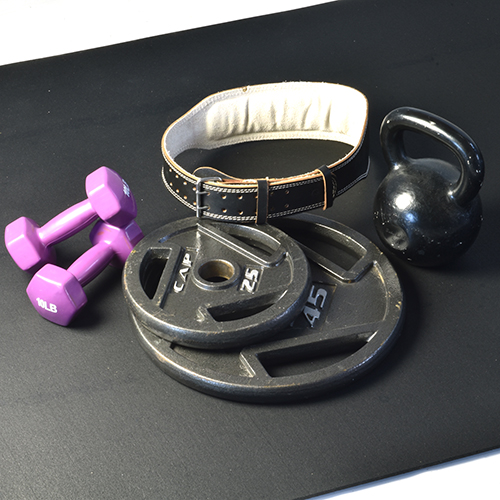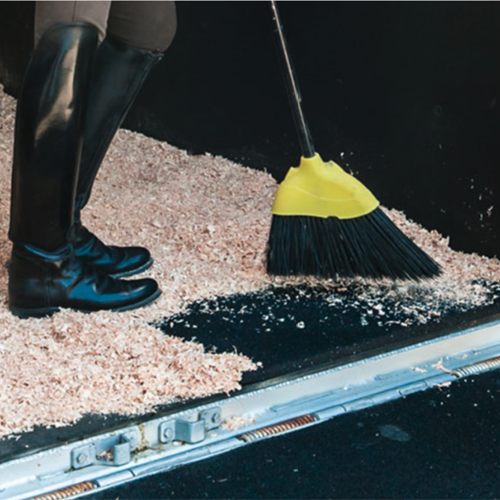 Mats require Trueing for multiple mat installations
Due to high freight costs, please purchase 10 or more of this item
Loose lay on smooth, flat surface
$71.47
/mat
(You Save 20%)
(8 Reviews )
Ships Out: Estimate 2-4 Weeks on Average

Black
How Much Flooring Do I Need?
VIDEOS
How To Cut Rubber Mats Video
Commercial Rubber Gym Flooring Video
TOP FEATURES
Mats require Trueing for multiple mat installations
Due to high freight costs, please purchase 10 or more of this item
Loose lay on smooth, flat surface
No adhesive required
Pure 100 percent black color
Flat one side, anti-skid, wire mesh texture surface on opposite side
Both sides non-porous
Use Types
Gym Mats, Rubber Gym Flooring, Home Gym Floors, Weight Room Gym Floors, Stall Mats, Horse Mats
Black rubber mats, Black rubber floor mats, Gym rubber floor mat 4x6
Rubber flooring is one of the most popular items we offer, as our customers find numerous use cases for this extremely tough and durable material. If you're looking for a type of flooring that you can use in a home gym that also will work in a commercial gym studio setting, the gym rubber mat 4x6 ft x 1/2 inch blackproduct yields excellent results.
We've compiled a dozen of the most common reasons customers choose our black rubber mats. Due to high freight costs, please purchase 10 or more of this item.

1. Sharp Looking Color

Each of our Ultimate RB Rubber floor mats has an all-black color that extends throughout the mat. Should you need to cut the black rubber floor mat to fit in a certain location, the black color will remain visible on the edges of the pieces.
Should you be looking to install these black rubber floor mats over a cement floor in your basement or garage, you can create a nicer looking floor than boring cement that may have cracks and discoloration.
2. Anti-Skid Texture
You can feel free to use our rubber gym mats home and pro product with almost any type of sub-floor, as long as the subfloor is flat and sturdy. Because the bottom of the gym rubber floor mat 4x6 ft x 1/2 inch black product has a wire mesh texture surface on the back side, it will not slide around easily.
You can place these black rubber mats over a firm surface like cement or wood, or they will even fit nicely over the top of a low pile carpet without skidding. However, if the sub-floor has significant cracks or undulations, the mat may show those imperfections.
Because of the wire mesh texture on the underside of the gym rubber floor mat 4x6 ft x 1/2 inch black pieces, these units are not reversible.
3. Comfortable Top Surface
Meanwhile, the top of the mat has a flat surface, which will be comfortable to walk on, sit on, or lay on during exercising. A textured surface on the top of the black rubber floor mats could be uncomfortable for types of exercises where you must sit on the mat.
Additionally, the rubber surface of the mat will give you a good grip when exercising in athletic shoes. You shouldn't have to worry about losing your footing on these black rubber mats.
4. Portable Material
One of the best features of our gym rubber floor mat 4x6 ft x 1/2 inch black product is the ability to move the mats to new locations whenever needed. Or you can use these mats for a certain type of exercise session and then pick them up and return to the original flooring after the session is over.
Measuring 4 by 6 feet, each of these black rubber floor mats weighs 65 pounds, so they certainly aren't easy to move for one person. However, they can be moved around by a couple of people as needed, creating a portable type of gym mat that provides a lot of versatility in a commercial fitness center.
5. Good Coverage Area
Our 4x6 Ft 1/2 Inch Gym Rubber Floor Mats Black product offers a 24 square foot coverage area, which is a perfect size for creating a specialized exercise area in a commercial gym, such as for working with hand weights or for an exercise machine.
Or if you're trying to create an exercise area in your home, either in a garage or in a basement, the 24 square foot coverage area of our gym rubber floor mat 4x6 ft x 1/2 inch black product gives you just enough space to do quite a few different types of exercises comfortably.
6. Side by Side Installation
If you need more than 24 square feet of coverage area from our black rubber mats, you can lay out multiple mats side by side in your exercise area. As mentioned earlier, it may take a couple of people to align the black rubber floor mats properly because of their weight. But the straight edges of the mats ensure that you'll be able to lay them side by side and have a tight fit between the seams.
Because of the heavy weight of the gym rubber floor mat 4x6 ft x 1/2 inch black product, it shouldn't slide around after installation. However, if you want to ensure the two side by side mats will remain in place, you can use an adhesive to glue down the mats. If you want to have the option of moving the mats at a later time, we'd recommend a dry lay installation.
7. Sub-Floor Protection
When installing our black rubber mats in your home to create a workout zone or in a commercial exercise studio, you'll appreciate how the 0.5-inch thickness of this product keeps the sub-floor protected from dings and dents. When performing weight lifting in your exercise area, for example, a dropped weight could cause damage on the original floor, but the black rubber floor mats will provide the protection you need.
Although this gym rubber floor mat 4x6 ft x 1/2 inch black product will work great for most home gym weight lifting areas, if you plan to perform power lifting with especially large barbells, we would suggest a thicker mat than these 1/2 inch mats.
8. Heavy Machines
If your exercise routine includes weight machines, treadmills, or other heavy equipment, you could cause an indention in your original flooring over time. However, the 4x6 Ft 1/2 Inch Gym Rubber Floor Mats Black product will be able to absorb all of the weight from the large machine without causing any problems for the original flooring.
Another consideration is how heavy your weight racks will be. If you will have quite a few weights stored on the racks, you may notice indentations in the original flooring over time. Some of our customers choose to lay out one of these black rubber mats in a corner of the room and use the area as a storage location for all of their weights. This will keep the weights organized nicely without having to worry about whether the collection of weights is causing long-term damage to your original floor.
9. Less Noise
Another reason to pick rubber flooring to serve as a base in an exercise area in your home is because rubber naturally dampens noise. When you are engaged in weight lifting activities, you're sure to generate a lot of racket with hand weights clanging into each other and hitting the floor. Our black rubber mats will tone down these sounds, which is a nice feature in a home where others may not want to hear all of the noise from your weight lifting session.
If you own or rent a gym space in a building shared with other tenants, using black rubber floor mats can keep the noise down as well, which can be beneficial to ensuring others in the building can conduct their normal course of business during the hours your gym is open.
10. Strong Durability
When looking for a type of exercise flooring that will last a long time and that can stand up to tough workouts, our black rubber floor mats are a great choice. Rubber is among the toughest material you can use in flooring. It provides a material density rating of Shore A 62, which means you can count on its toughness over time.
Additionally, the gym rubber floor mat 4x6 ft x 1/2 inch black product carries a limited 5-year manufacturer's warranty. With this long warranty period, you can be sure that our rubber flooring is going to give you great performance for several years.
11. Temperature Protection
When working out in a basement or garage area in your home, you probably are working with a cement floor that will be cold to the touch. By installing a rubber flooring in the area, you'll create an insulative barrier between yourself and the cold cement floor, which makes your workout area more comfortable to use for extended periods of time.
If you are performing exercises where you will be sitting on the floor, having this temperature neutral rubber floor installed will help you remain more comfortable when the sub-floor is cold.
12. Easy to Clean Material
With rubber flooring installed in an exercise area, you will be able to keep it clean and looking great versus other flooring. Because the rubber flooring material is only partially absorbent, you don't have to worry about any sweat or water soaking into the product and causing odors down the road, as long as you keep it clean.
To clean a rubber style of flooring, you will want to sweep or vacuum the surface of the rubber to remove dry debris. Then use a mop with a mixed solution of warm water and a neutral pH cleaner for a more thorough cleaning. The mats can be allowed to air dry.
Ordering Options
If you're ready to order our gym rubber floor mat 4x6 ft x 1/2 inch black product, but you're unsure how many mats you'll need, just contact our friendly customer service team to receive some help. We also can help you figure out whether our 1/2 inch thick product is the best solution for your needs, or whether a thicker mat may be a better option. This product has a thickness tolerance of +/- 1/16 inch and a size tolerance of 1/4 inch in either direction.
Maintenance
Always use a neutral pH cleaner on rubber material.
Shipping
Ships via freight delivery shrink wrapped on pallets.
This Product Ships Freight Only.
Please review our shipping disclaimer.
ACCESSORIES
Accessories for RUBBER FLOOR MATS BLACK 1/2 INCH X 4X6 FT.
SPECIFICATIONS
| | |
| --- | --- |
| SKU# | 46x12Blk |
| In Stock | Yes |
| Product Type | Mat |
| Material Type | Rubber |
| Product Edging | Straight |
| Thickness | 1/2 inch |
| Width | 4.00 feet |
| Length | 6.00 feet |
| SF per Item | 24.00 |
| Weight | 65.00 lbs |
| Packaging | Shrink Wrapped on Pallets |
| Number of Pieces per Package Type | 25 |
| Non Absorbent | Partial |
| Special Adhesives | No |
| Interlock Loss | 0.00 feet |
| Material Hardness | Shore A 62 |
| Interlocking Connections | No |
| Made In | USA |
| Surface Finish | Smooth flat |
| Surface Design | Solid color |
| Installation Method | Dry lay |
| UV Treated | No |
| Reversible | No |
| Border Strips Included | No |
| Leed Points | Yes |
| Manufacturer Warranty | 5 years limited |
HOW TO'S
RELATED PRODUCTS
RELATED BLOGS
Customer Reviews
4.5 out of 5
8 star ratings
Reviews with Images
Customer Rating:
04/16/2014
First and foremost, the product is excellent. The mats a very sturdy and have no annoying "gym mat smell" like a lot of the competitors mats do. I was very satisfied with the appearance of the mats. The price was excellent. The mats are very uniform and laid out excellently with only 2 mats out of 25 that weren't perfectly square - and those 2 were only off by 1/8". Be confident when ordering these online, it is an excellent product.

The reason for deducting a star is the horrible shipping company that was used - Roadrunner Freight. If Roadrunner Freight is used to ship your order refuse to use them and specify a different freight company. They were 4 days late on delivery, promising every day "we're scheduled for this afternoon". We would wait and wait, and then at 5:00 be told "sorry, it didn't arrive at the agent in time". This happened 3 different days. The reason this was important was that we had a brand new Hoist 9-station that was to be assembled on the new mats. It ended up arriving 2 days before the mats thanks to Roadrunner's incompetence. We had to leave the 9-station in pieces around our gym as we had no place to store it.

I sent my concerns with Roadrunner Freight to GreatMats and they quickly responded, telling me that they had past issues with Roadrunner Freight. I appreciated the response and hopefully they will find another freight company to deliver their excellent product.
Duane
Colorado Springs, CO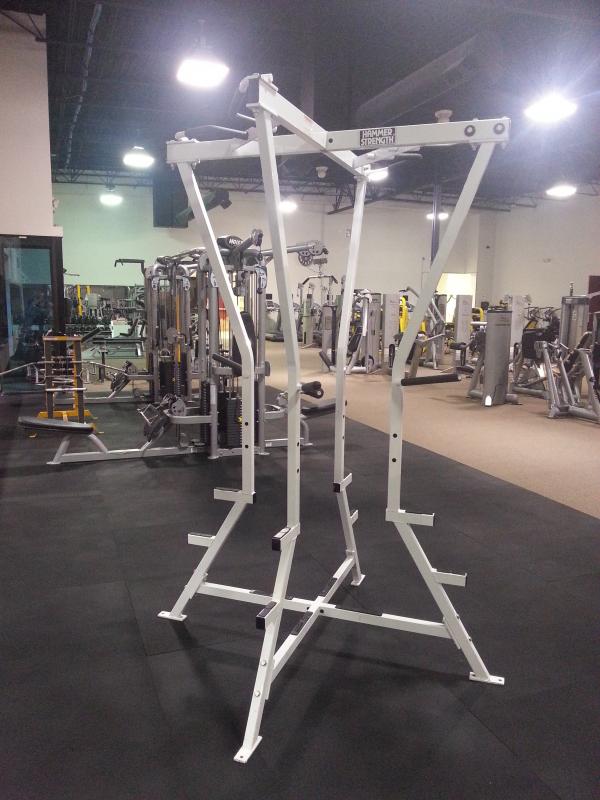 Customer Rating:
12/15/2016
Ordered my mats 4?6 1/2" for my weight room in basement. Great product,drop 65 lbs dumbells down with no worries of damaging my beautiful Epoxy floor.great prices also.shipping was a breeze.
Customer Rating:
10/17/2016
Very happy with the product and the delivery everything went like clock work. Great customer service
Customer Rating:
04/20/2016
Love the mats, love the shipper. Easy to install with a cutter.
Customer Rating:
11/21/2014
From the first call, these folks were helpful. I told them what I was going to do with the flooring and they pointed me in the right direction without the sales pitch. Product is awesome and the service was great.
Customer Rating:
03/17/2014
We are well pleased with our flooring from GreatMats.
Customer Rating:
02/21/2014
We are very pleased with the mats we purchased from yall. They will satisfy our needs.