Rubber Flooring Roll Geneva 3/8 Inch Black 25 LF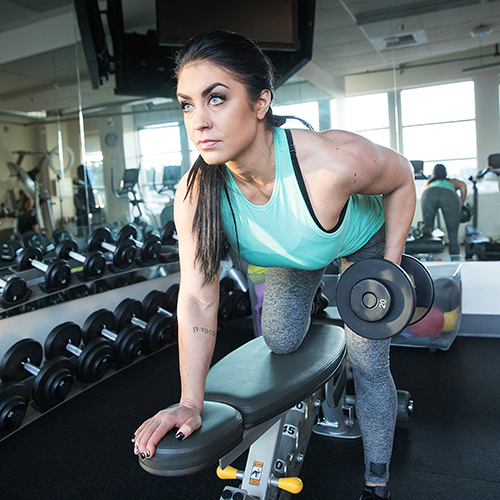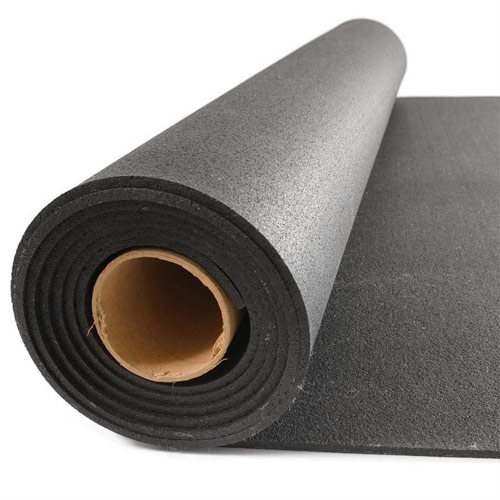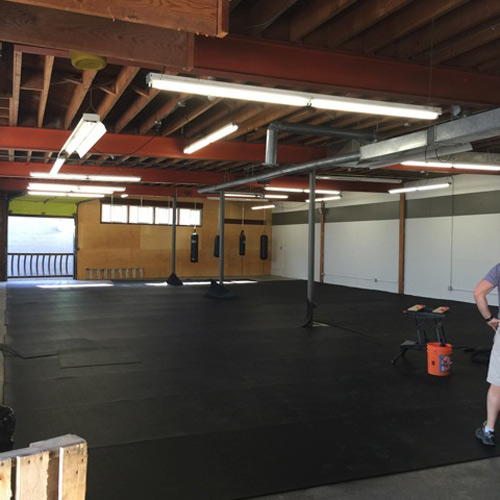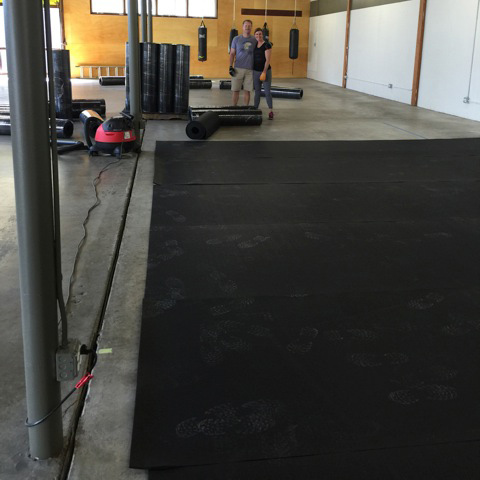 Install with tape or glue down, dry lay for home installations
Made in the USA
Durable rubber flooring rolled material
$282.68
/roll
(You Save 20%)
Call for Better Price on Volume Orders
(6 Reviews )
Ships Out: Estimate 2-4 Weeks on Average
How Much Flooring Do I Need?
Lead times may vary based on color selection and quantities. Please call for availability.
VIDEOS
Rubber Rolls Install Video
Rolled Rubber Flooring Features and Benefits
How To Clean Rolled Rubber Flooring
How To Cut Rolled Rubber Flooring
Economy Gym Flooring - Rubber Flooring Rolls
How to Install Vinyl Edge Reducer & Transition Strips for Rubber Flooring Rolls
TOP FEATURES
Install with tape or glue down, dry lay for home installations
Made in the USA
Durable rubber flooring rolled material
Low odor rubber flooring option
Made from recycled rubber material
Use Types
Rubber Gym Flooring, Weight Room Flooring, Home Gym Floors, Industrial Floors, Rooftop Walkways, Horse Stall Wall Padding
NOTE: This item is a custom order and is not returnable.
Rubber Flooring Roll Geneva 3/8 Inch Black 25 LF
Rolled rubber is one of our specialties, we offer the best quality Rubber Flooring Roll Geneva 3/8 Inch Black 25 LF at the most competitive prices. Standard material, ships coast to coast, and we offer custom cut lengths as required for your project.
Rolls of rubber is an excellent and cost effective rubber flooring option for athletic facilities, doggy daycares, basement floors and industrial installations.

25 and 50 ft rolls, available for quick shipment at the best prices available. Custom cut lengths available, typically in 30 linear feet or longer per roll. Custom orders are no problem for us, we pride ourselves on working closely with our customers through out the process.

Rolled rubber eliminates seams and enhances the appearance and longevity of your sports facility or home gym. Durable rubber is environmentally friendly, made from recycled rubber content and cost effective. Our standard rolled rubber material has a density durometer rating of 60. At 3/8 inch thick it can support the heaviest fitness equipment and occasional dropped weights of up to 80 pounds.
Rubber Flooring Rolls Quick Ship Items Include:
1/4 inch thickness in Black, and 10% Colors of Red, Green, Blue, Eggshell
3/8 inch thickness in Black, and 10% Colors of Red, Gray, Blue, Eggshell, Lipstick, Tan
Rolled rubber can be used for weight room areas, storage rooms and ammunition rooms to name a few. Rubber roll floor can also be used in industrial applications. Rubber flooring rolls can be installed with either a tape down or glue down installation. Rolled rubber flooring can add comfort and durability to an otherwise hard surface. Rubber flooring rolled material is most commonly ordered in 100 percent black or with a 10 or 20 percent color in the mix.
Rubber rolls can also be custom ordered with any color percentage and color mix. Rolls of rubber are the most common rubber flooring available. Each roll of rubber will lay flat when unrolled for installation. Rolled rubber can be cut with a utility knife for a wall to wall installation. Rubber roll floor will withstand high impacts in weight rooms. Rubber flooring rolls are all 4 ft wide per roll. Rolled rubber flooring is a very low odor rubber flooring material type. Rubber flooring roll material is made with recycled rubber content and is a Green product by EPA standards.
Thickness size tolerance plus or minus .02 inches
4 ft width size tolerance plus or minus 1/4 inch
Please Note: Cut lengths for rolled rubber products are provided as a courtesy at no additional cost to customers. In come cases, the manufacturer may provide a cut length within two pieces of material. In other cases, the manufacturer may send material that is over or under the specified linear footage. In all cases, the manufacturer is required to supply the overall amount of material per order. It is common for rolled rubber jobs to have butt seams or cut end seams within one roll or run.
Maintenance
Use a neutral Ph cleaner, such as Taski Profi.
Shipping
Ships via freight delivery only, shrink wrapped on pallets.
This Product Ships Freight Only.
Please review our shipping disclaimer.
ACCESSORIES
Accessories for RUBBER FLOORING ROLL GENEVA 3/8 INCH BLACK 25 LF
ANSWERS
Product Questions:
Q: Can this be used outside?
A: Only as one strip, for area layouts the product is only rated for indoors.
Q: Is this mat material resistant to oils like gear oil and hydraulic oil
A: No this rubber is not, you either need to use a nitrile type rubber floor mat or a PVC floor tile.
Q: How wide are the rolls
A: The rolls measure 4 feet wide.
Q: How wide are the rolls
A: These rolls measure 4 feet wide.
Q: 25' x ? Is adhesive required? Thanks
A: This product measures 4' wide by 25' long. Adhesive use depends on the application of the product. Please feel free to reach out to us at 877-822-6622 for more information regarding this.
Q: The length is 25 feet, what is the width of a roll?