Rubber Flooring Rolls Geneva 1/2 Inch 10% Color Per SF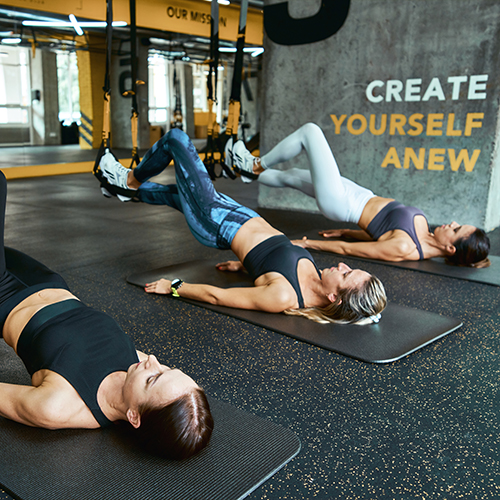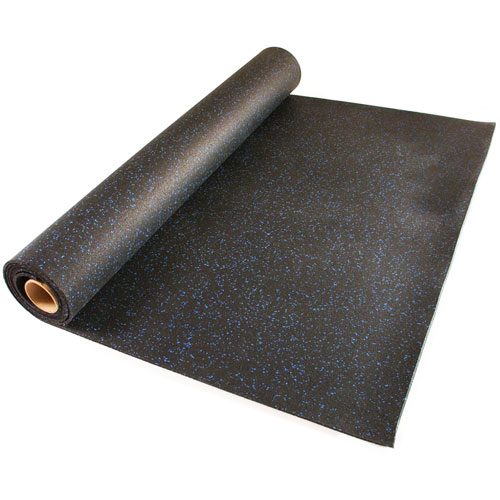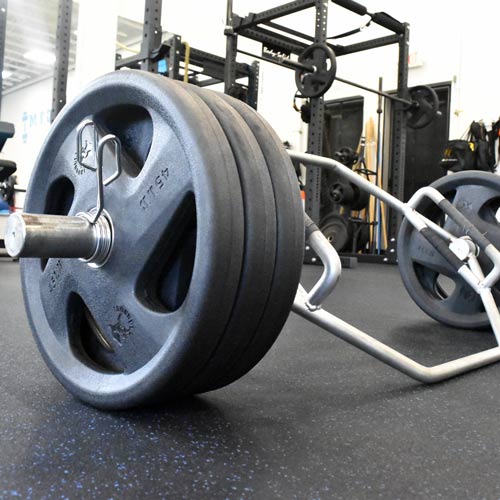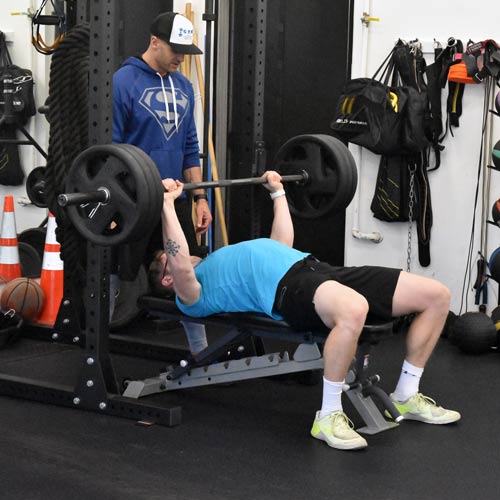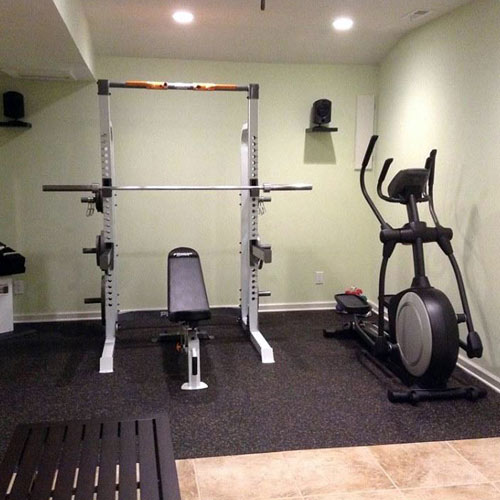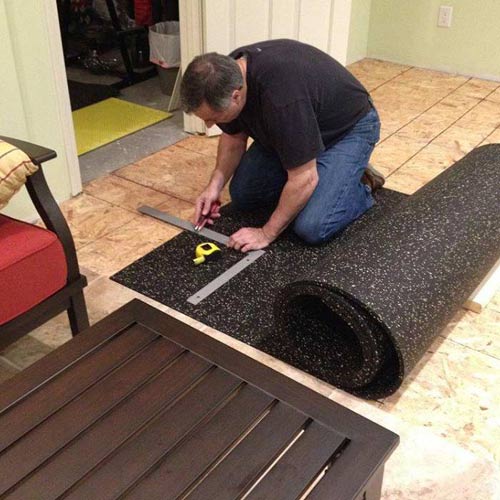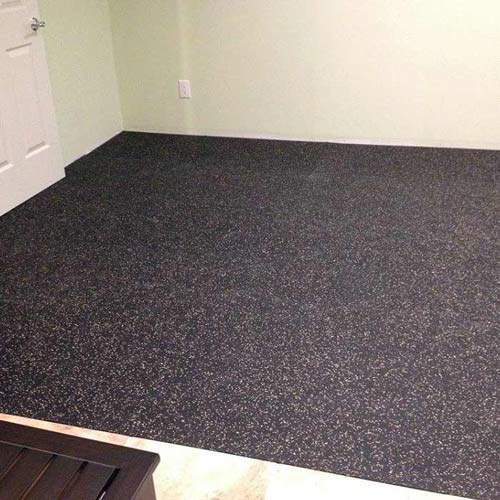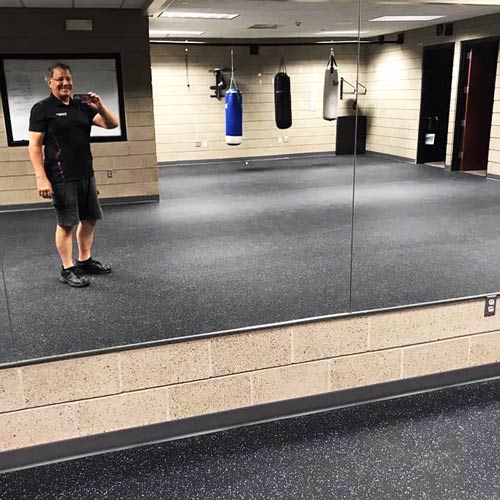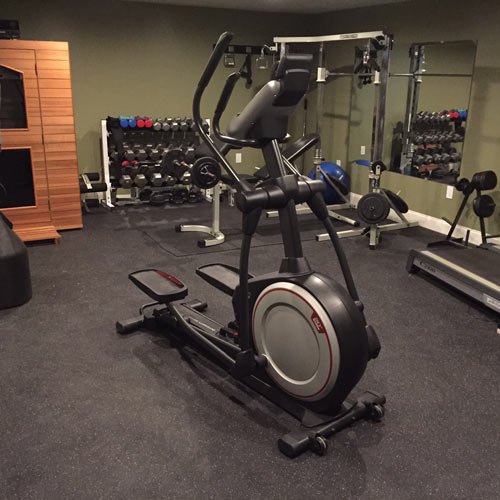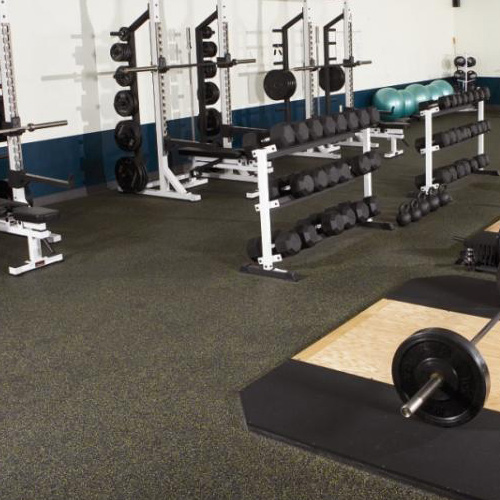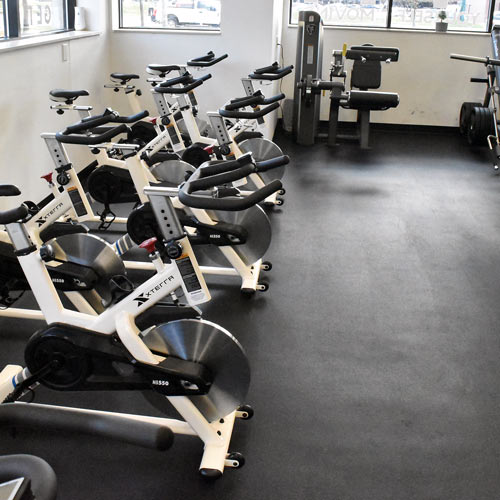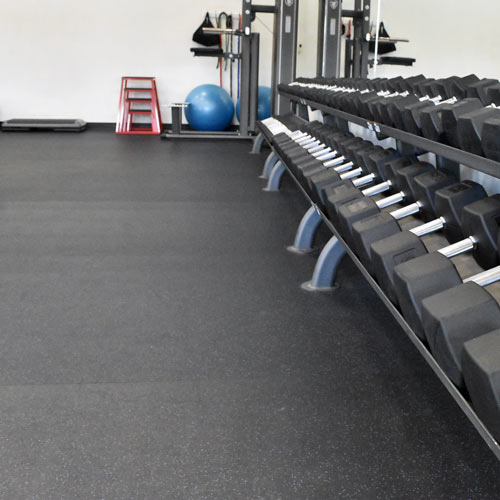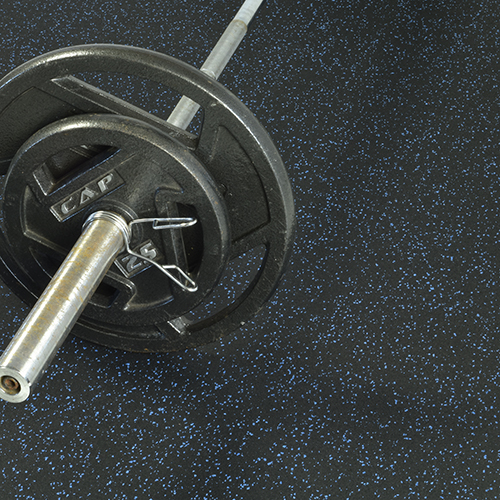 Custom cut roll lengths over 100 SF per roll
Made in the USA
Low odor rubber flooring option
Call for Better Price on Volume Orders
(24 Reviews )
Ships Out: Estimate 2-4 Weeks on Average

Red

Blue

Eggshell

Green

Gold

Brown

Gold/Eggshell

Blue/Gray

Tan

Light Gray

Lipstick
Roll Calculator
Note: Material Width for this Product is 4' wide
Rolls are cut to 25 ft minimum, in increments of 5 ft
Option 1

Option 2

Custom Roll Length
Lead times may vary based on color selection and quantities. Please call for availability.
VIDEOS
Get Yourself Moving Rolled Rubber Gym Profile Video
Rolled Rubber Flooring Features and Benefits
How To Clean Rolled Rubber Flooring
Rubber Rolls - Installation Video
TOP FEATURES
Custom cut roll lengths over 100 SF per roll
Made in the USA
Low odor rubber flooring option
Install with tape or glue down, dry lay for home installations
Color flecks are distributed throughout product & will not wear away
Recycled rubber content makes this a green product
May contribute to LEED points
Non slip when wet, durable resilient rubber surface
Use Types
Rubber Gym Flooring, Weight Room Flooring, Golf Areas, Ice Skating Rinks, Warehouse and Industrial Floors
NOTE: This item is a custom order and is not returnable.
Rubber Flooring Rolls Geneva 1/2 Inch 10% Color Per SF
Rubber Flooring Rolls Geneva 1/2 Inch 10% Color Per SF fleck is a high quality rubber flooring option for home and professional gym floors. 10% color fleck in a black base of rubber material.
This product ships from Wisconsin. This 1/2 inch 10% color fleck rubber flooring roll is purchased by the square foot, in any roll length from 25 to 100 foot long. One linear foot of material is equal to 4 square feet.

Use rolls of rubber flooring for home and and commercial gym floors. This type of resilient rubber flooring product is very durable and long lasting. Made from recycled rubber material this flooring option is considered a green product and may contribute to LEED points in green buildings.

Rolled rubber flooring is a popular option in homes, schools and professional gym floors and weight room areas. Rolled rubber is a great product for protecting floors from free weights and exercise equipment. Rubber flooring in rolls will act as a sound dampener and as a floor protector. Rolls of rubber flooring are a low cost resilient rubber flooring option.
Made in the USA from recycled rubber content.
Installation:
Rubber rolls are relatively easy to install. Lay the rubber rolls directly over concrete, ceramic tile, or any smooth, hard, flat surface. For a wall to wall installation, simply unroll the rubber roll and cut the lengths to fit using a straightedge and a utility knife as needed. Rubber rolls are factory cut with precision so they will lay side-by-side with no gaps between rolls. The ends of the rolls are not cut square and will require trimming during installation.
For installation use double sided floor tape or adhesive to attach the rubber rolls to a clean, hard floor surface. When using a tape down method the rolls should be taped around the perimeter and at the seams. Rubber rolls can be dry laid in small installations under 400 SF.
General Rubber Flooring Roll Information:
Rubber flooring rolls are an economical rubber flooring option for home and professional flooring installations.
Also available rubber flooring rolls in pre-cut lengths of 25 and 50 linear feet in 1/4 inch, 8 mm and 3/8 inch thickness, in all black and common 10% color fleck.
Please Note: Cut lengths for rolled rubber products are provided as a courtesy at no additional cost to customers. In come cases, the manufacturer may provide a cut length within two pieces of material. In other cases, the manufacturer may send material that is over or under the specified square footage. In all cases, the manufacturer is required to supply the overall amount of material per order. It is common for rolled rubber jobs to have butt seams or cut end seams within one roll or run.
Rubber flooring rolls are available in all black, black with 10 percent color fleck, black with 20 percent color fleck and custom runs up to 90 percent color fleck. Custom color runs are available. Reground rubber flooring rolls are an option at discounted pricing. Confetti color includes color flecks that vary from roll to roll. Regrind confetti rolled rubber is a cost savings to all black material and provides an economical option to obtain some color in the rubber flooring. Colors and color percentage will vary from roll to roll and from lot to lot. No guarantee of which color or the amount of color will be present in the rubber flooring material is made.
Rolls of rubber are available in thicknesses from 2 mm up to 1/2 inch thickness.
Rolled rubber is not a fatigue relief flooring product. It is hard like a car tire and will not provide cushion for aerobic activities. For those activities, please see our Aerobics Flooring category page.
Avoid getting this rolled rubber product wet. Although very non-porous, this rubber material will absorb water over time when submerged repeatedly or power washed on a regular basis. To dry this rubber material, it is best to elevate the material off the ground or hand-dry.
We have professional and knowledgeable sales staff ready to assist with questions, volume discount, quotes and samples.
Find rubber rolls in all thickness and color options available at the best prices anywhere. We offer great shipping rates on rubber flooring rolls, we ship rubber flooring rolls from locations nationwide.
Thickness size tolerance plus or minus .02 inches
4 ft width size tolerance plus or minus 1/4 inch
Rolls are ordered in by the square foot.
Maintenance
Always use neutral Ph cleaner on rubber flooring. Damp mop with hot water.
Shipping
Ships via freight delivery, shrink wrapped on pallets
This Product Ships Freight Only.
Please review our shipping disclaimer.
ACCESSORIES
Accessories for RUBBER FLOORING ROLLS GENEVA 1/2 INCH 10% COLOR PER SF
ANSWERS
Product Questions:
Q: Can this product be installed over carpet? If so, what adhesive, if any, would be used?
A: No, this rubber flooring roll should be installed over a hard flat surface, so its best to first take the carpeting up.
SPECIFICATIONS
| | |
| --- | --- |
| SKU# | AM12-10Color |
| In Stock | Yes |
| Product Type | Roll |
| Material Type | Rubber |
| Product Edging | Straight |
| Thickness | 1/2 inch |
| Width | 4.00 feet |
| Length | 1.00 feet |
| SF per Item | 1.00 |
| Weight | 3.00 lbs |
| Packaging | Shrink Wrapped on Pallets |
| Number of Pieces per Package Type | 9 |
| Non Absorbent | Partial |
| Special Adhesives | Yes |
| Interlock Loss | 0.00 feet |
| Material Hardness | Shore A 62 |
| Interlocking Connections | No |
| Made In | USA |
| Surface Finish | Smooth flat |
| Surface Design | Color fleck |
| Installation Method | Dry lay, tape or glue down on hard flat surface |
| UV Treated | No |
| Reversible | Yes |
| Border Strips Included | No |
| Leed Points | Yes |
| Manufacturer Warranty | 5 year limited |
HOW TO'S
RELATED PRODUCTS
RELATED BLOGS
Customer Reviews
5 out of 5
24 star ratings
Reviews with Images
Customer Rating:
06/17/2020
The rubber floor worked great. Sales was easy. Shipping was timely.
Jason
Colorado Springs, CO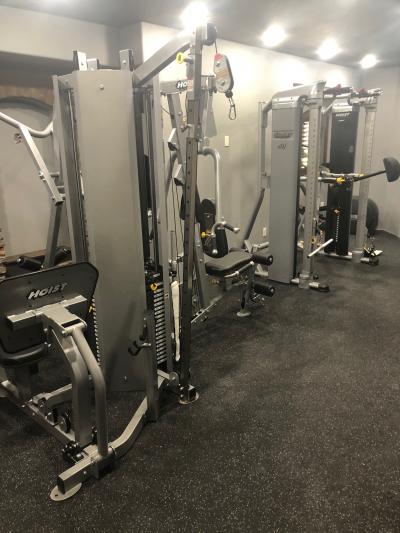 Customer Rating:
11/15/2019
We like the rubber flooring, especially what we have here with the blue specs in it because it went along with the blue logo model that we were going for,. My partner and I installed it ourselves. It was very easy to install and overall, the cleaning aspect is very simple. We just vacuum with a normal vacuum and mop with a normal mop and it cleans up really well.

It really is a great mat!
Dominic J
Minneaplois, MN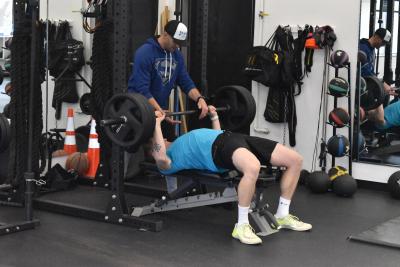 Customer Rating:
03/01/2018
I told/emailed the GreatMats rep. 3 times that I needed delivery to another location, when my order was processed, it was still shipping to me not my customer. Had to redo order, rather then the rep. accepting a loss on the amount charged for shipping. Shipping company used by GreatMats then took over 3 weeks longer to deliver product then was quoted to me. Very disappointing experience that has my customer upset. GreatMats did reach out to me to try and help the situation. Nothing they could do by then, but at least they cared enough to try. The shipping company getting my order stuck was the biggest disappointment in this situation.
Customer Rating:
01/05/2018
Very happy with the Mats. Just finished the installation of the floor last night. Carpenters still need to cover the support posts but the flooring is done and ready for delivery of gym equipment later this week! I haven't even taped the sections down but couldn't be happier. A lot easier than I had anticipated.
Customer Rating:
06/22/2017
First rate customer service. Answered all my questions with chat feature before I made my purchase. I went with 1/2'' thick rolls with red flakes in it for a basement gym. Very happy with the purchase. The rubber looks nice, lays nice, and is durable. It's a little tricky cutting irregular shapes in the rubber to fit around poles in the basement as it crumbles a bit. Be careful with a utility knife. I almost took my finger off. The mat I bought is fairly hard, and appropriate for heavy weights and equipment. I'm looking into plyometric materials as well for aerobics and box jumping. Check out gainzlifefit on Instagram as some of the latest videos show the flooring.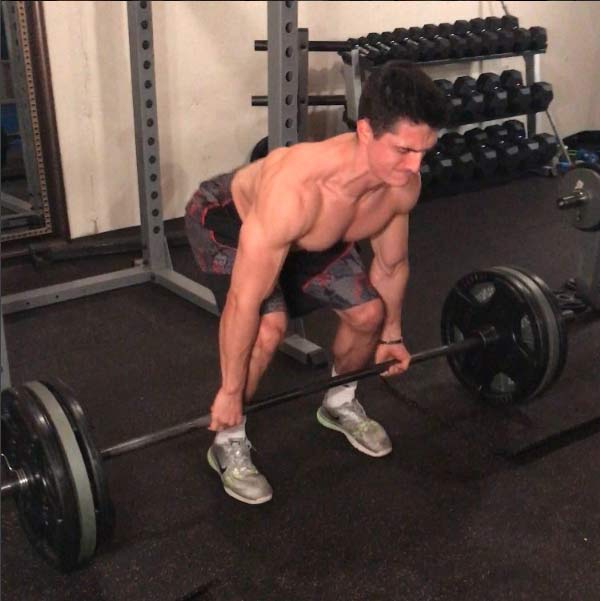 Customer Rating:
04/24/2017
Great product and great service!
Customer Rating:
11/09/2016
Quality products and reasonable prices. Great customer service from Ryan and fast delivery. Highly recommend.
JA Blackmore Construction
Customer Rating:
10/22/2016
# 1 great product # 2 great service # 3 they simply live to all your expectations
Customer Rating:
01/21/2016
Good product, very informative and functional Web site, positive interaction via e-mail with a helpful customer service rep, quick production/delivery of a non-stocked item. Only issue -- was told we would have 24-hour notice of residential delivery time and only got 2-3 hours heads-up. Didnt get that message in a timely way, so delivery couldnt be made and had to wait 3-4 more days to reschedule delivery appointment.
Customer Rating:
12/11/2013
Excellent product! The only thing I would change is the color %, it is hard to tell with a small sample.
Customer Rating:
04/26/2019
Great product! Exactly what I was looking for!
Customer Rating:
10/31/2018
Fast and friendly service! Fast shipping! I had a lot of questions when ordering this product for my customer and my CSR was more than helpful!
Customer Rating:
07/13/2018
GreatMats was so great and easy to deal with. If your in the market for Rubber Flooring. I would go no where else other than GreatMats!
Customer Rating:
12/11/2017
Having a basement renovation which is due to be completed in 10 days. Divided a portion of the basement into an in-home gym. Was looking at different options for gym flooring. Someone had recommended I purchase 4 x 6 rubber horse mats. Had found GreatMats on-line and called them to place an order for horse mats instead of ordering through Amazon. Boy, am I glad I called GreatMats. They told me the rubber smell given off with horse mats would make the basement smell intolerable. They instead recommended a gym floor that came in 48" wide rolls. Each roll was cut at my requested length of 20 per roll. Each roll weighed about 150 lbs. Flooring was actually very easy to lay down and cut. GreatMats recommended to use carpet tape to keep the cut sections together. I opted to lay and cut the floor first before applying carpet tape. I have yet to apply the carpet tape and not sure if I even need to as the seams are tight due to the overall weight of the sections. Great product!
Customer Rating:
10/09/2017
Helpful customer service. Got me the right product. Delivery on time.
Customer Rating:
07/27/2017
Good customer service and follow up
Customer Rating:
06/05/2017
Great product! Exactly what I needed.
Customer Rating:
05/31/2017
Nice product. Excellent customer support. The 1/2" rubber with red flakes looks great. Its a little harder than I expected but does the job in a basement gym with heavy weights, benches, and equipment. Cutting to size is fairly easy unless you try cutting circles or irregular shapes as the rubber can tear and crumbles a little. Looking into some plyometric material as well for aerobic and jumping exercises.
Customer Rating:
05/10/2017
School weight room flooring installation
Customer Rating:
05/27/2014
We ordered mats for our box and really loved them. I wanted to do the same for my home gym. I went with the 1/2 inch with a color spec and love it. You can really feel the shock difference between a 1/4 (box) and 1/2 (home) mats. I recommend going with the thicker.
I had them rolled out and cut in about 20 minutes. I did not use tape of glue in the box or home and have had not problems with movement.
The mats were the perfect finish to the gym.
Customer Rating:
04/30/2014
I purchased 1600 ft of GreatMats for our box a few months ago and loved it. I wanted to use it in my home gym as well. My custom mats arrived early which was great. I rolled them out, cut to size and installed in 20 minutes. I did not use tape or glue, there has been zero slippage.
Customer Rating:
06/27/2013
The flooring was easy to install, high quality, low to no odor and looks great. Guess thats where the company name comes from.