Sterling Roof Top Tile Black 2 Inch x 2x2 Ft.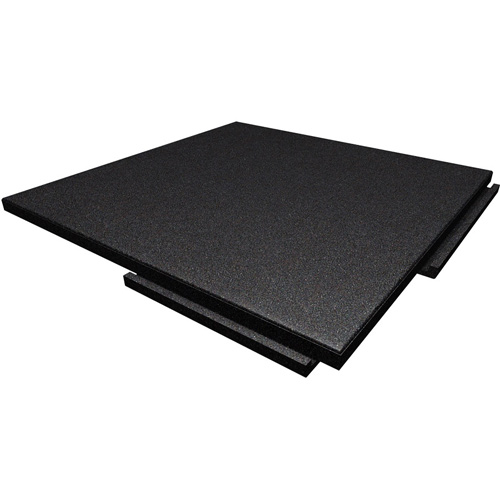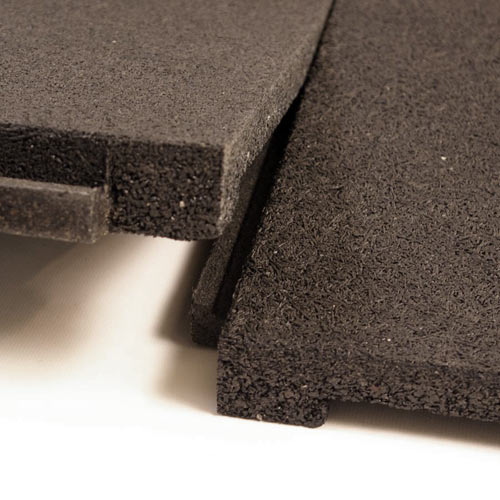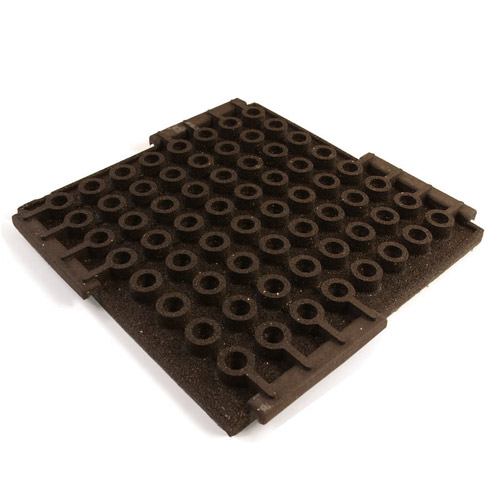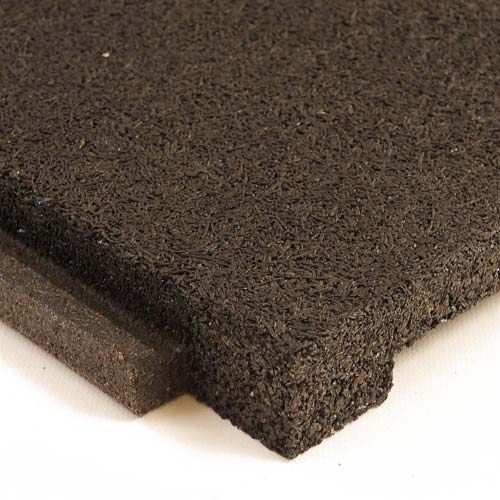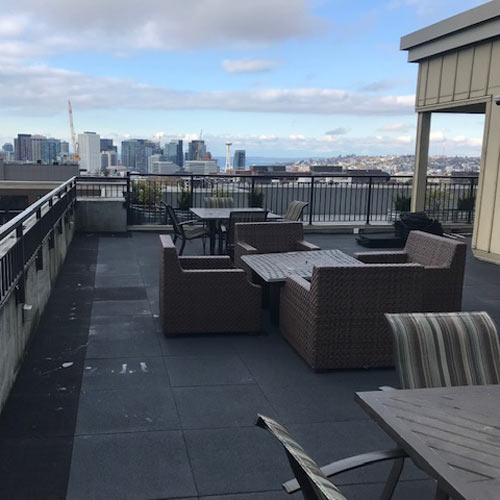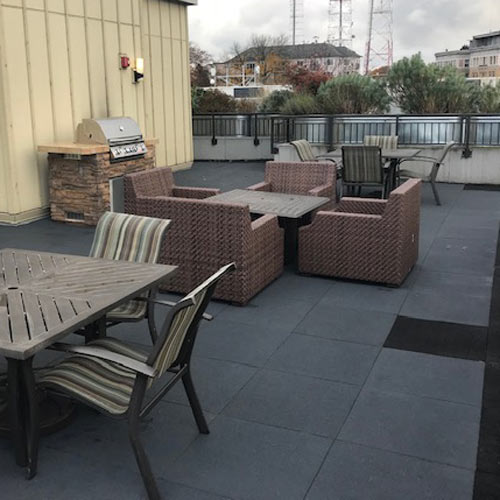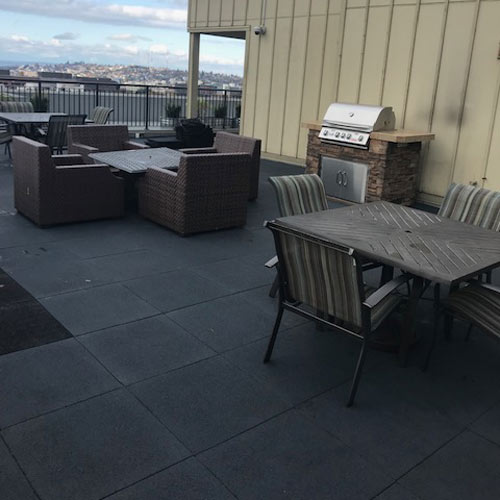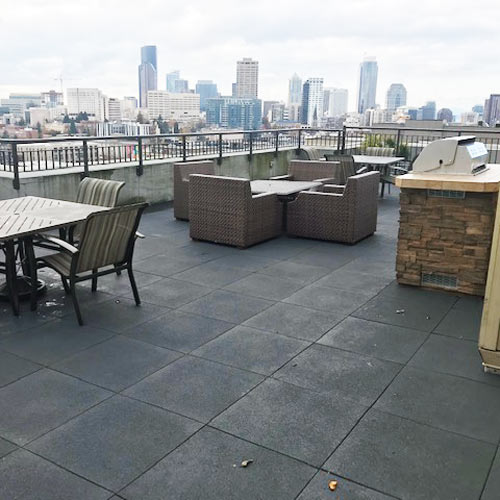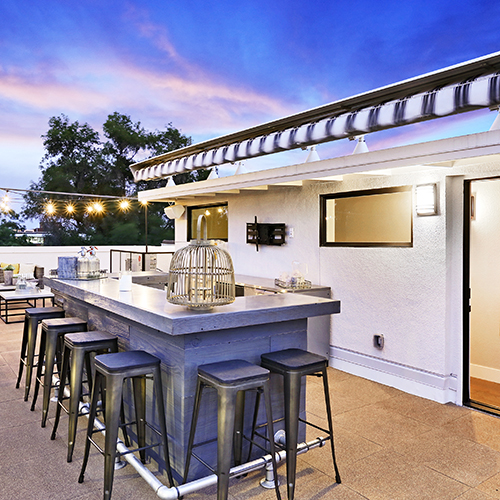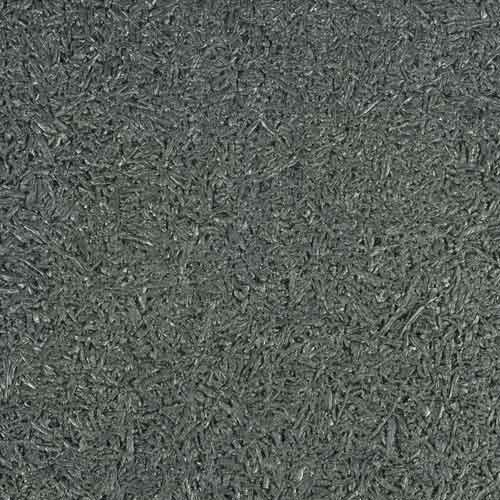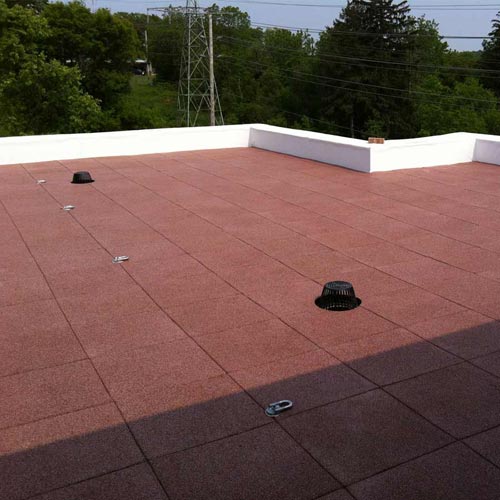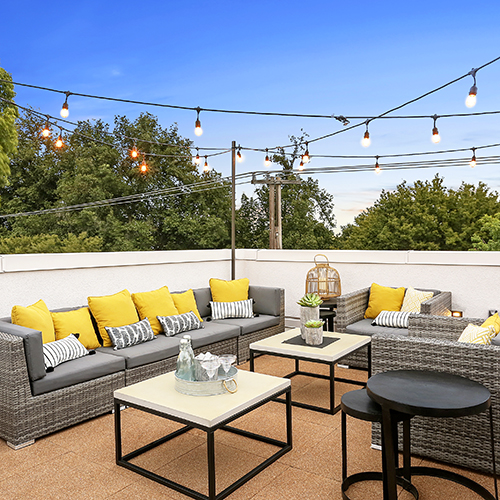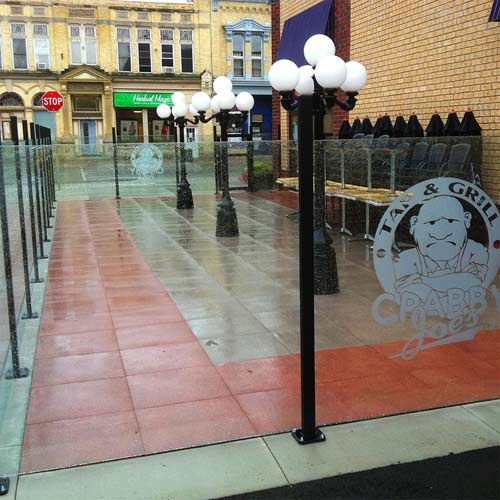 Durable patio rubber floor tile
Interlocking edges
Easy installation
$30.24
/tile
(You Save 20%)
(5 Reviews )
Ships Out: Estimate 7-10 Working Days
How Much Flooring Do I Need?
VIDEOS
TOP FEATURES
Durable patio rubber floor tile
Interlocking edges
Easy installation
Easy to clean
Heavy duty outdoor patio and deck flooring
High quality manufacturing
Available in several color options
Use Types
Patio Floor Tiles, Rooftop Flooring, Golf Courses, Deck Tile Surfaces, Outdoor Rubber Flooring
NOTE: This item is a custom order and is not returnable.
The Sterling Roof Top Floor Tile product delivers the durability, simplicity of installation, and sharp looking finish that works well for any kind of outdoor rubber flooring need.
Our black patio tiles give you a limited lifetime manufacturer warranty, which means you can count on them to last a long time, yielding a great value over the years.

Multiple Use Cases
Our customers appreciate our black rubber roof top tiles for many reasons, but the versatility of the product ranks especially highly. You can use these tiles in areas where you need to provide a sturdy style of roof top rubber flooring to handle high foot traffic. It also works well in areas where you need to support furniture or you just want a good looking style of black patio floor.

Because these black patio tiles will not absorb water, they are a smart option as a roof top rubber flooring, where you need any rainwater to drain quickly.
This black patio floor also looks good enough that you can install it in a patio seating area at your home, at a swimming pool, or at a golf course. The black rubber roof top tiles deliver a high level of durability and will stand up to deck furniture being moved across them or to spills of food and drink.
Because the black patio tiles have a material hardness rating of Shore A 60, they will stand up to rough treatment for a long time.
Easy to Install
Our rubber deck tiles have interlocking grooves around the exterior of each piece of black patio floor tile, which greatly simplifies the installation process.
Additionally, the interlocking edges on the black rubber roof top tiles are hidden on the underside of the tile, which means the installation of the outdoor rubber flooring gives you clean, square lines that will look great anywhere.
Installation goes faster with these rubber deck tiles because they measure 2 by 2 feet, so you can cover space much more quickly than with smaller tile sizes. Our black patio tiles each weigh 24 pounds, which means they're just the right size to handle and move around.
For added versatility, the black rubber roof top tiles can use either a glue down installation or a dry lay installation. For example, if you would like the option of picking up the tiles at some point, you would use the dry lay installation for this black patio floor. For installations over 2000 square feet, a glue down installation is recommended.
If you are not installing these tiles wall-to-wall, we have border and corner ramp edges available to create a finished look and reduce the tripping hazard.
Easy to Maintain
Because this black patio floor is designed for use outdoors, rainwater will easily rinse away dust and some other materials. During dry weather, you can use a hose to rinse off the mats. If you're looking for a more thorough cleaning of these black rubber roof top tiles, you can use a damp mop with hot water and a neutral Ph cleaner, such as Taski Profi.
When you're ready to order the Sterling Roof Top Tile 2 Inch Black product, please contact our knowledgeable customer service team, who can help you figure out the best delivery option for you, as well as answer any questions you may have.
This product ships from the northeast.
These outdoor rubber tile are manufactured using recycled rubber buffings or crumb rubber from reground automotive tires. Black or color from the rubber material will rub off to some extent under normal use. This is common contact wear with this type of rubber tile in this product family type.
Maintenance
For regular cleaning damp mop with hot water and a neutral Ph cleaner, such as Taski Profi. For exterior use simply hose off.
Shipping
Ships via freight delivery, shrink wrapped on pallets.
This Product Ships Freight Only.
Please review our shipping disclaimer.
ACCESSORIES
Accessories for STERLING ROOF TOP TILE BLACK 2 INCH X 2X2 FT.
ANSWERS
Product Questions:
Q: Is this product safe to be used on a an open rubber membrane flat roof? Does it expand and contract aggressively during harsh winters?
A: With proper installation per the products instructions, this is by far the best rooftop rubber tile on the market and yes it is safe for rubber roofing membranes and is used extensively in commercial installations. Expansion will be restricted with proper installation.
Q: When laid over a concrete foundation for a patio application, how do you prevent water from getting under these tiles, creating an environment conducive to mold and mildew between the tiles and the foundation?
A: The tiles are on legs and will allow water to flow underneath. One option to to glue the top seams of these tiles.
Q: Is this product rated for immersion in water? Does it deteriorate if immersed in water? Can it be used in immersed conditions ?
A: Sterling Roof Top Tiles should not be installed in areas where they will be fully submerged in water. This tile is very durable. But, if used in a wet area, such as being used as a spray pad in a water park, they would need to be completely glued down to concrete or asphalt and no warranty is present.
Q: Can you put deck tiles on grass?
A: These tiles should be installed over concrete, asphalt, leveled and compacted granite or limestone screenings. They can also be used over a roof membrane. They should not be installed over grass.
Q: If installed on a roof membrane, can these tiles remain in place throughout the winter in the northeast where there might be snow and/or ice?
A: Yes, these tiles stand up to harsh climate changes quite well.