What Is the Best Noise Resistant Flooring?
By Kyle Schurman Created: April, 2021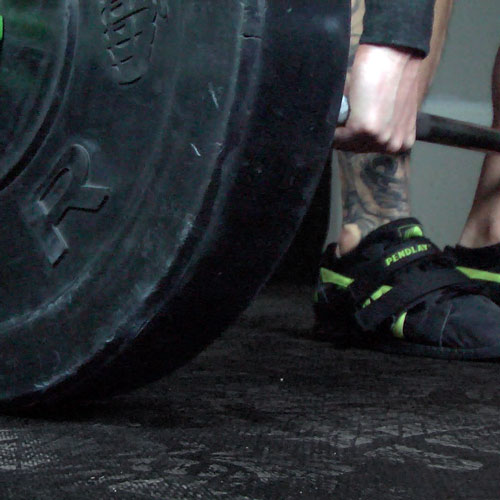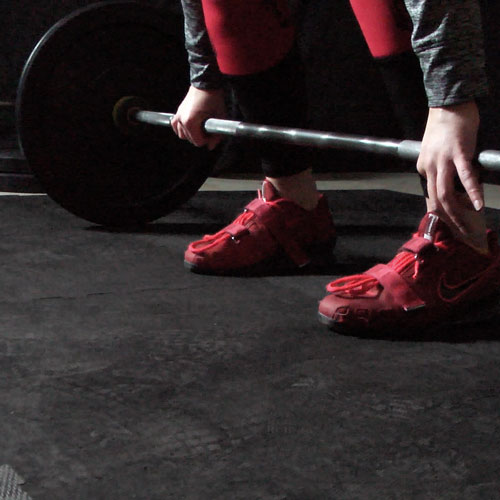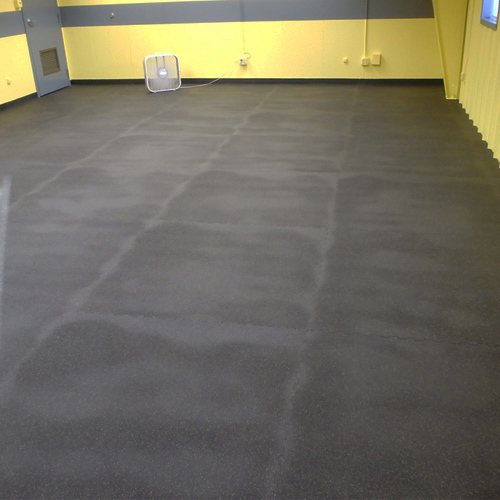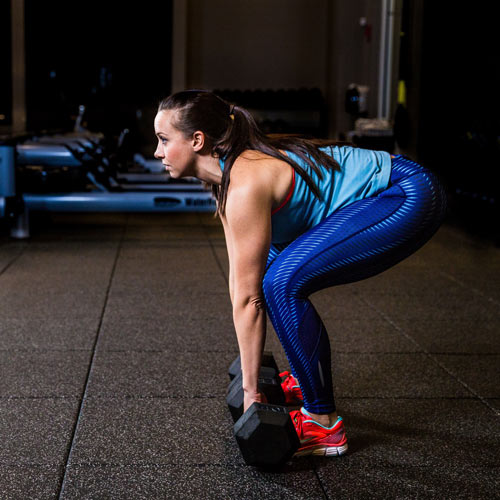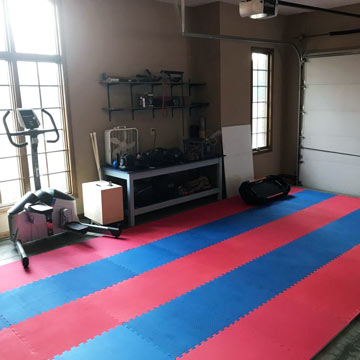 Noise resistant flooring provides a number of benefits in a residential or commercial setting, cutting down on stray noise that could bother neighbors or others in the building. Rubber, foam, and cork all work well to provide acoustic benefits for a room.
Some of the best products to use to soundproof a room include:
Interlocking Rubber Floor Tiles

ShokLok Interlocking Tiles

Sound Reduction Gym Floor Tiles

SilentTread Rubber Sound Underlayment Rolls

AcoustiCork Tiles

Foam Kids and Gym Mats
How Can You Find the Right Noise Resistant Flooring?
When trying to create a type of floor that resists sound, it's helpful to think about the type of noise that's occurring in the area.
Impact: An impact style of noise occurs when objects hit the ground, creating a banging sound. For a fitness center or home gym where the athletes work with and possess free weights or kettlebells, rubber and foam are some of the best noise resistant flooring options.

Transmission: A transmission noise occurs when loud music, television, or conversations create unwanted sound that travels through walls and floors. Rubber, foam, and cork all work well for helping to prevent transmission sound.
What Are Some of the Top Rubber Floors for Preventing Unwanted Noise?
Rubber has quite a few benefits as noise resistant flooring, making it a popular choice in both residential and professional settings.
Commercial fitness centers that exist in areas where noise may bother neighboring businesses can make use of rubber to reduce the effects of noise. For a home gymnasium, using rubber underlayment can cut down on noise that reverberates throughout the home, bothering other family members.
Thicker tiles provide a higher level of sound reduction than thinner tiles. However, thick rubber tiles are heavy, which can complicate installation.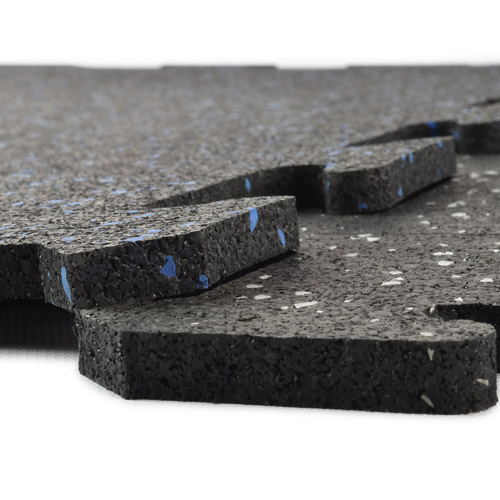 For those who only need a minimal amount of cushioning and noise suppression, the Interlocking Rubber Floor Tiles product is a good choice for exercise areas. These tiles measure almost 2 by 2 feet in size and about 5/16 inches in thickness (or 8 mm). They weigh 7.4 pounds each.
Thanks to a 10% color fleck concentration in the base black color, these tiles work nicely as a main type of flooring, rather than only as an underlayment. Select among gray, blue, or a gray/blue combination in the color flecks.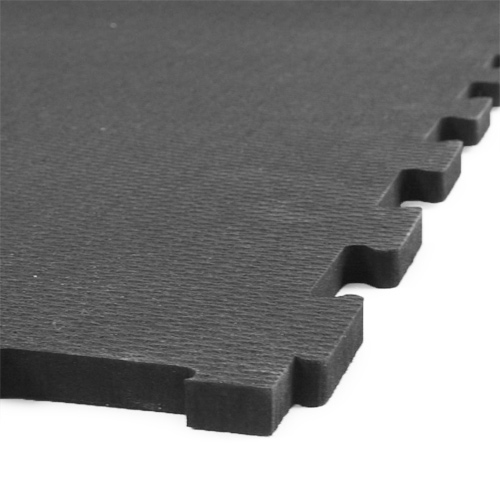 For a commercial style of interlocking rubber tile, consider the ShokLok Interlocking Tiles. These tiles have an impressive 3/4-inch thickness, which delivers a high level of noise suppression and impact absorption for a busy gymnasium setting.
These are heavy tiles, weighing 95 pounds apiece for an almost 4-by-6-foot coverage size per mat, so more than one person will need to be available for helping with the installation.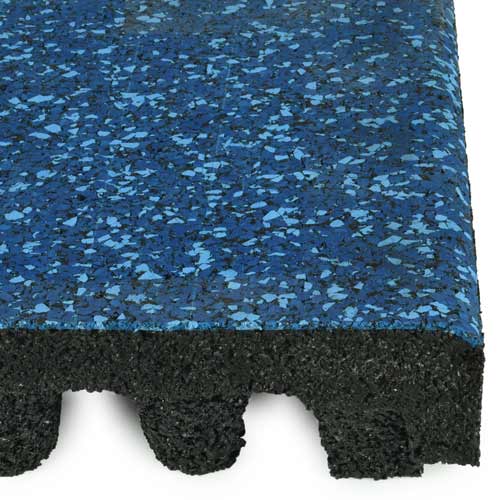 In an intense gym setting, the Sound Reduction Gym Floor Tiles represent the ideal solution. No matter how large the free weights are at the gym, these 2.5-inch thick tiles will create the perfect flooring for limiting noise.
Each tile measures 2 by 2 feet in size and weighs almost 28 pounds. The tiles pop together, but they use a hidden interlock system to maintain clean lines in the final installation, which is ideal for a commercial gymnasium. The tiles are slip resistant, while also providing insulation against a cold subfloor.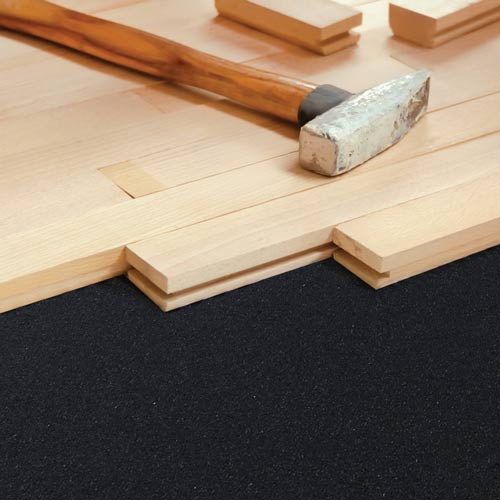 For those who want to place a secondary type of flooring over the top of the rubber, the SilentTread Rubber Sound Underlayment Rolls work extremely well.
This noise resistant flooring rolls out over the subfloor. Installers then can place other types of flooring over the top, such as wood planks, carpet, or vinyl laminate.
This thin roll has only 2 mm of thickness (a little more than 1/16 inches). It covers 4 by 25 feet.
Is Cork an Effective Noise Suppression Flooring?
Cork is one of the best types of flooring to use for reducing noise, as it delivers commercial quality materials in a style of flooring that's easy to install.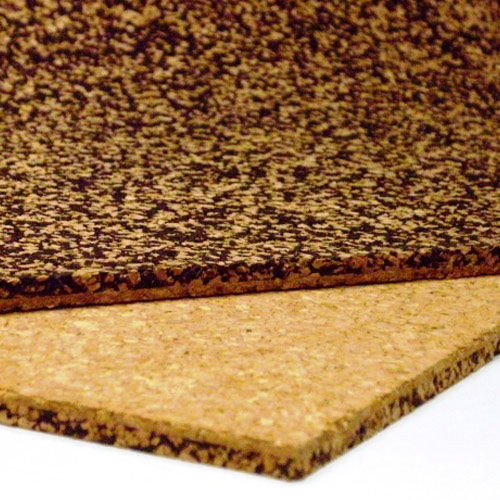 The AcoustiCork Tiles consist of a mixture of cork and rubber, delivering the best of both types of materials for sound suppression. This material will meet all local building codes.
AcoustiCork pieces each measure 3/8 inches in thickness and 2 by 3 feet in coverage size. Glue them down onto the subfloor, and then lay another type of flooring over the top.
Will Foam Floors Reduce Noise From a Child's Playroom?
In a noisy playroom, EVA foam tiles will keep the noise under control, allowing others in the home to relax while the kids play. They also give the kids a safe space to protect them from falls while they're playing.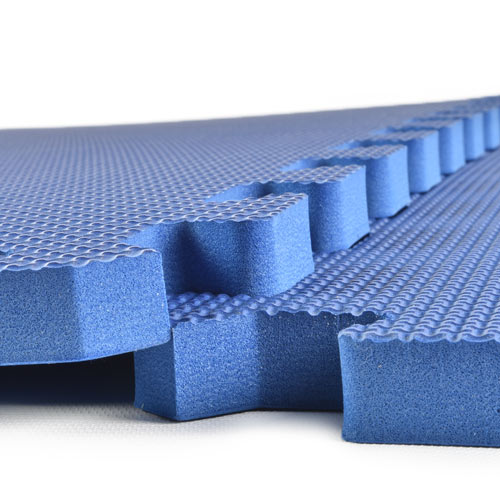 The Foam Kids and Gym Mats are the perfect choice for guarding against noise and falls. With interlocking edges on the tiles, they're easy to install, measuring 2 by 2 feet in coverage size and 15 mm in thickness (about 19/32 inches).
Multiple bright colors are available, giving the kids a fun area to play.