Rolled Rubber Sport 1/2 Inch Black Per SF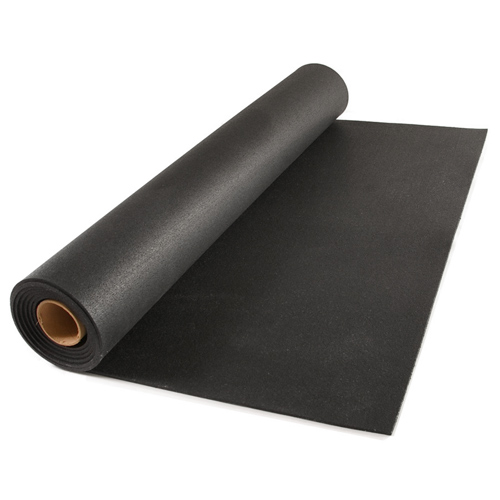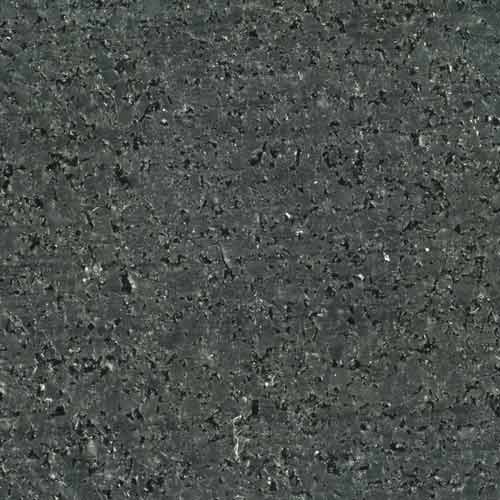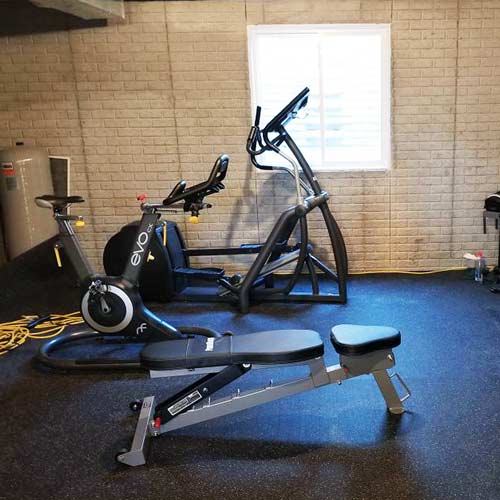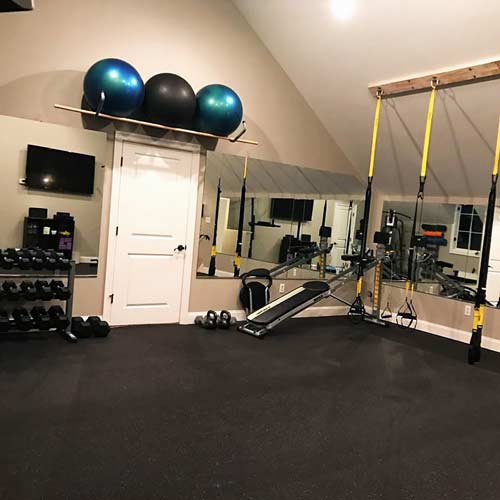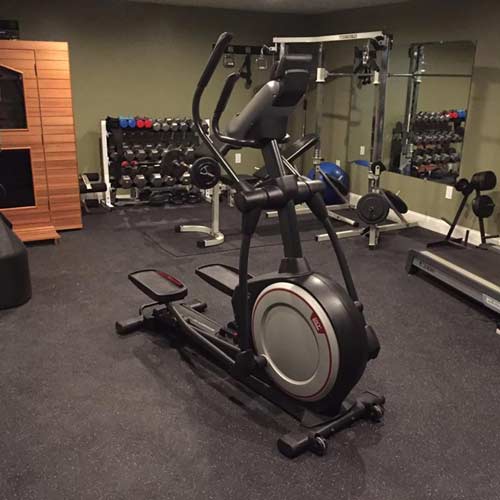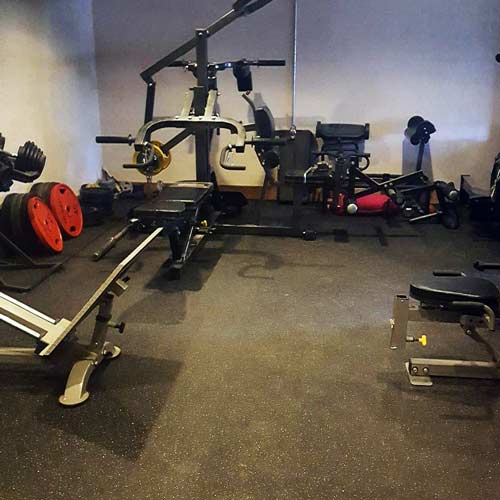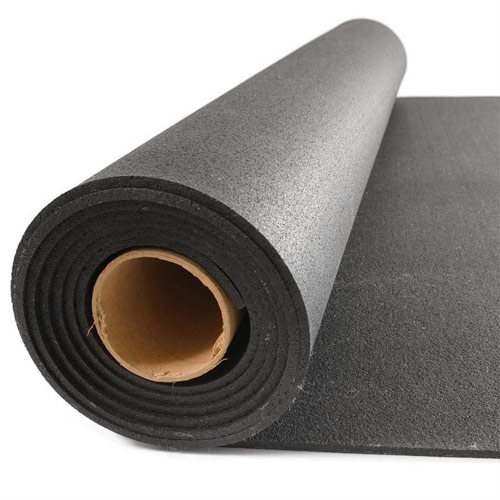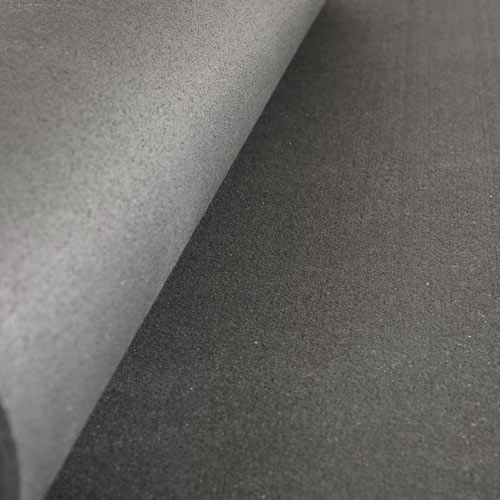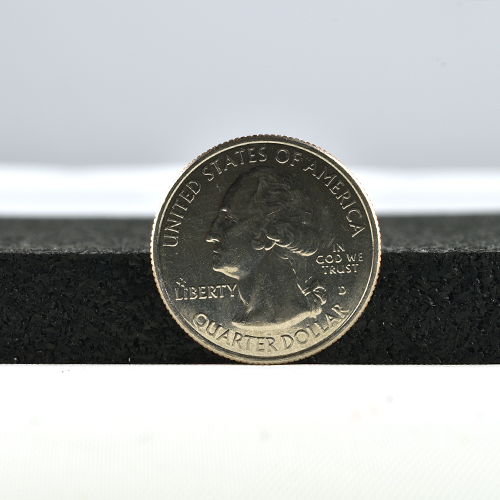 Wear resistant
Abrasion resistant
Sound absorbent
(1 Reviews )
Ships Out: Estimate 4-6 Weeks

Black
Roll Calculator
Note: Material Width for this Product is 4' wide
Rolls are cut to 15 ft minimum
Option 1

Option 2

Custom Roll Length
VIDEOS
TOP FEATURES
Wear resistant
Abrasion resistant
Sound absorbent
Slip resistant
Shock absorbent
Comfort underfoot
LEED credit
GreenCircle Certified
Use Types
Fitness, Health clubs, indoor recreation, locker room, weight room
NOTE: This item is a custom order and is not returnable.
Rolled Rubber Sport 1/2 Inch Black Per SF - Slip resistant
Rolled Rubber Sport 1/2 Inch Black Per SF is compressed, tough rubber that gives the greatest relief underfoot and absorbs the jolt of exercise impact.
Rubber flooring rolls are popular for a variety of use cases related to athletics. The 1/2 inch rubber gym flooring rolls from Greatmats are ideal in a gymnasium setting, as they provide noise reduction and protect the subfloor from heavy workout equipment.


Fitness center owners can lay out this rubber roll, to provide a level of protection for customers and subfloor.


Size and Shape Options

Our 1/2 inch rubber gym flooring rolls have enough thickness to ensure that they will protect the subfloor from rough treatment.

If athletes will be using weight machines or heavy dumbbell equipment for power lifting, these items can cause damage to the subfloor if dropped. However, when using this roll of rubber over the top of the subfloor, it will absorb the impact of heavy items and leave the subfloor undamaged.

A 1/2 inch thick rubber mat is an ideal thickness for use around heavy duty exercise equipment and free weights. It delivers the best level of protection and versatility. Thicker rubber mats and rolls may be too heavy to move around easily, while thinner mats may not provide the desired level of protection.

Each roll of rubber measures 4 feet in width. Customers are able to select a desired length in the roll. The minimum order for this product is 20 linear feet.
Material Options
This roll makes use of a compressed rubber material that ensures the greatest level of density and toughness. Each of our 1/2 inch rubber gym flooring rolls carries a 5-year limited manufacturer warranty. Most customers receive a far longer lifespan than 5 years from this durable roll.
Even though this is a highly compressed form of rubber, it still provides shock absorption for athletes as they perform tough workouts. Rubber flooring has a greater level of protection for the knee, hip, and ankle joints of the athletes than a concrete or vinyl type of flooring.
We source these 1/2 inch rubber gym flooring rolls from a manufacturer in the United States, which means customers can trust the quality of the materials. You won't have to worry about impure materials or weak spots in the rubber.
Pattern and Texture Options
This roll of rubber athletic flooring is available with a smooth finish. The manufacturer does not add any texture or grooves to the surface of the rubber, which makes it easier to clean the roll.
Because rubber provides traction for people using it, even when moisture is present, the manufacturer does not have to add texture to create a safe surface for athletic workouts.
Both sides of the roll are usable as the top layer, as this is a reversible style of flooring. However, it is only available in a black color on both sides.
Common Use Options
Commercial athletic facilities are the most common customers for this roll of flooring. The roll is sound absorbent, so it works great for areas where noisy exercise machines are in use. Having less noise from these machines makes the space more enjoyable for everyone at the gym.
Schools may also use this roll to create a safer place for workouts in a weight room, as the rubber reduces the chances of an athlete losing footing when trying to generate leverage for a big lift.
In a locker room where moisture is present, our roll of rubber provides texture to help people avoid slipping when moving through wet areas.
For homeowners looking to create a workout space in a basement where moisture may be present, this roll of rubber is an ideal selection to create slip resistance and shock absorption.
Installation Options
Installation of our 1/2 inch rubber gym flooring rolls goes quickly.
Frequently, customers will install them by simply rolling them in the area where they want to use them. Because the rolls weigh 2.67 pounds per linear foot, they should remain in place without the need to use adhesive or glue.
Customers then can roll up the floor and place it in storage when they don't need to use it. A roll of floor with around 40 feet of length weighs more than 100 pounds, though, so you may need more than one person to help move it around.
Cleaning and Maintenance Requirements
Our 1/2 inch rubber gym flooring rolls are popular selections for a variety of customers because they are easy to clean and maintain.
Customers do not need to deploy any special cleaning techniques to keep the roll of flooring in the best possible condition. Make use of a broom or vacuum cleaner to remove dust and other dry debris from the surface of the roll. Leaving dust in place could lead to staining.
To remove stains or other unwanted spots from the roll of floor, make use of a mop and a neutral pH cleaner diluted with hot water. This is a safe type of cleaner to use with rubber. After mopping, let the floor dry over a few hours.
Maintenance
Sweep, dust mop or vacuum. Scrub with neutral pH cleaner.
Shipping
Ships via freight delivery only, shrink wrapped on pallets.
This Product Ships Freight Only.
Please review our shipping disclaimer.
SPECIFICATIONS
| | |
| --- | --- |
| SKU# | 1010012 |
| In Stock | Yes |
| Product Type | Roll |
| Material Type | Rubber |
| Product Edging | Straight |
| Thickness | 1/2 inch |
| Width | 4.00 feet |
| Length | 1.00 feet |
| SF per Item | 1.00 |
| Weight | 2.67 lbs |
| Packaging | Shrink Wrapped on Pallets |
| Number of Pieces per Package Type | 4 |
| Non Absorbent | Partial |
| Special Adhesives | Yes |
| Interlock Loss | 0.00 feet |
| Material Hardness | Shore A 60 |
| Interlocking Connections | No |
| Made In | USA |
| Surface Finish | Smooth flat |
| Surface Design | Solid color |
| Installation Method | Tape or glue down on hard, flat surface |
| UV Treated | No |
| Reversible | Yes |
| Border Strips Included | No |
| Leed Points | Yes |
| Manufacturer Warranty | 5 year limited manufacturer |
HOW TO'S
RELATED PRODUCTS