What Are the Best Mats for Online Workouts and Exercise Classes?
By Kyle Schurman Created: April, 2021 - Modified: February, 2023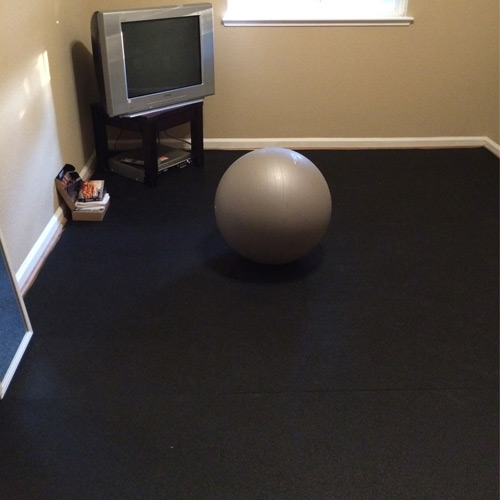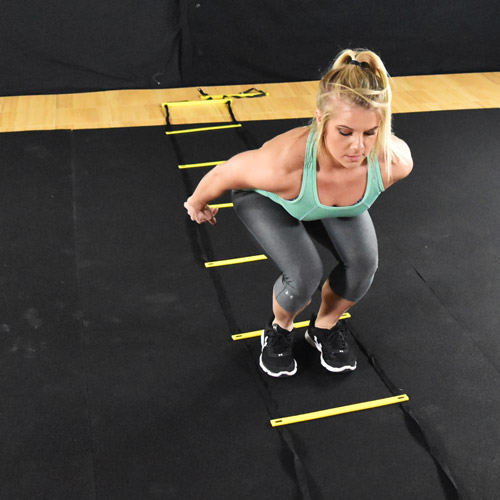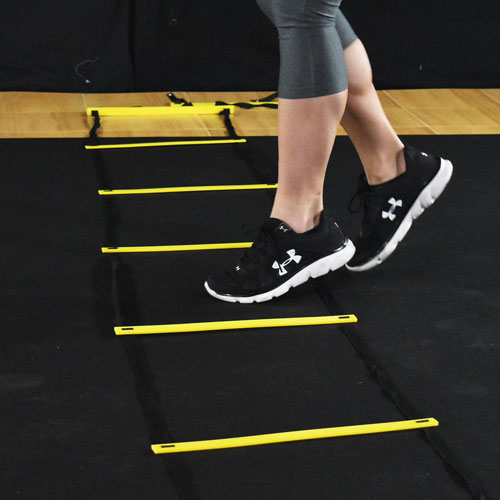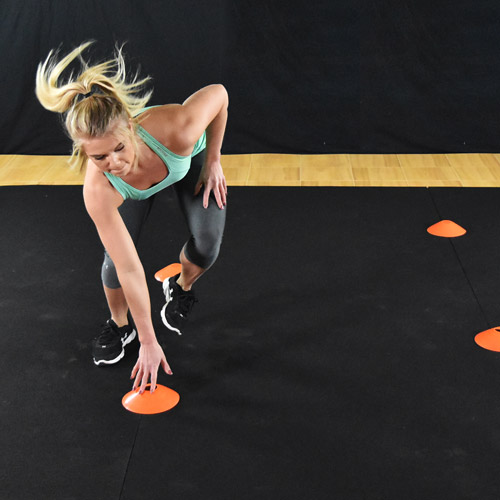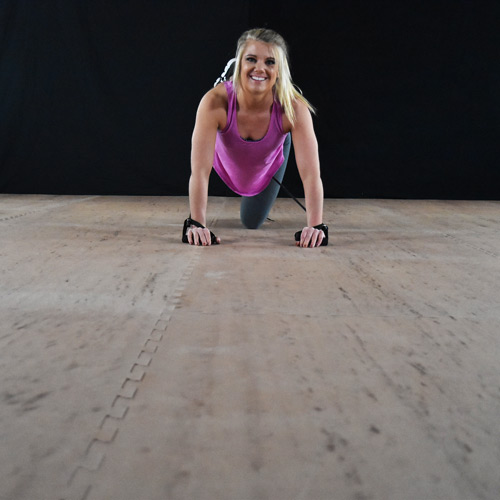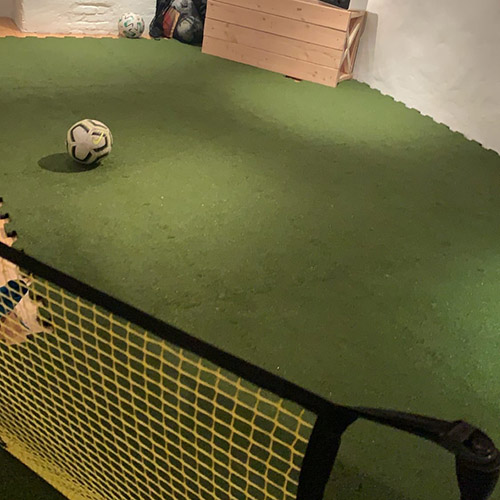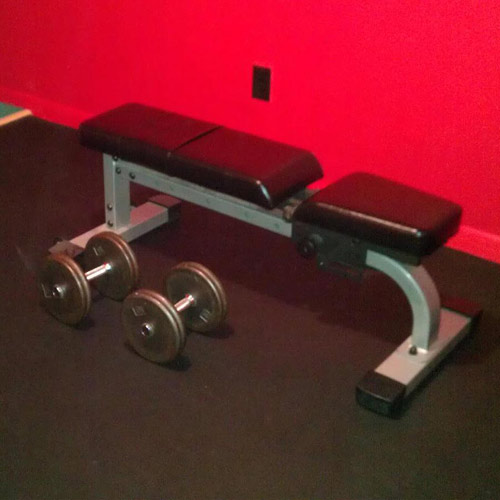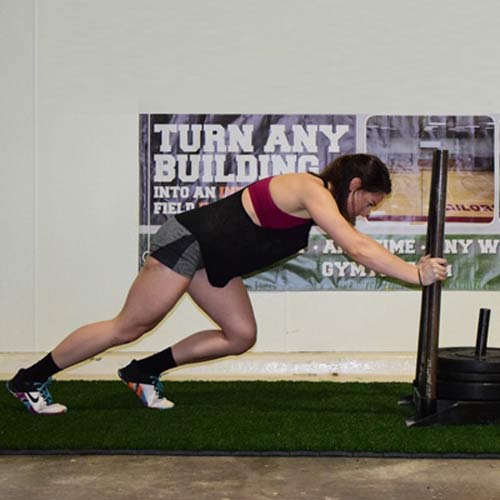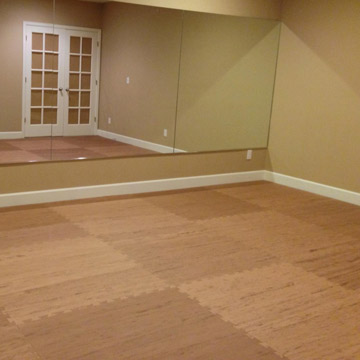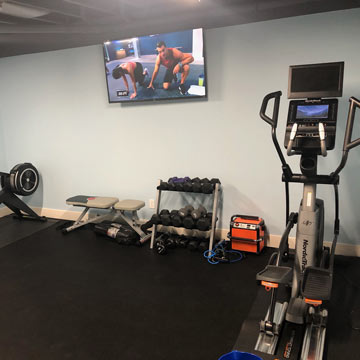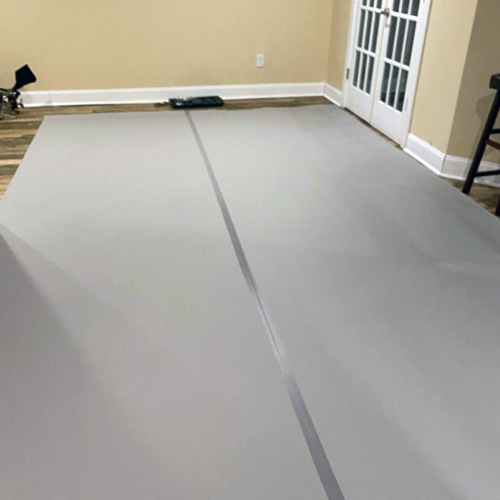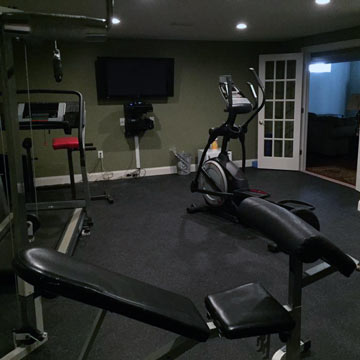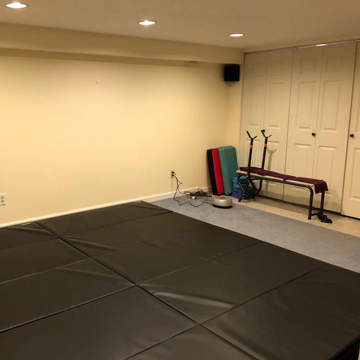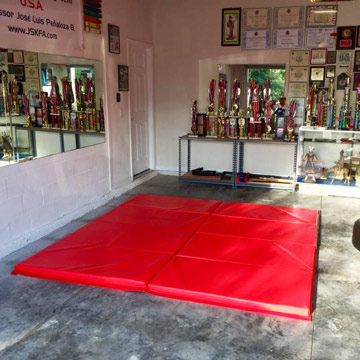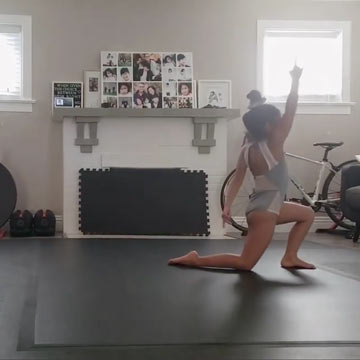 Taking classes for online workouts became a necessity during the Covid-19 pandemic, as fitness centers, dance studios, and gymnasiums had to close to in-person patronage. Some people decided they preferred working out with an online instructor. To set up a space in the home for online exercise classes, having the right flooring is important for the health of the athletes.
The nine best mats for online workouts include:
Gym Turf 365 Portable Indoor Sports Turf

RageTurf Rally Interlocking Tile

Plyometric Rubber Roll Geneva 1/2 Inch

4x10 Foot Rubber Flooring Roll

5x10 Foot Roll Out Wrestling MMA Mat

4x8 Foot Folding Gym Mat

Gym Floor Pebble Workout Fitness Tile

Premium Martial Arts Karate Mat

Adagio Home Dance Floor Package
How Do You Pick a Flooring for Online Exercises Classes?
When taking at-home training classes, athletes will want flooring that is easy to install. Just as important, the flooring should take very little time to disassemble and place into storage between virtual classes.
For online exercise classes, athletes will need to be close to their technology hardware, ensuring that the digital streaming programs will have a strong signal, avoiding pauses and skips in the video that can lead to significant frustration when training. This may limit the rooms they can use for live online workouts or pre-recorded videos that are free and available 24/7.
Creating a space for exercising that's near a TV or in a room where the athlete can see a tablet or a computer monitor becomes easier when using flooring that's easy to assemble and disassemble.
When people are working their jobs at home, teaching school at home, and trying to work out at home, some rooms will need to serve multiple purposes, and the available flooring must be versatile too.
Additionally, the flooring should have the appropriate padding and surface texture to allow the athlete to have a safe and successful workout. Match the type of workout that's planned with the flooring purchased, and it will lead to more successful time spent working out at home.
Can You Install Artificial Turf at Home?
For workouts that will involve cardio work or that involve specific drills for a sport like softball, baseball, football, or
soccer
, installing artificial turf for online workouts is a great decision. Some people choose to use this turf for
golf practices at home
too.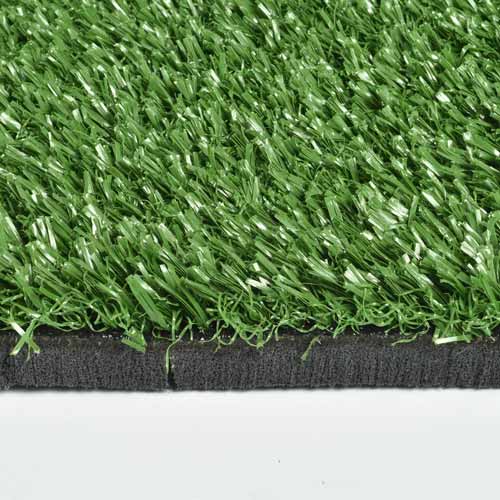 The Gym Turf 365 Portable Indoor Sports Turf product is a popular selection for those who have a larger space in a residential setting for installing the roll of faux grass. Each roll measures 5 feet in width, and the customer can order a custom length (with a minimum of 15 feet).
This turf is ready for use as soon as the installer rolls it out. There's no need to place glue onto the subsurface to lay out this roll of turf, as its size and weight hold it in place.
The blades of
polyethylene plastic
embed inside a foam layer, ensuring they stay in place under the stress of people running and playing on them. The foam delivers cushioning to keep athletes safe.
This is a durable type of turf, made in the United States, while carrying a 5-year limited manufacturer warranty.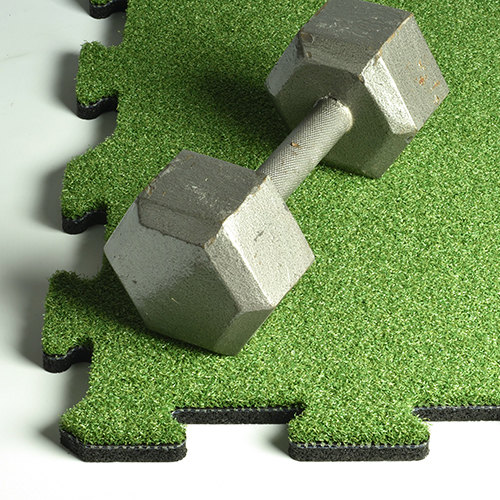 For those who don't necessarily need to cover a large space, the RageTurf Rally Interlocking Tile is a convenient choice. These tiles use a puzzle style edge in the rubber base layer that greatly simplifies the installation.
As each tile measures nearly 2 by 4 feet, one person can handle the installation far easier than with a roll of faux turf.
Can You Use Rubber Rolls for Workouts at the House?
For a secure flooring for online exercise classes, rubber rolls work extremely well. A 4 foot wide roll of rubber will go down quickly, transforming the space for workouts. Rubber is water resistant, so it catches dripping sweat and spilled water, protecting the subfloor underneath. It also gives athletes a good grip for their feet, so they can make quick movements.
When doing
Insanity
or
HiiT workouts
, rubber flooring is an ideal surface. It gives athletes the resistance they need for completing the workout successfully, while also protecting the lower body joints of the athletes.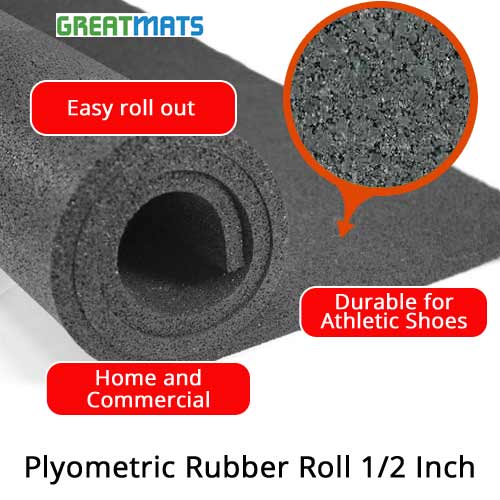 The Plyometric Rubber Roll Geneva 1/2 Inch is a highly recommended flooring for performing these high intensity workouts at home. A rubber flooring made for
plyometric workouts
also works well for F45 training.
This roll has a specific type of construction to help athletes handle the toughest types of workouts, especially workouts that involve repetitive motions. Versus other rubber rolls, this product has a lower density, which enhances its ability to provide the desired level of cushioning.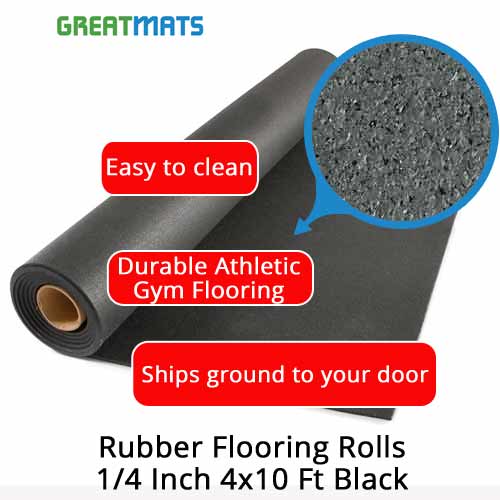 For those who want to save a bit of money on a rubber roll for online exercise classes, another option is the 4x10 Foot Rubber Flooring Roll. This roll is highly durable, and it provides the ideal surface for a wide range of workouts, including PiYo and
Pilates
.
For online workouts with
yoga
, a rubber roll is the perfect subsurface to place under a yoga mat. The mat will not slide around over the top of the rubber, which is important. The athlete needs to trust that the mat will not shift out of the way during the workout, and using the rubber roll underneath the mat accomplishes this.
Will a Cushioned Mat Help with Workouts at the House?
For
gymnasts
or
cheerleaders
looking to work on jumps and tumbles, a cushioned type of mat is a great choice. Repetitive jumping is really hard on the lower body joints of the athletes, so having the right padded flooring is important for a workout at home.
If the padded flooring doesn't provide the level of traction the athletes need, though, it can lead to slips or stumbles that negate the safeness of the padded floor.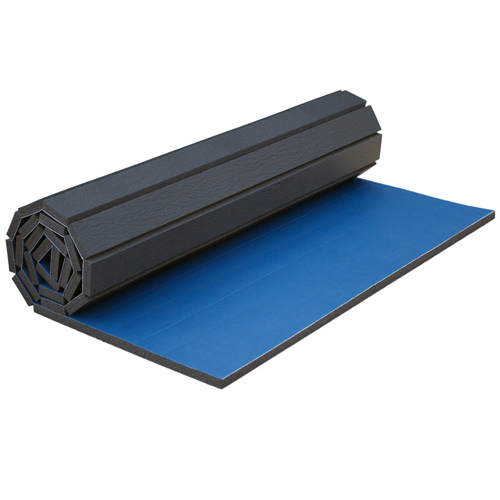 The 5x10 Foot Roll Out Wrestling MMA Mat is a good place to start when taking online exercise classes for cheerleading. This mat measures 5 by 10 feet when rolled out, so it will give the athlete plenty of space for doing the workout.
It has a 1.25-inch thick foam backing attached to a vinyl top surface that provides just the right level of traction for the athletes, while also giving the foam layer the stability required to make quick movements with the feet.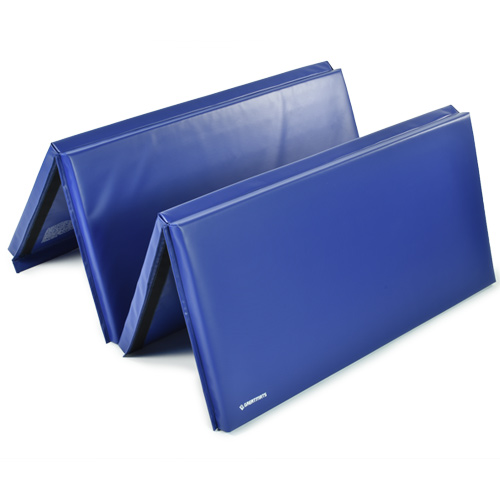 The 4x8 Foot Folding Gym Mat is another cushioned mat with a vinyl covering that yields the ideal mix of padding and traction. This mat has a 2-inch thick foam piece that is completely covered in vinyl.
This mat consists of four 4-by-2-foot panels that fold on top of each other, if desired, or the athlete can leave the panels fully extended to receive the full 4 by 8 foot coverage space. The exterior vinyl layer keeps all of the panels connected.
With both of these mats, they fold down or roll up to a much smaller size for storage, which is helpful at home. Should the athlete fall to the floor while trying to master a new skill, the thick padded foam layer on either mat will help to prevent injuries.
What Is the Most Versatile Flooring for Exercising at Home?
EVA foam
is a highly versatile style of flooring for use in a home exercise area, as it has the firmness needed for making precise movements and the cushioning desired for reducing the possibility of injuries.
For online exercise classes at the house, EVA foam works extremely well because it often ships in easy-to-handle tiles with puzzle-style edges. Assembling these tiles takes very little time, and they pop apart just as fast when it's time to return the room to the original flooring after exercising.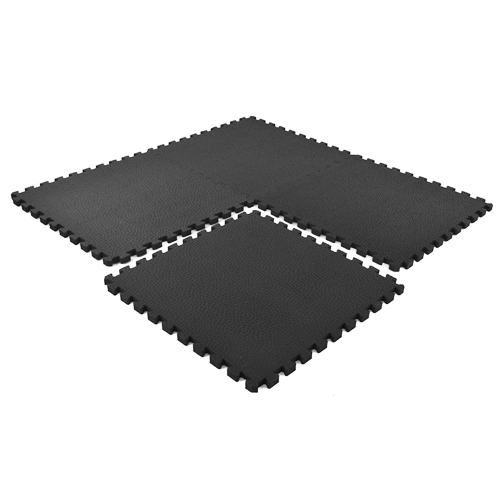 The Gym Floor Pebble Workout Fitness Tile can handle many different types of exercise sessions without breaking down. These tiles are firm enough to handle the weight of workout machines and some weight training equipment. At 3/4 inches in thickness, these mats will protect the subfloor from damage from machines and accidentally dropped weights.
They also have a nice level of cushioning for tough workouts. The cushioning protects the joints of the hips and legs of the athlete, allowing for a longer workout session without pain and allowing for workouts on back-to-back days, if desired.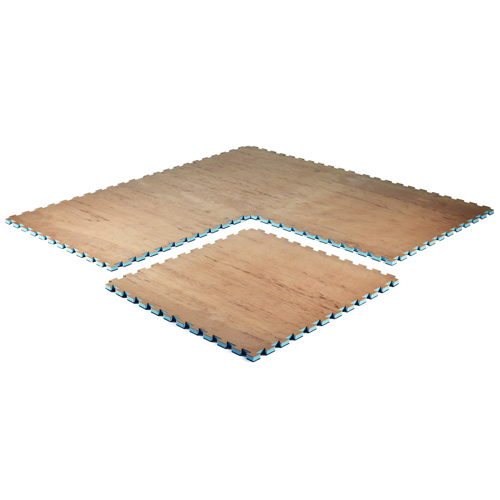 For those taking karate or
kickboxing classes online
from home, another option with EVA foam is the Premium Martial Arts Karate Mat. These puzzle edge mats lay out in very little time, giving the athlete the workout space required.
They measure 1 inch in thickness, which results in an excellent level of cushioning. Should athletes choose to workout with a sparring partner as part of the online class, falling to the ground will be safer when using these thick workout mats.
What Is the Best Flooring for Dance Workouts at Home?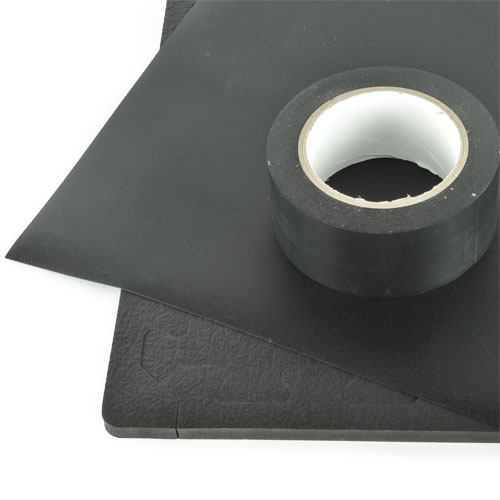 To create a dance workout space for taking online classes at the house, the Adagio Home Dance Floor Package is an excellent choice. This kit consists of black vinyl dance floor, interlocking foam tiles for padding under the dance floor, and vinyl tape.
This package works well because it ships with padding included. The vinyl dance floor is extremely thin and doesn't have natural padding attached to it, so the padding tiles included with this kit allows for a safe installation over a hard surface at home.
The materials in the kit cover an area of 10.5 by 10 feet, which is an ideal size for an at-home dance studio.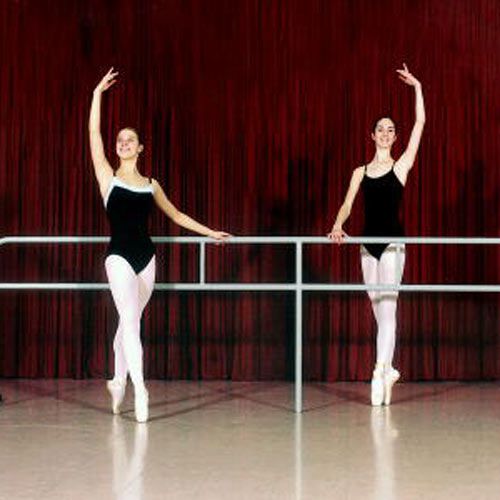 For those who are working on ballet at home, a PortaBarre 4.5 Foot product is a nice addition to have for the studio at the house, along with the Adagio flooring kit. This portable dance barre measures 43 inches to the top barre and 32 inches to the lower barre. It uses lightweight aluminum for a convenient installation.