EZ Portable Dance Floor 5/8 Inch x 1x1 Ft.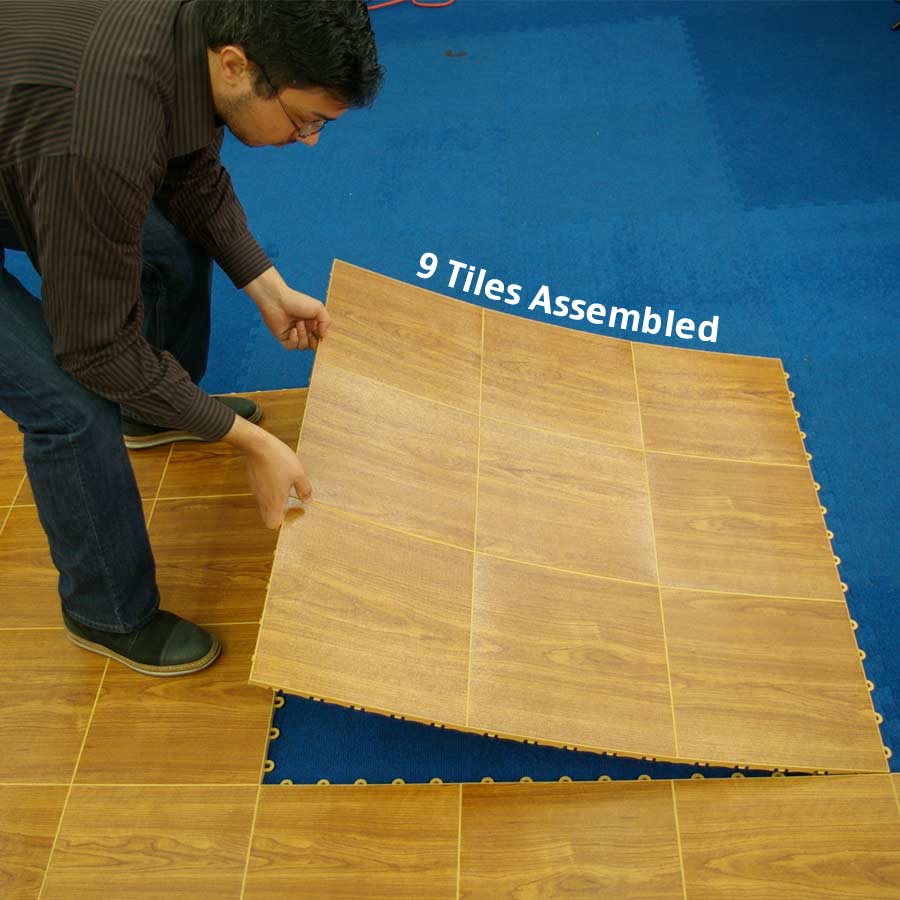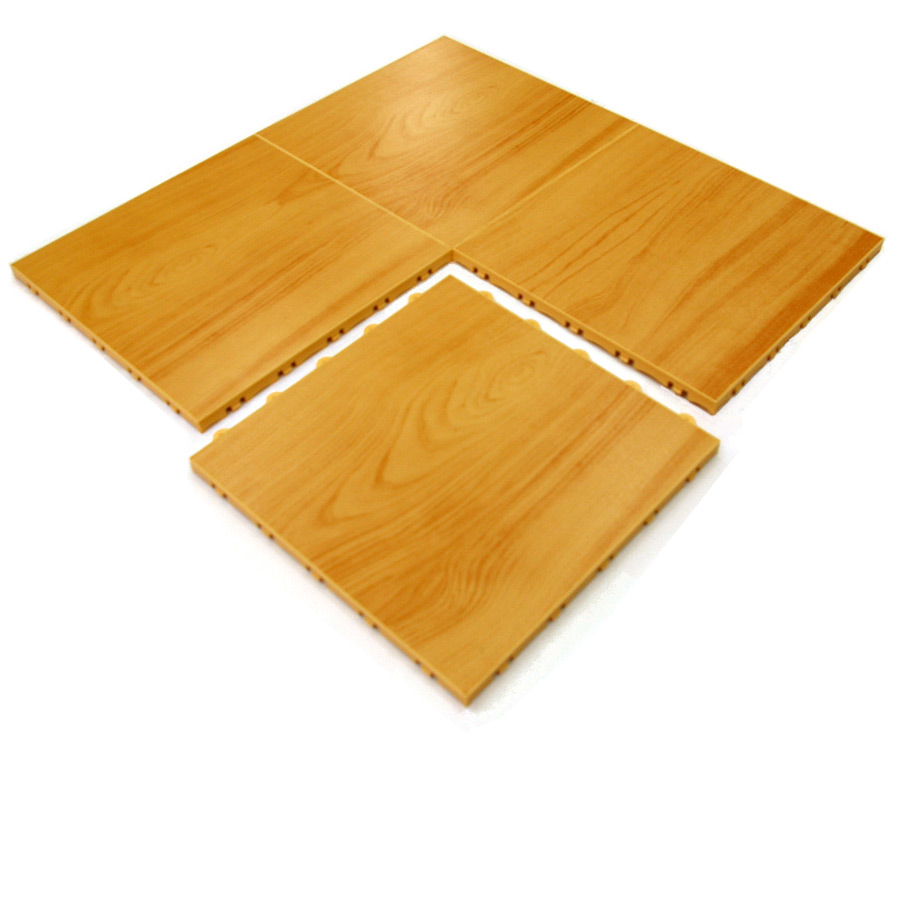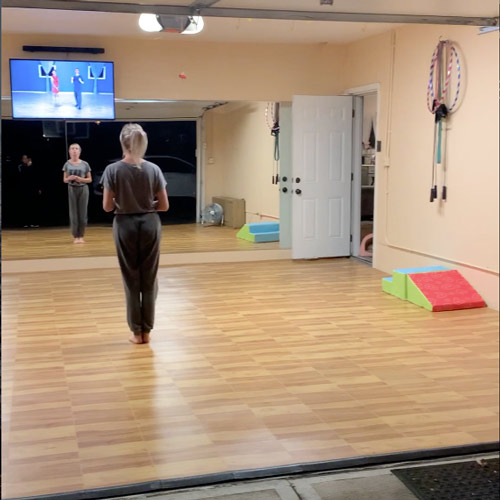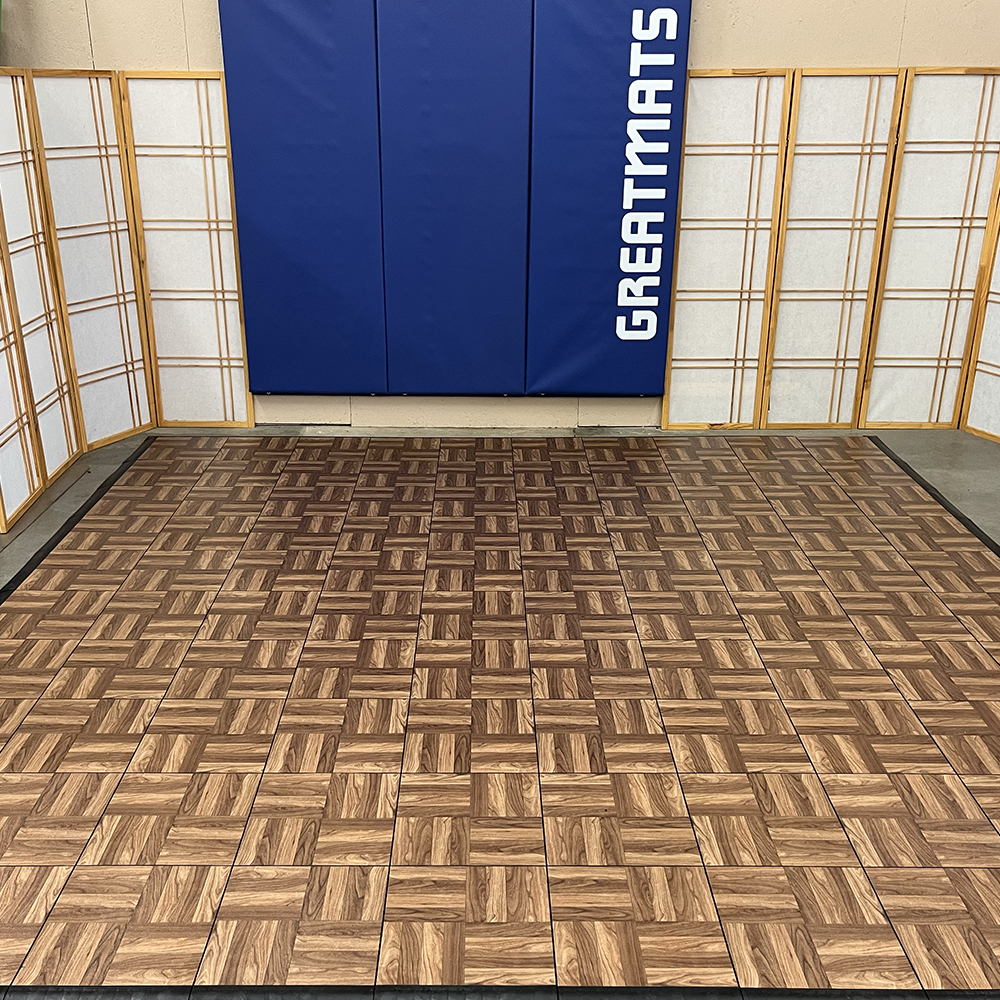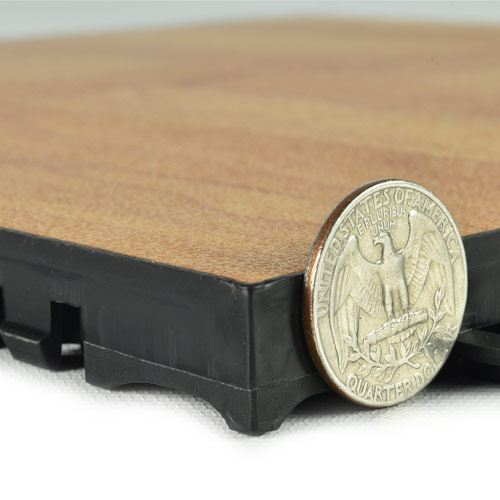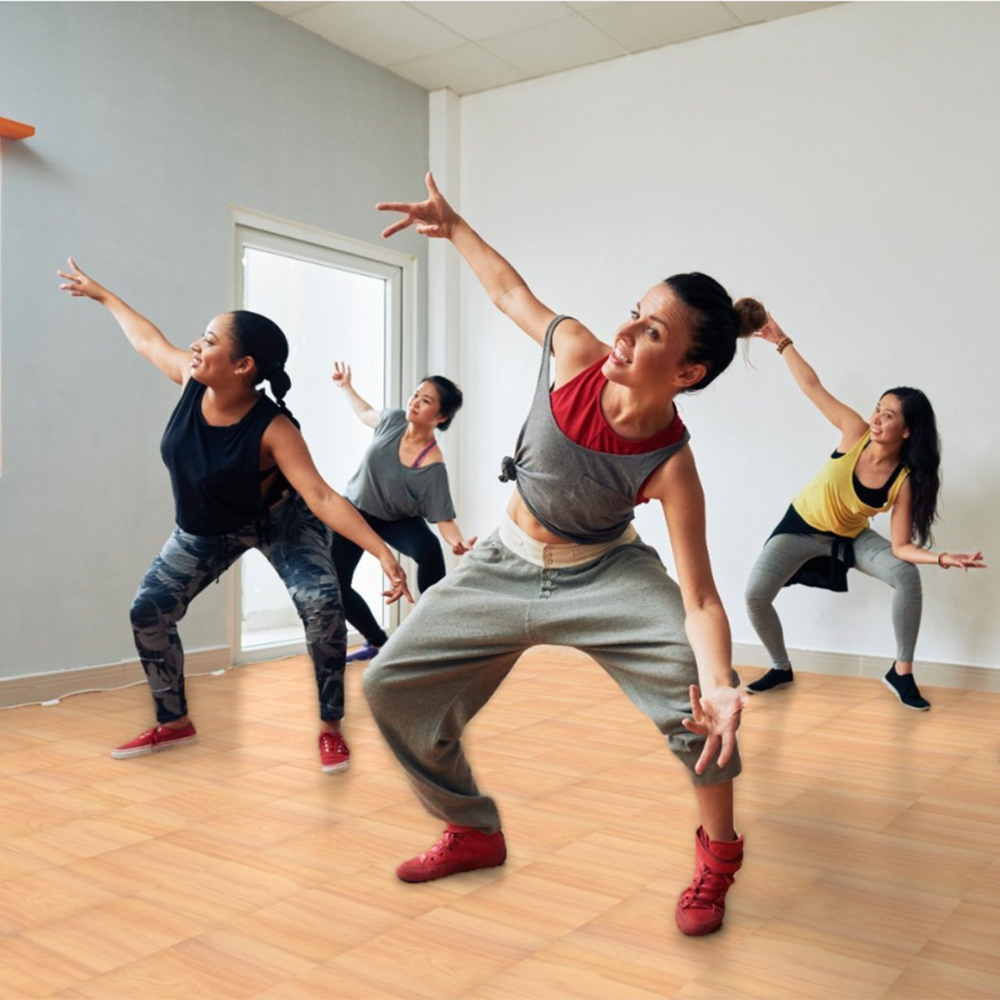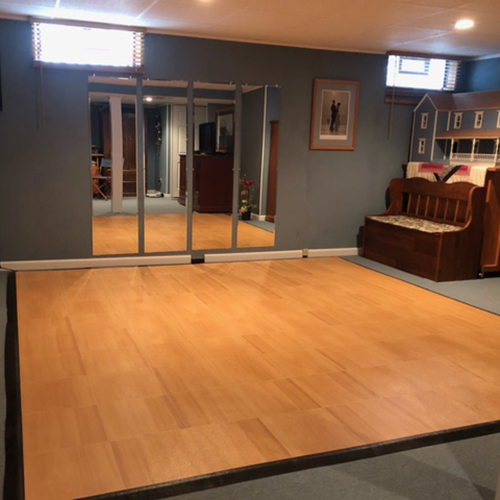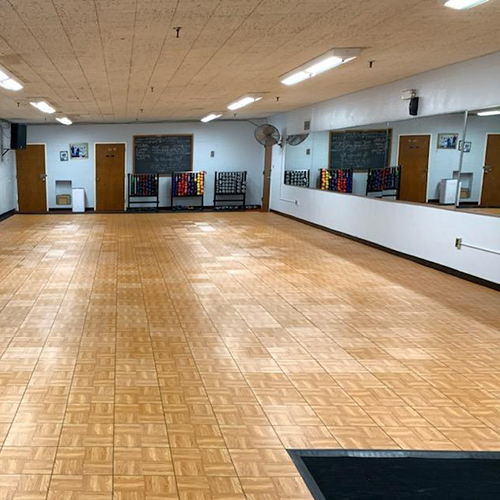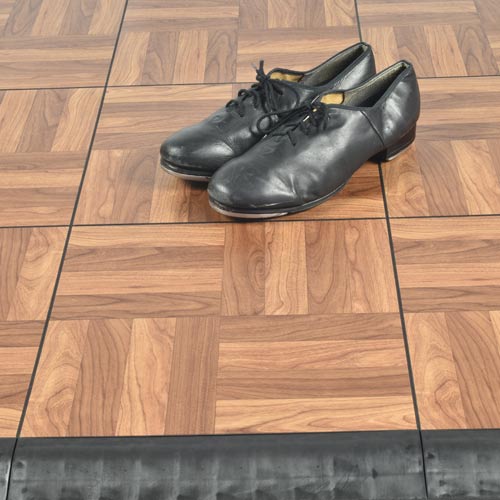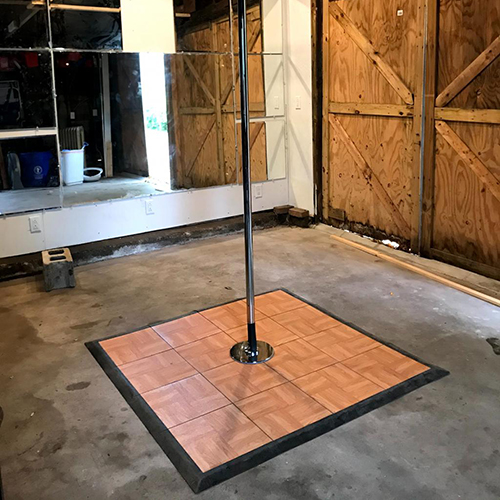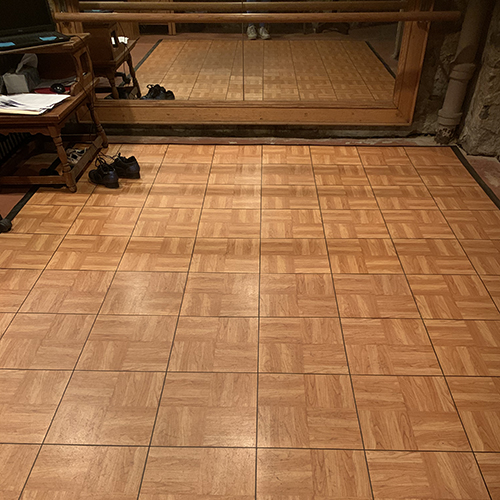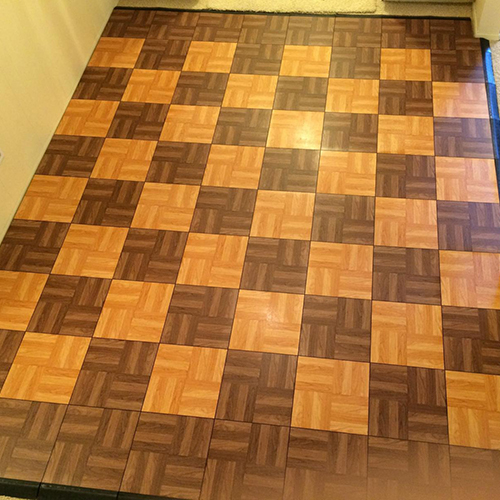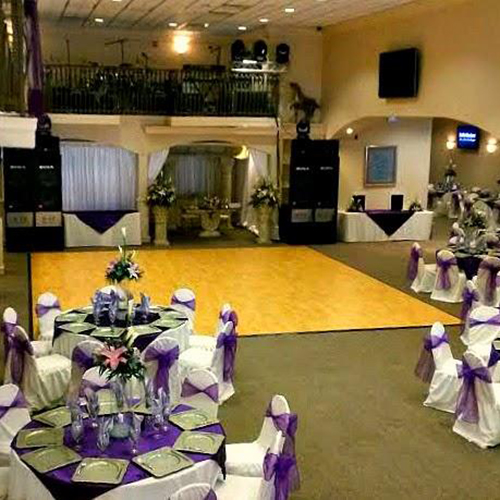 12x12 inch tile size
Durable commercial grade vinyl top surface
Designed for repeated installations
$6.89
/tile
(You Save 34%)
(25 Reviews )
Ships Out: Estimate 1-3 Working Days

Maple

Slate

Light Oak

Dark Oak

Walnut

Cherry
How Much Flooring Do I Need?
VIDEOS
Portable Dance Floor Tile Video
Portable Dance Floor Tile Features and Benefits Video
Home Dance Floor Brooke Tedesco Video
Greatmats Elite Dance Surfaces
TOP FEATURES
12x12 inch tile size
Durable commercial grade vinyl top surface
Designed for repeated installations
Allows water and air to flow underneath
Tight fitting tiles after installation
Ramped border edging available in black
Easy snap together tiles
Use Types
Portable Dance Floors, Banquet Dance Floors, Hotel Ballrooms, Portable Tents and Event Floors
EZ to install and store portable dance flooring panels with wood grain look
Our EZ Portable Dance Floor 5/8 Inch x 1x1 Ft. are created to withstand repeated assemblies. They interlock to form a pro look. This model can go anywhere and is the perfect solution for event venues and more. Ready to withstand multiple assemblies, these are durable, professional looking, and create an eye-catching layout for banquet centers, performances, weddings, practices, and more. Suitable for both indoor and temporary outdoor installations, this is ready for whatever customers will throw at it.
Why EZ Dance Portable Floor Tiles are the Best Option

It is designed with the needs of a professional performer or business in mind. It holds up to the rigorous use that's expected in studios, and it will look great during all events. Choose from many luxurious faux wood finishes or opt for a slate finish for a modern touch. With a secure, locking fit, these don't seem temporary at all.

It is suitable for use with many different types of dancing shoe types, including high heels.

When seeking the appropriate size, we recommend 9 square feet of space per person. Each tile is 1 sq foot, so it's easy to order the proper number to match the projected coverage area. Expecting a larger crowd in the future? Simply order additional units to create larger diy dance floors.

We also offer transport carts that can be used to stack and store them, which can be particularly helpful if working with big studio settings.

These can be installed atop any hard, flat surface. If assembling it on top of concrete, we recommend laying out a 3 mm rubber underlayment to provide cushioning and sound dampening. This modular floor tile can generally be installed over carpeting in commercial and many home installations. This installation is not guaranteed to work, as with some home carpeting, the padding and carpet thickness can vary. If the user is experiencing any issues when installing over carpet then the user may have to install some other flat surface under the tiles, such as plexiglass or plywood.

These feature a durable tab assembly so that they will withstand countless assemblies. They will not start to separate and wear out as other products could. These reduce time spent on setup, instead focusing time and energy on the performance.
Modular Dance Floor Tiles
Why choose these? There are plenty of reasons why ours are better than the others out there.
Portability:
Max Tile portable dance floor tiles are designed with transportation, storage, and fast assembly in mind. Put these on any hard surfaces, offering plenty of usage options no matter what venue is in use. Additionally, these are built to last, meaning that through performance after performance, they'll hold together as tightly as they did during the first assembly.
They measure 12x12 inches, and they're storable just about anywhere. However, consider keeping them stored in assembled larger squares of 9 pieces to quickly and easily assemble the layout later. It will mean less prep work.
Quality:
These portable dance floor tiles are made in the USA. With a 5-year warranty against manufacturer defects, this is a quality product that the manufacturer is proud to stand behind.
These are waterproof for temp use in multiple kinds of weather. They are made from commercial quality vinyls and feature long lasting tabs and loops. These interlocking tiles will hold up under repeated uses and are ready for the traffic found during commercial use.
Versatility:
Not only do these offer versatilities in where they're used, they're also customizable for coverages. If expecting bigger crowds, order extra units, creating bigger locations for dancers.
For a smaller event, only set up some of them, avoiding the awkward appearance of a partially full space. The ability to customize the size can be a major money saver, as separate products aren't needed for different events.
Fast Installation:
These are ideal for on the go. Assemble a 10 x 20 foot spot in minutes when using these. It's even faster to disassemble it.
There are no large, heavy pieces to lug around with these, and no specialized tools needed for the layout. Plus, with no special tools required for installation, there are no worries about arriving at a locale only to discover an important tool was left back at home.
Professional Appearance:
If traveling to performances or providing entertainment at a wedding, seek out a product that is eye-catching for professionals. These practice dance tiles feature a wood grain design that will not disappoint. Choose from a variety of attractive finishes for the perfect aesthetic. Snap-on border ramps and corners create the perfect event floor package that will look clean and complete.
How Many Borders do I Need?
For Island installations:
Where the layout will have all four sides exposed to the room. In this case, the number of borders needed will be the length + width of the layout for each border type, and 4 corner pieces. Use half male and half female borders in this instance. Example 10x12 ft layout, 10+12 = 22 male borders, and 22 female borders, and 4 corners.
For Corner Installations:
Where the layout will be pushed into one corner and will have 2 sides exposed to the room. In this case, the number of borders needed will be the length + width of the layout and one corner piece. Use all male borders in this instance. Example 10x12 ft layout, 10+12 = 22 borders, all male, and one corner.
For Inside corners, two border ramps will have to be manually cut at diagonal to fit. Use a sharp utility knife to cut this product or a table saw.
Contact our customer service personnel for any questions. With certain of our heavy duty portable dance floor tiles models, we even offer free shipping options.
FAQ Portable Dance Floor Tiles Q&A
What type of portable floor is best for tap dancing?
Partial rolls of commercial grade vinyl surface, such as
marley
, work well for tap. Its thin configuration at 2 mm gives it a lower weight than thicker selections, while being able to cover a large area as needed. It's versatile enough for tap, ballet, and modern dancers. Many of our customers also appreciate the
Home Kit 3x3
, which creates a nine panel unit for tapping practice. A portable
sprung dance floor
is a good choice too.
How do you make a DIY dance floor or board at home?
Creating something that will serve the dancer in a residential setting is a little easier than people think. Although building a basement dance floor out of materials laying around the house is possible, it's better to rely on
Greatmats dance floor kits
. Our kits are easy to assemble for use and then to disassemble and store away when finished, as they take up very little room in storage. They deliver excellent sound and durability.
How much do portable dance floor tiles cost?
The dance studio flooring cost will depend in part of the designs chosen. Authentic wood tiling can run up to $30 per square foot. However for standard interlock products that we sell, the cost commonly is $4 to $7 for each square ft of coverage.
Can you put a plastic dance floor on grass?
Yes. However, just because portable dance floor tiles made for outdoor use are almost always usable indoors too, the opposite is not always true. As long as these indoors and outdoors units have some key features, using them outside on turf is fine. They should be waterproof, meaning they will not absorb water and moisture from the grasses. They should have UV resistance built into them too, protecting them from sunlight. Additionally, they should have a bit of flexibility to them, so they can follow the contours of the underlying turf.
Potential Uses for Portable Dance Floor Tiles
These versatile portable dance floor tiles are ideal for countless situations.
Some of their most popular uses include:
Temporary DIY dance floors for troupes on tour who never know quite where they'll be performing.

Backup solutions for professionals hosting workshops or competitions who need a little extra space just for a few days.

Removable options for venues like hotels, which host banquets and weddings.

Traveling DJs or entertainment professionals who need floorings that can go with them.
These models will allow:
Travel anywhere without worry regarding the facilities at the site

Performing confidently, knowing there's a safe surface

Performing inside or outside without damaging it

Expanding studio capacity quickly

Hosting dancer workshops or classes without the significant investment

Maximizing the usefulness of spaces

Not waiting for a big construction project to be completed

Practicing at the house whenever desired
Summary of Benefits
Snap together configuration

Durable and will last use after use

Tight fit creates secure and safe surfaces

Designed for repeated installations

Easily transportable at 12x12

Water and air flows underneath to prevent mold and mildew buildup

Different eye-catching finishes

Ramped border edging reduces tripping hazard
Consider using them for the following situations:
Traveling troupes

Competitions

Workshops

Events

Hotels

Recreation centers

Studios needing extra temp locations for practices

Residences
Maintenance
Clean with damp mop, hot water and common household floor cleaner.
Shipping
Ships in cartons via ground service to your door, for larger orders product may ship freight delivery.
This Product Ships UPS Ground, FedEx Ground and/or Freight.
Please review our shipping disclaimer.
ANSWERS
Product Questions:
Q: Can this floor be used on grass?? Thanks
A: Potentially yes, over very short and very flat grass. However its best to use the Portable Outdoor Floor Tile under the portable dance floor tiles as a base.
Q: Can this be used on top of carpet?
A: Yes this can be installed over any hard flat surface, including carpeting. For more information, visit our
dance floors over carpet
blog.
Q: Can this floor be used for tap dancing?
A: Yes, our 'Tap Kit' product page, which is the same tiles, has a good video of someone tap dancing on the tiles. For installations larger than 3x3 ft, some people have commented that this floor tile may be a little slippery for tap shoes if moving around.
Q: Can this be used without buying the black edging? Thanks
A: Yes, the border ramps are not required.
Q: Can this be used over concrete,.Thinking of creating a dance floor in our basement for daughter who does Irish Dancing.
A: Yes it can be, and we would recommend a 2 or 3 mm rubber underlayment or similar for some cushion from the concrete. This tile is great for dance with tennis shoes or similar. For ballet, modern or similar, use a marley vinyl dance flooring surface.
Q: I do pole fitness can it be cut to place a pole through
A: Yes the material can be cut using a sharp utility knife.