Temporary Flooring Over Carpet Ideas for Home and Dance
By Kif Richmann Created: August, 2017 - Modified: August, 2023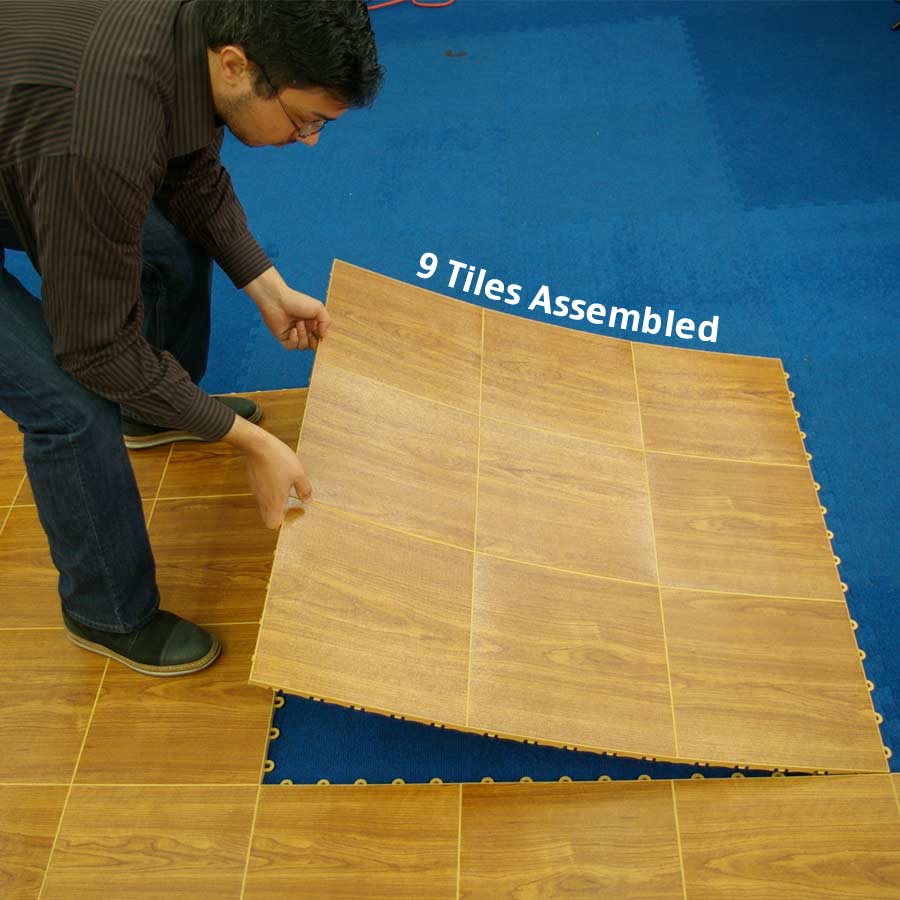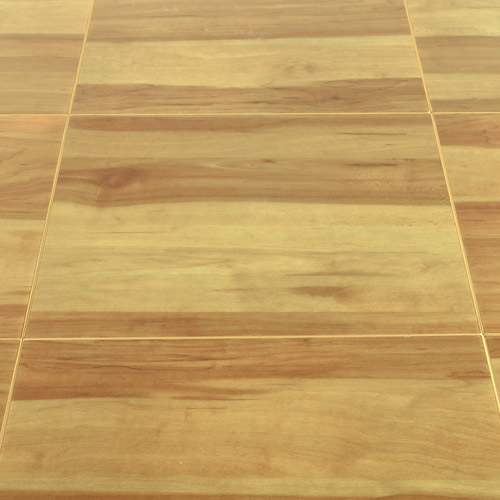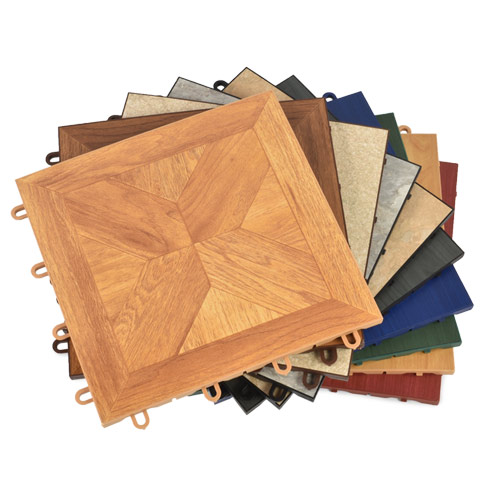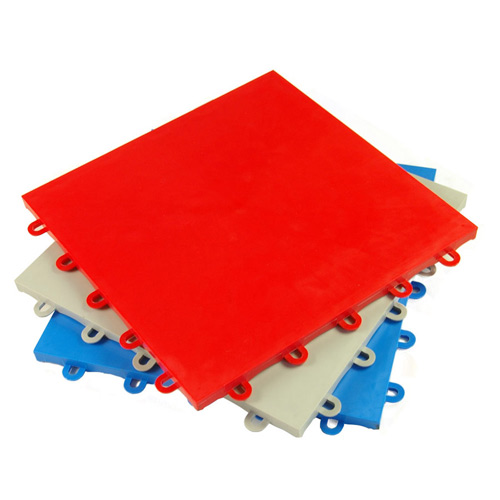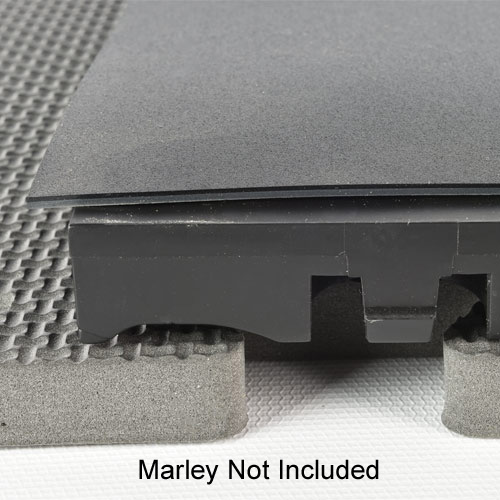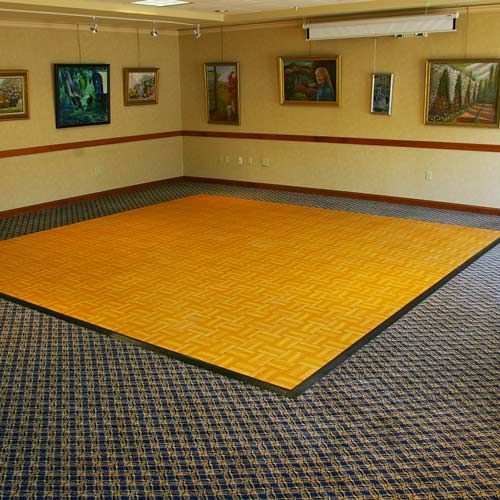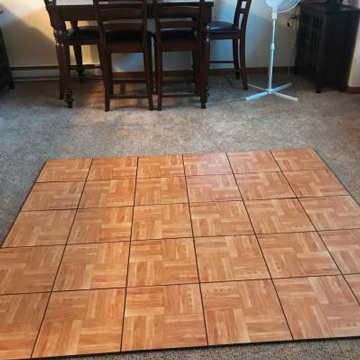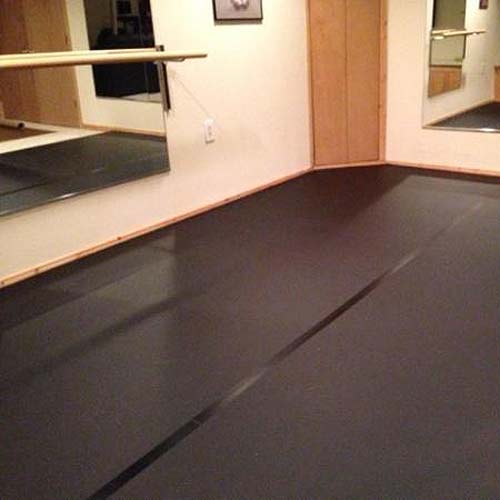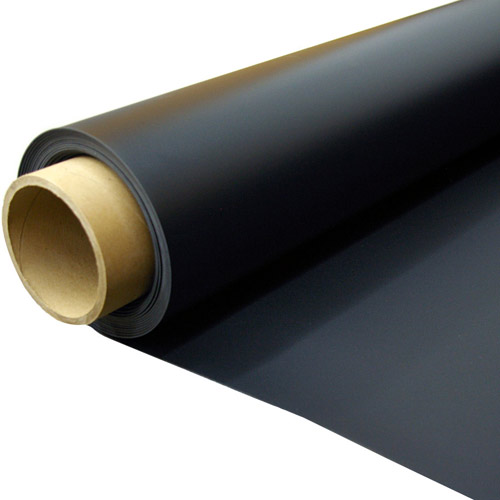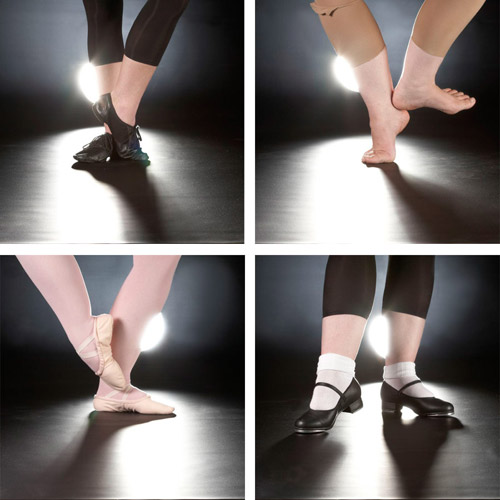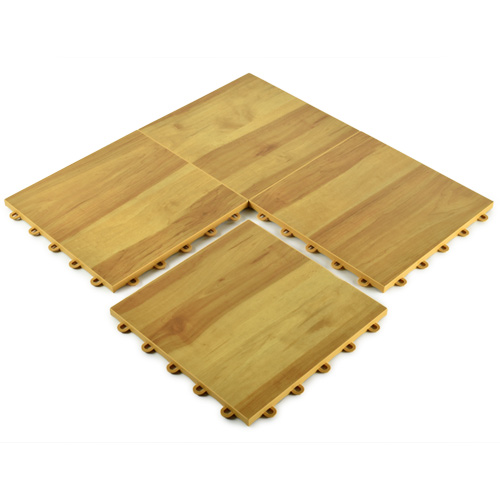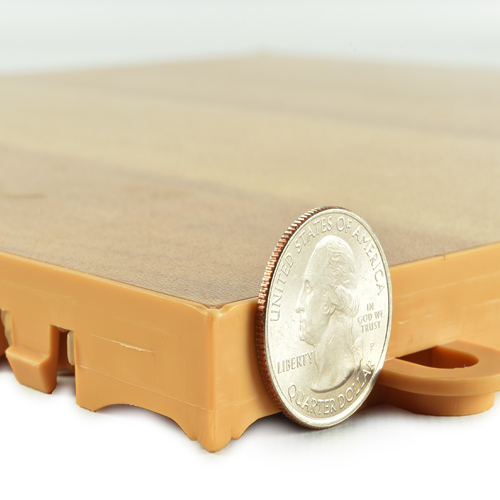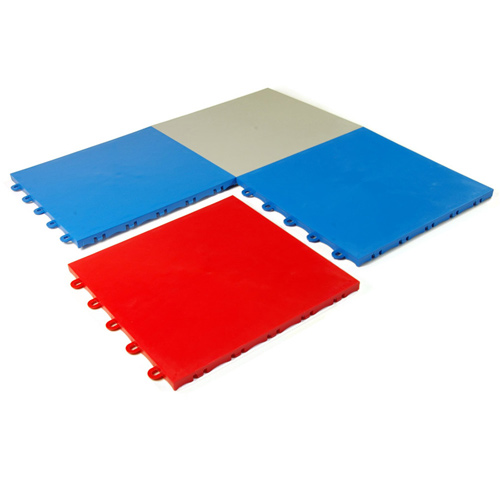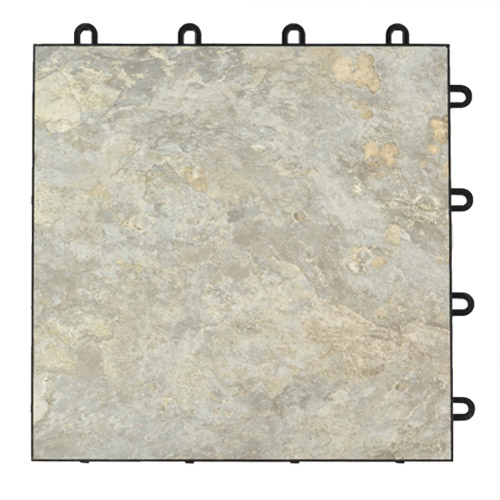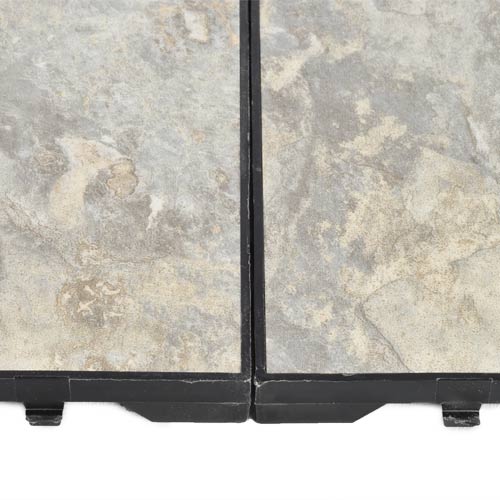 Who doesn't love to dance?
Go to any wedding reception in America and you'll see that people of all ages enjoy dancing. Even at home, we love to put on some music and dance with our loved ones, or maybe by ourselves while no one's watching! Perhaps we have a dance routine that needs to be perfect, or we want to work on our steps before a wedding.
Either way, we need a quality floor. In many cases, we need to install dance flooring over carpet, which creates its own set of challenges.
Fortunately, Greatmats has a wide selection of items for all your dance floor needs!
What Makes a Good Home Dance Flooring Over Carpet?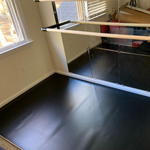 There are many options for flooring. Just look at the wide selection of products available from Greatmats and you'll see numerous options, all with various features and materials. So how can you choose the right dance flooring over carpet product? Keep your eye out for a few specific factors and you'll be on the right track.
First of all, be sure to look for tiles that are
easy to install
. They should be light enough to move without heavy equipment, and they should snap together firmly with minimal effort on your part. This is especially important when choosing tiles for temporary home dance flooring over carpet; after all, you don't want to struggle to assemble and disassemble the tiles every time.
It's also important that your tile
does not damage the carpet
. A proper quality flooring over carpet will not rip up the carpet and leave the place looking worn and destroyed. This is essential when you start looking for a tile that will be used to create temporary dance flooring over carpet.
The tiles you choose should also
look good
. If you have a facility that is hosting wedding receptions and other parties, an elegant dance floor with a decorative vinyl surface is essential.
Of course, it should also be durable. There's no sense in purchasing a product that will be destroyed after a few dance parties, so be sure to check out the warranties so you know you'll get a product that will last.
Best Dance Flooring Over Carpet Ideas
1. Portable Dance Floor For Home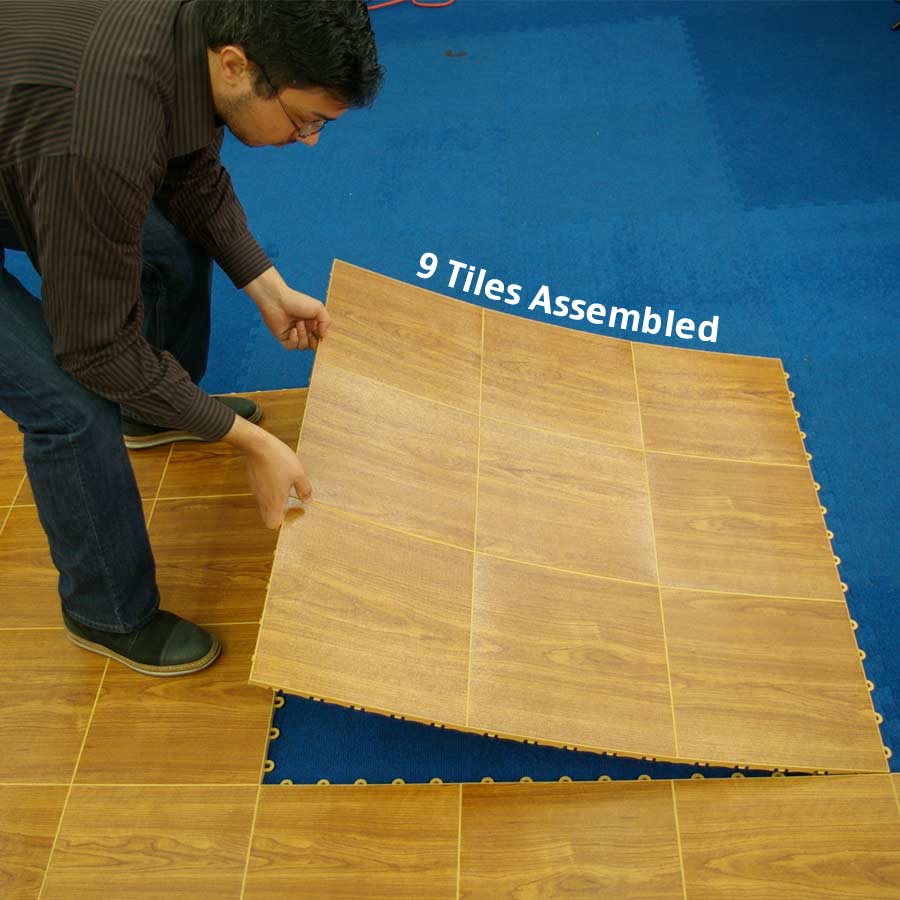 No matter where you want to boogie, these portable dance floors from Greatmats will give you the quality, quick installation and support you need. The tiles are made from a polypropylene plastic with a vinyl coating on the top. The plastic base provides a solid foundation, while the vinyl gives the top a durable surface that is visually-pleasing as well. The vinyl top is actually commercial-grade, so you can count on it to last for a long time.
Speed of installation is one of the major benefits for this tile, making it an ideal dance flooring over low pile, low pad carpet. A dance floor can be assembled by a single person in a relatively short time, and it can be disassembled even faster. For added convenience, you can also consider a flooring cart, which allows you to move the tiles into place with ease.
Using a tab-n-loop connection system, the tiles lock together quickly; all you have to do is push down with your foot until they ''click'' into place. The connection system is specifically made for repeated use without damaging the tile, which makes them perfect for facilities that host wedding receptions, anniversary parties, and birthday celebrations.
These tiles are made in the U.S.A and come with a five-year warranty. Best of all, the tiles are available in nine different surface designs, including faux wood and stone tile designs.
2. Practice Dance Floor for Home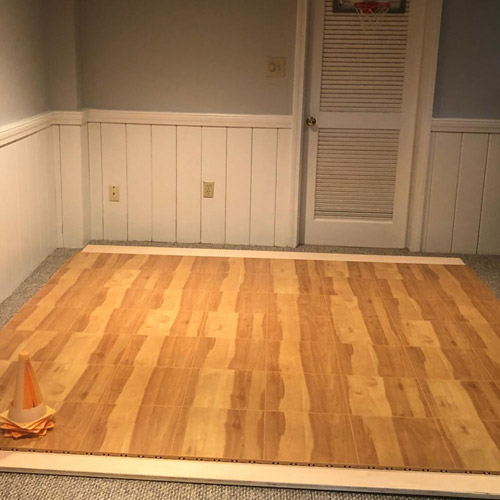 If you want a more rugged and durable flooring that you can use for dancing as well as sports like basketball and volleyball, then this is the perfect choice for your needs. The tab-n-loop connection system makes installation easy, while the top surface has the appearance of a top-level basketball court. They snap together tightly and stay together without adhesives, making temporary flooring over carpet installation and removal fast and simple.
They are specially designed with a no-break polypropylene plastic base that will not damage the floor or cause problems with carpet. It allows for airflow underneath the floor, which reduces the chances of mold growth if you are installing the tiles more permanently.
While these tiles are ideal as dance flooring over carpet, they are also smart choices for recreation centers, churches, schools and youth centers. They can even be used in gyms to provide a temporary surface for basketball, volleyball, dodgeball and other athletic competitions.
The vinyl surface layer is scuff and scratch-resistant thanks to a 20-mil (.508 mm) wear layer. This layer is designed for over a decade of regular use, so you can count on these tiles to provide superior quality for years and years.
Whether you need a temporary athletic surface for a game of hoops or want to add a temporary dance floor to your facility, the ProCourt Gym Flooring Tile will deliver the rugged durability you need for years of activity.
3. Vinyl Tile Dance Floor For Home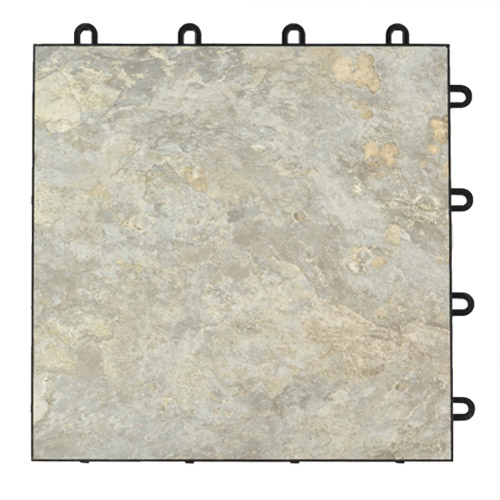 When you need a permanent DIY dance floor over carpet or a hard flooring surface, this is one of the best products you can find. It is not only strong and durable, the surface vinyl has as interesting design that looks elegant, charming and stylish. At just a fraction of the price, these tiles provide the appealing look of wood or tile with the convenience of a portable dance floor.
Underneath, these tiles have a raised plastic base. With small supporting columns underneath, the tiles allow air to flow below the surface. This airflow helps keep the tiles away from potential dampness and moisture buildup.
These tiles are not only more affordable than wood, the vinyl surface never needs refinishing! These decorative tiles are available in numerous colors and designs, including parquet, colored wood, and slate designs. No matter what design you choose, the vinyl surface will hold its rich color and decorative style for many years.
These tiles are perfect for home and commercial use, and they make great dance flooring over carpet. They are easy to clean and can be installed with no glue or special adhesives. When it comes to convenience and reliability coupled with a gorgeous look, these dance floor tiles will meet your needs for years.
The interlocking connection allows these tile to hold together with a firm grip. They connect with virtually no seam, creating a flat, even surface with no bumps or rises. This makes for an excellent permanent dance floor and creates a space that people of all ages will enjoy!
4. Hard Floor Over Carpet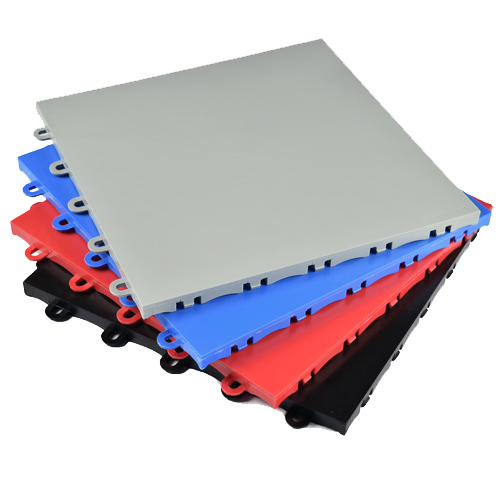 These snap-together court tiles are designed for indoor basketball and volleyball courts, but they also make for excellent dance flooring over carpet. While other tiles have a decorative vinyl top surface, these tiles are made from a single piece of polypropylene plastic.
They lock together firmly using a tab-n-loop system. All you have to do to connect these tiles is move them into place and push down with your foot. The weight of your body will snap the tiles into place and give a tight hold, but they can also be disassembled quickly for fast removal. If you have a large carpeted area, say in a church or YMCA, but you want to place a temporary play area for volleyball, basketball, or dancing, you can use these tiles to quickly assemble a floor. When you're done, removal is just as fast and easy as installation. These tiles can also be used as a dance-floor sub-flooring, giving them added versatility and usefulness.
These tiles are available in four colors: black, grey, blue and red. However, you can order a custom color to match your specific needs. If you need a specific color to match your school's team colors, please contact us; we'll be happy to help!
When you want an affordable, versatile, and convenient commercial or home dance floor over carpet, you need to order the Court Floor Tile. With a five-year warranty, these tiles deliver the quality, consistency, and longevity you expect.
5. Marley Dance Floor Over Carpet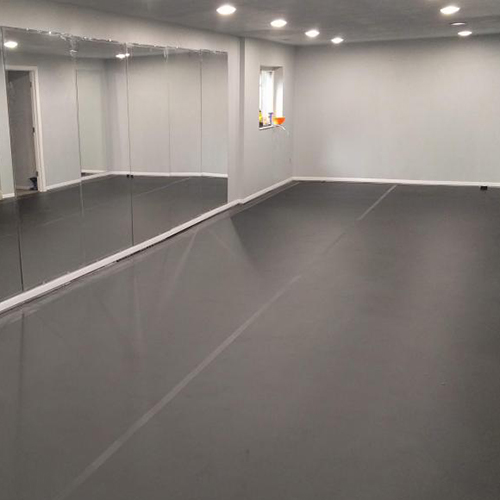 Greatmats is proud to offer two high-performance mat systems that are easy to install. The Home Marley Dance Floor systems include either a high-density foam or a plastic modular tile. Each one of these options can be installed underneath an all-purpose vinyl surface, but the plastic tile version is much better for installations over carpet.
Choosing the right underlayment will depend on the existing surface on your floor. When you are installing a permanent or temporary dance floor over concrete, you will want to use the high-density foam option. The high-density foam will provide separation and padding between the surface and the concrete, which will help protect both. The foam gives added protection without sacrificing support for dancers.
High-density foam, however, is not recommended for advanced ballet dance, as it does not provide the firmness needed for advanced ballet moves. For ballet floors, the some dancers have found plyometric rubber, which is available in rolls, serves the purpose well. Neither foam or rubber is a recommended flooring over carpet, however.
If you are installing home dance flooring over carpet, there is actually no need for a cushioning underlayment. The carpet itself can provide the padding you need, and flat top tiles can be installed directly overtop. The plastic flat top tiles add stability and firmness while still utilizing the give of the carpet layer below. Top that with some
Rosco Adagio Marley dance flooring
and your set for virtually any style of dance.
Quality Flooring Backed by Exceptional Service
Contact Greatmats and we'll help you choose the perfect products for home dance flooring over carpet.
You'll get quality products backed by our exceptional service, so check out our complete selection now.