Do You Need Special Flooring for Online Workout Classes?
By Kyle Schurman Created: April, 2021 - Modified: August, 2023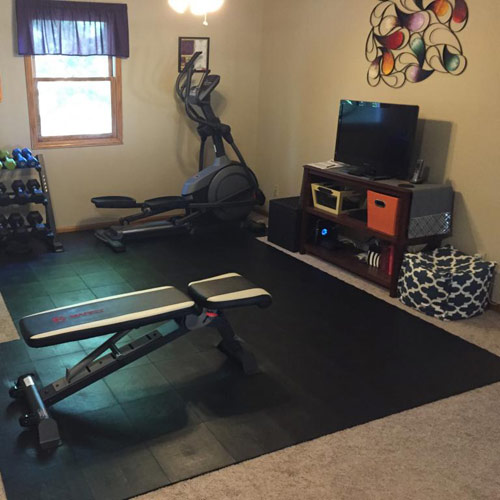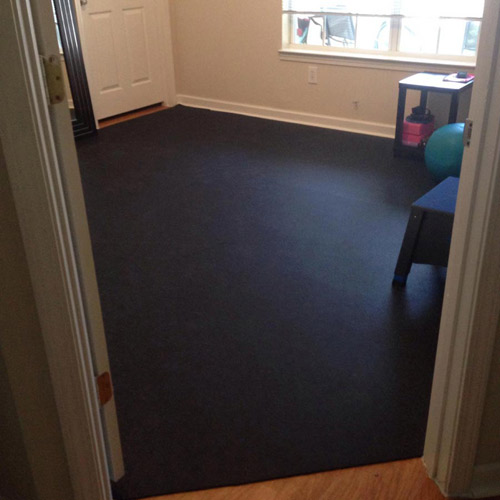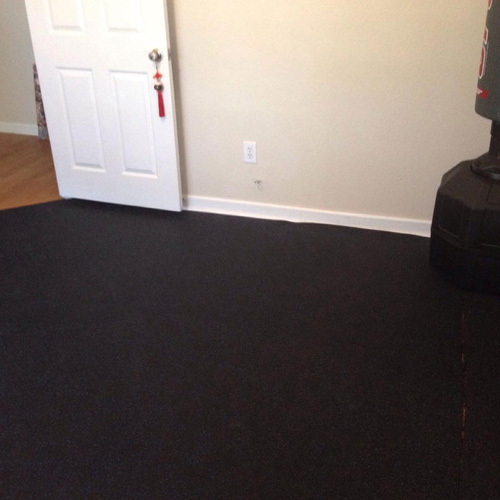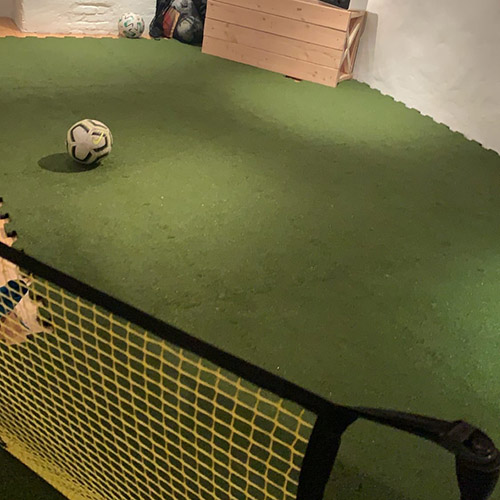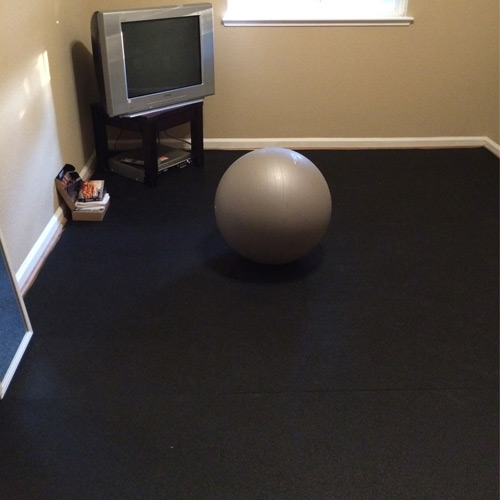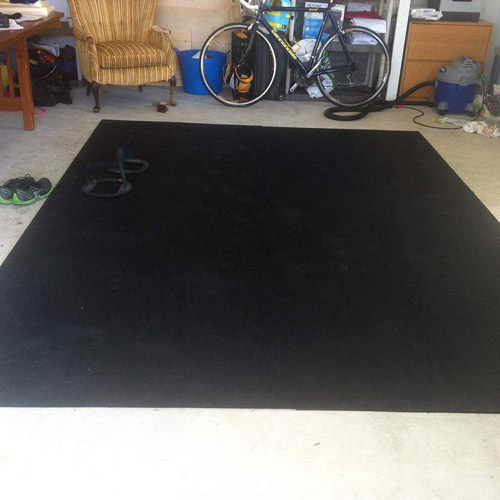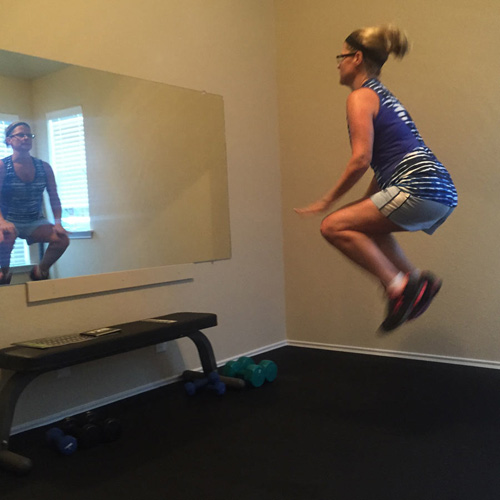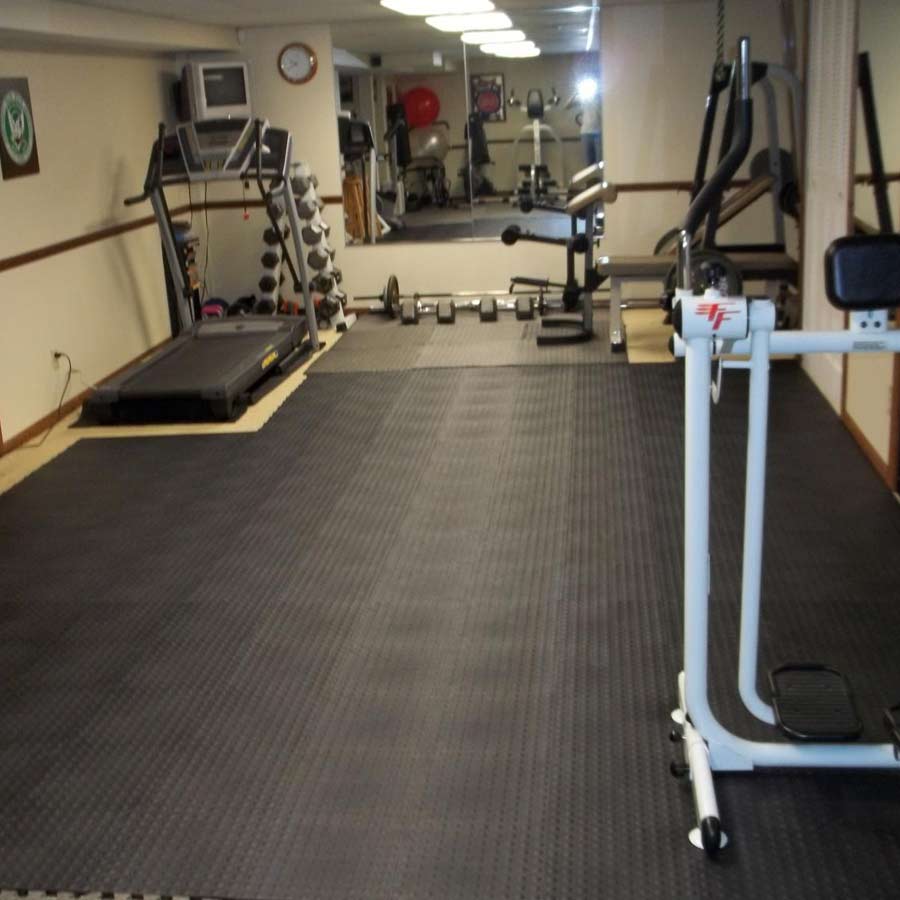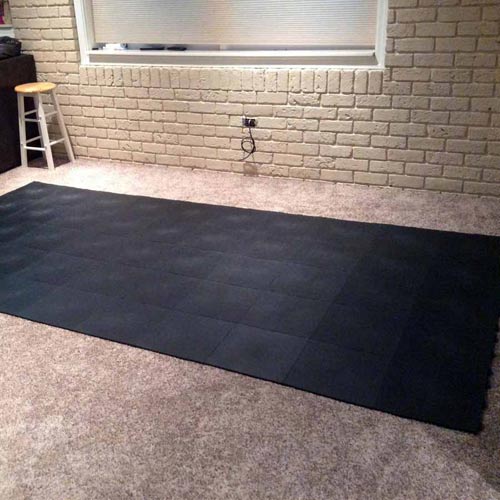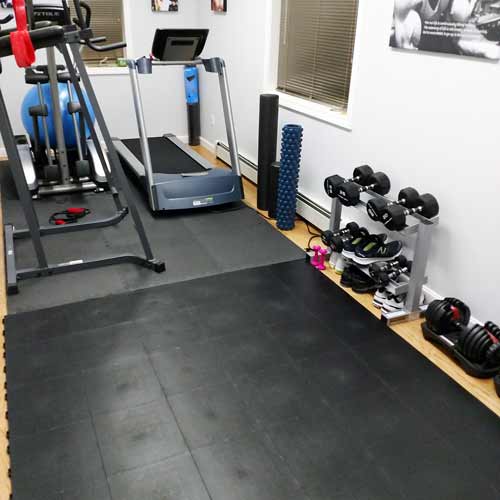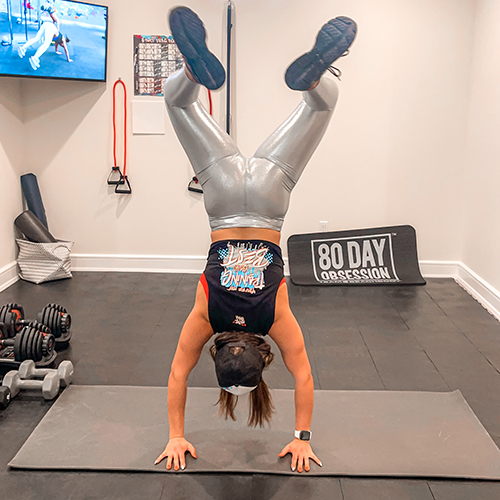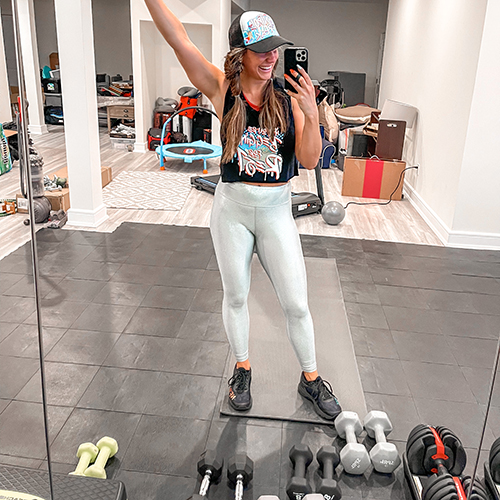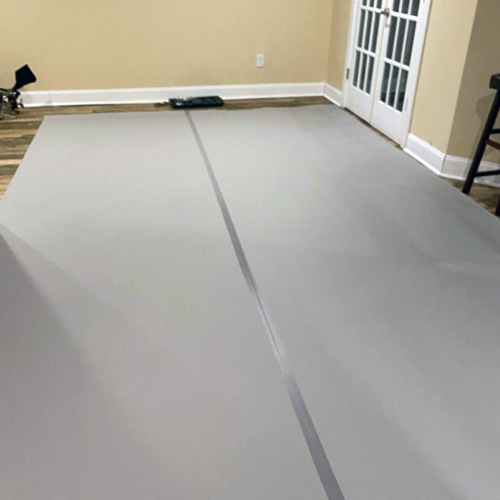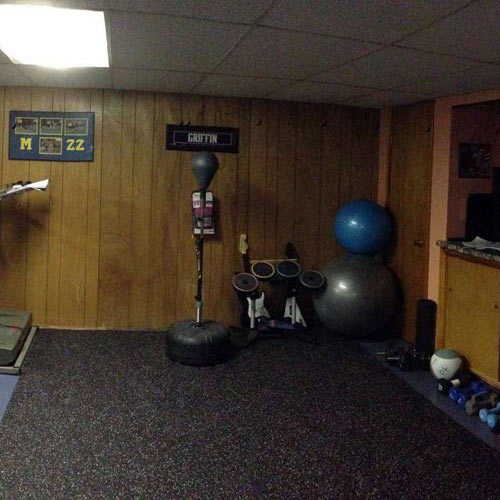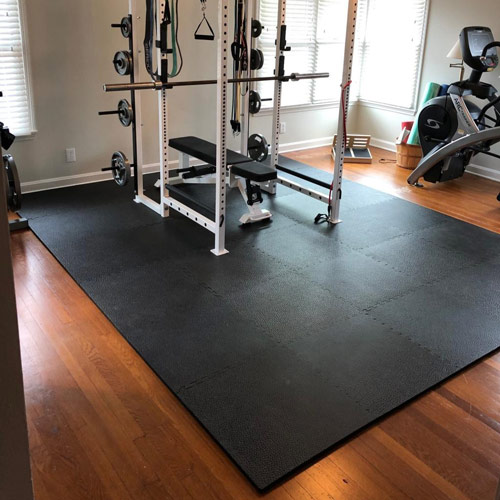 Online workout classes can be a great way for people to stay in shape and enhance their skills for their favorite activities, while avoiding the hassle of traveling to a studio or gym. For those times when the athlete's schedule doesn't match up with the hours of operation for the fitness center, a workout at home is a smart alternative, as long as the right flooring is available.
Working out at home on a basement cement floor or on a carpeted or hardwood bedroom floor can lead to unwanted pain in the lower body, such as the knees, hips, and ankles. This reduces the effectiveness of the workout. It also leads to an inability to workout as often as the athlete may like, stunting the athlete's path toward better fitness and skill building.
Finding just the right flooring for the type of virtual workout classes that are in the plans is the best way to ensure the health of the athletes. Certain types of flooring will match up well with the exercise classes planned, and the right floors will create a fun workout that's also as beneficial as possible.
Working out at home is far more convenient than driving downtown or to the university for a class. Here are some common types of exercises performed during online workout classes and the best styles of flooring to use with them.
What Floors Work Well for Cardio Workouts at the House?
For virtual workout classes involving
high intensity interval training
workouts (HIIT) or other cardio workouts, a durable flooring that also provides just the right amount of cushioning is important for working out at home.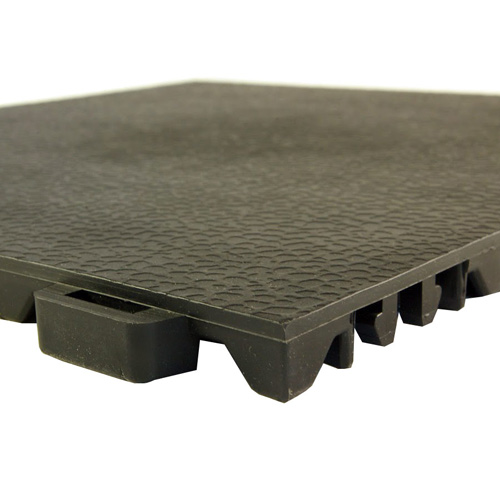 The Orange Peel StayLock Tile is a popular choice for home workouts involving tough training sessions. With its interlocking design, homeowners can lay out the flooring as a DIY project in very little time.
This tile has a slight texture on the surface, resembling an orange peel's texture, which is ideal for athletes taking virtual workout classes that require quick movements and a sure footing.
Customer Kimberly of Kansas City, Mo., installed these mats for HIIT workouts, as well as for yoga, creating a high quality space that she loves to use.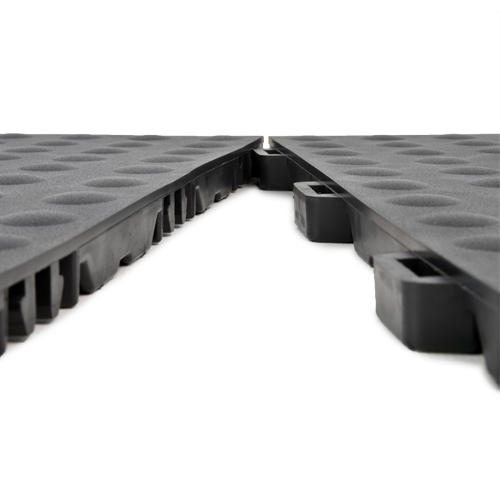 A similar option is the Bump Top StayLock Tile, which uses hidden interlocking edges to create a finished look in the flooring. The surface of this floor has small nubs from edge to edge, which results in just the right amount of texture for tough workouts.
Advanced students taking free or subscription online workout classes certainly can benefit from this type of flooring, helping them improve their fitness levels with the sure footing the bump top textured surface provides. Beginners also will appreciate the slight cushioning and the texture for workouts in shoes.
Customer Luke laid out these bump top tiles over the top of carpeting at home, creating a versatile space for HIIT workouts.
What Is the Best Floor for Plyometric Online Workout Classes?
The repetitive athletic moves required with
plyometrics
can be tough on flooring. If the homeowner doesn't have a specialized type of floor available, taking plyometric virtual workout classes can lead to wear spots on the flooring in the basement or spare bedroom.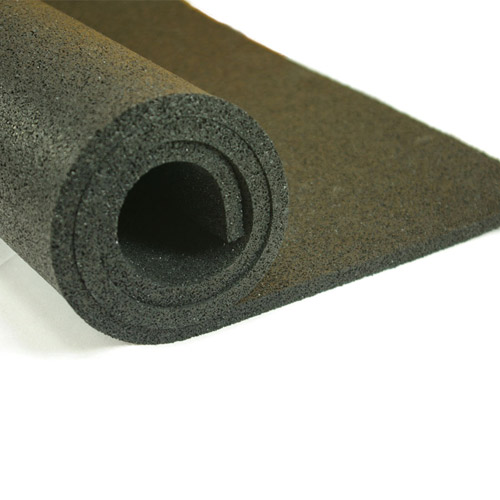 The Plyometric Rubber Roll Geneva 1/2 Inch is an ideal type of flooring for plyometrics. Rubber floors don't have quite the same rebound properties of a trampoline, but low density rubber can provide a bit of give on landings for the athlete who is jumping on boxes or practicing a form of bungee fitness.
Customer Thomas installed this roll in his Louisville, Ky., basement, delivering the ideal surface and grippiness for performing plyometric workouts at home.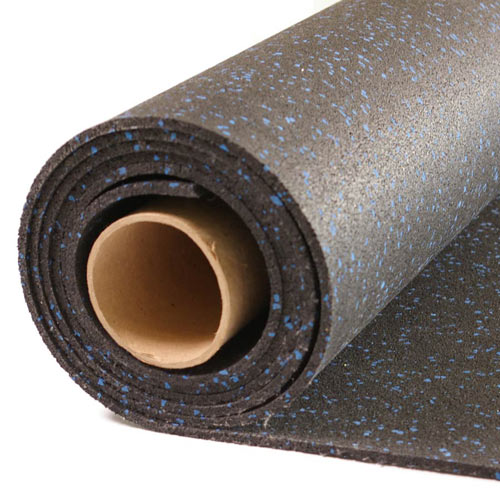 A similar option is the 1/4 Inch Rubber Flooring Roll, which includes color flecks against the black base color. It's made for those homeowners seeking a hybrid athletic flooring for online workout classes that provides a different look from the basic all-black color often found in rubber rolls. Select either a 10% blue fleck pattern or a 10% gray fleck pattern.
This rubber roll has quite a bit of versatility, supporting plyometric workouts, as well as working out with many different types of equipment.
Customer Allison of North Potomac, Md., uses this flooring over the top of the subfloor in a home office for spin classes, body weight exercises, and dumbbell workouts.
Both of these rubber rolls have a coverage size of 4 by 10 feet. Because they use straight edges on all four sides, customers can lay two or more rolls side by side to gain a larger coverage space, all at a low price per square foot.
How Do You Create a Dance Flooring at Home?
For virtual workout classes that involve dance, multiple options are available to create a safe space in the home. However, simply covering the subfloor with a roll of dance flooring may not deliver the cushioning required to protect the lower body joints of dancers.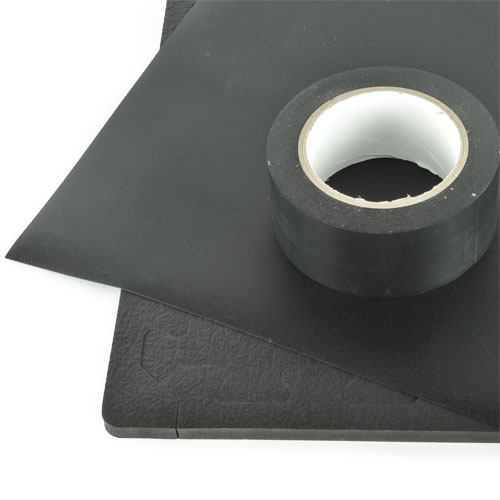 One option is to purchase the Home Dance Adagio Floor Package, which consists of foam tiles to use as a cushioned subfloor, a roll of marley dance floor, and vinyl tape to secure the kit, which should cover a space of about 10.5 by 10 feet.
This type of flooring is appropriate for almost any kind of dance classes, including hip hop, ballet, modern, and jazz. Customers can even add a barre for ballet classes.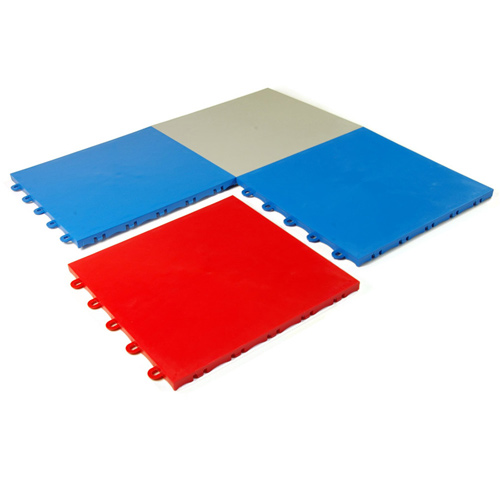 A great option for creating a subfloor over carpet for dance workouts at home is the Flat Top Court Floor Tile product.
These 1x1-foot tiles pop together using a hidden interlocking hook and tab system that results in a clean layout. These tiles do not require any adhesive for installation, which further simplifies the process.
Customer Michele of Berkeley Heights, N.J., used these tiles to create a practice dance space at home. The ease with which these tiles pop together for assembly and pop apart for disassembly was a big advantage for her.
The polypropylene plastic material in these 5/8-inch thick tiles will deliver a firm subfloor for using underneath the thin dance floor layer of marley.
Once the subfloor is in place for the virtual dance workouts, it's time to select the type of flooring to go over the top.
A thin roll of marley flooring is a common choice to place over the subfloor. Because these rolls are so thin, usually measuring 2 mm or less (about 1/16 inches), the subfloor needs to be free of imperfections to prevent punctures on the roll of marley.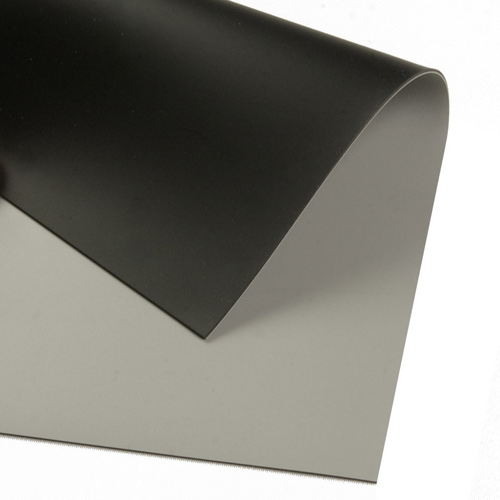 For use at home, the Reversible Rosco Marley Roll is a popular choice, as it has a size made for portability. If you decided you'd like to change the color of the flooring, the black/gray roll can be flipped over to use the other side.
Customer Mandy of Tecumseh, Mich., chose to use this roll of marley to create a dance floor for the family to take dance classes over the Internet during the pandemic.
Another customer, Lindsay of Butler, Pa., went a step further, using this marley floor to start teaching online dance classes from her home during the pandemic, receiving a high level of quality in the floor.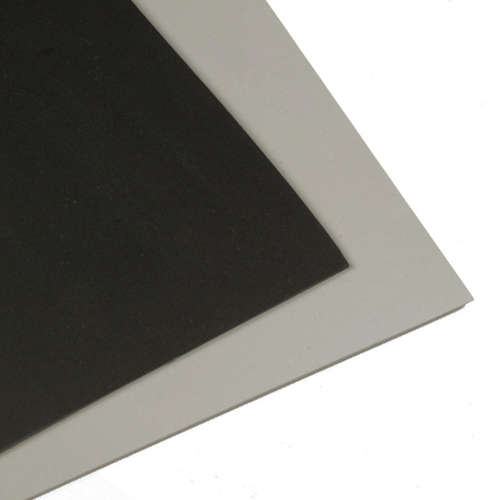 The Rosco Adagio Marley Floor is another good choice for use at home, as it allows customers to order a specific length of flooring to match the space that's available for practice. This roll has a 5.25-foot width and often requires a minimum order of 15 feet of length.
Customer Matt of Owosso, Mich., installed this product for the family to take virtual dance classes at home in the basement. He installed EVA foam tiles as a safe base layer before laying the marley roll over the top.
What Are Some Versatile Floor Options for Working Out at Home?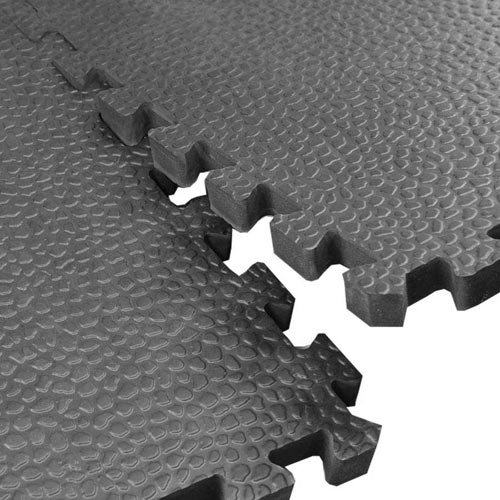 For those who will be performing a variety of types of exercises in the online classes in the home gymnasium, a durable and versatile flooring is important. The Pebble Top Gym Floor Workout Fitness Tile is a popular selection for this use case. It consists of super high density EVA foam, which has a great mix of cushioning and firmness for exercising.
The textured top surface resembles tiny pebbles, providing a desirable level of traction for workouts. Each tile has a puzzle style edge, which simplifies the layout process. Installers do not have to use any glue, which means they can disassemble the floor to return to the subfloor after the exercise classes are over.
Customer Michael of Albany, Calif., installed these tiles in a home gymnasium, performing cardio workouts like running on a
treadmill
, using a
rowing machine
, and riding a
stationary bicycle
for a virtual group spin class. While providing a sturdy, cushioned flooring, these tiles also protect the subfloor from any damage that occurs during exercise.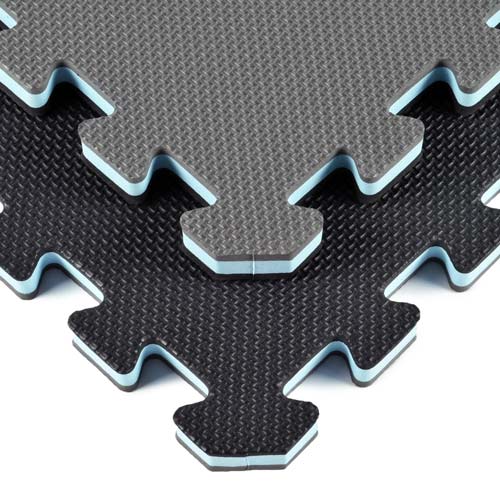 A highly cushioned type of gym flooring that's useful for virtual workout classes aimed at pregnant women interested in prenatal fitness is the Home Karate Foam Tile. These tiles measure 3/4 inch in thickness and consist of EVA foam, which provides an excellent level of cushioning when used over the top of concrete or hardwood floors.
The EVA foam is safe for prenatal workouts and specialty pregnancy workouts, as it does not contain harsh chemicals. It's both lead-free and latex-free. Each tile uses an interlocking puzzle edge to simplify the installation process.
These reversible tiles have a long lifespan. Should any tile become stained, scuffed or otherwise damaged, just flip it over and use the other side. Different colors are available on either side, as these tiles are available in either a black/gray, red/blue, or green/brown color configuration.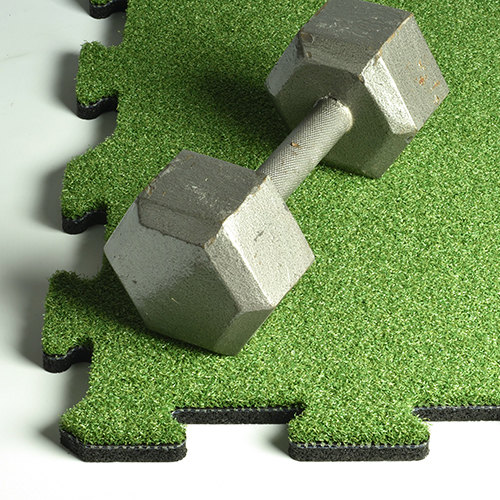 Another highly versatile padded flooring option for use for classes at home is the RageTurf Rally Interlocking Tile. It has a 12 mm artificial turf surface and 12 mm base layer consisting of recycled rubber for durability and impact absorption.
These tiles measure about 23 by 46 inches. The rubber layer has an interlocking puzzle style edge, which simplifies the process of attaching adjacent tiles without the need for adhesives.
Artificial turf is great for sprint workouts, as well as for workouts performed on the ground.