What is the Best Treadmill Mat Over Carpet or Concrete?
By Lisa Hobbie Created: June, 2020 - Modified: March, 2023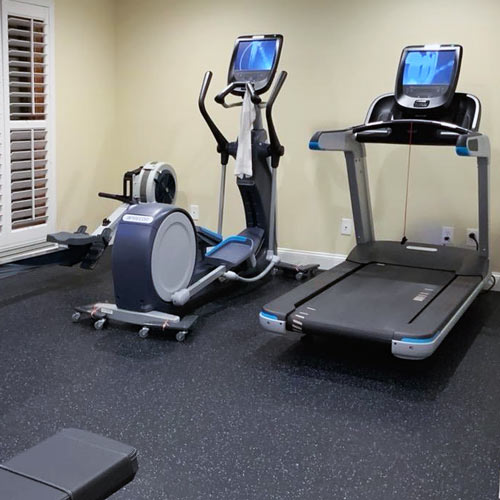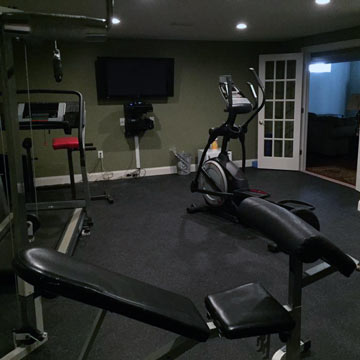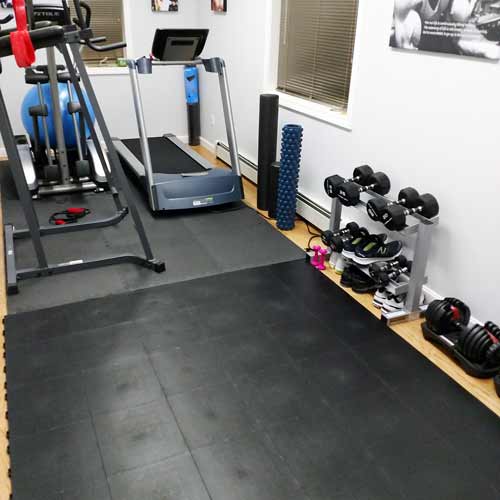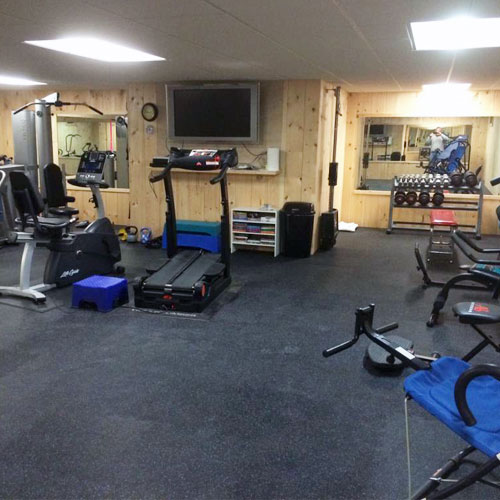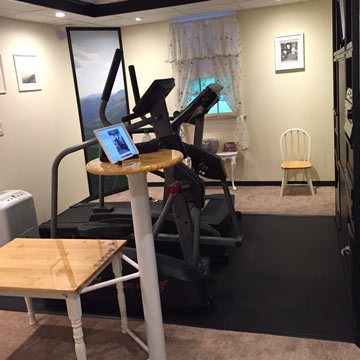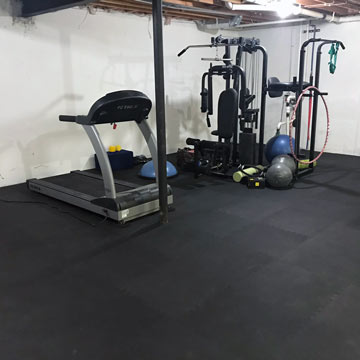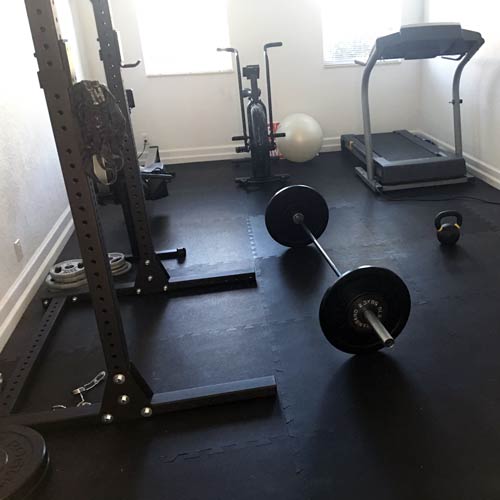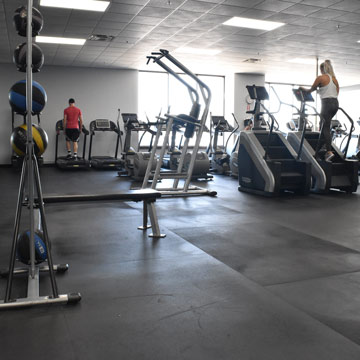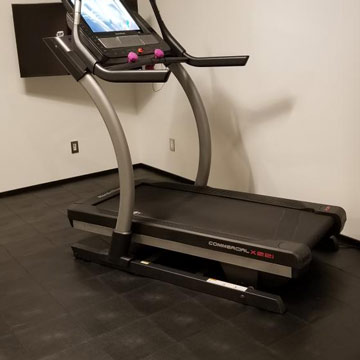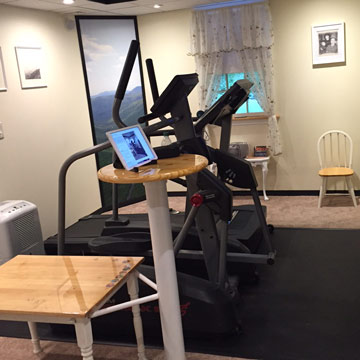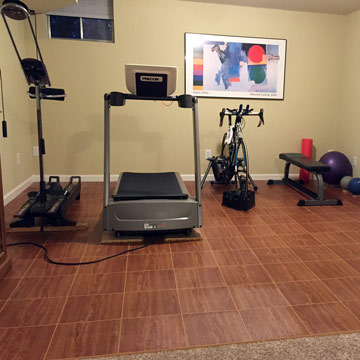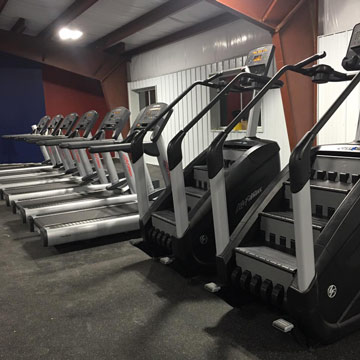 Greatmats has a variety of treadmill mats for carpet options from which to choose, with numerous different colors, sizes, styles, and price points. Whether you want and equipment mat to cover a large area of a room where different types of exercise equipment will be used, or, whether you just want to buy a single mat or system adequate enough to go under the treadmill, there is an option for you at Greatmats.
Modular Treadmill Mat System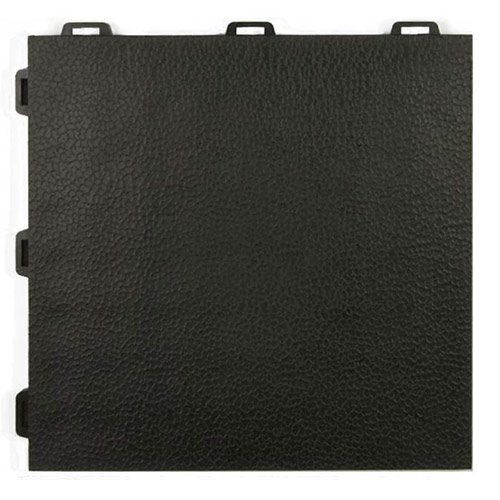 For an under the treadmill mat for carpet that is durable like rubber yet much lighter weight, the
StayLock Tile with Orange Peel Top
is a fabulous choice. This durable PVC flooring can be installed directly over carpet or concrete. It has an interlock design that fits tightly without separating over time. The pop together flooring system is perfectly suited for basement or garage gyms or any area of a home or business, as it is waterproof and resistant to most acids and oils.
In terms of comfort, these tiles provide support for a treadmill or elliptical machine and cushion for any level and intensity of exercise, including aerobic workouts, crossfit, Zumba, and more! So, this is a very versatile option! These tiles also feature bump top surface textures that provide excellent ergonomic benefits and aesthetic appeal and are among the most durable cushioned gym flooring, with the ability to support heavy exercise treadmills!
Black varieties are made from 100 percent recycled plastic material and also come in many designer colors. This product is also non-absorbent, and it will not degrade over time.
Rubber Treadmill Mats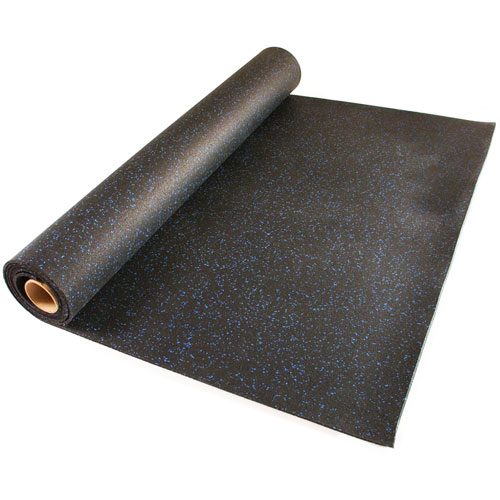 Rubber flooring rolls also make excellent mats to use under a treadmill in a concrete space. The heavy duty
Geneva rubber with 10 percent color
is among the most popular choices of gym floor matting.
This rubber roll option can be purchased by the square foot, in any roll length from 25 to 100 foot long. One linear foot of material is equal to 4 square feet. The rolls are 4 ft wide.
This type of resilient rubber flooring product provides very durable and long lasting non-slip surface. Made from recycled rubber material this flooring option is considered a green product and may contribute to LEED points in green buildings. It will act as a sound dampener and as a floor and treadmill protector.
Treadmill Friendly Cardio Flooring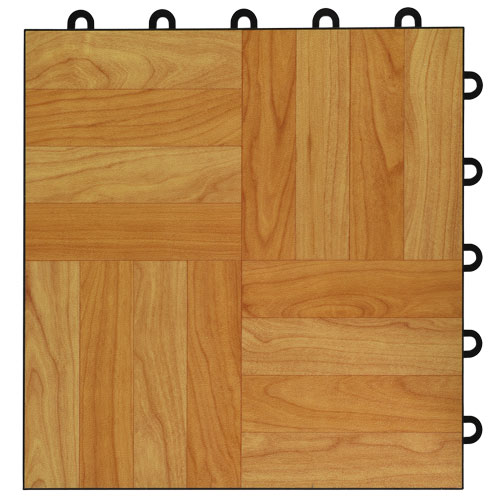 Max Raised Floor Tiles
create another high-quality treadmill flooring system that is safe for installation over low pile, low pad carpet. This flooring option is extremely durable and looks like wood grain, and it is a snap-together tile system option that features a commercial grade vinyl tile surface with a classic wood or slate design.
The UV protective coating on its surface prevents damage from window sunlight while the wear layer resists scratches and wear, resulting in a wood look with outstanding durability that doesn't need refinishing or maintenance. Because these tiles are easy to install and remove, they can be either temporary or permanent, for a studio or gym setting. These tiles will not separate or pull apart during treadmill workouts, so they make for an extremely safe and durable gym floor system.
Interlocking Rubber Treadmill Mats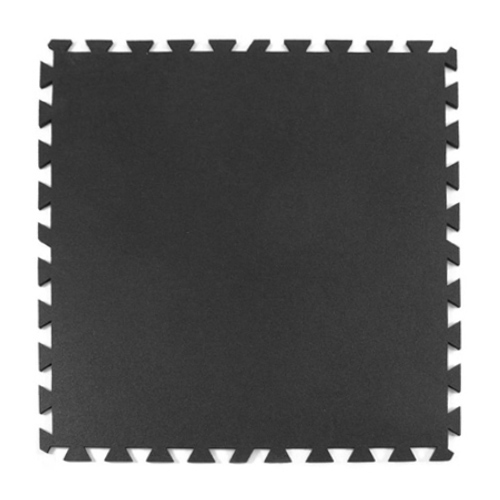 Geneva Rubber Tiles
work really well as a treadmill mat for over concrete or tile. This interlocking floor mat system is super durable and works well for multiple purposes, including gym equipment.
These fitness equipment mats are made from block rubber, so they lie flat and will not curl up, providing excellent floor protection for hardwood floors. The tiles are also waterjet cut to create the interlocking edges, which makes them fit together more tightly than some others. These 3x3 rubber mats come with a 5-year manufacturer warranty, so you know they will provide a high level of performance for years.
Foam Treadmill Mats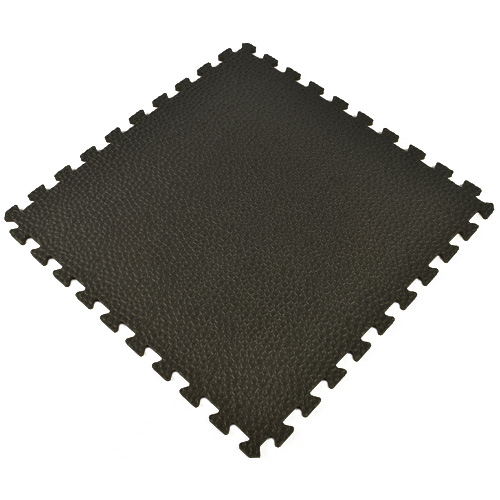 Home Gym Flooring Tiles
are another excellent choice for a treadmill mat for concrete or tile. This exercise equipment mat system is made from high density EVA foam material and is super durable and aids in noise reduction.
The tiles are lightweight and portable, yet, strong enough to use under a treadmill while providing one of the softest flooring surfaces capable of supporting a large treadmill. With a thickness of roughly ⅜ of an inch and a material density rating of Shore C 62, they are tough enough to support your fitness equipment in a home or commercial setting.
They are lead and latex free and easy to clean with a mop and common household cleaner.
Greatmats for all of your flooring needs!
Aside from the products highlighted, Greatmats offers a wide variety of flooring options that would be suitable for a treadmill mat over carpet, concrete, or any solid surface. Everything from horse stall mats to other types of interlocking mats, to other materials if you are curious about other alternatives. Simply reach out to a friendly and knowledgeable customer service agent who will gladly go to work for you to help you determine the best flooring solution for your space.