Greatmats 5th Annual National Cheerleading Coach of the Year Award
By Created: February, 2017 - Modified: December, 2020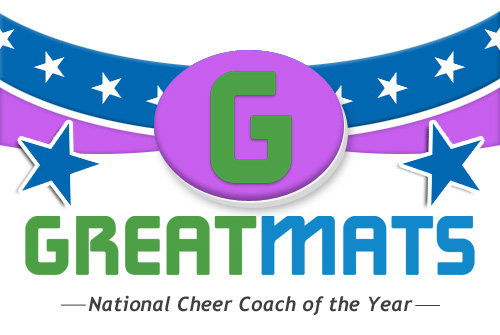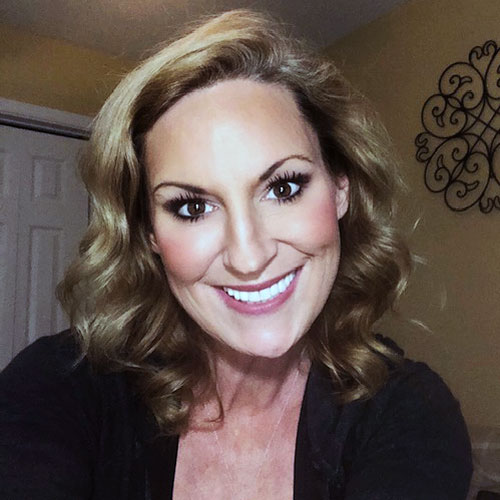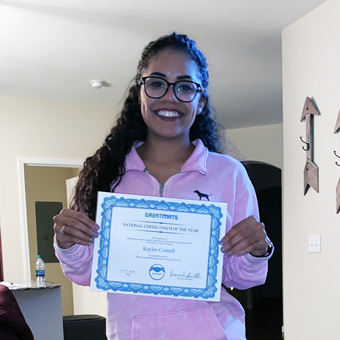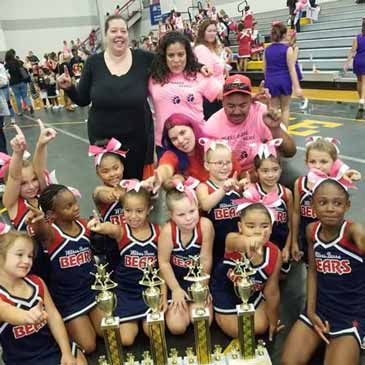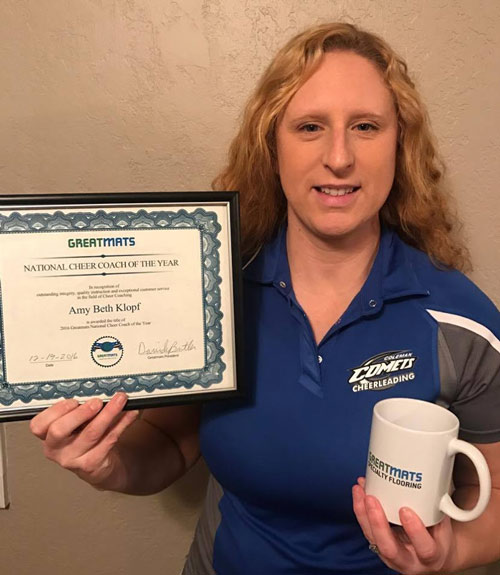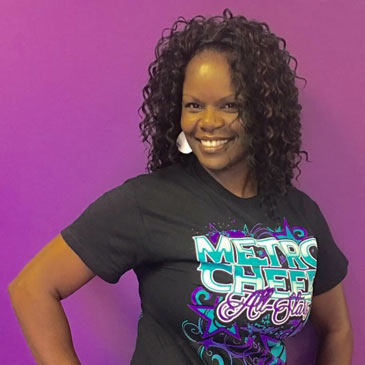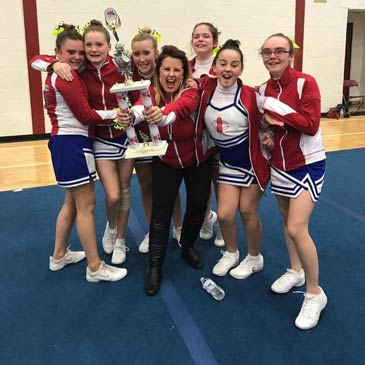 Congratulations to Elicia Morigeau for being named the 2020 Greatmats National Cheerleading Coach of the Year!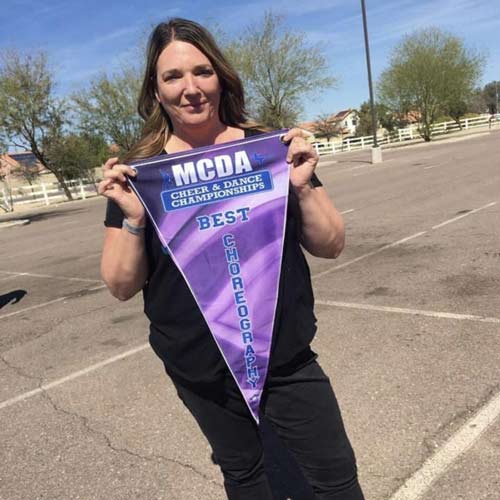 ____________________
Want to honor a cheerleading coach for his/her outstanding achievements, unique style, humanitarian efforts, etc.? Then nominate for him/her for the Annual National Cheerleading Coach of the Year Award, sponsored by Greatmats. The award, part of Greatmats National Award Series, is designed to recognize Cheerleading Coaches who have made a difference in the lives of their athletes and community through the virtues of service, integrity and quality.
Learn more about
Greatmats National Award Series
.
How to Nominate
To nominate a coach for this award, visit the contest page or email the following information to brett@greatmats.com before Oct. 26, 2020. Nominators will not be identified.
Coaches Name
Name and Address of the School, Gym, Organization, Etc. (Must be located in the USA)
A brief description of why you are nominating this coach, including how he/she meets the criteria of high-level service, integrity and quality
A photo and/or video of the Coach
How the winner is chosen:
Voting will take place Nov. 2-16, 2020. The two cheerleading coaches with the most votes will be named grand prize finalists.
Greatmats will interview the two finalists to determine the winner
Voting Instructions:
Visit the contest page during the voting period to vote for the National Cheerleading Coach of the Year. Click the vote button next to the photo of the Cheer Coach you'd like to win. Feel free to share a photo or the gallery ballot with friends and family and encourage them to vote.
Prizes
Grand Prize:
$250 in Greatmats Products for the School
National Dance Instructor of the Year Certificate
Runner Up: $150 in Greatmats Products
Third Prize: $100 in Greatmats Products
4th-10th Places: $50 Greatmats Coupon toward purchases of $200 or more
Greatmats National Cheer Coach of The Year History
Nearly 119,000 votes were cast in the first four years of the contest, which is part of the 6th annual Greatmats National Award Series which honors instructors, trainers and coaches who have made a positive difference in their communities and the lives of their students.
Greatmats is a national cheerleading mat leader based in Milltown, Wisconsin, since 1999. Identified as one of the top 3,000 fastest growing companies in the USA three times since 2008, Greatmats gives back to its local community by donating 5% of its annual profits to local non-profit organizations. It also supports green initiatives through the use of solar energy at its Wisconsin headquarters and by offering a large variety of products made from recycled and renewable resources.
View all of Greatmats' cheer mats at
http://www.greatmats.com/cheerleading-mats.php
.
All media submissions, including text, photos and videos become property of Greatmats.
Read About Previous Winners of the Award:
2016 National Cheer Coach of the Year Amy Beth Klopf
2017 National Cheer Coach of the Year Sherri Andrzejewski
2018 National Cheer Coach of the Year Kaylee Cottrell
2019 National Cheer Coach of the Year Angie Koenig
Past Greatmats National Cheerleading Coach of the Year Nominees
Alabama
Kim Burleson - Cold Springs High School - Bremen (2016)
Brittin Blackburn - Alabama Cheerleading Center - Bessemer (2016)
Alaska
Kelly Jo Ivone - Homer High School - Homer (2016)
Arizona
Kelly Comasto - Caurus Academy - Athem (2019)
Arkansas
Mallory Bice
- Southside Charter High School - Batesville (2017)
California
Nikia Alayoubi - Rogue Athletics Bay Area - Sunnyvale (2019)
Selena Gonzales - Rancho Cordova Jr. Lancers Cheerleading - Rancho Cordova (2019)
Kellie Elliot - Pacific Coast Magic - Murrieta (2019)
Sonia Lopez - Oxnard Panthers Youth Football and Cheer - Oxnard (2019)
Wendy Miles - Infinite Athletics - Oakdale (2019)
Qui Crump - Fierce Cheer Elite - Santa Rosa (2019)
Bowd Beal - California Allstars - Ontario (2019)
Mystere Garret - United Airstrike Allstars/The Hanford High Bullpups - Hanford (2016)
Aubrey Ellis - Norte Vista High School - Riverside (2016)
Adam Champion - The California All-Stars Ontario - Ontario (2016)
Colorado
Cassy Chavez - Pueblo West High School - Pueblo (2019)
Jessica Williams - Florence Jr./Sr. High School - Florence (2019)
Christine Dingman - Glenwood Valley Athletics - Glenwood Springs (2016)
Delaware
Karen Russum - Delaware Cheer Eclipse - Wilmington (2019)
Idaho
Sara Weber - Magic Valley Elite Allstars - Twin Falls (2019)
Illinois
Samantha Osipavicius - Wilmington Bobcats - Wilmingtson (2019)
Sam Baird - Tuscola Community High School - Tuscola (2019)
Shannon Finneran - Moline High School - Moline (2019)
Indiana
Kayla Meyer - JC Heat Cheer - Indianapolis (2019)
Alison Handy - Rochester Reckless Champion Force - Rochester (2019)
Kaylee Cottrell - Anderson Invasion Cheer - Anderson (2018)
Ashley Moeller
- Cascade High School - West Clayton (2017)
Iowa
Jill Link - Eagle Grove High School - Eagle Grove (2018)
Florida
Shannon Wilson - NEP - Pensacola (2019)
Paulina Decker - Hernano Youth League - Brooksville (2019)
Denean Evans - Dunnelloon Youth Athletics - Dunnellon (2019)
Matt Copeland - Cheer Omega - Pensacola - (2019)
Tanya Baker - Champion Force - Orlando (2019)
Jennifer Bautsch - Champion Force - Orlando (2019)
Angela Navarro - Champion Force - Orlando (2019)
Ashley Hammons - Cape Jr. Pop Warner - Cape Coral (2019)
Jennifer Matlock - Pasco Police Athletic League Trinity Mustangs Flyweight Team - Trinity (2016)
Greg Green - World Class Athletics - Panama City Beach (2016)
Kansas
Amy Young - Blue Valley High School - Stilwell (2018)
Kentucky
James Naugle - Spirit Athletics - Florence (2019)
Cameron Gregory - Clay County Middle Cheer (2019)
Misty Hodges - University of Louisville - Louisville (2018)
Erin Denison Namie
- Bluegrass Cheer & Dance - Hopkinsville (2017, 2016)
Shelyce Trabue - Equinox All-Stars - Louisville (2016)
Crystal Reid - Burning Springs Elementary - Manchester (2016)
Louisiana
Brandon Whitley - Zachary Cheer Academy - Zachary (2019)
Amy Stevens - Central High School - Baton Rouge (2018)
Noah West - NCCLA - Oakdale (2018)
Maine
Danielle Estes - Maine Stars Cheer Gym - Eliot (2016)
Maryland
Gerry and Kate Richardson - East Coast Majestic - Severn (2016)
Massachusetts
Matthew Monteiro - East Bridgewater Varsity Cheerleaders - East Bridgewater (2018)
McKinley Fichtner - Ultimate STARZ Athletics - Weymouth (2018)
Shawna Dole
- Charlestown Youth Football and Cheerleading - Charlestown (2017)
Nicole Laurila - Bravo Allstars - Wilmington (2016)
Michigan
Holly Martin - Champion Force - Big Rapids (2019)
Sierra Tank - Champion Force of Coopersville (2019)
Julie Carpenter - Champion Force - Grand Rapids (2019)
Corrie McKiernan - Champion Force (2019)
Ashley Richardson - Champion Force - Warren (2019)
Jami Bryan - Champion Force - Wyoming (2019)
Roxie Schram - Champion Force - Wyoming (2019)
Kelly Peace - Champion Force Athletes - Bay City (2018, 2019)
Leslie Del Toro - Motor City Cheer - Farmington Hills (2018)
Tonya Policht - Grass Lake Varsity Cheer - Grass Lake (2018)
Alanna Weber - Oxford Community Schools - Oxford (2018)
Perrmella Harris
- Metro Cheer and Dance - Livonia (2017)
Amy Beth Klopf
-
Coleman Jr./Sr. High School
-
Coleman
(2017, 2016)
Jessica Davis - Harper Creek High School - Battle Creek (2016)
Minnesota
Kaitlyn Erickson - Denfeld High School - Duluth (2016)
Missouri
Karrie Schulte - Cheer St. Louis - O'Fallon (2016)
Tabbi Mcallister - Icon Cheer - Springfield (2016)
Montana
Latisha Demaris - Rocky Mountain College Athletics - Billings (2019)
Nebraska
Keven Ellstrand - Midland University - Fremont (2019)
Nevada
Summer Reidenbach - Reno Pop Warner - Reno (2016)
New Jersey
Tionna Givens - Matawan Youth Cheer Program - Trenton (2019)
New York
Brook Wagner - Wayland Cohocton High School - Wayland (2019)
Adrianna Zombek - Valley Flight All Stars - Utica (2019)
Jen Pitcher - GRB High School Cheerleading - Fulton (2019)
Amanda Rogers - Empire Athletics Cheerleading - Kingston (2019)
Jeri Summerville - Cheer Starz All-Starz - Westfield (2019)
Michelle Turrie - Core Athletix All Stars - Rochester (2018)
Ohio
Angie Wood - Lancaster Cheer Athletics - Lancaster (2019)
Carina Urbieta-Ornelas - In10sity Cheer Allstars - Toledo (2019)
Shayna Crandle - Champion Force (2019)
Justine Bruns - Rutherford B. Hayes High School - Delaware (2018)
Kelly Steele - Whitmer High School - Findlay (2018)
Kayla and Keith Wilson
- Kayla's Krusaders, LLC - Caldwell (2017)
Valerie Nash - University of Mount Union - Alliance (2016)
Oklahoma
Nikki James - Twist and Shout All Stars - Tulsa (2019)
Shandelle Self - Little Axe Public Schools - Norman (2018)
Ashton Adams Widhelm - Oklahoma Outlaws Cheer - Ardmore (2016)
Oregon
Denise Way-Hackett - NW Cheer Elite - Beaverton (2018)
Jill Maria Grimes - Elkton Charter School - Elkton (2016)
Pennsylvania
Ambre Noel - SJC All Stars - Hanover (2019)
Shannon Gallagher-Wingert - Juniata Valley Jr./Sr. High - Alexandria (2019)
Kristi Clifford - Turners All-Star Cheer and Dance - Johnstown (2018)
Thiago Nanuk - FCA Gems - Sarver (2018)
Jennifer Shipman-Jordan
- Bradford Area High School - Bradford (2017)
Haley Nicastro
- Bradford Area High School - Bradford (2017)
Talauren Isley-Byrd
- Mathematics, Civics and Sciences Charter School - Philadelphia (2017)
Sherri Andrzejewski
- Wilkes-Barre Bears - Wilkes-Barre (2017)
Rhode Island
Meg White - Ponaganset High School - North Scituate (2019)
South Carolina
Heather Weaver - Summerville Recreational Cheer Club (2019)
Annabelle Smith - Extreme Cheer and Tumble (2019)
Angie Koenig - Carolina Crossfire Cheer - Angie Koenig (2019)
Stephai Hughes-Cooley - Belton Honea Path High School (2019)
Tennessee
Misti Walk - Champion Force - Selmer (2019)
Shrean Fawcett - Champion Force Athletics - Knoxville (2016)
Keely Huddleston
- Fayette County Champion Force Athletics - Somerville (2017)
Amanda Kirby
- Grainger High School/Rutledge Middle School - Rutledge (2017)
Texas
Kayla Rodrigues - Levelland High School - Levelland (2019)
Nona Bott - Heart of Texas Cheer and Dance - Waco (2019)
Tanya Love - Love Dance and All-Star Cheer Company - Huntsville (2018)
Sami Thornton - Dynamic Cheer All-Stars - Kingwood (2018)
Brenda Friedrich-Cassiday - Cheetah Cheer and Dance Company - Gainesville (2016)
Virginia
Taylor Campbell - Osbourn High School - Manassas (2018)
Washington
Marissa Bower - Shoreline School District - Shoreline (2019)
Gabby Dansereau - Spokane Pop Warner Cheer - Wenatchee (2018)
Wisconsin
Kym Anderson - Ithaca High Cheer - Ithaca (2018)
Wyoming
Misty Pikula - Twin Spruce Junior High - Gillette (2019)
Danielle Cole and Jillian Martin - Laramie High School - Laramie (2019)
------------------------------