Shawna Dole - 2017 Cheerleading Coach of the Year Nominee
By Created: October, 2017 - Modified: August, 2019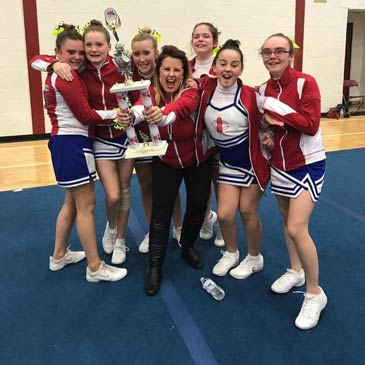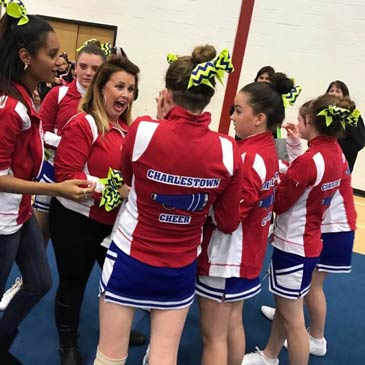 (If the ballot does not load, please visit https://www.facebook.com/Greatmats/ - Look for the voting photo album and like the photo of the person you'd like to vote for.)
Shawna has been an amazing coach to so many kids over the years.
Growing up in a rough town with so much to get into, cheering was a great escape. Shawna makes it not only her mission to teach girls all ages the fun and loving parts of the sport, she does so much more than that - she mentors. She puts so much time in effort in teaching and coaching not only the sport but life lessons. As a kid, now 27 - I remember everything Shawna ever taught me.
She stepped up when the ''parents'' didn't care enough for their kids games, whether it be cheering us on, warm clothes during rainy or cold games.
If it was the kid who was hungry... she made sure they ate,
The girl who couldn't afford the cheer shoes or bow... she got it.
The parent who forgot to pick up their kids... she made sure got home safely.
She takes pride in her teams and in this town. She lives for volunteering for this organization. She has her own life which no matter what's going on, she shows up and gives it 120% for these kids, myself included once.
Every year Charlestown always came in last or 4th and never won anything. Shawna never gave up and was always SO PROUD of her girls. Last year, Charlestown coached by Shawna came in FIRST PLACE for the first time EVER. She couldn't have been more proud of her team. I don't think she could stop smiling with tears coming down her face telling those young girls how proud they should be of themselves.
If anyone deserves this award, it's Shawna Dole.
My niece and sister couldn't be more grateful for Shawna Dole and all her hard work and dedication to these girls!
--------------
Shauna has been a mentor for me since 3rd grade. Not only is she great as her job as a cheer coach she's good at her job of taking care of her cheer girls when they're not dealing with a cheer-related problem.
Shauna is always there for me when I need her. Living almost a hour away and attending practices, games, and choreographing routines almost every night of the week shows her real respect and devotion to cheerleading. She never stops believing in her girls, even when they move on to greater things.
Charlestown youth football and cheer doesn't have a inside gym to practice in. It's nearly impossible to win any competition titles in rough conditions like rain and snow. But Shauna really works past the obstacles in her way. Shauna really deserves this award because the time she has taken out of her personal life that she uses to benefit the growth of others and her love for the sport and all girls who participate in it.
Learn more about Greatmats
National Cheerleading Coach of the Year Award
or
3rd Annual National Award Series.
Shawna Dole
Charlestown Youth Football and Cheerleading
Charlestown MA 02129