Erin Namie - 2017 Cheerleading Coach of the Year Nominee
By Created: October, 2017 - Modified: December, 2017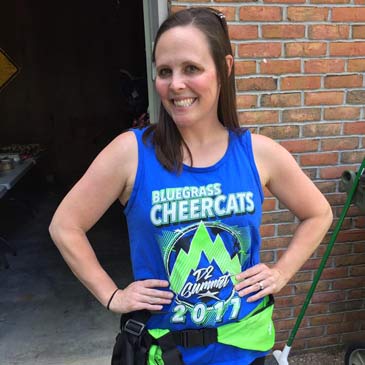 (If the ballot does not load, please visit https://www.facebook.com/Greatmats/ - Look for the voting photo album and like the photo of the person you'd like to vote for.)
I am nominating Coach Erin Namie because her high-level service, integrity, and quality is above and beyond. She has the heart of gold.
Her high level service:
No matter high much competitive cheering is, money is really no factor to her.
If she has families that cheer, and cheering is their saving grace, she is going to find a way to let go for free just so they can stay out of trouble, and she can help them stay in a straight and narrow. She is always willing to help anyone in need. Just this past year, she raised goods for the families in need from Hurricane Harvey & Irma.
She is a mother of 4, an awesome coach and is always putting other people's needs before her very own. She is always doing things with the community and the children in the community.
She deserves something nice, and for someone to do something for her. I want to let her know she is very much appreciated, and loved. She has turned the children that have grown with her into inspirational adults.
Learn more about Greatmats
National Cheerleading Coach of the Year Award
or
3rd Annual National Award Series.

Erin Namie
Bluegrass Cheer & Dance
Hopkinsville KY 42240